---
Updated on September 25th, 2021

A Minnesota standard residential lease agreement is a written rental contract entered into by a landlord and the tenant to whom they are renting residential property. This document is presented to the tenant once they have agreed to rent the property for a specified rental term and amount of monthly (or weekly) rent. These conditions will be written in the agreement along with details about security and other deposits, utilities and services, appliances and furniture included, and the rights, obligations, and responsibilities of both parties.

Rental Laws – Chapter 504B (Landlord and Tenant)

Handbook (Guide) – Minnesota Attorney General's Landlords and Tenants Rights and Responsibilities
Security Deposits
Maximum – Not mentioned in state statutes.
Returning (§ 504B.178(3)(a)(1)) – Three (3) Weeks
---
When is Rent Due?
Minnesota statutes do not mention rent payment due dates, nor do they provide a grace period by which landlords must abide. If late fees are implemented in the lease agreement, they may not be in excess of 8% (§ 504B.177(a)).
---
Realtor Version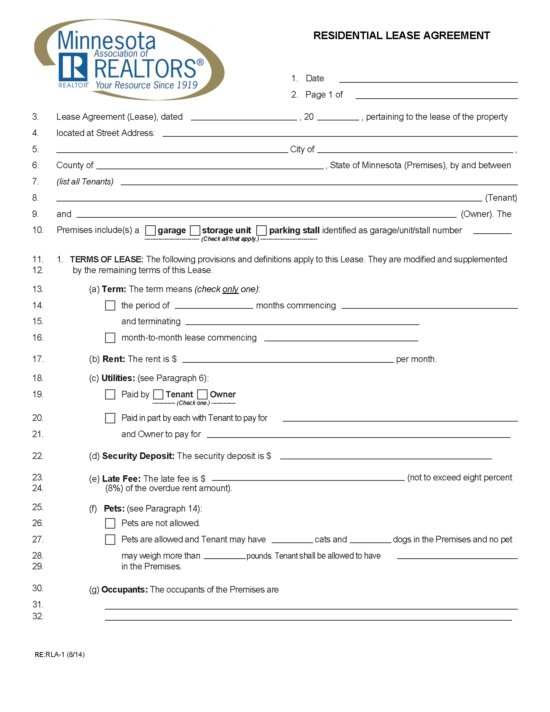 Minnesota Association of Realtors Residential Lease Agreement (Form RLA-1) – A standard residential lease agreement supplied by the Minnesota Association of Realtors.
Download: PDF
---
Disclosures(5)
If a contract for deed cancellation, notice of mortgage foreclosure sale, or any summons and complaint involving foreclosure has been received by the landlord, they must notify prospective tenants before renting property to them. Furthermore, they may only enter into a periodic lease term of two (2) months or less.
2) Landlord/Manager Information
The names and addresses of the landlord and any person authorized to manage the premises or receive and give notices must be included in the lease or disclosed in writing to the tenant prior to the commencement of the tenancy.
3) Lead-Based Paint Disclosure
Federal law requires landlords renting property built before 1978 to disclose to tenants the possibility of exposure to lead-based paint.
The rights and obligations of tenants and landlords is available through the attorney general's Landlords and Tenants Rights and Responsibilities Handbook. Landlords must post a notice in a conspicuous place on the property stating that a copy of this document is available to tenants if they wish to learn about these rights and obligations.
5) Outstanding Inspection Orders
If an inspector has issued a citation for code violations pertaining to a tenant's rental unit or a common area that threatens the health and safety of occupants, the landlord must provide a copy of the inspection orders to the tenant. Inspection orders for code violations not affecting health and safety can be posted in a conspicuous place on the property, and the tenant may request a copy of the order from the landlord.