The Kansas residential purchase and sale agreement is a document that a prospective home buyer will complete and deliver to a property seller to convey the terms of an official offer to purchase. The document informs the seller of the proposed sales price, closing date, closing costs, offer expiration date, and whether the sale is contingent upon the buyer obtaining a bank loan or selling currently-owned real estate.
If the seller is unsatisfied with the terms of the initial proposal, they have the ability to alter the contract and make a counteroffer. Negotiations can continue until the parties reach a mutual arrangement, after which the buyer and seller must initial and sign the real estate purchase agreement to complete the transaction.
Realtor Version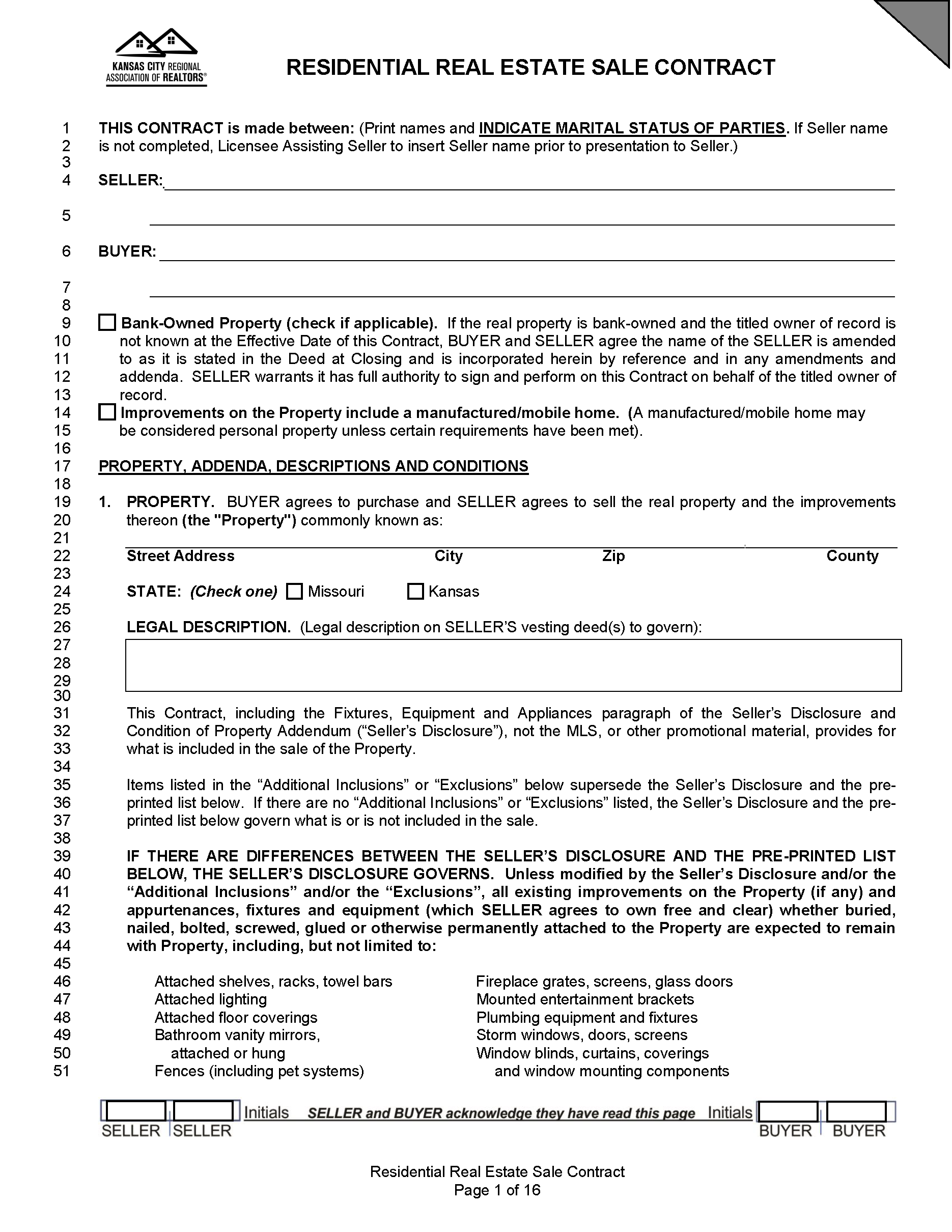 Kansas Residential Real Estate Sale Contract – The Kansas City Regional Association of REALTORS® has designed this purchase and sale contract to be used by licensed real estate professionals in both Kansas and Missouri.
Download: PDF
---
Required Disclosures (5)
If a residential property was built prior to January 1, 1978, there is a requirement for the property seller to provide the buyer with a lead hazard information booklet and a disclosure regarding the presence of lead paint and lead paint hazards on the property.
2) Property Disclosure Statement
A seller's agent is obligated to inform buyers of any known defects affecting the property, including environmental hazards, structural damage, and issues affecting the title.
All residential sale contracts must include a notice which informs buyers that the property may contain dangerous levels of radon gas. This notice must contain the specific language found in section 58-3078a of the Kansas Statutes Annotated.
Included in each contract for the sale of residential real estate must be the notice found in § 58-3078, which states that sex offenders and other persons convicted of certain crimes are required to register with the sheriff in their county.
If the seller's property is subject to a special assessment, fee, or is located in an improvement district built in accordance with § 12-6a01 et seq., this information must be disclosed to the buyer. The seller must obtain written acknowledgment from the buyer that such disclosure has been made.