The Louisiana residential purchase and sale agreement is used to transfer ownership of Louisiana residential property from the seller to the buyer. The duties and obligations of both parties are outlined in the document, including the agreed purchase price and buying conditions, financing options, and any additional closing costs.
In Louisiana, the seller is legally obligated to furnish the buyer with a disclosure statement detailing the condition of the home before ownership can be transferred. The agreement is finalized once both the buyer and seller, or the seller's agent, complete and sign the form.
LREC Version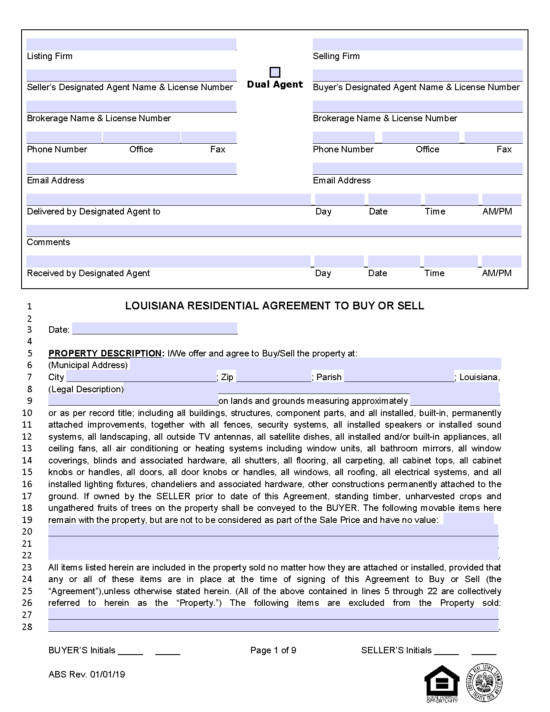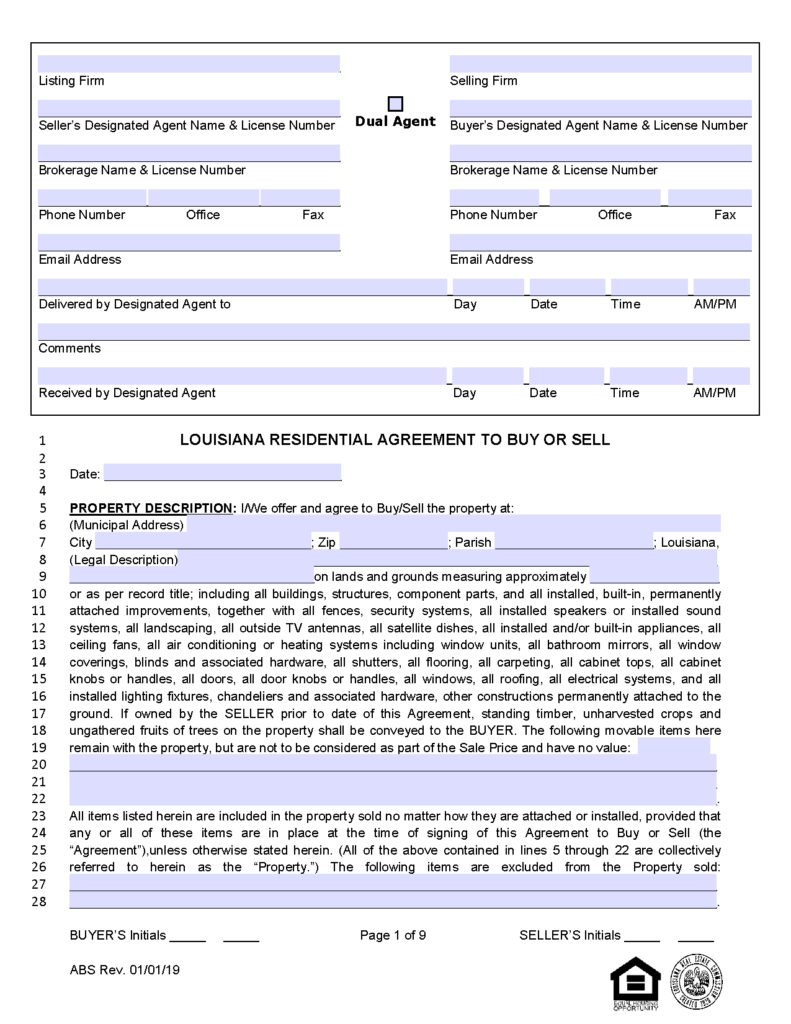 Louisiana Residential Agreement to Buy or Sell – This document is provided by the Louisiana Real Estate Commission for making purchase offers on residential property.
Download: PDF
---
Required Disclosures (5)
1) Cavity Within Salt Stock/Solution Mining Injection Well Disclosure Statement
If the property is located above a cavity within a salt stock that was created by dissolution and contains water, or if the property is located within two-thousand six-hundred and forty feet (2640 ft.) of a solution mining injection well, the seller must disclose either piece of information to the buyer in the property disclosure statement.
2) Homeowner Association Disclosure
When delivering a property disclosure statement to an interested buyer, the seller must provide a statement disclosing whether the buyer is obligated to become a member of the homeowner's association of the community in which they are purchasing property.
Home sellers in the US cannot sell their property without presenting prospective purchasers with this disclosure document and government-approved pamphlet containing information on identifying and controlling hazardous lead-based paint within a home.
4) Methamphetamine Disclosure Statement
If a dwelling has been used as an illegal methamphetamine laboratory, the seller must include a statement disclosing this information with the property disclosure documents.
5) Property Disclosure Statement
A seller of real estate must furnish a copy of this property disclosure statement to potential buyers to disclose the condition of the home, including any and all damages and defects.