---
Updated on January 23rd, 2023

The Missouri residential purchase and sale agreement is used during the negotiations of a home purchase to state the proposed terms and conditions of the transaction. When working out an agreement, the buyer can use the form to make an initial offer, the date the offered must be accepted by, and whether the purchase is contingent on the buyer receiving financing from the seller or a financial institution.

In many cases, a purchase agreement will undergo multiple revisions before it is satisfactory to both parties. In Missouri, the seller of a home is legally required to deliver disclosures stating the property condition and the presence of hazardous materials before entering into any agreement with a buyer.
Realtor Version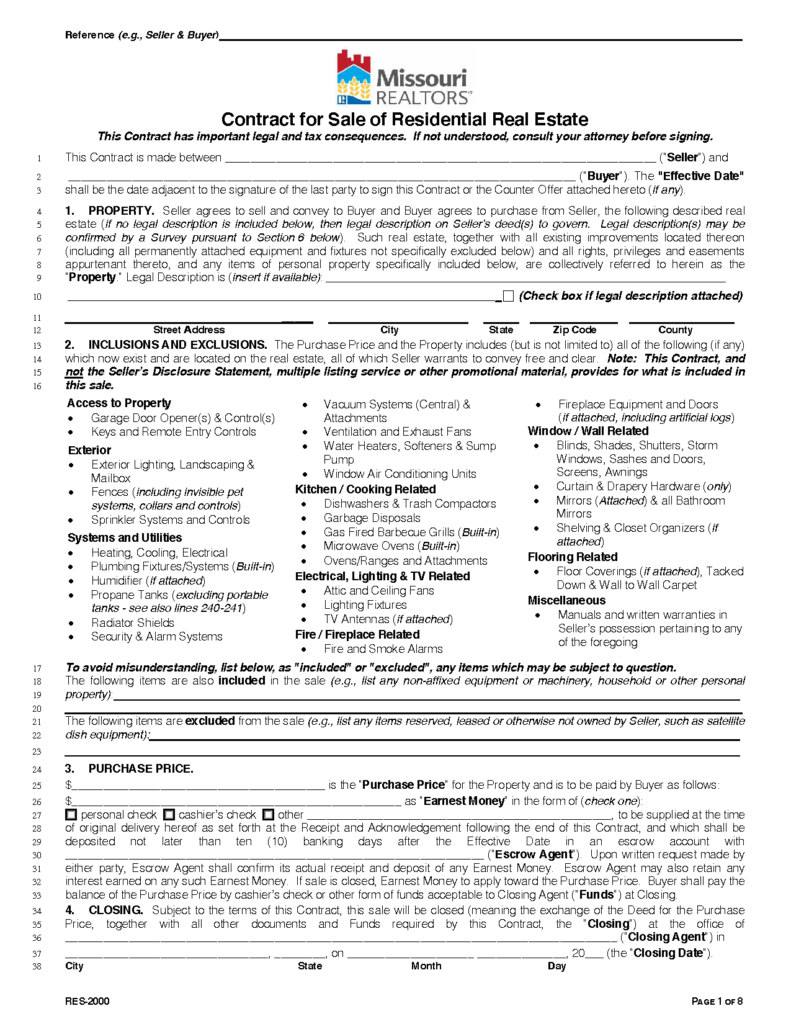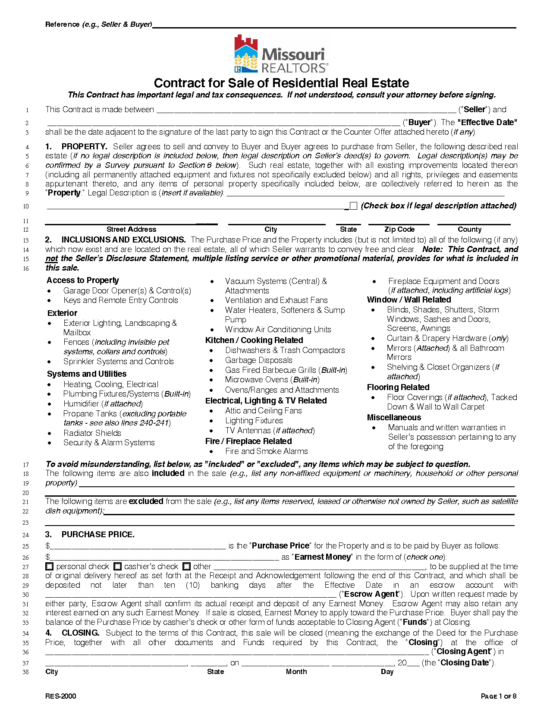 Missouri Realtors Contract for the Sale of Residential Real Estate – Licensed realtors are approved to use this official contract provided by Missouri Realtors® for sales of residential property.
Download: PDF
---
Required Disclosures (4)
As required by federal law, sellers of homes from before 1978 must disclose the presence of hazardous materials such as lead-based paint within a property to potential buyers. The disclosure document must also be accompanied by the provided safety guide for recognizing and managing harmful substances.
An owner transferring a property containing a solid waste disposal site or landfill is required to notify the buyer as early as possible of the whereabouts of the site. If the disposal site or landfill is unauthorized, the buyer must be informed that they may be liable for any remedial actions imposed by the state.
If the seller of a home has knowledge that the production of methamphetamines has taken place on the premises, the seller must disclose this information to the buyer, regardless of whether the individuals involved in the production were convicted or not.
4) Property Disclosure Statement
Provided by the Missouri Association of Realtors, this document is used to account for the condition and damages of residential property during a home inspection.
---
Buyer Beware
With the exception of disclosing the presence of hazardous materials such as lead-based paint or methamphetamine traces, sellers of residential property in Missouri are not legally obligated to disclose a property's defects or anything that may deter a potential buyer. However, the Missouri Merchandising Practices Act (§ 407.020) states that sellers cannot suppress information in trade or commerce, which can be extended to apply to real estate transfers. It is therefore highly recommended for sellers to make a full report on the property's condition and to be transparent when presenting the home to potential buyers.