A medical insurance verification form is used by healthcare providers to verify a patient's health insurance. It helps determine what services will and will not be covered by the insurance provider.
Insurance Verification Information
There is certain insurance information that healthcare providers need to obtain to ensure that patients are appropriately billed. When confirming coverage with the insurance company, the healthcare provider's medical staff should use a verification form to document the following:
Patient Details – The patient's name, contact information, and Social Security number.
ICD-9-CM Diagnosis Codes – Unique codes used to identify the patient's medical problems.
Anticipated CPT Codes – A medical code assigned to each procedure or service the healthcare facility anticipates providing.
Insurance Information – The insurance provider's name, contact details, and the patient's policy number, group number, and plan type (e.g., HMO, PPO).
Health Coverage – Deductibles, coinsurance, copayment, out-of-pocket limit, and covered services (prescriptions, emergency room visits, etc.).
Verification Information – The date and time of verification, the name of the insurance representative, and any prior authorization approval numbers.
How to Verify Medical Insurance
The following is a general explanation of the insurance verification process typically used by hospitals, family doctors, therapists, and other medical offices:
Gather Patient Information – Verifying a patient's health coverage begins during the intake process, typically before their initial appointment at the healthcare facility. At this time, the patient will supply their medical history, personal details, and health insurance information.
Contact Insurance Provider – The medical staff at the healthcare facility will contact an insurance representative to request the patient's policy details. Many insurance companies offer a dedicated phone line for verifications; some also provide an online web portal.
Verify Coverage – Either by communicating on the phone or by using an online portal, the medical staff will verify the patient's health benefits, deductibles, cost-sharing obligations (copay, coinsurance), and other policy information.
Record Insurance Details – The data obtained from the insurance provider will be recorded in a medical insurance verification form, along with the name of the representative (if any), the time and date of verification, and any approval or reference numbers.
Contact Patient – After verifying the insurance information, the patient will be told whether their health plan covers the services they'll receive, what their out-of-pocket expenses will be, and if prior authorization from the insurance provider is required for reimbursement.
---
Related Forms (1)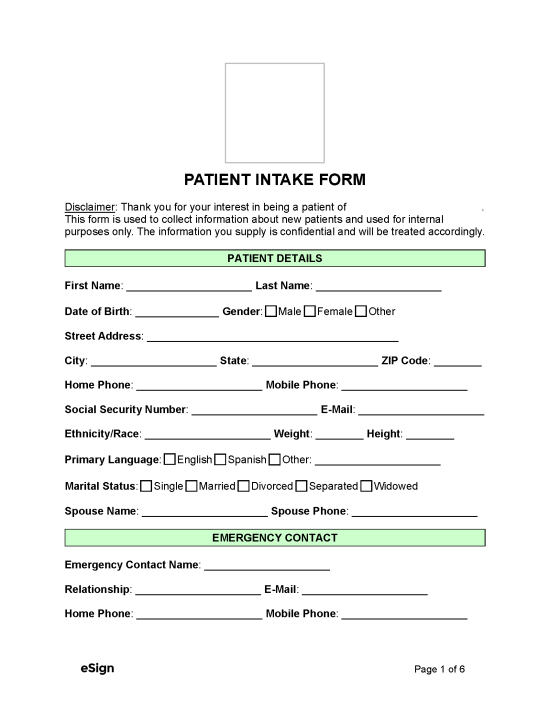 Patient Intake Form – New patients fill out this document to relay their personal and insurance information to the healthcare facility.
Download: PDF, Word (.docx), OpenDocument