Download a Mobile Home Bill of Sale to sell a new or used manufactured structure. Unlike standard homes, they are towed to location, where they will either permanently or near-permanently kept. Due to their width, which can be up to eighteen (18) feet, they require careful planning and consideration to move from one location to the next. It is this factor that differentiates them from travel trailers, a similar form of trailer-based housing.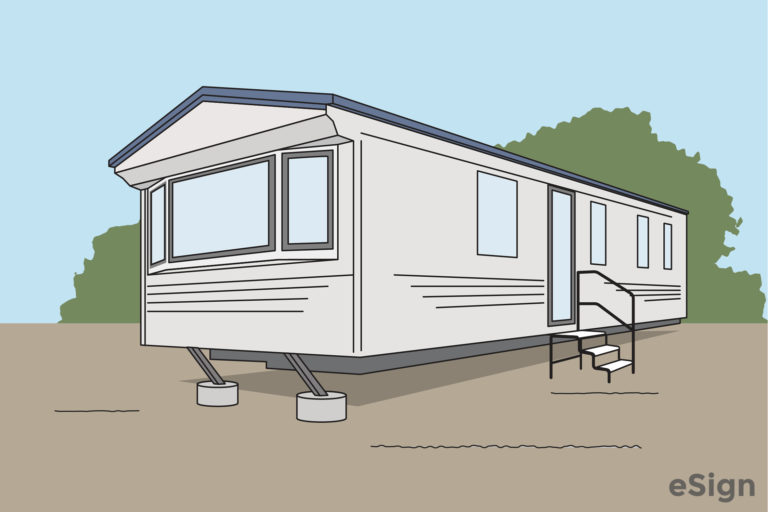 How to Sell a Mobile Home
When selling a mobile home, the most important factor rests in whether the owner also owns the land the mobile home is resting on. If so, the transaction is more straightforward, and takes place much like a standard home selling process. On the other hand, if the mobile home is on leased land (such as a trailer park community), the owner of the land must be communicated with prior to the sale, as they have the power to permit or deny certain people from staying on their land.
How much does it cost to move a mobile home?
Transporting a mobile home is a costly endeavor. As moving.com points, out, a full service move can cost upwards of $13k. Of course, there are many factors that go into the final price for moving the home. These include:
Size and weight – mobile homes that are built with dense materials, as well as those that are are exceptionally long or wide, will require more manpower to transport from one spot to the next. If the home is double wide, the transport will need to take the form of a convoy, in which spotter vehicles (and potentially road closures) will need to be arranged.
Permits required (if any) – If a professional moving company is used, this will most likely be taken care of ahead of time. However, they may tack on the cost of said permits to the total bill. If you'll be moving the home to another state, the home may need to be inspected prior to arrival.
Distance moved – while obvious, the longer the move one needs to make, the higher the price. Gas and wear and tear are the primary factors that go into the distance involved.
Preparation needed – if the home has been sitting for a considerably long time, it may need repairs prior to the move. This is to reduce the chance of an accident from occurring during the trip.
While the up front cost may seem steep, putting the move in the hands of professionals often justifies the cost. Renting the necessary equipment and handling all of the small details leaves significant room for errors, and can result in a destroyed home and unnecessary risk to those using public roads.