A tractor bill of sale catalogs the sale of a farm, construction, industrial, or utility tractor. Tractors used for farming and other commercial purposes rarely require registration, meaning the bill of sale primarily serves as a sales receipt.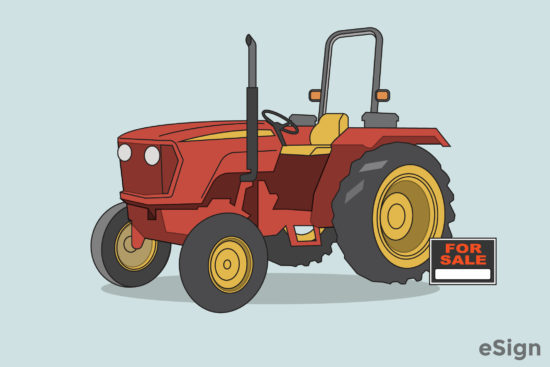 Tips for Selling a Tractor
Make Integral Repairs – The less work a potential buyer needs to do to get the tractor up and running, the more inquiries a seller will receive. Older tractors in great condition can often command higher prices as well.
Clean It – Those in the market for a used tractor understand they're workhorses, and after years, if not decades, of hard use will show considerable wear. At the same time, buyers want to know the money they invest in the tractor will hold up for years to come. Scrubbing off dirt, replacing worn stickers, and applying paint touch-ups can improve the value in buyers' eyes.
Take Clear Pictures – Pictures allow the seller to communicate the condition and presentation of the tractor in a way that words cannot. Take a picture of the tractor from every angle. Include close-ups of areas that are known to wear out often, as well as the gauges. Photograph serial numbers and any other information that identifies the make and model of the tractor.
Utilize Online Advertisements. Online advertisements are an easy way of automating a large portion of the selling process. The majority of work involves entering the specs of the tractor, writing a paragraph on anything buyers should know, uploading the pictures, and paying for the listing (unless a free platform is used). A few popular selling platforms include:
Be Realistic on Pricing. Prior to posting the ad, browse various listing websites to get a sense of the standard selling point for tractors of a similar make, model, and age.