A debt forgiveness letter is sent to a consumer informing them that they are no longer obligated to pay a portion (or the entirety) of their debt. It differs from a debt release letter in that it is sent to those still in debt, not those who have recently paid off their deficit.
While a creditor could forgive debt for many reasons, the most common is that the value of the debt isn't worth pursuing. Debt forgiveness often comes after the debtor has missed several payments and before the creditor sends the debt to collections.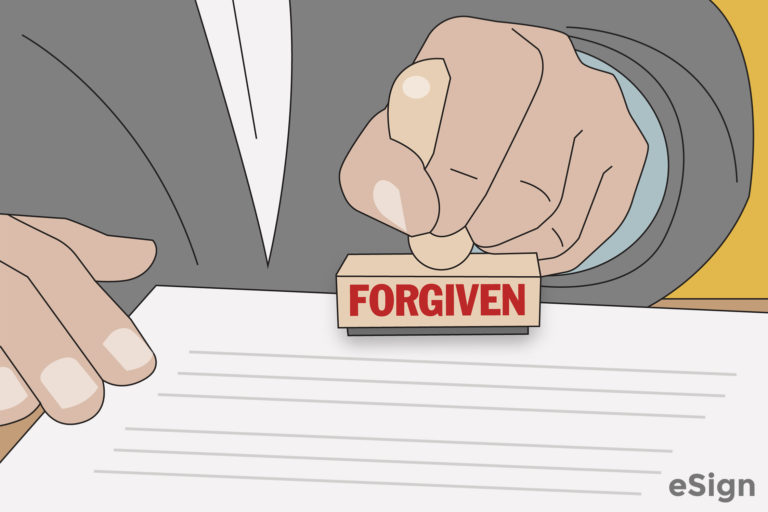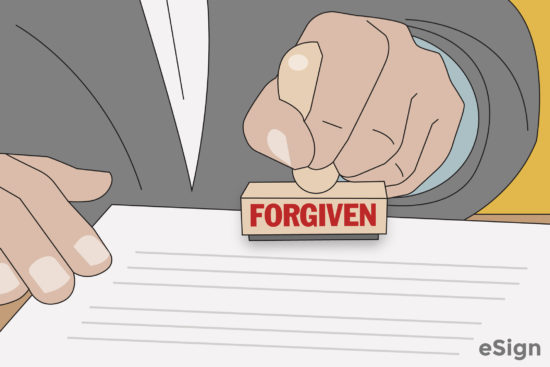 ---
Sample
DEBT FORGIVENESS LETTER
From:
[SENDER (CREDITOR) NAME]
[SENDER COMPANY]
[SENDER ADDRESS LINE 1]
[SENDER ADDRESS LINE 2]
To:
[RECIPIENT (DEBTOR) NAME]
[RECIPIENT COMPANY (IF ANY)]
[RECIPIENT ADDRESS LINE 1]
[RECIPIENT ADDRESS LINE 2]
Date: [MM/DD/YYYY]
NOTICE: DEBT FORGIVEN IN-FULL
Dear [RECIPIENT NAME],
We are contacting you today regarding your debt in the amount of [AMOUNT (IN WORDS)] DOLLARS ($[AMOUNT (NUMERICALLY)]) for the following: [DESCRIBE REASON FOR DEBT].
Due to extenuating circumstances, combined with the amount of the debt you owe, we have taken it upon ourselves to completely relieve you of this debt.
As we have cancelled your debt, please accept any future attempts we make to collect a debt. Thank you for being a loyal customer of ours.
Sincerely,
____________________________
Signature
[SENDER NAME]
[SENDER TITLE]
---
Instructions (How to Write)
Step 1 – Sender
The sender's full name should be written on the first line under "From," followed by the name of the creditor/collection agency company. The last two lines are for the address of the sender.
Step 2 – Recipient
Similar to the "From" address, the first line under "To" should be used for writing the full name of the recipient (the debtor). If the debtor is a company, the name of the organization should be written on the second line. This line can be deleted or left blank if there is no company. The subsequent two lines should be used for writing the recipient's full address.
Step 3 – Date
Enter the date (mm/dd/yyyy) the letter is being sent to the recipient.
Step 4 – Letter Contents
The sender will need to enter the full amount ($) of debt being forgiven. The value in words must be provided first (e.g., "Two-hundred"), followed by the value as a number (e.g., "$200.00").
Next, describe what the original debt was for. If the debt was originally for a cable bill, this should be written (as well as the date of the original debt).
Step 5 – Signatures
The sender should sign their name above the line "Signature." Although this is optional, signing the letter is recommended as it adds to the document's credibility. The signature can be written by hand or by using eSign. Under the signature, the sender should write their full name, followed by the title they hold at the company.