A pay for delete letter is sent to debt collectors to negotiate the removal of negative information from their credit report. The letter proposes a single payment (commonly 50%+ of the owed balance) in exchange for clearing the debt from the major credit reporting bureaus.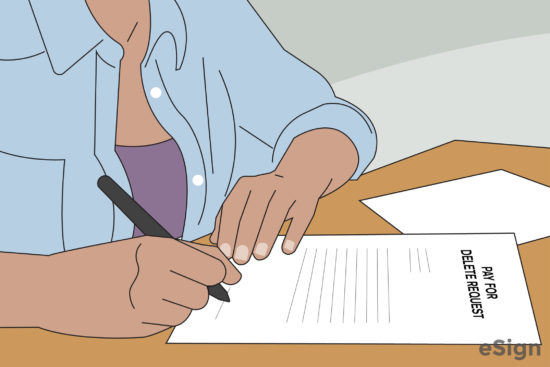 When to Send a Pay for Delete Letter
It doesn't always make sense to send a pay for delete letter. While it may not cause any harm in doing so, large financial institutions (such as banks and credit unions) are unlikely to accept requests made using the letter. Consumers are better off sending a letter to collections agencies for smaller debts. Furthermore, the following points should be considered before sending the letter:
The debtor is 100% sure the debt is valid. The consumer should send a debt validation letter to the entity holding the debt to confirm it's legit. Collections agencies are required by law to respond within thirty (30) days of the inquiry with the contact information of the original creditor. If they don't respond (or can't provide the information), the creditor cannot report the debt to the credit bureau. If the debt remains on the report, the debtor can have the information removed by sending a credit report dispute letter to the major credit bureaus.
The debt isn't close to the 7-year mark. Negative information disappears from one's credit report after seven (7) years. If the debt is approaching this time limit, the debtor can save time and money by waiting until the seven-year mark is reached.
---
Sample
PAY FOR DELETE REQUEST
From:
[DEBTOR (SENDER) NAME]
[DEBTOR ADDRESS LINE 1]
[DEBTOR ADDRESS LINE 2]
To:
[CREDITOR (RECIPIENT) NAME]
[CREDITOR COMPANY]
[CREDITOR ADDRESS LINE 1]
[CREDITOR ADDRESS LINE 2]
Date: [MM/DD/YYYY]
RE: REGARDING THE FOLLOWING ACCOUNT
Account Number: [ACCOUNT NUMBER]
Original Creditor: [ORIGINAL CREDITOR]
Amount Listed: $[AMOUNT LISTED]
Dear [CREDITOR NAME],
I, [DEBTOR NAME], am writing this letter to offer your credit department a one-time offer to settle the alleged amount due for $[OFFER]. Please note that while I am offering this amount of money to settle the debt, this is not my acknowledgment of its liability.
However, as I do disagree with the total amount owed, I am willing to agree to settle this debt so long the following circumstances are met:
Remove all information regarding this debt from the credit reporting agencies Experian, Equifax, and TransUnion;
Payment will be made to satisfy the payment in-full under the Account;
This debt will be deleted from your records; and
There will be no mention of this debt or settlement to any third (3rd) parties.
If the above-mentioned items can be met, I am willing to make payment on this debt immediately. I will only answer to an individual who is an official representative of this Company with the terms of this offer expiring in thirty (30) days upon receipt.
I can be contacted via the following:
Email: [DEBTOR EMAIL]
Phone: [DEBTOR PHONE NUMBER]
Sincerely,
__________________________________
Signature
[DEBTOR NAME]