An attorney/lawyer engagement letter is a legally binding contract that establishes the attorney-client relationship. These letters aim to create a mutually agreeable relationship and help prevent issues such as malpractice claims.
When entering into this type of arrangement, the client and lawyer will discuss the length of the agreement, the type of compensation, retainer fees, contingency fees, and the type of services that will be performed. These terms and other important provisions will be drafted in the letter, which both parties must sign.
Purpose of an Attorney Engagement Letter
An attorney engagement letter explicitly expresses how the attorney will represent the client and what they charge for all the services that will be performed. Furthermore, it establishes attorney-client privilege and confidentiality.
The client benefits from knowing how their money will be used, how their attorney will represent them, how disputes will be settled, and when they can terminate the relationship. Establishing a legal relationship without writing down the terms could result in a malpractice suit or other legal dispute between the parties.
Legal Requirements
Attorneys are not legally obligated to execute engagement letters but most do so to maintain best management practices and avoid legal issues. The ABA's Model Rules of Professional Conduct Rule 1.5(b) states that the scope of representation and legal fees "shall be communicated to the client, preferably in writing…".
The following states have revised their rules of professional conduct to make it a requirement for legal fees and expenses to be disclosed in writing (unless the lawyer is charging a regularly represented client on the same basis or rate):
Alaska (over $1,000)
Arizona
Colorado
Connecticut
Hawaii
Massachusetts
Montana
New Jersey
New Mexico
New York
Pennsylvania
Rhode Island
West Virginia
Wisconsin
Malpractice Insurance
Attorneys must carry malpractice insurance and are subject to review by the insurance carrier which looks at characteristics such as management protocols. One of the protocols reviewed is whether or not the attorney or their firm drafts engagement letters for all their clients.
Insurance carriers will consider firms who use these letters a lower risk and, in turn, provide them with lower rates. The opposite is also true; lawyers who do not implement letters of engagement in their practice may have to pay higher insurance premiums.
What's Included
Scope of Representation
The attorney should describe the legal services they will be performing for their client. Identifying tasks that won't be included in their representation can also help clarify the attorney's role (e.g., post-trail representation must be renegotiated in a new agreement).
Fees and Expenses
An engagement letter must include the fees charged by the attorney (hourly, fixed-rate, hybrid), how payment will be transferred, and who will be responsible for expenses incurred.
Contingency Arrangement
If the parties decide that the attorney's compensation is conditional upon a certain outcome (e.g., winning a case or settling for a certain amount), they will record the details of this arrangement in the letter.
Retainer
The attorney may decide to charge a retainer fee, which is an upfront payment made by the client to secure the lawyer's services. The attorney will only have access to the money once they start working for their client.
Confidentiality
Confidentiality, or lawyer-client privilege, guarantees that the lawyer will not share any information they obtain from their client with any other party. There are a few exceptions but, for the most part, it is a right protected by law and an attorney cannot be forced into disclosing this information.
---
Related Forms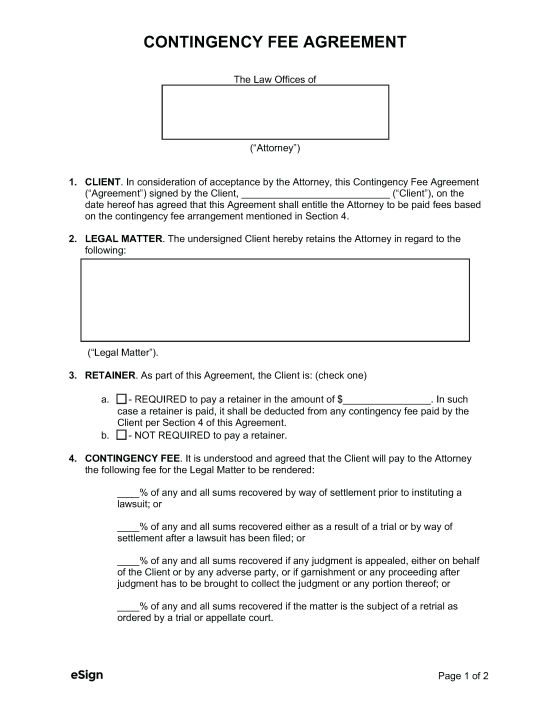 Contingency Fee Agreement – This contract establishes a fee arrangement where attorney compensation is paid only if they are successful in winning their client's case.
Download: PDF, Word (.docx), OpenDocument
---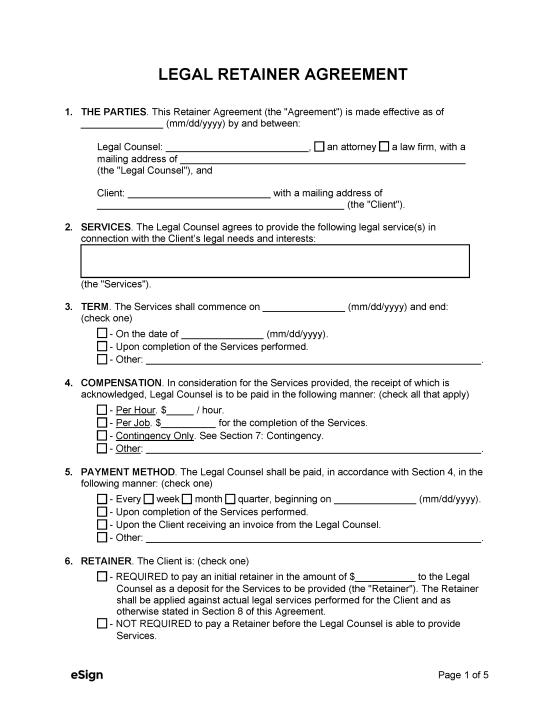 Retainer Agreement – A retainer reserves an attorney's legal services in exchange for an upfront payment.
Download: PDF, Word (.docx), OpenDocument