---
Updated on July 27th, 2023

A nail salon client intake form is a document that clients are sometimes required to fill out before receiving services at a nail salon. The form typically collects the client's personal information, service preferences, nail condition, and health history. By using an intake form, nail salons can provide personalized services, avoid potential risks, and maintain detailed client records.
Common Services
Nail salons provide a variety of services. Some of the most common treatments are listed below.
Manicure/Pedicure
French manicure
Hot stone manicure
Dip powder manicure
Nail art
Gel overlays and extensions
Acrylic overlays and extensions
Sample
Download: PDF, Word (.docx), OpenDocument
NAIL SALON CLIENT INTAKE FORM
DISCLAIMER: Thank you for your interest in being a client of [NAIL SALON'S NAME]. Information collected about new clients is confidential and will be treated accordingly.
Name: _____________________ Gender: ☐ Male ☐ Female ☐ Other
Address: ________________________________
E-Mail: _____________________ Phone: ___________
Date of your last professional manicure or pedicure? ___________ 
How often do you get professional manicures and pedicures? ___________
What hand, foot, and nail products do you most frequently use? _____________________________________
How long does your nail or toe polish usually last? __________________________
How would you like to improve your hands, feet, and nails? _____________________________________
What type of hobbies and activities do you do that directly affect your nails? _____________________________________
Do your nails? (select all that apply) ☐ Split ☐ Peel ☐ Crack ☐ Break
Are your cuticles? (select all that apply) ☐ Dry ☐ Torn ☐ Ragged ☐ Inflamed/Red 
Do you bite your nails? ☐ Yes ☐ No
On your hands, do you have? (select all that apply)
☐ Open Wounds ☐ Cuts ☐ Bruises ☐ Tenderness ☐ Rash/Irritation
Have you ever had or do you now have a nail infection on any of your fingernails or toenails?
☐ Yes ☐ No ☐ N/A
If yes, please provide further information: _____________________________________
Have you experienced any of these health conditions in the past or present?
☐ Diabetes ☐ Hepatitis ☐ HIV/AIDS ☐ Other: __________________
If any of the above are checked, please provide further information: _____________________________________
Are you pregnant? ☐ Yes ☐ No
Do you have any allergies? (including food, medicines, scents, plants, etc.) _____________________________________
By signing below, you attest that you have provided accurate and current information on this form and answered all medical and health-related questions truthfully and completely. Your signature also certifies that you understand that the above-named salon reserves the right to deny service to any client due to a health condition he or she has that may pose a potential risk to practitioners or other clients, including those that pose a risk of potential contamination to service areas. Furthermore, signing below verifies that you understand that you are responsible for informing the above-named salon or its manicure and pedicure technicians of ANY and ALL changes to your health condition as regards any question on this form or any potential public health risk that may arise from any change in your health condition. You acknowledge and accept that withholding information or providing misinformation may result in contraindications or irritation to the nails and skin from treatments received. The treatments you receive here are voluntary and you release this nail care professional and the above-named salon liability and you assume full responsibility thereof.
Signature: _____________________________ Date: ____________________
Printed Name: ____________________
---
Using an Intake Form
Although many nail salons don't require clients to fill out an intake form, using one can serve several important purposes. Here are a few benefits intake forms have to offer:
Collecting basic client information – An intake form will collect the client's name, contact information, preferences, and concerns. Getting this information on record helps the salon maintain

a database of clients with each of their preferences for future reference.

Health & safety – Nail salons use tools and provide services that can risk infection, injury, or allergic reactions. By asking the client to disclose infections, nail condition, recent treatments, and allergies, nail technicians can take precautions to avoid adverse reactions.
Treatment customization – By understanding the client's nail condition, previous treatments, and desired outcomes, nail technicians can customize their services to ensure a more personalized and satisfactory experience.
Liability protection –

Intake forms often ask the client to acknowledge both the potential risks, and that they have provided complete and accurate information.

 This acknowledgment protects the salon from liabilities if the client has an undesirable result or reaction.
---
Related Forms (2)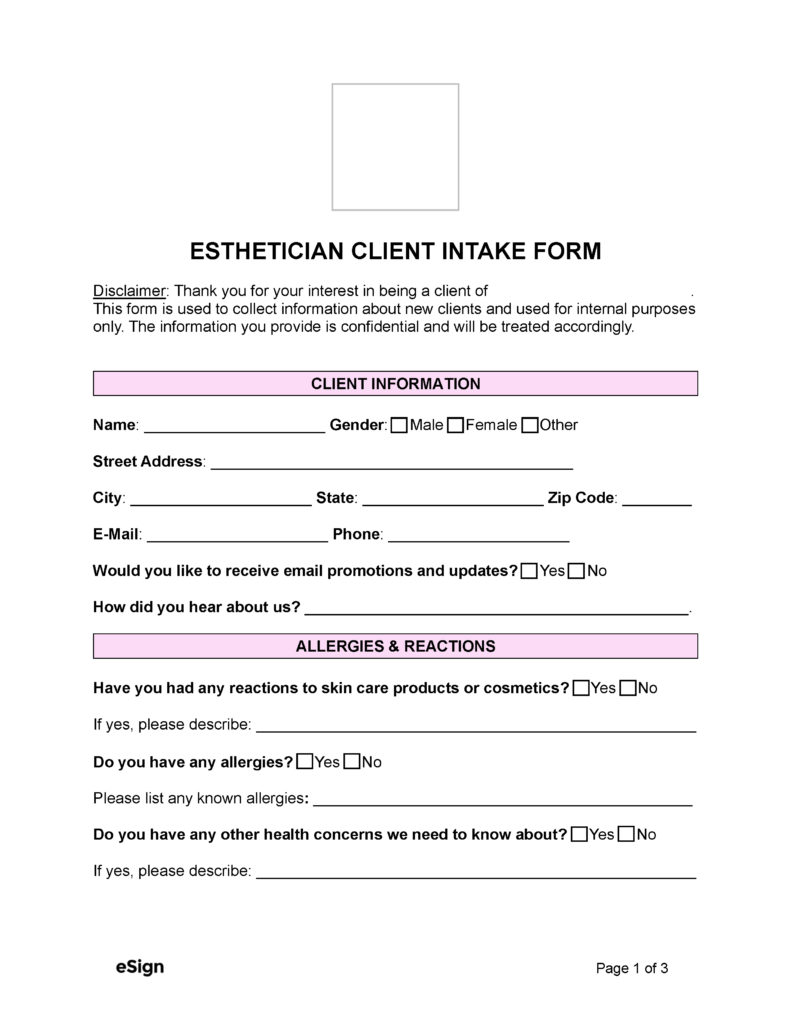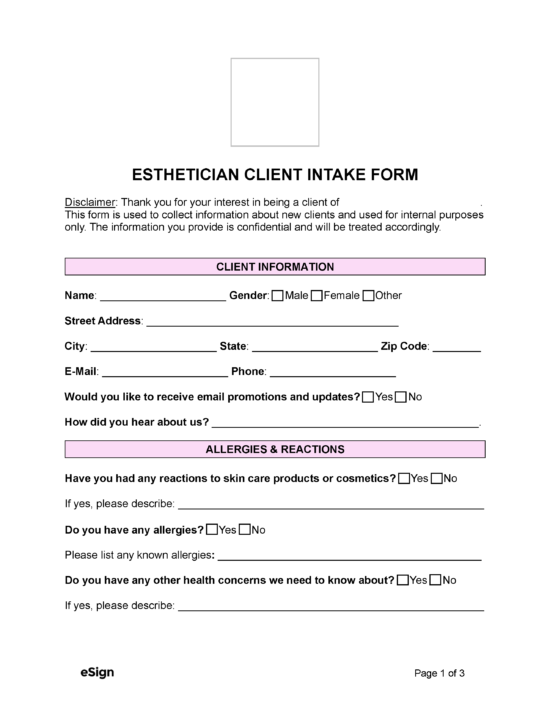 Esthetician (Facial) Client Intake Form – Used by estheticians to collect client information before treatment.
Download: PDF, Word (.docx), OpenDocument
---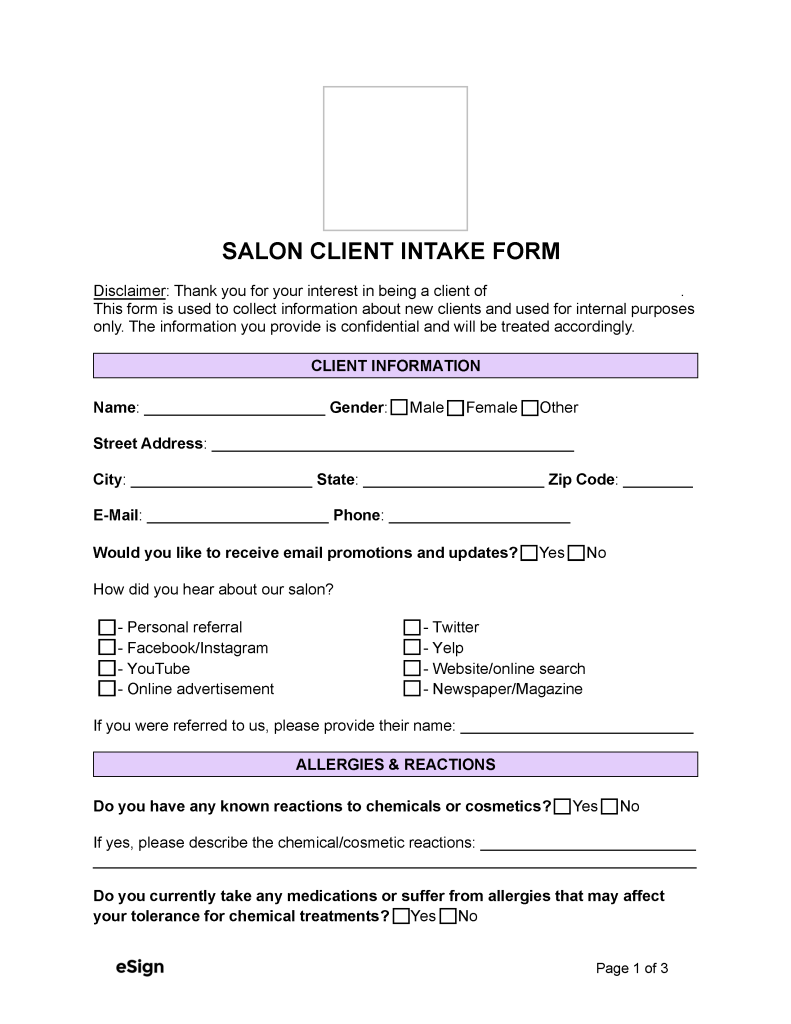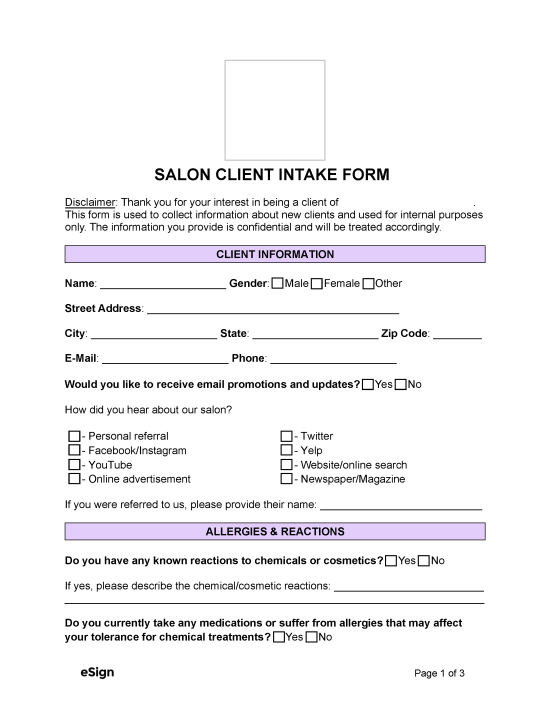 Salon Client Intake Form – An intake form that salons can use to create and update client files.
Download: PDF, Word (.docx), OpenDocument