A salon client intake form is a document that new clients fill out before their first appointment at a hair salon. The form allows the salon to collect the client's information, including their name, address, email, phone number, hair type, and any allergies, medication, or conditions that may make them vulnerable to having a reaction to hair treatments. It's also common to include an acknowledgment by which the client agrees not to hold the salon or stylist liable for any adverse reaction resulting from their hair treatment.
Hair Salon Services
Most hair salons provide the services listed below.
Haircuts
Hair coloring
Hair styling
Chemical treatments
Hair extensions
Bridal services
Men's grooming
Children's haircuts
To avoid negative experiences for clients, it's common practice to ask them to disclose any known allergies or negative reactions to products prior to providing services involving extreme hair manipulation, chemicals, or plant-based products, such as coloring, styling, extensions, and treatments.
What's Included
The following information is commonly included in an intake form to collect the new client's information and have them agree to the salon's policies:
Client Information
The client will need to provide their name and contact information so they can be contacted for appointment reminders as well as promotions and updates. The salon may also ask to know where the client heard about their business.
Client's Allergies & Reactions
It is essential that the salon is aware of any possible adverse reactions the client may have to hair treatments and styling. Therefore, the client should be required to disclose any allergies they have, medications they take, or reactions they know of that put them at risk. Undesirable effects could include miscolored or damaged hair, hair loss, as well as rashes or burns to the skin.
Hair Type & Condition
To further ensure that services go as planned, the client will need to disclose the type and condition of their hair. This includes the hair texture, porosity, how healthy or damaged it is, and what their last treatment was. Again, this information will help the stylist avoid damaging the client's hair or otherwise failing to give the desired result.
Client's Acknowledgment
An intake form can also include the client's agreement that they consent to receive services and not hold the salon liable for any unsatisfactory result.
Cancellation & Payment Policies
The hair industry is prone to clients canceling or not showing up for appointments. Using an intake form, salons can enforce a cancellation policy that makes clients pay a fee if they miss their appointment or don't give enough notice before canceling.
The salon can also make clear that clients must pay their bills in full when services are completed and what payment methods are accepted.
Client Signature
The client must sign and date the intake form for the salon's policies to be enforceable with their business protected from liability.
---
Related Forms (3)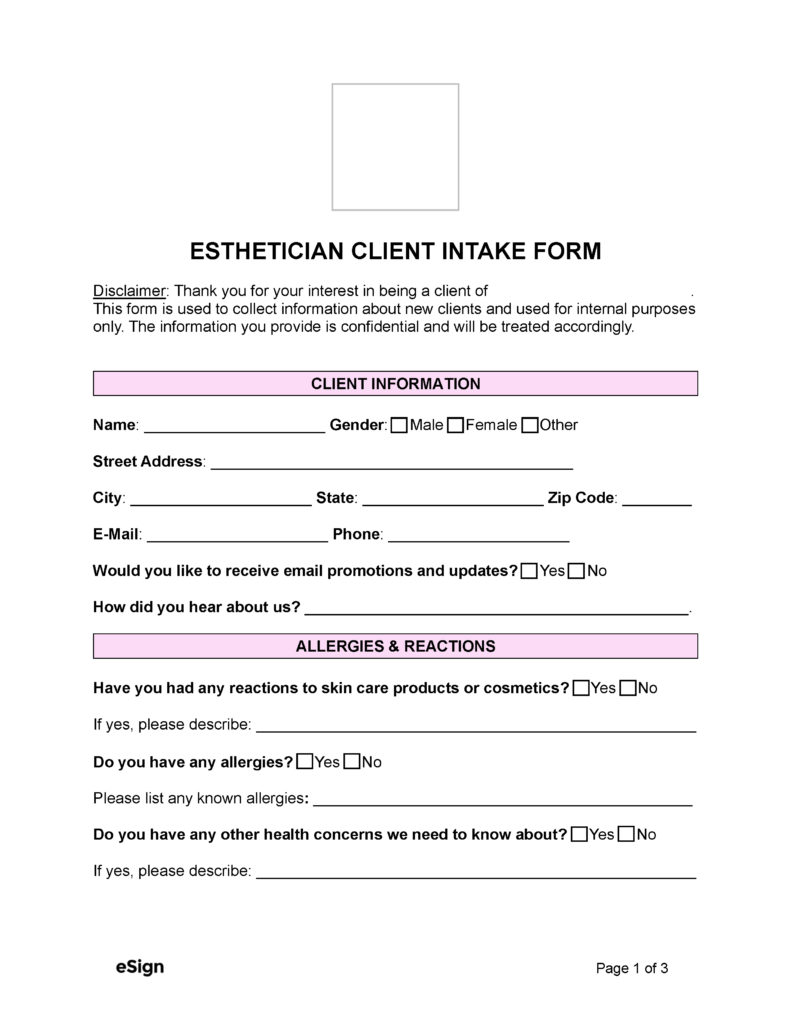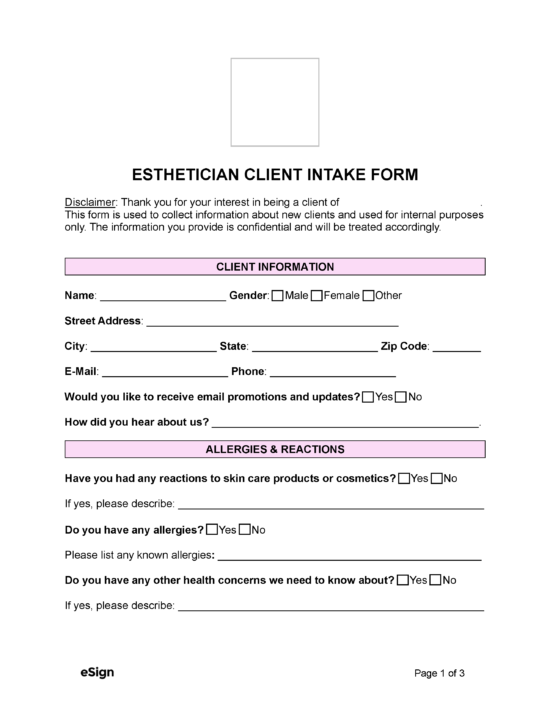 Esthetician (Facial) Client Intake Form – Collects information on clients of estheticians for facials and skin care.
Download: PDF, Word (.docx), OpenDocument
---

Massage Intake Form – An intake form that can be used by spas, massage therapists, and bodywork specialists.
Download: PDF, Word (.docx), OpenDocument
---

Nail Salon Client Intake Form – Used by nail salons to obtain relevant information from new clients.
Download: PDF, Word (.docx), OpenDocument