---
Updated on November 3rd, 2021

An Alabama real estate listing agreement is a type of contract used for providing an agent with a set of guidelines and permissions to market and sell residential property for a seller. Once signed, the agent assumes the responsibilities of marketing, listing, and showing the property, in addition to negotiating with buyers and other agents on the owner's behalf.

There are three (3) types of possible listing agreement arrangements: exclusive right to sell, exclusive agency, and open listing. The parties must agree on which type of agency relationship will be established, as this will dictate how the agent gets paid a commission.
Dual Agency (§ 34-27-81(8)+(11)) – The state of Alabama allows agents to represent both the seller and buyer in a real estate transaction, a situation known as "dual agency." The licensee must obtain written consent from both parties before continuing with the transaction.
Purchase Agreement – A contract used for making an official offer on a property, executed by a buyer and a seller.
Realtor Version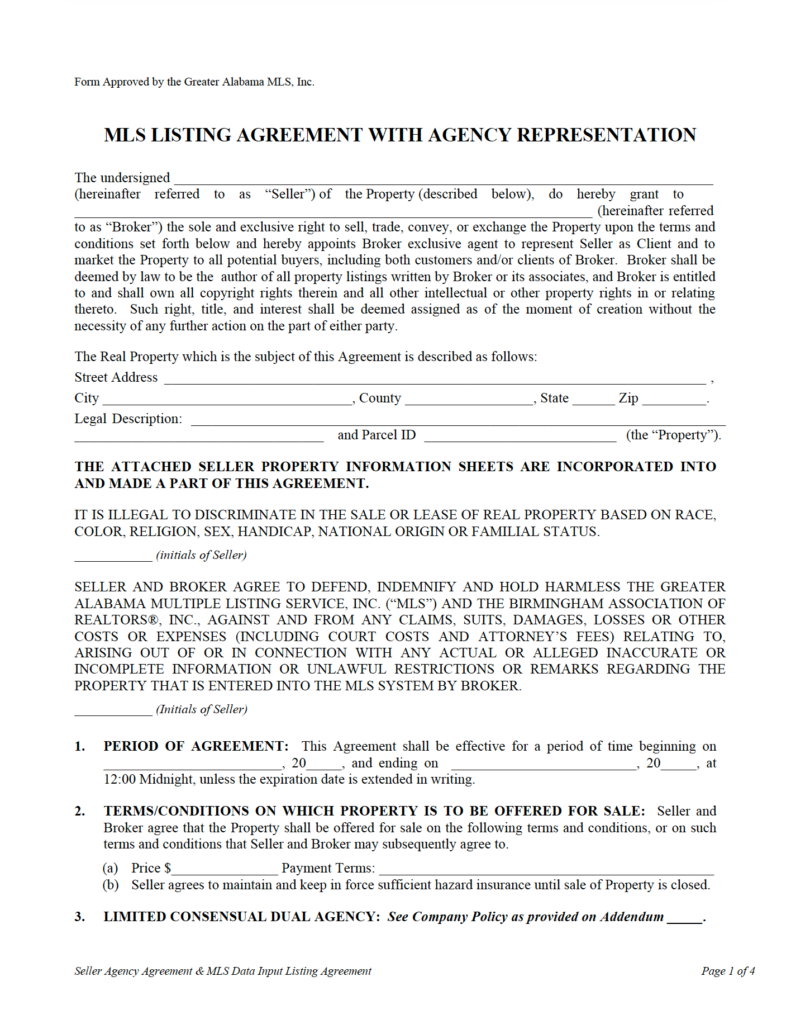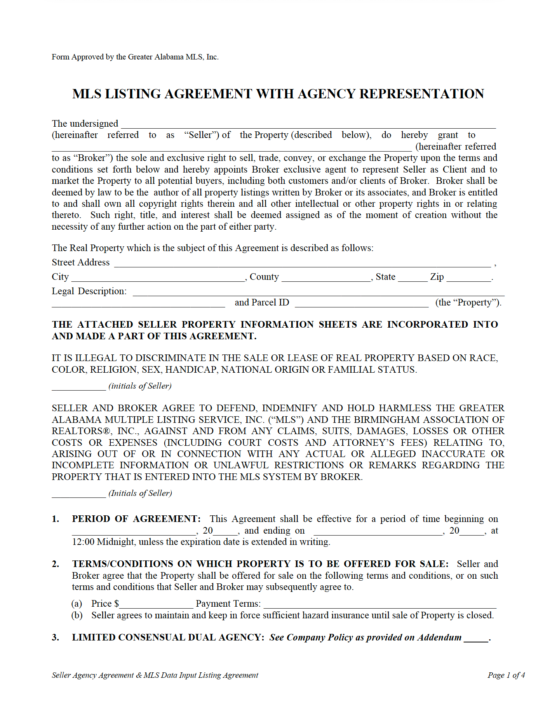 Alabama MLS Listing Agreement With Agency Representation – A form approved by the Greater Alabama Multiple Listing Service, Inc. (MLS) that grants an agent the exclusive right to list and sell residential property for an owner.
Download: PDF
---
Disclosures / Waivers (4)
1) Brokerage Services Disclosure
Must be provided to the seller prior to signing a listing agreement to inform them of the types of brokerage services available to consumers.
2) Consumer Information Booklet
This is an optional booklet created by the Alabama Real Estate Commission that can be presented to potential clients (buyers and sellers) by a licensee that outlines the rights of consumers and the responsibilities of agents, and goes into more detail concerning the types of agency relationships listed in the Brokerage Services Disclosure.
As long as all parties to a real estate transaction provide written consent, a real estate licensee may act as an agent for both the seller and the buyer.
4) Property Disclosure Statement
An optional form the seller can use to catalog the property's current and previous issues/repairs as well as notable amenities and features.