---
Updated on November 3rd, 2021

A Maine real estate listing agreement grants a real estate agent authority to manage the selling of a home on behalf of the property owner. Matters such as marketing the property, handling negotiations, and communicating with prospective buyers are entrusted to the agent, who is responsible for acting in the owner's best interests and selling the property at their chosen price.

Listing agreements entitle real estate agents to a commission upon closing a sale, the specific amount of which is negotiated between the owner and agent, as well as whether the fee is a fixed amount or a percentage of the final sale price. If the agent cannot secure a buyer before the expiration date set on the form, the agreement is deemed invalid, and they must cease agency.
Dual agency (§ 13275)
Purchase agreement – This document allows the seller of a residence to transfer ownership of the property to a buyer.
Realtors Version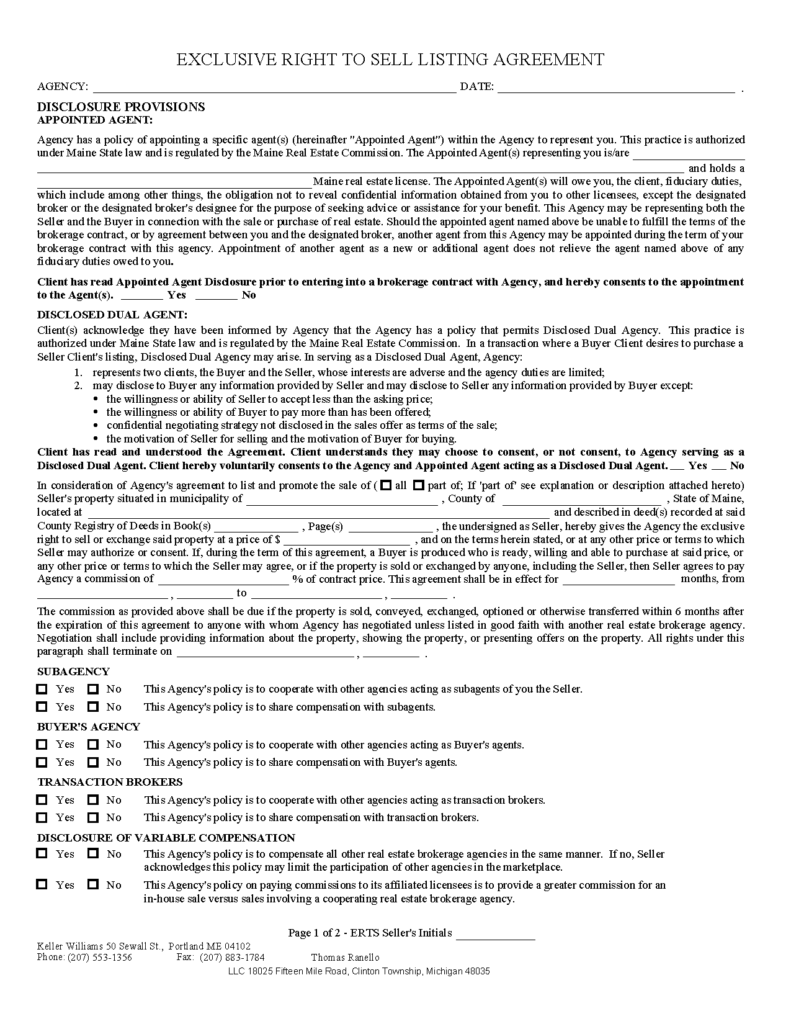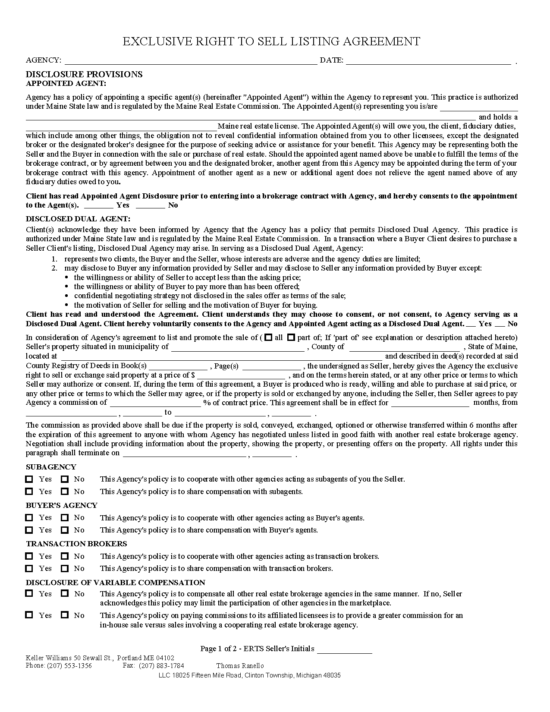 Maine Exclusive Right to Sell Listing Agreement  – This official document provided by the Maine Association of Realtors® grants an agent exclusive rights to list and sell a home on behalf of the property owner.
Download: PDF
---
Disclosures / Waivers (3)
1) Brokerage Relationship Disclosure
The buyer and seller of a residence must receive a copy of the Real Estate Brokerage Relationship Disclosure document so that they may have a clear understanding of the role and duties of a real estate agent.
If consented to by both parties involved in a real estate transaction, an agent may provide representation for both individuals simultaneously. A dual agency can take effect once the buyer and seller sign a written document stating the details and terms of the representation in accordance with the guidelines set in § 13275 of the Maine Legislature.
3) Property Disclosure Statement
Real estate transactions in the state of Maine cannot be finalized without the furnishing of a property disclosure statement that informs the buyer of the condition and any defects of a residence and its internal systems.