A Delaware non-compete agreement is a contract that allows a business owner to prohibit competition from the signing party. The agreement is often used in an employer-employee relationship, or during the sale of a company to ensure the selling party doesn't start a similar business. The document establishes the agreement's geographic scope and time frame, as well as specific activities the restricted party must refrain from carrying out. In order to ensure a non-compete agreement is upheld by the court, the terms should be reasonable and limited to protecting the owner's "goodwill" or confidential information.
Enforceability in Delaware
In Delaware, non-compete agreements are enforceable, but they are not governed by state statutes.[1]  Instead, courts rely on common law to ascertain an agreement's validity. In order for an agreement to be upheld, the restrictions must:
Comply with common law contract requirements.
Set reasonable geographic and time constraints.
Defend a legitimate financial interest (e.g., client base, trade secrets, region of operations, etc.)
Protect the employer from a financial loss greater than the hardship imposed on the employee ("survive a balance of equities").[2] 
When it IS Enforceable
Workplace. Non-compete agreements may be enforced against an employee to protect the employer's goodwill or sensitive information.[3] 
Selling a company. Non-compete covenants are regularly used in purchase contracts for businesses and are enforced provided they adhere to common law requirements.[4] 
When it's NOT Enforceable
Attorneys. A non-compete clause or other restrictive covenant may not limit an attorney's ability to practice law or represent clients. Restrictive covenants, however, are valid in agreements about an attorney's retirement benefits.[5] 
Physicians. A non-compete covenant may not be enforced against a physician.[1] 
Maximum Time Period
As Delaware statutes do not provide laws for regulating non-compete agreements, the courts rely on previous cases and their judgment to evaluate the reasonableness of a non-compete's time restrictions, taking into account:
The position held by the employee;
The employer's financial interest; and
Non-compete agreements with a time restriction of one (1) to two (2) years are deemed reasonable for skilled workers and those in management, and courts have upheld agreements with durations of up to 3 years.[8][9] 
Geographical Area
Delaware courts consider a geographic scope reasonable if it is limited to where the employer has a protectable interest. The courts will uphold restrictions that meet this condition, even if the range is significant. In one case where the business operated on a national level, the courts enforced a covenant not to compete prohibiting a former company owner from competing anywhere in the U.S.[10]
Consideration
A non-compete agreement must include consideration to be valid.[8]
In the past, the courts have deemed the following as appropriate consideration:
Sources
---
Related Forms (2)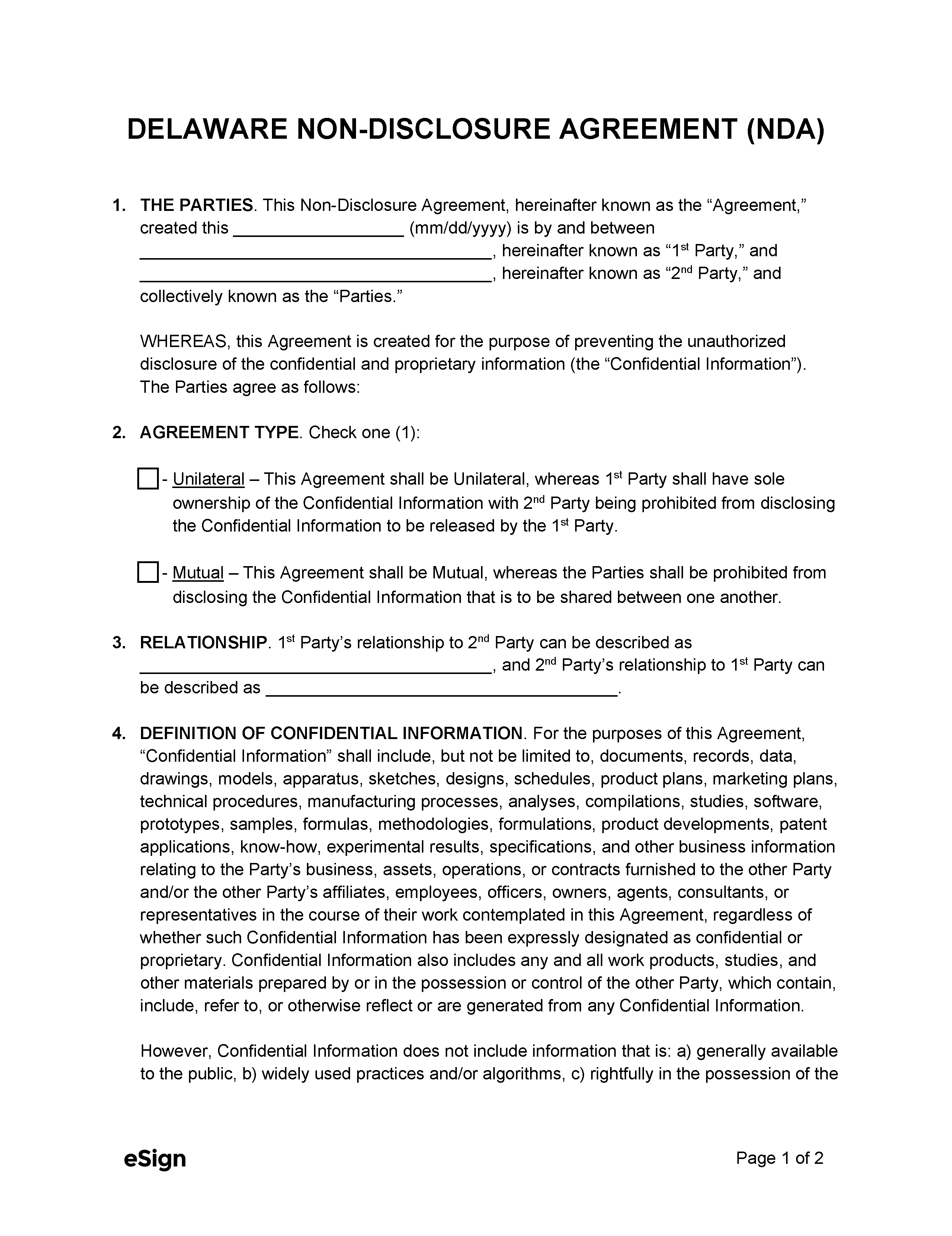 Delaware Non-Disclosure Agreement – Prevents a person with access to trade secrets from disclosing them.
Download: PDF, Word (.docx), OpenDocument
---
Delaware Non-Solicitation Agreement – Restricts a worker's ability to solicit, recruit, or hire their former employer's customers or employees.
Download: PDF, Word (.docx), OpenDocument