A Florida non-compete agreement, or "NCA," is used to prohibit an individual from competing in the same field as their employer after they've left the company. The document allows business owners to prevent employees who receive specialized training or access to trade secrets from gaining a competitive advantage post-termination. An NCA's enforceability depends largely on whether the restrictions protect a valid business interest without adversely affecting the employee.
Enforceability in Florida
Non-compete agreements are enforceable if they protect a "legitimate business interest." Examples of such interests include, but are not limited to:
Agreements executed before July 1, 1996, are governed by § 542.33 Fla. Stat, and those executed after July 1, 1996, are governed by § 542.335 Fla. Stat.[1][2]
When it IS Enforceable
As stated above, a non-compete agreement is enforceable if it protects a legitimate business interest. Furthermore, when enforcing an NCA, the courts will:
Avoid considering whether the agreement will cause the employee hardship.
Assess the impact that the non-compete will have on the public.
Review all legitimate defenses against the covenant.
Consider the non-compete from the perspective of defending the employer's interest.[1]
It should be noted that a court will only enforce non-competes that are in writing and signed by the employee.[1]
When it's NOT Enforceable
Legal practice. Any agreement restricting a lawyer's right to practice law is void (unless the agreement is made in relation to retirement benefits).[5] 
Medical practice. A covenant not to compete is void for physicians who specialize in a field of medicine that all practitioners thereof located in a specific county are employed or contracted by a singular entity.[1] 
Mediators. Mediators are prohibited from limiting other mediators from their practice (except in the case of agreements for retirement benefits).[6] 
Maximum Time Period
Florida statutes establish several time ranges that a court will "presume to be reasonable" depending on the circumstances of the case.
The following durations apply to agreements not being used for safeguarding trade secrets:
Ex-employee or contractor. Six (6) months or less is reasonable, and more than two (2) years is unreasonable.
Previous distributor, dealer, franchisee, or licensee. One (1) year or less is reasonable, and more than three (3) years is unreasonable.
Sale of a business or other entity. Three (3) years or less is reasonable, and more than seven (7) years is unreasonable.
The courts will consider five (5) years or less to be reasonable and ten (10) years or more to be unreasonable if the agreement is for the protection of trade secrets.[1]
However, the court may take into account other factors when determining the reasonableness of a time restriction and may uphold a longer period than specified by the statutes if deemed necessary.[7] 
Additionally, the restricted time period cannot exceed the maximum duration allowed by Florida state law (varies per circumstance, though six (6) months to five (5) years is generally deemed reasonable).
Geographical Area
The geographic scope of a non-compete agreement is not governed by state law, and the courts will generally limit a geographic restriction to where the employer operates their business.[8][9]
The courts may uphold non-competes with broad geographic scopes for employers in highly specialized industries. In one incident, the court allowed for a non-compete agreement encompassing the entire country for a company that provided specialized insurance to a niche customer base.[10]
Consideration
Consideration must be provided to an employee in exchange for entering into a non-compete agreement.[11] An employer guaranteeing continued employment is sufficient consideration, even if the individual is employed at-will, meaning they can be terminated without notice. However, new employment is deemed adequate consideration only if the employee is promised that they will be given written notice prior to being dismissed; new at-will employment is not enough to render a non-compete agreement enforceable.[12]
Sources
---
Related Forms (2)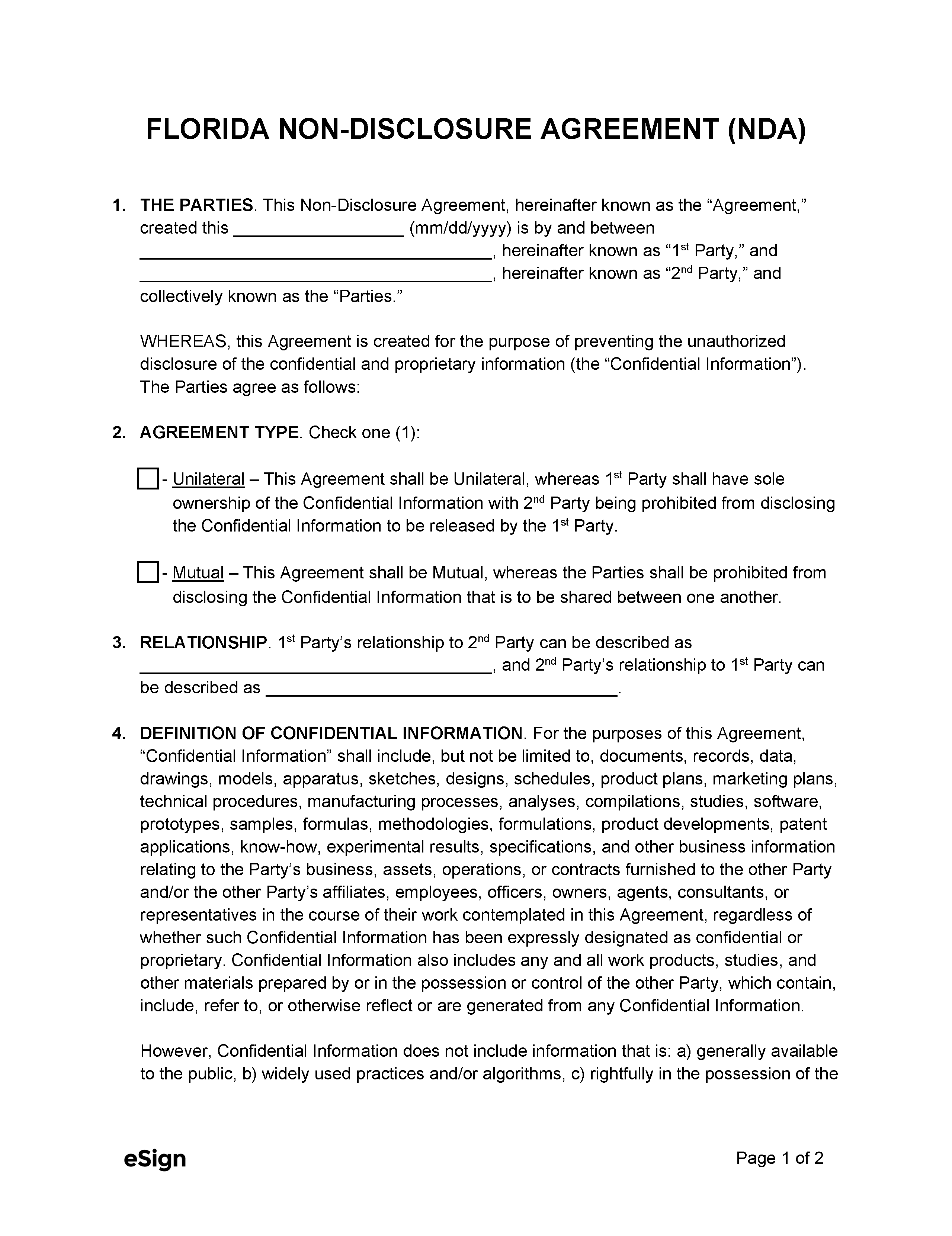 Florida Non-Disclosure Agreement – Used to ensure that a recipient of sensitive information does not breach the owner's confidentiality.
Download: PDF, Word (.docx), OpenDocument
---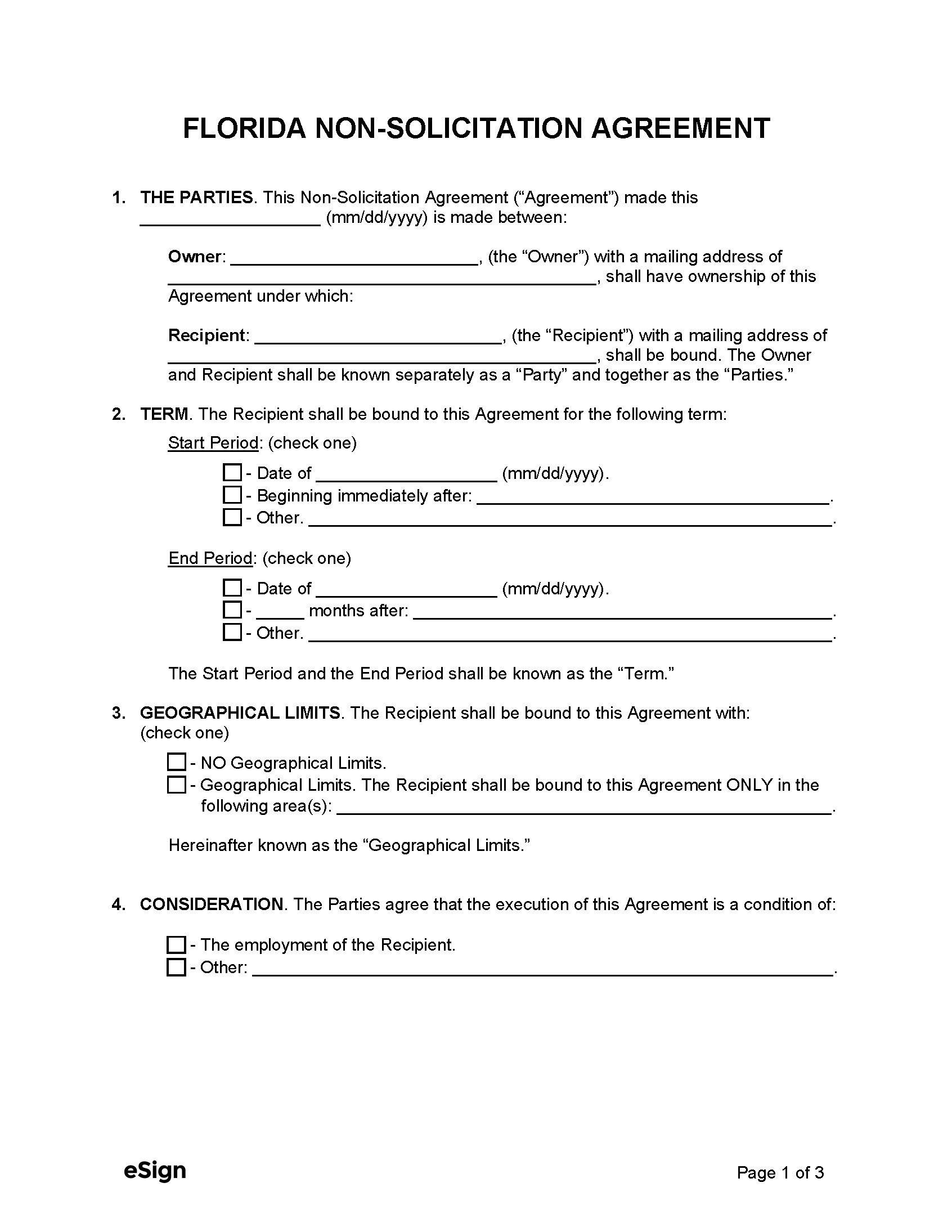 Florida Non-Solicitation Agreement – A contract that prevents a former employee or business owner from poaching clients and members of staff.
Download: PDF, Word (.docx), OpenDocument