---
Updated on October 21st, 2022

An Iowa non-compete agreement is a document through which an employer sets parameters that govern what an employee can and cannot do after their employment ends. Having an employee sign a non-compete as a condition of employment or continued employment (a form of "consideration") prevents them from engaging with employees, clients, customers, or competitors of their former employer and from selling products/providing services in a similar industry.

A non-compete agreement establishes which services or products it applies to, what geographic area(s) the ex-employee cannot work in, and how long this restriction will be enforced. When an NCA is violated, the employer can seek a number of legal remedies, such as filing an action with the court to attempt to seek financial compensation for the loss of business.
Enforceability in Iowa
While there are no Iowa statutes that specifically define and govern non-compete agreements, there are a number of case law sources that help the courts determine the enforceability of such agreements. Judges and justices assigned to civil suits and appeals cases will pass judgment using what is known as the three-pronged test[1], which considers the following questions:
"1. Is the restriction reasonably necessary for the protection of the employer's business?
2. Is it unreasonably restrictive of the employer's rights?
3. Is it prejudicial to the public interest?"
When it

IS

Enforceable
Reasonable provisions. Iowa courts use their best judgment to decide whether the provisions of an NCA are "reasonable," the interpretation of which will vary case by case.[2]
Protect employer interests. Non-compete agreements will be enforced, insofar as they are reasonable, to protect any of the following interests:
When it's

NOT

Enforceable
General
Restraint on trade. Courts will not enforce provisions that are a restraint on trade.[7]
Industry-Specific
Practicing law. It is illegal to create agreements that restrict another lawyer's right to practice law after their employment has been terminated.[8]
Franchises. After refusing to renew a contract with a franchisee, a non-compete covenant created by the franchisor is unenforceable; the franchisee has the right to continue to provide the same or similar services in that geographic market.[9]
Maximum Time Period
There are no specific time restrictions mentioned in Iowa law; however, courts will generally find a non-compete agreement unreasonably restrictive if time isn't limited to an equitable degree. In the past, courts have often enforced agreements with two (2) to three (3) year limits, but not longer than five (5) years.[10] Furthermore, an agreement with no time limitation at all will undoubtedly be considered unenforceable.[11]
Geographical Area
Because a non-compete agreement's geographical restriction varies greatly depending on the industry and the profession of the employee, Iowa law does not define geographical restrictions. Courts will use their best judgment to determine whether the scope is reasonable. A large radius may be enforced if the employee's profession is specialized,[12] but in general, non-compete provisions should be limited to the area where the employee worked.
Consideration
Like most states, Iowa courts believe the hiring of an employee to be reasonable and sufficient consideration.[13] Furthermore, Iowa also considers continued employment to be adequate consideration.[14]
---
Sources
---
Related Forms (2)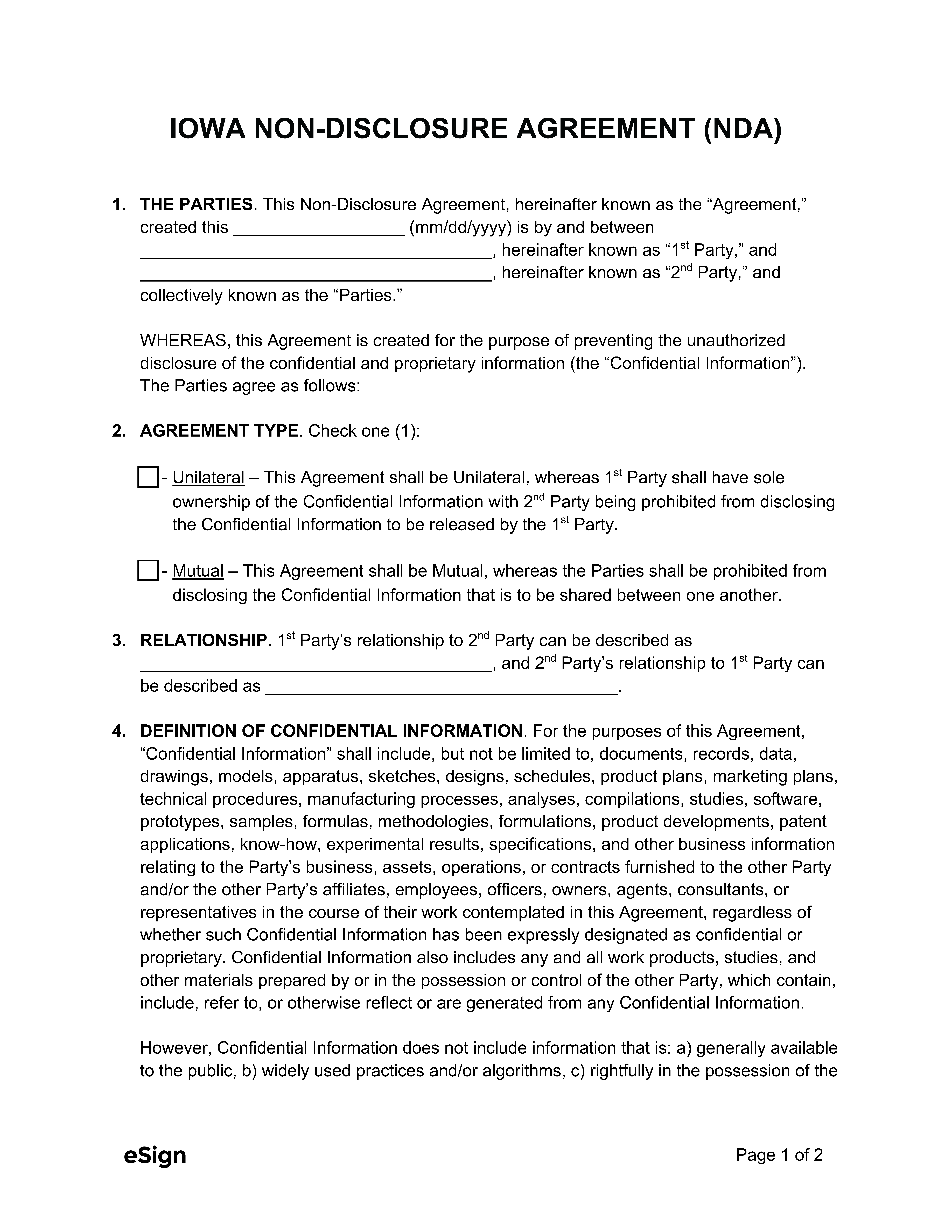 Iowa Non-Disclosure Agreement – This form is used when an employer wishes to share trade secrets with their employee while safeguarding the confidentiality of this information.
Download: PDF, Word (.docx), OpenDocument
---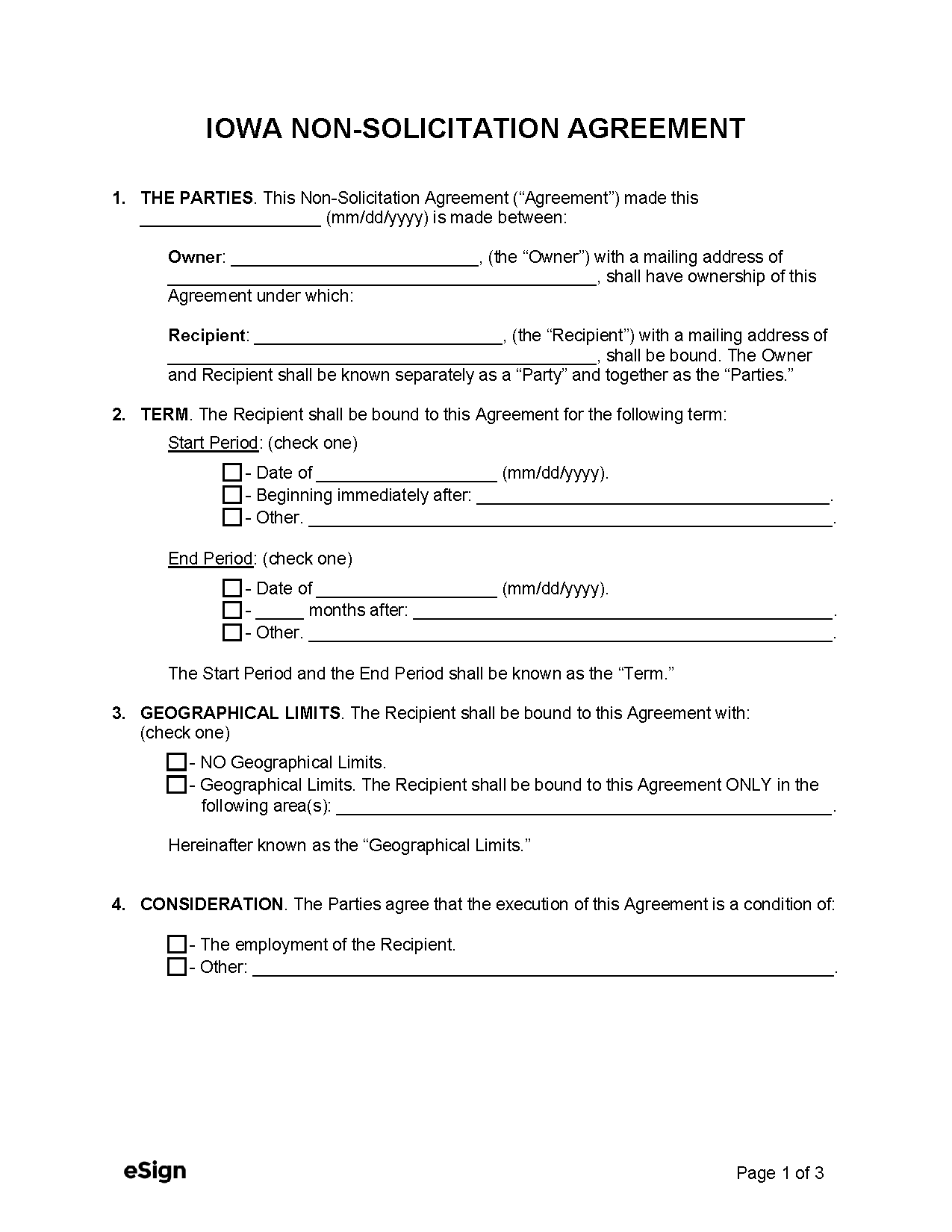 Iowa Non-Solicitation Agreement – A legal contract in which the signing party is prohibited from soliciting their employer's customers or workers for their own benefit.
Download: PDF, Word (.docx), OpenDocument