---
Updated on December 7th, 2022

A Montana non-compete agreement is a restrictive contract executed for the purpose of protecting an entity's competitive advantage in its industry. In an employment context, the form would be presented to an employee to prevent them from appropriating their employer's goodwill, trade secrets, customer lists, or employees. The employer must be careful not to create provisions that are overly broad or restricting because if the contract negatively affects the employee's ability to make a living, the agreement may be unenforceable.

A non-compete can also be applied to the sale of a business or the dissolution of a partnership. The document would have the same effect in that the party enforcing the agreement attempts to protect their interests by prohibiting the other party from starting or joining a similar business venture.
Enforceability in Montana
Generally speaking, non-competes are heavily scrutinized in Montana, but they are enforceable if they are partially restrictive instead of completely restraining trade. State statutes clearly assert that "[a]ny contract by which anyone is restrained from exercising a lawful profession, trade, or business of any kind…is to that extent void."[1] However, common law has determined that an employer with a legitimate business interest to protect can enforce a non-compete agreement if it meets certain requirements, as detailed below.[2]
When it

IS

Enforceable
Business interests. An employer has the right to protect their interests from an employee by prohibiting them from misappropriating trade secrets and goodwill or engaging with the employer's customers in direct competition with the employer.[3]
Three-prong test. A non-compete contract is only enforceable if it is deemed reasonable by a court of law based on the following three (3) factors:

Limited in time or place.
Consideration provided.
Protects employer, employee, and the general public and does not create any undue hardship for aforementioned parties.[4]
When it's

NOT

Enforceable
Complete restraint. When a non-compete agreement implements excessively strict limitations on an employee which in turn affects their ability to work in their industry, the agreement will not be enforceable.[1]
Lawyers. Non-compete agreements are not enforceable against attorneys as part of a case settlement or an employment agreement, unless the agreement pertains to retirement benefits.[7]
Maximum Time Period
No durational requirements have been set for non-compete agreements. For an NCA to be considered reasonable, it must be limited in either time or place. As an example, one agreement did not forbid the employee from working in the same field or even servicing their former employer's clients. However, it did require that, for a twelve (12) month period, they financially compensate the employer if they did service their clients.[4]
Geographical Area
The geographical scope of a non-compete in an employer-employee context will be judged similarly to time limits, i.e., the restriction must be reasonably limited as to either time or place.[4]
When it comes to a business sale or partnership dissolution, state statutes have established the following geographical areas a restrictive agreement can cover:
"The city where the principal office of the business is located;
the county where the principal office of the business is located;
a city in any county adjacent to the county in which the principal office of the business is located;
any county adjacent to the county in which the principal office of the business is located; or
any combination of the areas in subsections (2)(a) through (2)(d)."[5]
Consideration
In order for a non-compete to be enforceable, adequate consideration must be provided to the employee.[4] Montana courts have determined that hiring the employee at the time of signing a non-compete is fair consideration. However, continued employment alone is not sufficient consideration; the employee must receive additional advantages, such as a raise, a promotion, or access to trade secrets and other confidential information.[8]
---
Sources
---
Related Forms (2)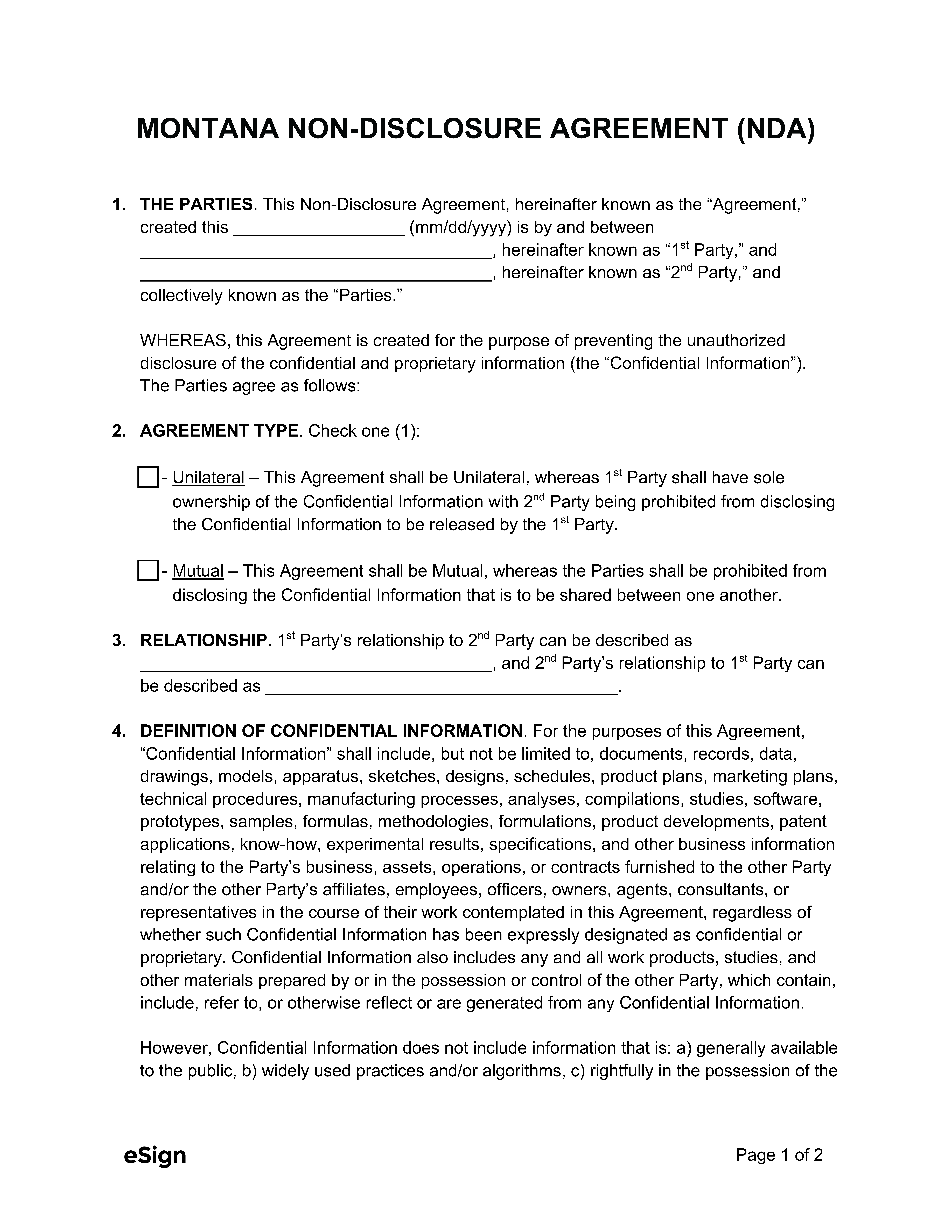 Montana Non-Disclosure Agreement – This contract aims to prevent the misappropriation of an entity's confidential and proprietary information.
Download: PDF, Word (.docx), OpenDocument
---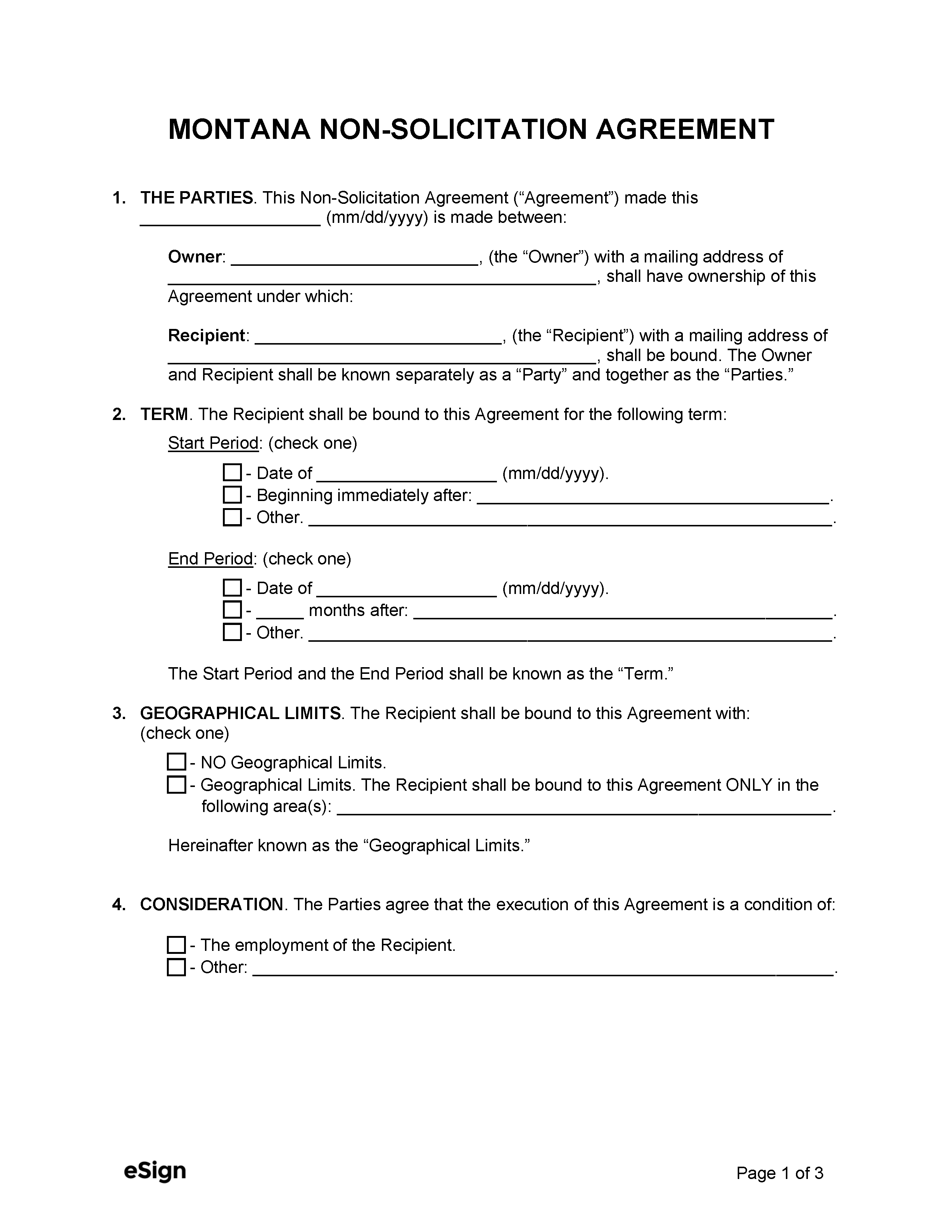 Montana Non-Solicitation Agreement – Obligates the signee not to solicit a business owner's employees and clientele.
Download: PDF, Word (.docx), OpenDocument