---
Updated on October 29th, 2022

A North Carolina non-compete agreement places restrictions on employees leaving a company, preventing them from working in the same industry. These agreements are executed to safeguard an employer's unique business interests, such as their customer base and confidential information. These contracts are also used in the sale of a business or dissolution of a partnership to prevent the former owner or partner from continuing to operate in the same region as their former company.
Enforceability in North Carolina
North Carolina courts have decided that non-competes are enforceable between an employer and an employee only if they are:
1. "In writing;[1]
2. Reasonable as to time and territory;
3. Made part of an employment contract;
4. Based on valuable consideration; and
5. Designed to protect a legitimate business interest of the employer."[3]
It should be noted that North Carolina law generally prohibits any contract that restricts trade or commerce.[2]
When it

IS

Enforceable
Protectable interests. Employers have the right to ask employees and contractors to sign a non-compete in order to protect their unique business interests, such as confidential information and customer contacts.[3]
When it's

NOT

Enforceable
Lawyers. A lawyer may not enter any agreement that would prevent them from practicing law as it limits the professional's autonomy and their clients' access to the representation of their choice. An exception may be made for an agreement that concerns retirement benefits.[4]
Maximum Time Period
North Carolina courts must determine the time and geographical restrictions in tandem: the larger the area restricted, the shorter the duration; the smaller the area, the longer the time period.[5]
Generally, restrictions with a duration of three (3) years or less are considered reasonable, while five (5) or more year contracts are viewed as excessive.[6]
Geographical Area
Though no specific law exists to govern geographical area restrictions, a precedent has been set in prior court rulings. In the case of Farr Associates, Inc. v. Baskin, a six-part test was used to determine the reasonableness of geographical restrictions. The factors in question are:
Where did the employee work?
What area was the employee assigned to?
Where did the employer operate?
What was the nature of the business?
What is the size of the area or the scope of the limitation?
What was the nature of the employee's duty, and in turn, what knowledge did they acquire of the business operations?[6]
Consideration
For new employees, the initial employment offer is considered enough consideration for the individual to enter into a non-compete agreement.[6] In contrast, the North Carolina court has concluded that continued at-will employment is not sufficient consideration,[7] but an offer of continued employment for a determined period of time may be regarded as adequate.[8] If the employment relationship already exists, there generally needs to be a change in employment terms that benefit the employee, such as a pay raise or a change in the job title.[9]
Sources
---
Related Forms (2)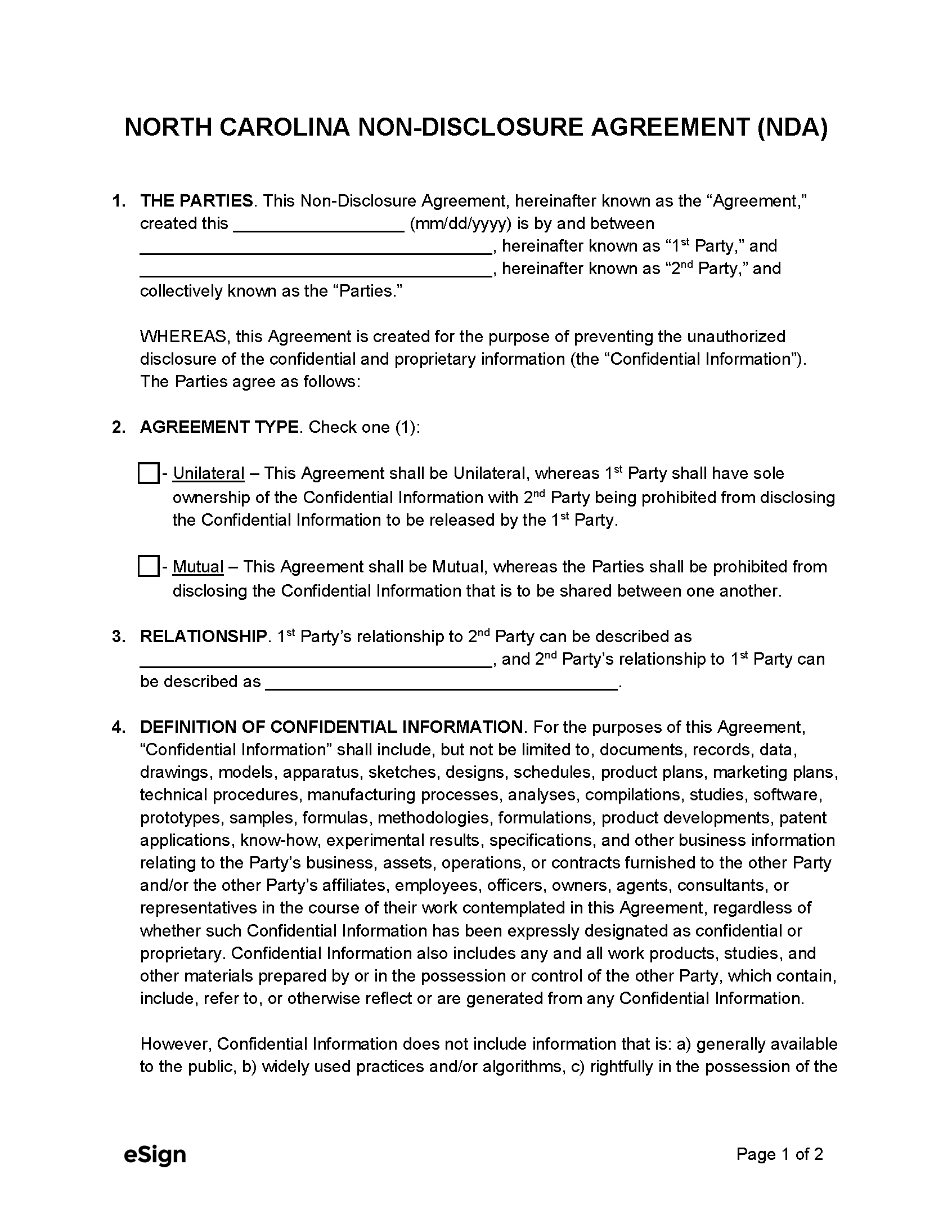 North Carolina Non-Disclosure Agreement – A confidentiality agreement where an employee agrees not to disclose an employer's proprietary information to unauthorized parties.
Download: PDF, Word (.docx), OpenDocument
---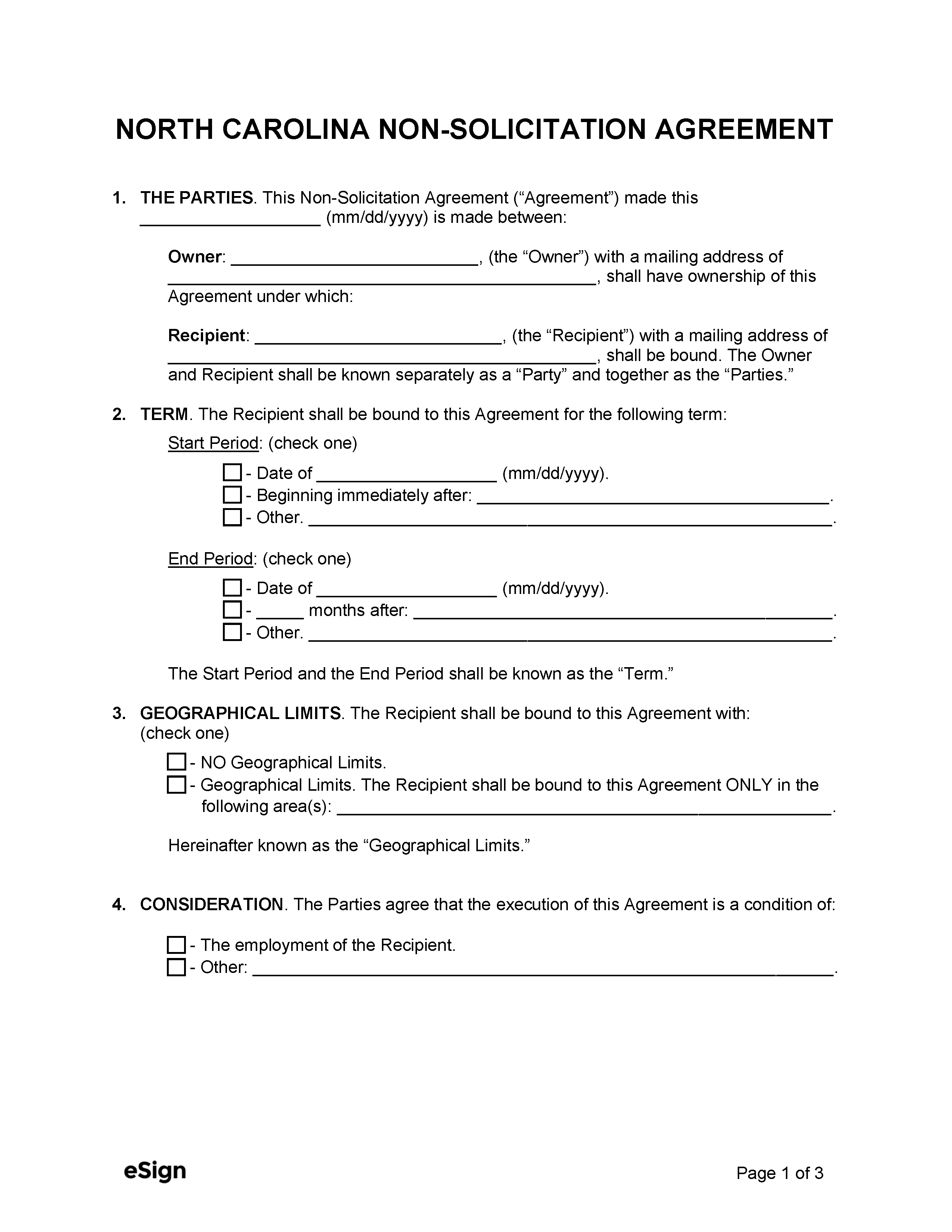 North Carolina Non-Solicitation Agreement – Obligates the signee to avoid engaging in business with a company's customers for a given period.
Download: PDF, Word (.docx), OpenDocument