---
Updated on October 25th, 2022

A New Mexico non-compete agreement is an agreement wherein one signing party is prevented from competing with the other's business for a specified period. The document prevents those who were given access to trade secrets and specialized training (e.g., employees, contractors, previous owners) from using it to gain a professional advantage and adversely affect the employer's protectable interests. The activities typically restricted by a non-compete include starting a similar company, working for a competitor, or soliciting the employer's customers or clients.

In addition to restricting competition, the agreement contains non-disclosure provisions that require the signing party to ensure their employer's proprietary information remains confidential for the contract term.
Enforceability in New Mexico
Non-compete agreements are enforceable agreements under New Mexico common law. There are no statutes governing non-competes generally, and they have only been addressed in a few cases. That said, New Mexico courts have established certain conditions that the agreement must comply with before it may be enforced:
The agreement must be supported by satisfactory consideration.
The restrictions impose only a partial restraint on the particular trade or employment.
The restrictions are reasonable and do not extend past what is necessary to protect a legitimate interest.
The agreement does not violate public policy.[1]
When it 

IS

 Enforceable
Employer protection. A non-compete agreement that protects a valid interest, such as a company's goodwill or customer relationships, is enforceable.[1][2][3]
Sale of business. Courts generally deem non-competes executed in connection with the sale of a business valid.[4]
When it's 

NOT

 Enforceable
Right to legal practice. An agreement that limits an attorney's capacity to practice law is unenforceable, though it may be permitted when it concerns retirement benefits.[5]
Health care. Non-competes executed after July 1st, 2015, are void if they restrict a healthcare worker's ability to provide their services. Nonetheless, there are exceptions that apply to non-disclosure and non-solicitation agreements, as well as provisions in agreements that enable employers to recoup certain expenses.[6][7]
Maximum Time Period
State statutes do not provide any maximum period for non-compete agreements. Courts enforce time limits that they deem reasonable and sufficient for protecting the employer's business interests and have allowed non-compete durations of two (2) to three (3) years.[2][3]
In one case involving the sale of a business, a fifteen (15) year restriction was found reasonable due to the significant sale cost and because the business' goodwill was at risk.[8]
Geographical Area
New Mexico courts consider geographical scopes no greater than the area where the employer has a protectable interest to be enforceable.[1] Restrictions encompassing a city or county have been allowed by the courts.[2]
In one decision, the Supreme Court of New Mexico ruled that the restricted party could not compete in Las Vegas and other areas where they had performed work under contract, stating that the scope was no wider than required to protect the employer.[1]
Consideration
New Mexico statutes and common law do not provide well-defined guidelines for consideration.[1] In the case of a non-compete between a physician and a clinic, travel expenses, vacation time, and the right to end employment with thirty (30) days' notice was sufficient consideration.[9]
Sources
---
Related Forms (2)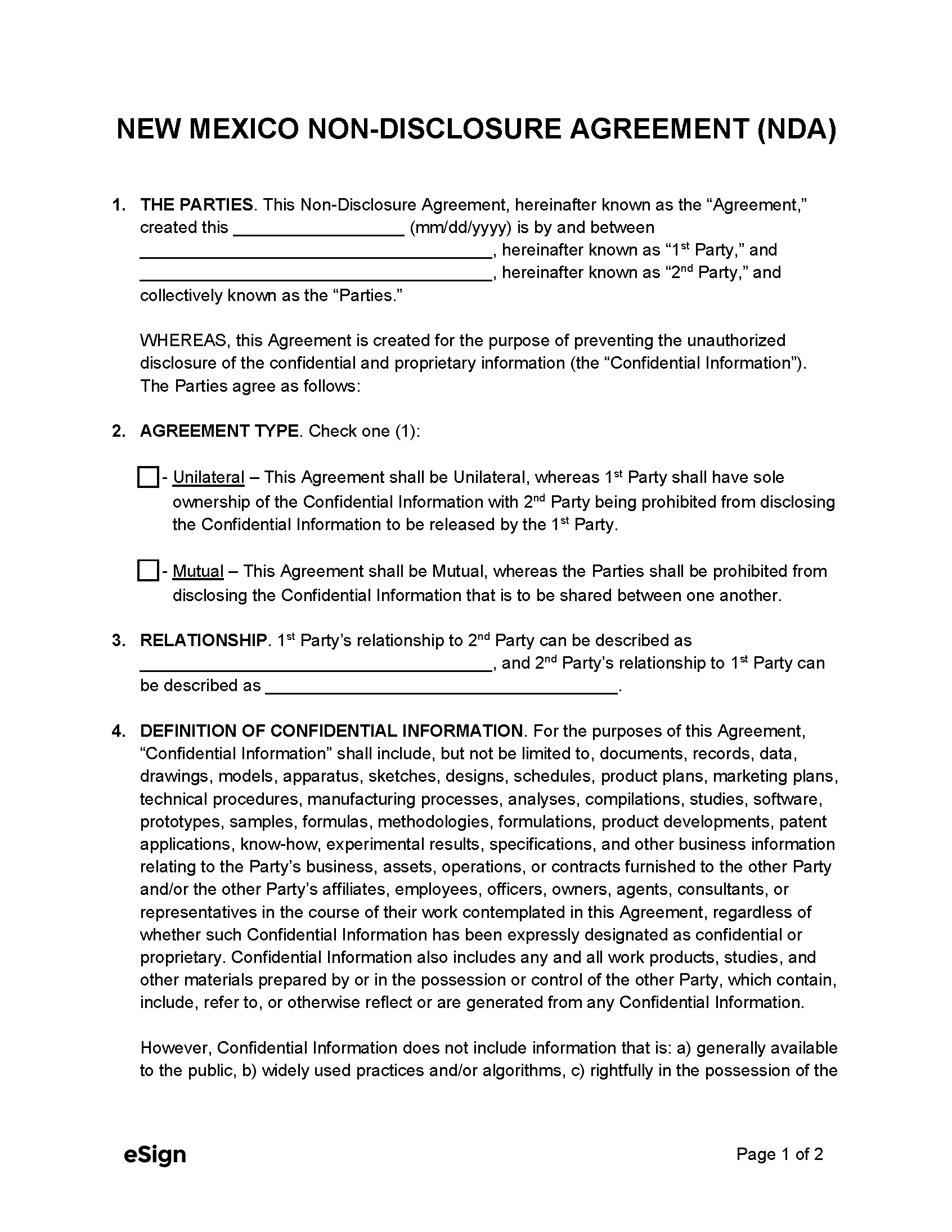 New Mexico Non-Disclosure Agreement – A legal contract that obligates a party to keep certain information from unauthorized parties.
Download: PDF, Word (.docx), OpenDocument
---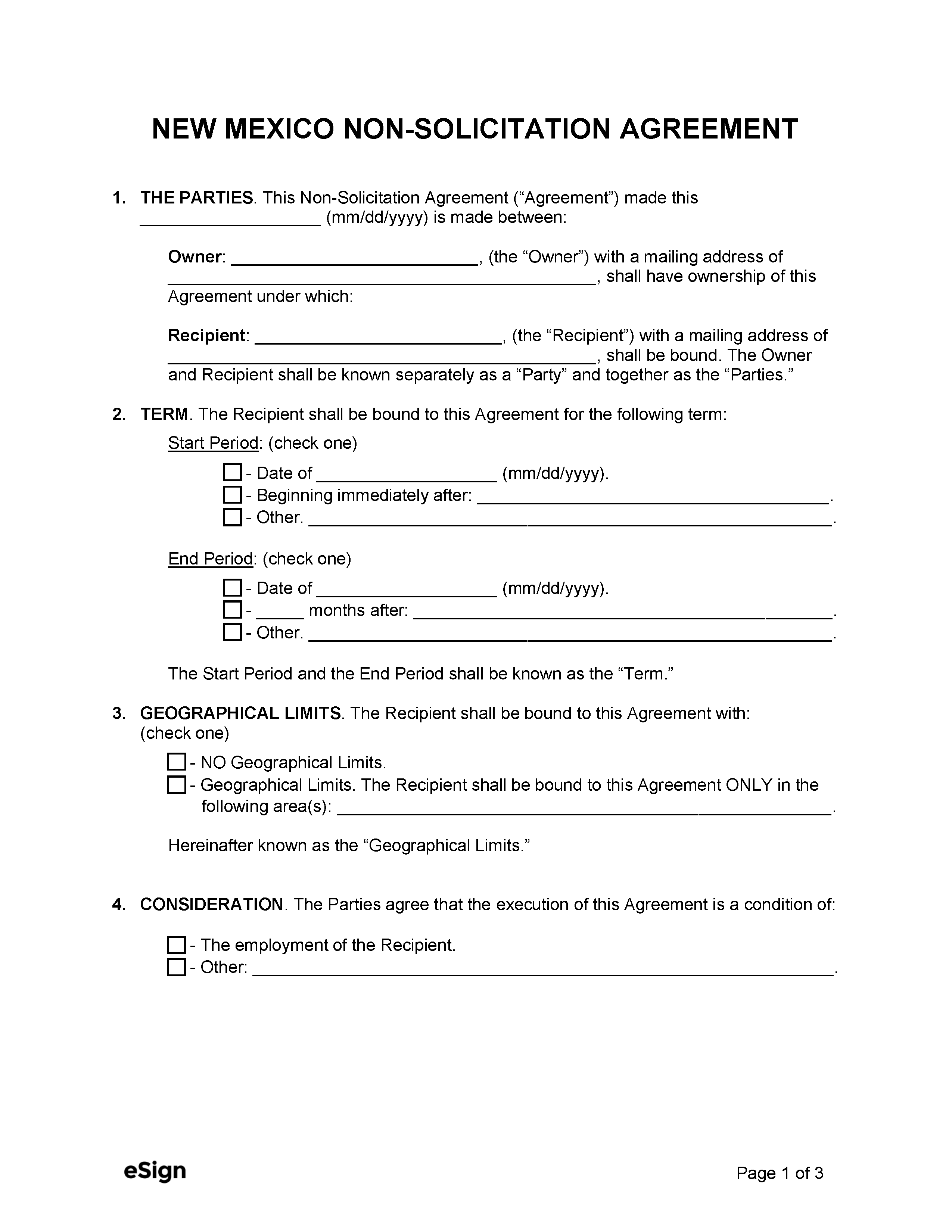 New Mexico Non-Solicitation Agreement – Prohibits the signatory from soliciting customers and employees of the owner's business.
Download: PDF, Word (.docx), OpenDocument