---
Updated on November 8th, 2022

A Rhode Island non-compete agreement is a contract that restricts an individual's ability to compete in the marketplace with another party following the end of a business relationship. The agreement is generally between an employer and employee whereby the latter cannot compete with the former for a certain time period post-termination. In addition to the time restriction, the agreement may identify specific geographical areas where the ex-employee cannot work in a similar field.

When establishing the parameters of a non-compete agreement, the party the document protects should ensure that the terms are reasonable and restrictive only as is necessary to safeguard their business. If the restrictions are excessive or unnecessarily broad, it will be difficult to enforce the contract in court.
Enforceability in Rhode Island
Non-compete agreements are legally enforceable contracts in Rhode Island. However, the Rhode Island Noncompetition Agreement Act prohibits employers from enforcing the agreement against certain types of employees.
When it

IS

Enforceable
Rhode Island statutes don't explicitly define when a non-compete agreement may be enforced. Instead, the criteria for enforceability rely heavily on the outcome of prior court cases. A judicial precedent was set in a previous case whereby a court determined that a non-compete agreement is valid if it satisfies the following criteria:[1]
The restrictive covenants are reasonable;
The restrictive covenants are ancillary to a legitimate relationship or transaction (e.g., employment contract, agreement to purchase a business);
The non-compete agreement is supported by sufficient consideration; and
The non-compete agreement is necessary to protect the employer's interests.
When it's

NOT

Enforceable
As per § 28-59-3, a non-compete agreement cannot be enforced against the following types of employees or workers:
A non-exempt employee, as classified in §§ 201-219 of the Fair Labor Standards Act, 29 U.S.C
Both paid and unpaid undergraduate or graduate students with an internship or other short-employment arrangement
Employees eighteen (18) years of age or younger
Low-wage employees
Non-compete agreements are also unenforceable in the following circumstances involving lawyers and physicians:
Lawyers (R.I. Rules of Professional Conduct, Rule 5.6): A non-compete agreement cannot be enforced if it restricts a lawyer's right to practice after termination (except if the agreement concerns retirement benefits) or if the restrictions are a condition of a settlement with a client.
Physicians (§ 5-37-33): A non-compete agreement cannot be enforced if it restricts a physician's right to practice, unless the restrictions are part of a purchase and sale of the practice and the restrictive period is five (5) years or less.
Maximum Time Period
The non-compete agreement should last only as long as reasonably necessary to protect the interests of the employer. In a previous court case, a one (1) year duration was enforced.[2] However, a five (5) year prohibition against purchasing products from a former supplier was found unreasonable.[3]
Geographical Area
The geographical restrictions of a non-compete agreement shouldn't extend further than what is needed to protect the employer's interests. For example, a state-wide geographical restriction was deemed unreasonable and reduced to a fifteen (15) mile radius.[4]
Consideration
Adequate consideration is required for a non-compete agreement to be enforced. Continued employment has been found to satisfy this requirement.[5]
Sources
---
Related Forms (2)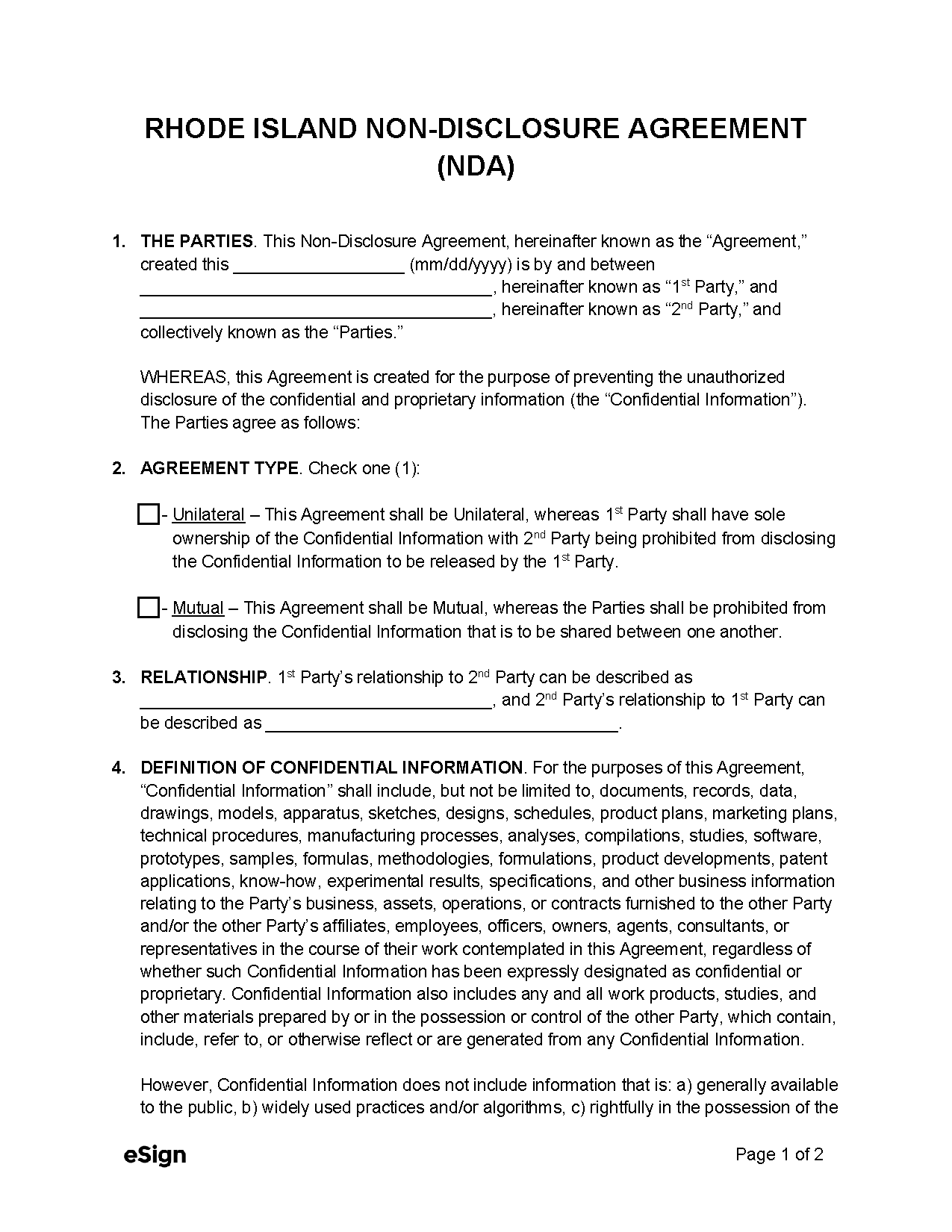 Rhode Island Non-Disclosure Agreement – Prohibits the unauthorized disclosure of confidential business information.
Download: PDF, Word (.docx), OpenDocument
---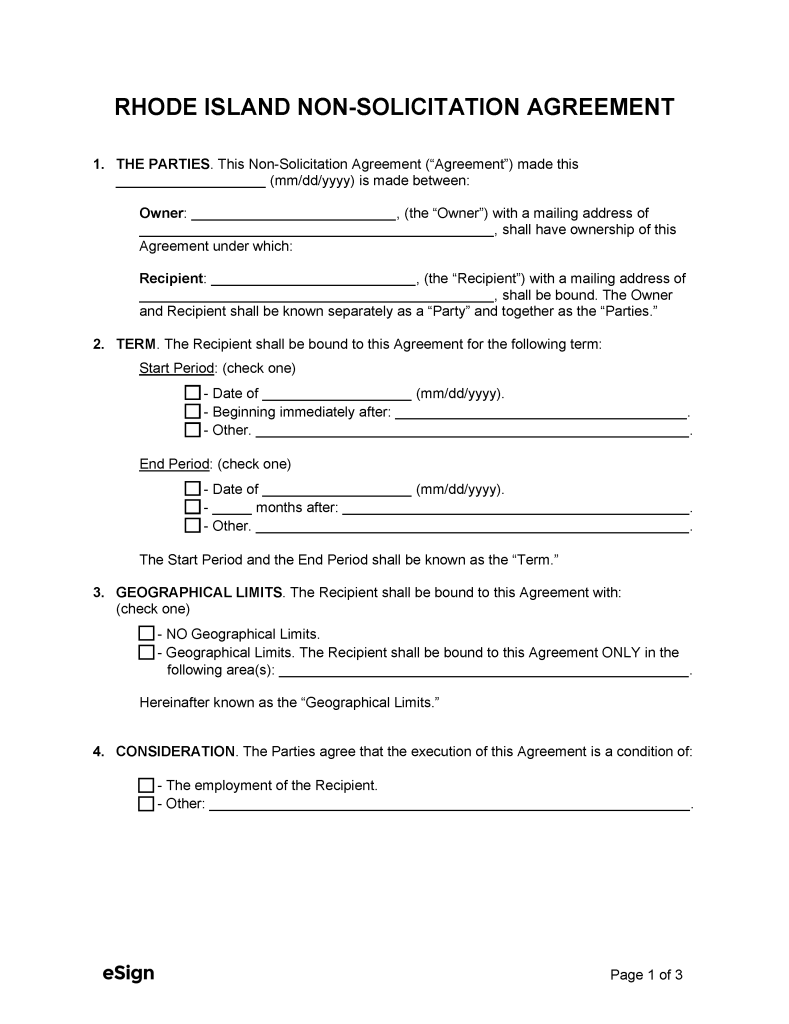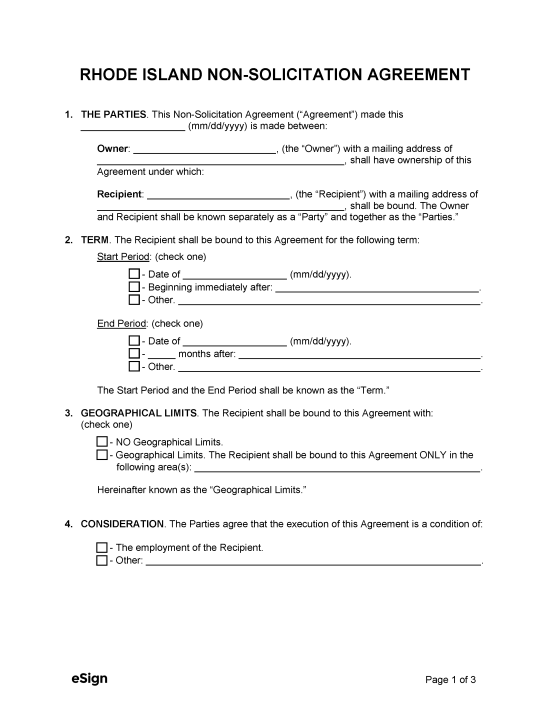 Rhode Island Non-Solicitation Agreement – Prohibits the solicitation of or engagement with employees and customers of a business.
Download: PDF, Word (.docx), OpenDocument