A South Dakota non-compete agreement is a binding contract by which an employee agrees not to compete in the same business or trade as their employer. The agreement may be entered into at any point throughout the employment relationship and can remain effective for two (2) years following the employee's termination. During the non-compete period, the employee is barred from starting a business similar to their employer's, working for competitors, and soliciting existing customers inside a specific territory.
Non-competes are also used outside of employer-employee relationships, as in the sale of a business when the purchaser demands that the seller refrain from taking part in similar business activity. In those circumstances, the maximum time and territorial restrictions of the agreement may exceed those imposed on employees, so long as the terms are reasonable.
Enforceability in South Dakota
There are several statutory requirements that employers must meet in order for a non-compete agreement to be enforced.[1] If these requirements are not met, or if the employee is terminated without cause, the courts will have to look at the reasonableness of the restrictions to determine if it's enforceable. Courts evaluate the reasonableness of a non-compete by considering the following:[2]
The type of industry or profession
The employer's responsibilities and role within the company
The interest of the general public in the employee's capacity to continue working
The scope of restrained activity, including the agreement's duration and geographical restrictions
When it

IS

Enforceable
Non-compete agreements may be enforced against an employee, provided that the employer continues to operate a similar business post-termination and the agreement complies with South Dakota's statutory time and geographical limitations.
Termination with cause. If an employee is fired for a legitimate reason or quits their job voluntarily, the courts will enforce the non-compete agreement without assessing the reasonableness of the restrictions.[2]
Termination without cause. If an employee is fired without cause, the courts will enforce the non-compete agreement if they deem the restrictive provisions are equitable.[2]
South Dakota courts will also enforce non-compete agreements if made in conjunction with the sale of a business,[3] dissolution of a partnership,[4] or to prevent business competition from an independent contractor working as a captive insurance agent.[5]
When it's

NOT

Enforceable
Health care workers. Non-compete agreements cannot be enforced against a health care worker if it restricts their right to:[6]

Practice or provide services in their licensed medical field post-termination; or
Establish, or solicit or seek to establish, a provider-patient relationship with, or provide treatment, advice, or consultation for, a patient associated with a partnership or other professional affiliation.

Lawyers. The courts will not enforce a non-compete agreement if it prevents a lawyer from:[7]

Practicing law following termination of the professional relationship; or
Practicing law in order to settle a client controversy.
Note: The non-compete laws mentioned above do not apply if the restrictions are part of an agreement to purchase a practice.
Maximum Time Period
Two (2) years. The maximum duration of a non-compete agreement is two (2) years from the date of termination.[1] This limitation does not apply to transactions involving the sale of a business or dissolution of a partnership, in which case the maximum duration can exceed two (2) years.
Geographical Area
The geographical restrictions of a non-compete agreement must be limited to a specific area in the following instances:
Employment (solicitation of customers). An agreement not to solicit an employer's existing customers must be limited to a county, first or second-class municipality, or other designated area, provided the employer continues similar business operations in that area.[1]
Sale of a business. The seller cannot compete with the buyer's business in the same county, city, or other designated region.[3]
Dissolution of a partnership. Partners may agree not to compete within the same municipality (or area within the municipality) where the partnership conducted business.[4]
In other instances not mentioned above, the geographical restrictions must be reasonable to be enforceable. In one case, a fifty (50) mile non-compete was considered reasonable.[8]
Consideration
A non-compete agreement must be supported by some form of consideration received by the employee.[2] Previous court cases have determined that sufficient consideration is established by entering into a non-compete agreement at the start or any time during an employment contract.[8]
Sources
---
Related Forms (1)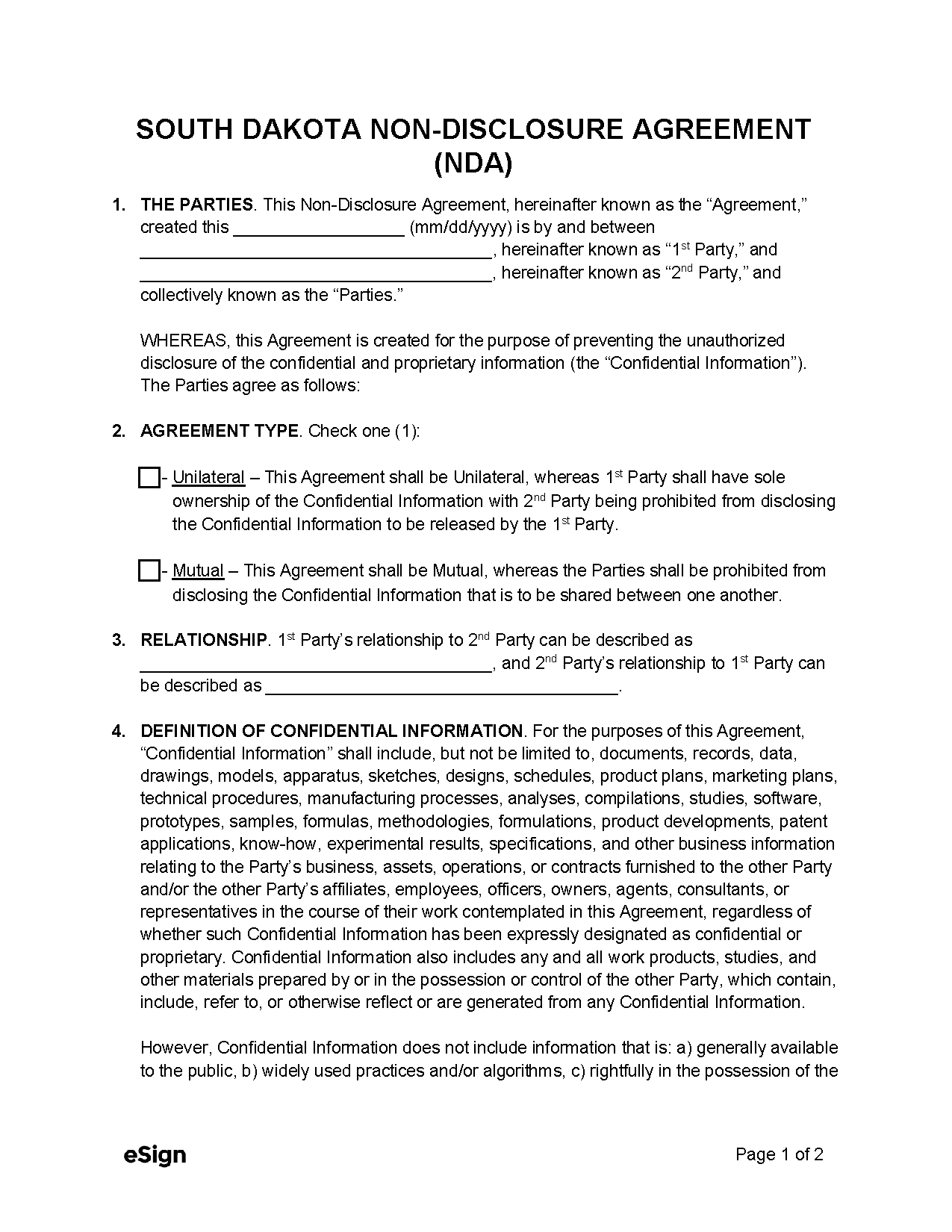 South Dakota Non-Disclosure Agreement – A contract that limits an employee or other party's ability to share private business information.
Download: PDF, Word (.docx), OpenDocument