A Utah non-compete agreement establishes terms under which an employee cannot compete against their employer for a certain amount of time after their employment ends. These terms generally prohibit activities like soliciting customers, selling or providing similar products or services, and working for competitors within a designated geographical area. Utah employer-to-employee non-compete agreements can't last longer than one (1) year from the date of termination. Contracts that impose a greater time restraint or are otherwise unreasonably restrictive are void and unenforceable.
Enforceability in Utah
In Utah, non-compete agreements are enforceable contracts governed by the Post-Employment Restrictions Act and common law. For the agreement to be enforced in court, the employer must demonstrate that:[1]
The non-compete restrictions are supported by consideration;
The contract was negotiated in good faith;
The non-compete restrictions are required to protect the business's goodwill; and
The time and geographical non-competition restrictions are reasonable.
When it IS Enforceable
General employment relationships. A non-compete agreement is enforceable against an employee to protect the employer's legitimate business interest (e.g., trade secret, training invested in employee).[2] They can also only be imposed if the employee provides special, unique, or extraordinary services.[2]
Broadcasting employees. An employer may enforce a non-compete agreement against a salaried broadcasting employee if:[3]

The broadcasting employee is paid at least $913 a week or a rate that qualifies for an exemption under the Fair Labor Standards Act, 29 U.S.C. Sec. 213(a), whichever is greater;
The non-competition restrictions are a component of a written employment contract with a reasonable duration; and
The broadcasting employee is terminated with cause or violates the terms of their employment in a way that makes them no longer eligible for employment.

Selling a business. Non-compete agreements made in connection with the sale of a business may be enforced upon the seller.[4]
When it's NOT Enforceable
Lawyers. A lawyer cannot propose to make or enter into the following:[5]

An agreement preventing a lawyer from continuing to practice law after their employment or contract terminates (not applicable to agreements concerning retirement benefits).
An agreement in which the resolution of a client dispute includes a restriction on the lawyer's ability to practice law.
Maximum Time Period
One (1) year. A non-compete agreement entered into after May 10th, 2016, cannot last longer than one (1) year after the employment relationship ends.[3] This rule does not apply to restrictions included in a mutually agreed upon severance agreement made at or after the employee's termination.[6] It also doesn't apply to restrictions made in conjunction with the sale of a business, provided that the restricted party receives something of value from the sale.[6]
Broadcasting employees. Restrictions for broadcasting employees cannot last longer than the earlier of:[3]

The day that the original employment contract containing the restrictions ends; or
One (1) year from the end of the employment relationship.
Geographical Area
When deciding whether the geographical restrictions of a non-compete are reasonable, Utah courts will consider the type of clientele served by the employer and the location of the business.[7] The Utah Supreme Court previously upheld a two-mile restriction prohibiting a pharmacist from competing locally with their former employer.[8] Another case involving a cable company resulted in a nationwide restriction because the company's customers were located across the entire country.[7]
Consideration
Sufficient consideration is established when a non-compete agreement is entered into at the start of an employment relationship.[8] Continued at-will employment (or the promise thereof) is another form of sufficient consideration.[7]
Sources
---
Related Forms (2)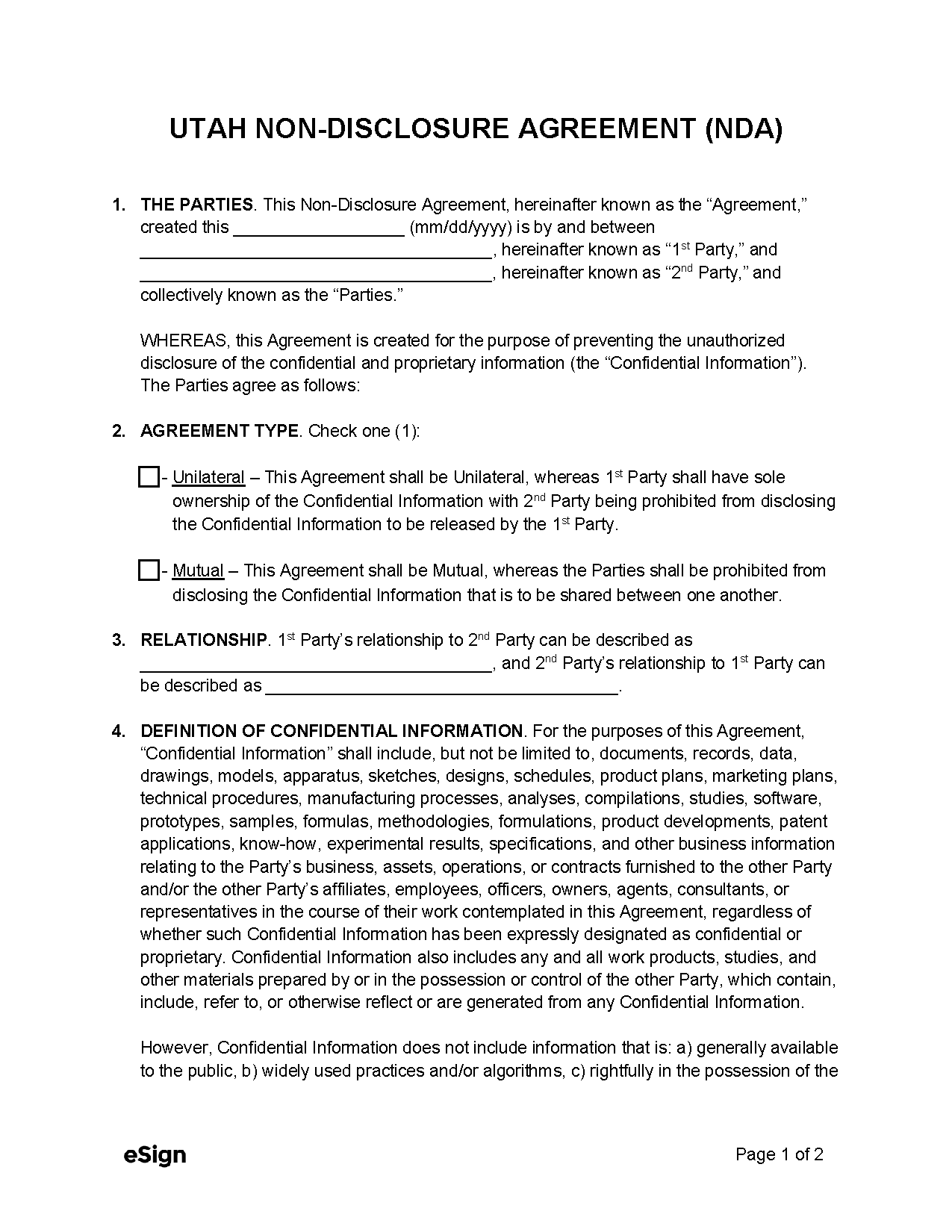 Utah Non-Disclosure Agreement – A form that restricts the disclosure of a company's confidential information.
Download: PDF, Word (.docx), OpenDocument
---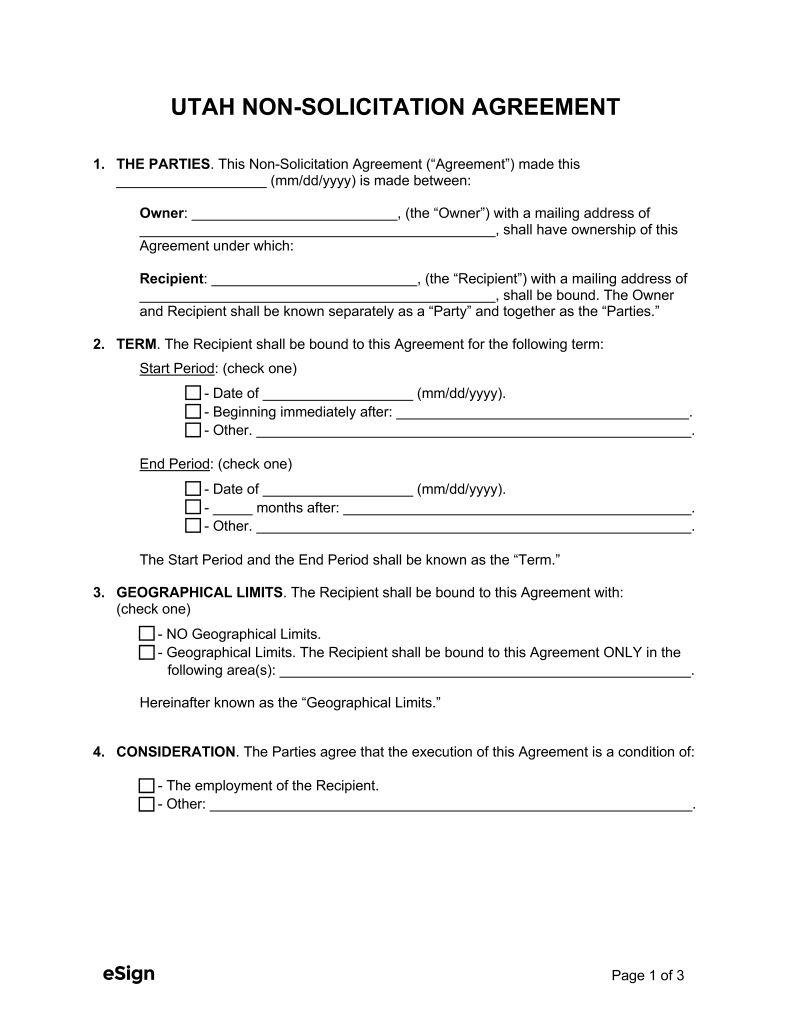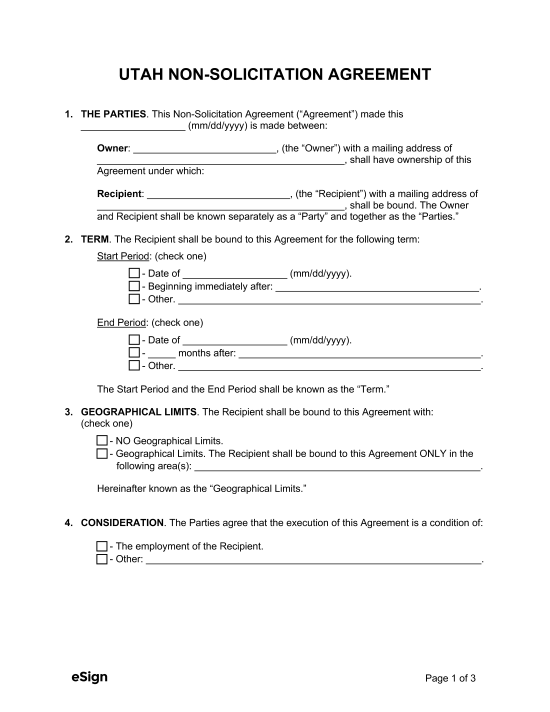 Utah Non-Solicitation Agreement – Prevents ex-employees from poaching the clients or employees of their former employer.
Download: PDF, Word (.docx), OpenDocument