A South Dakota notary acknowledgment is used to provide legal verification of an individual's signature on a document. The form is completed and executed by a notary public after the individual has signed the document, the notary has confirmed their identification, and the signer has declared that they executed the document for the purposes stated therein. Notarization is often required for important contracts and legal forms, such as title transfers, marriage certificates, living wills, and powers of attorney.
Notaries are appointed for a 6-year term and must apply for renewal at least 60 days before their commission expires (§ 18-1-1).
Is Online Notarization Legal in South Dakota?
Yes. Under Senate Bill 193, notaries located in South Dakota can remotely notarize documents through video communications with the signatory. However, the notary must have personal knowledge of the signer's identity for the verification to be valid.
Statutes: §§ 18-1-1.1(6), 18-1-11.1, 18-4-29
Online Notarizations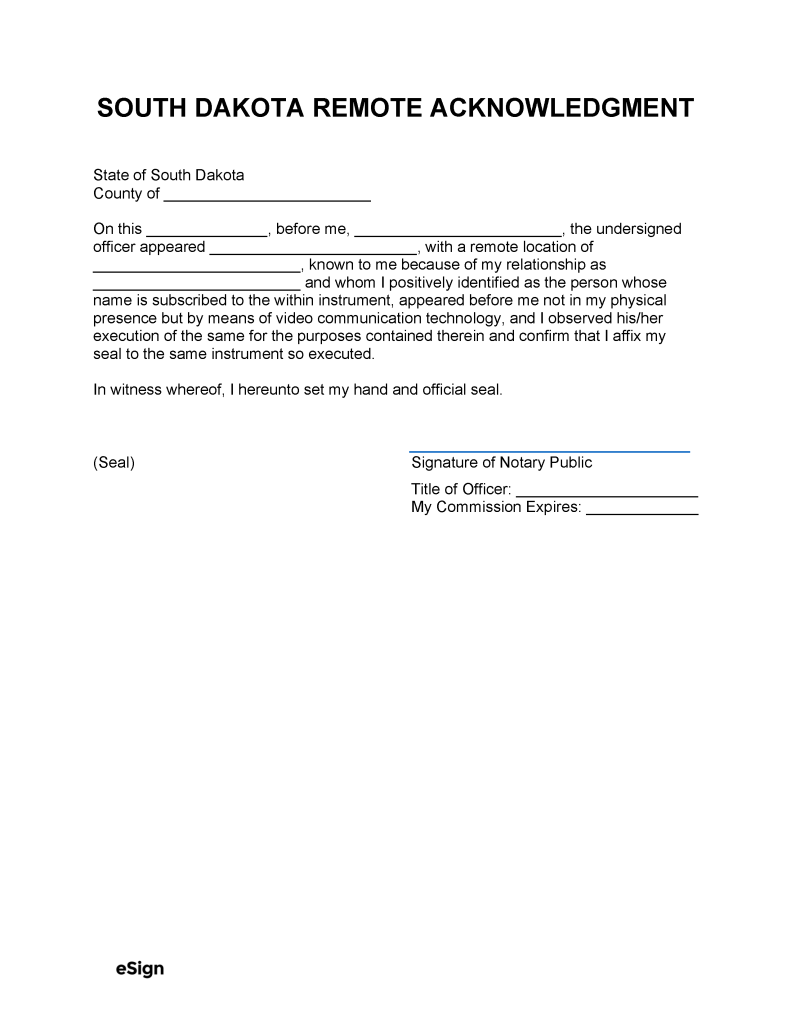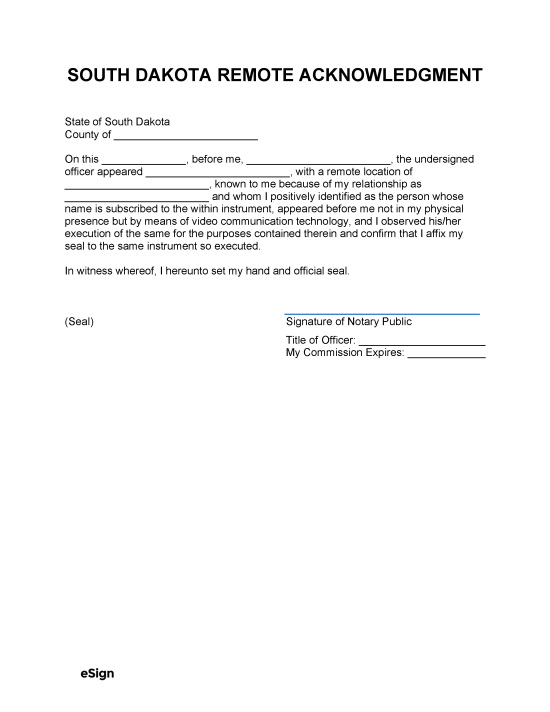 South Dakota Remote Acknowledgment – This document is used to notarize the signature of an individual who is out of state and provides verification over video.
Download: PDF, Word (.docx), OpenDocument
---
Sample (Individual)
Download: PDF, Word (.docx), OpenDocument
SOUTH DAKOTA NOTARY ACKNOWLEDGMENT
State of South Dakota
County of [COUNTY NAME]
On this [DATE], before me, [NOTARY'S NAME], the undersigned officer, personally appeared [SIGNER'S NAME], known to me or satisfactorily proven to be the person(s) whose name(s) is/are subscribed to the instrument and acknowledged that he/she/they executed the same for the purposes therein contained.
In witness whereof, I hereunto set my hand and official seal.
(Seal)
________________________
Signature of Notary Public
Title of Officer: [TITLE]
My Commission Expires: [DATE]
---
Resources