The Connecticut standard residential lease agreement is used to create an arrangement between a landlord and tenant wherein the tenant leases residential property in exchange for monthly rent. The lease states the responsibilities of each party during the agreement term and the legal consequences for failing to comply with the prescribed conditions. Other essential details covered in the agreement include the security deposit amount, renewal options, pets, vehicles, and subletting.
Rental Laws – Title 47a, Ch. 830 (Rights and Responsibilities of Landlord and Tenant)
Handbook (Guide) – Rights and Responsibilities of Landlords and Tenants in Connecticut
Security Deposits
Maximum (§ 47a-21(b)) – Two (2) months' rent if the tenant is younger than sixty-two (62); one (1) month's rent if older.
Returning (§ 47a-21(d)(2)) – Thirty (30) days after lease termination or fifteen (15) days after receiving notice of tenant's new address, whichever is later.
---
When is Rent Due?
The tenant must pay rent on the date mutually agreed upon by the parties. Should no such agreement exist, payment shall be made at the start of each month when the lease term is greater than one (1) month. For shorter terms, rent must be paid at the start of the term (§ 47a-3a).
---
Realtor Version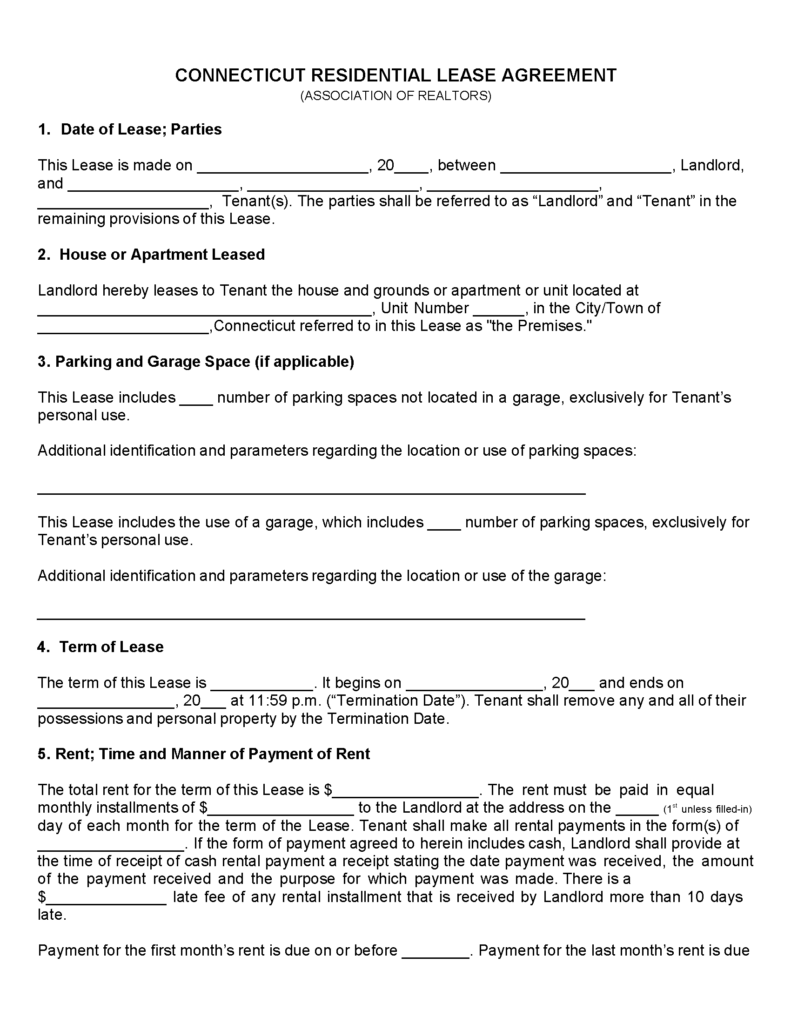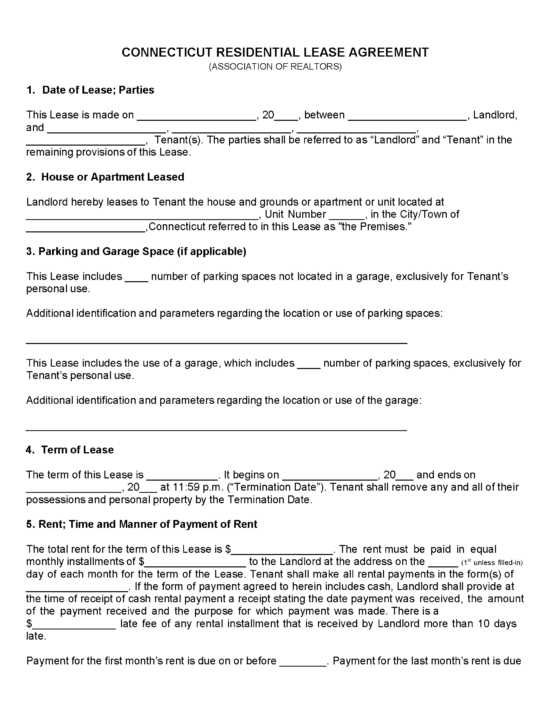 Connecticut Association of REALTORS® Residential Lease – Individuals licensed with the Connecticut Association of REALTORS® may use this document to create a residential tenancy agreement.
Download: PDF
---
Disclosures (4)
If the property is located in a common interest community, the landlord must inform the tenant before the rental agreement is signed.
Landlords must provide notice in the lease agreement describing the presence or absence of a fire sprinkler system and it must be printed in at least twelve-point boldface type in a single font. If there is a sprinkler system in the building, the rental agreement must state the last date of maintenance and inspection, this shall also be printed in twelve-point boldface type in a uniform font.
The landlord or their agent must provide tenants the contact information of the person authorized to manage the premises, as well as the name and address of the person who will receive notices and demands from the tenant.
4) Lead-Based Paint Disclosure
This document must be issued to all new tenants if the property was constructed prior to 1978.