Rental Application
– A valuable tool for vetting potential tenants before entering into a lease agreement.
Lease Agreements: By Type (6)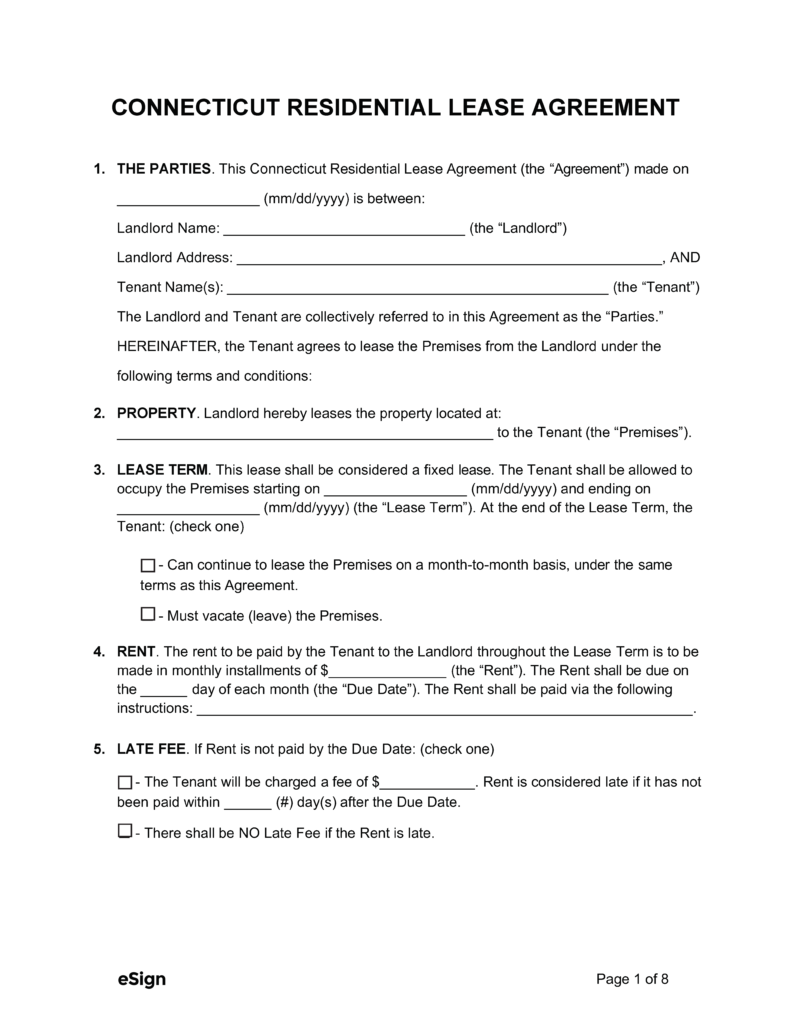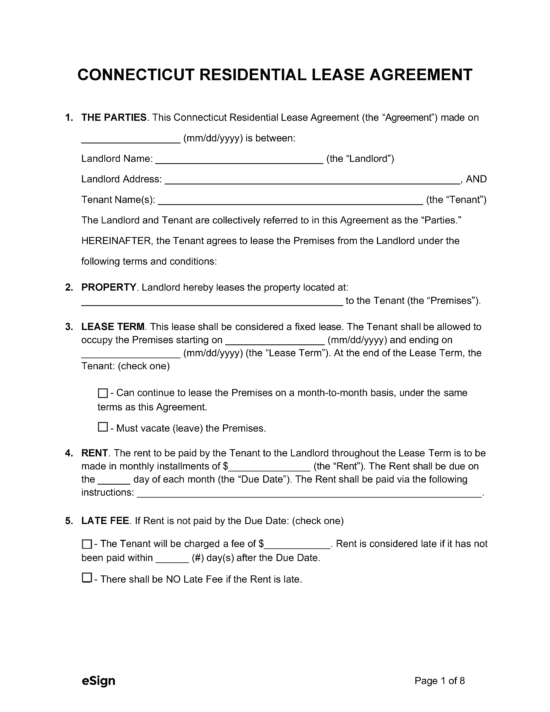 Standard (1-Year) Lease Agreement – This lease enables a landlord to rent out their apartment, single-family home, or other residential property for a fixed term of one year.

Download: PDF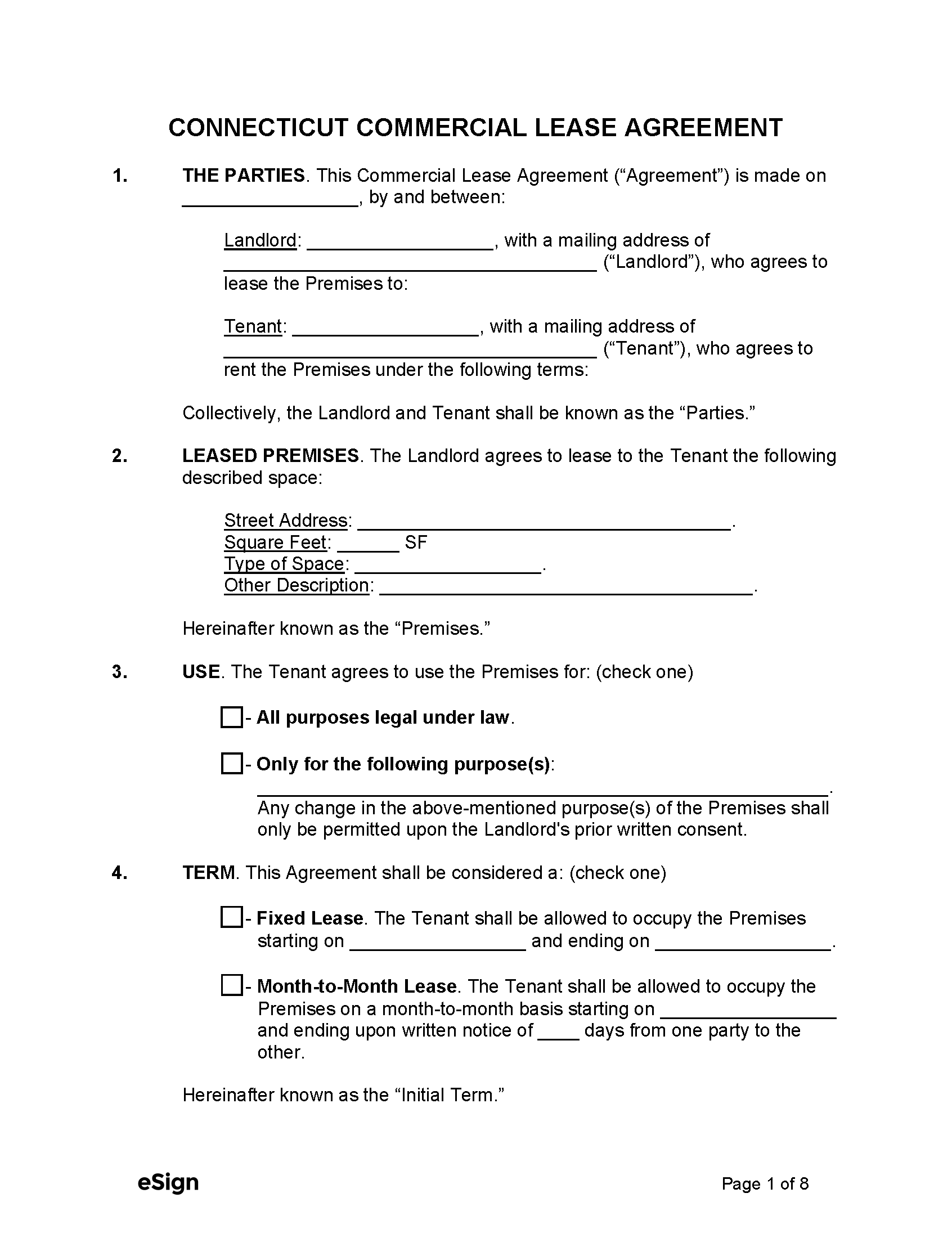 Commercial Lease Agreement – Used to rent a property designed for commercial use, such as a retail, office, or industrial space.

Download: PDF, Word (.docx), OpenDocument
Month-to-Month Lease Agreement – This residential lease has no pre-determined end date and can be terminated by the landlord or tenant without cause.

Download: PDF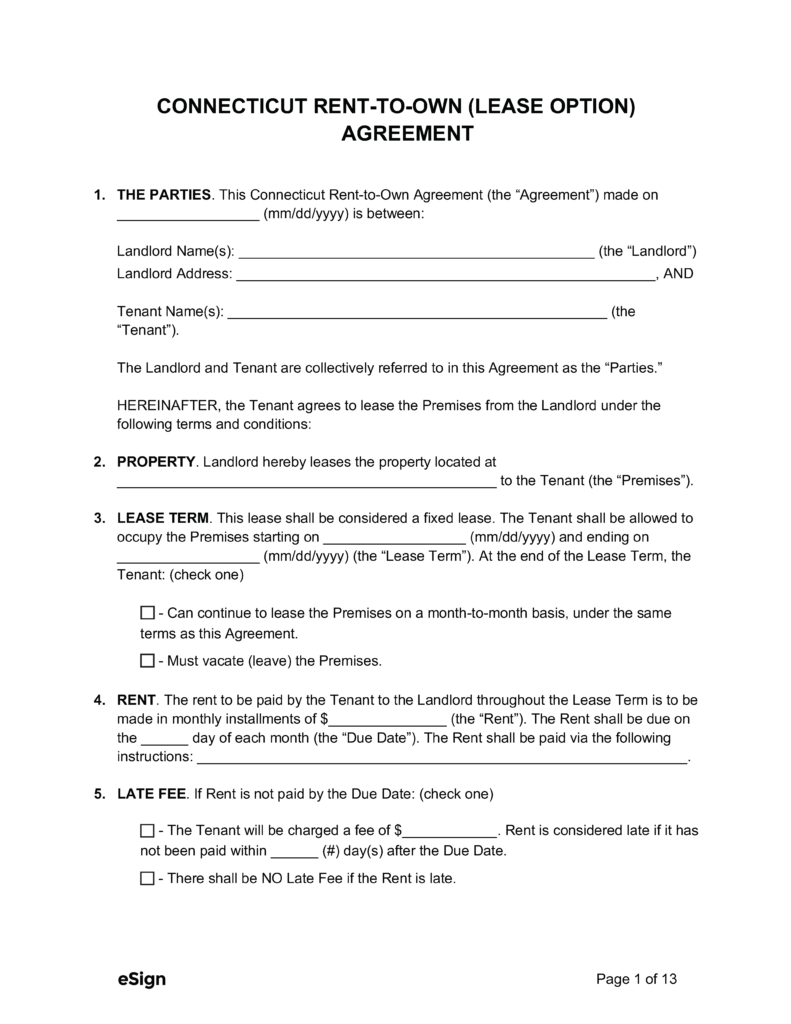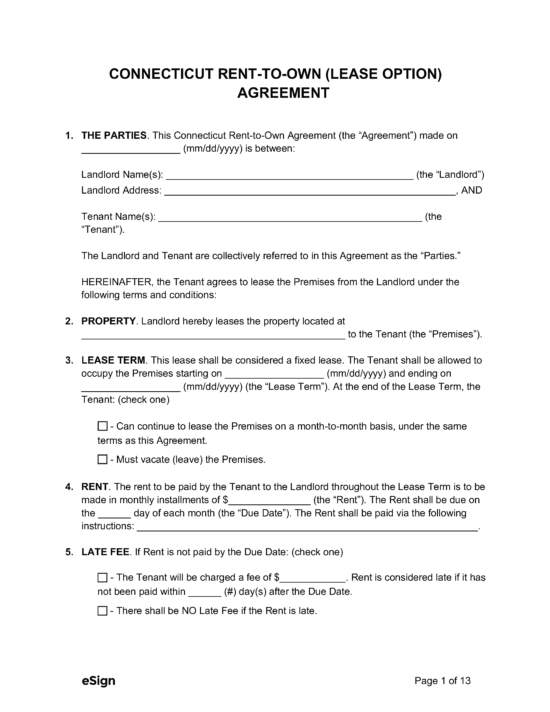 Rent-to-Own Agreement (Lease Option) – This document is similar to a regular lease agreement but allows tenants to buy the rental unit if certain conditions are met.

Download: PDF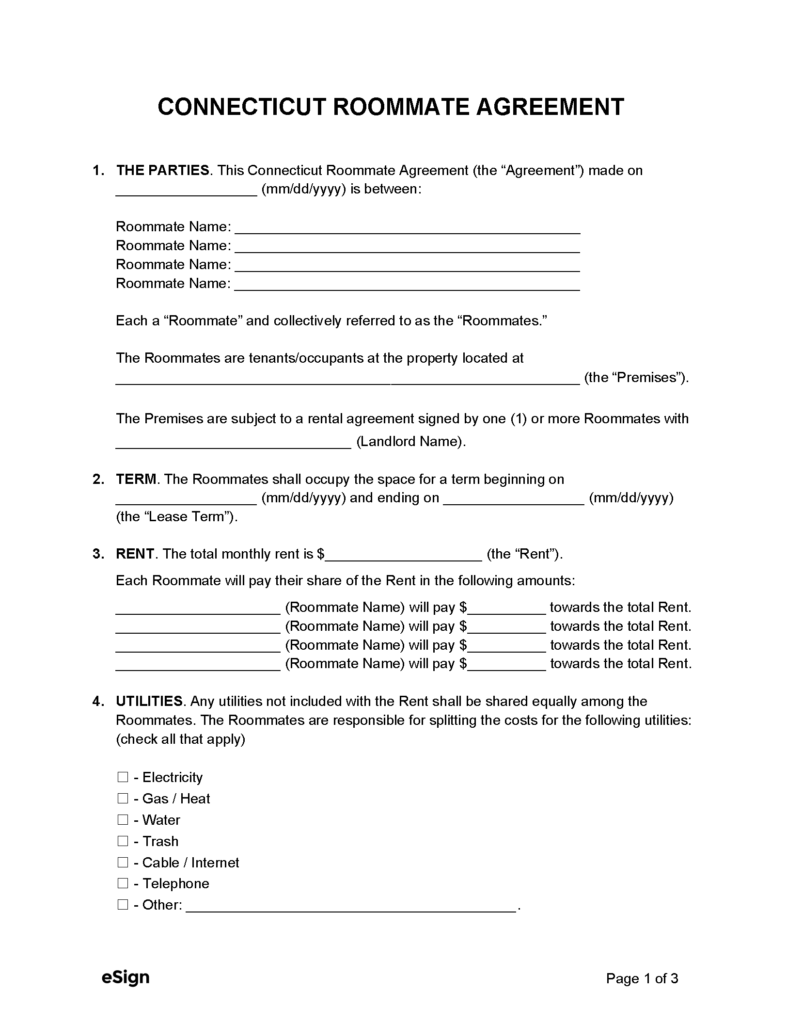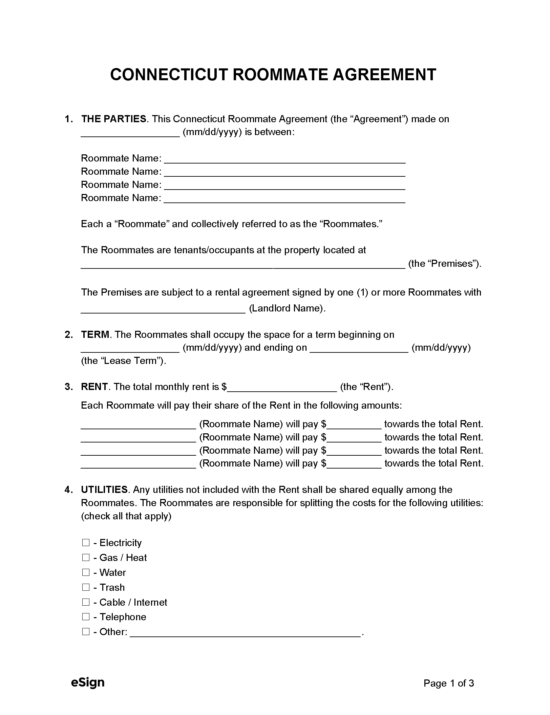 Roommate Agreement – An agreement entered into between roommates to define each person's rent payment, cleaning duties, and other household responsibilities.

Download: PDF, Word (.docx), OpenDocument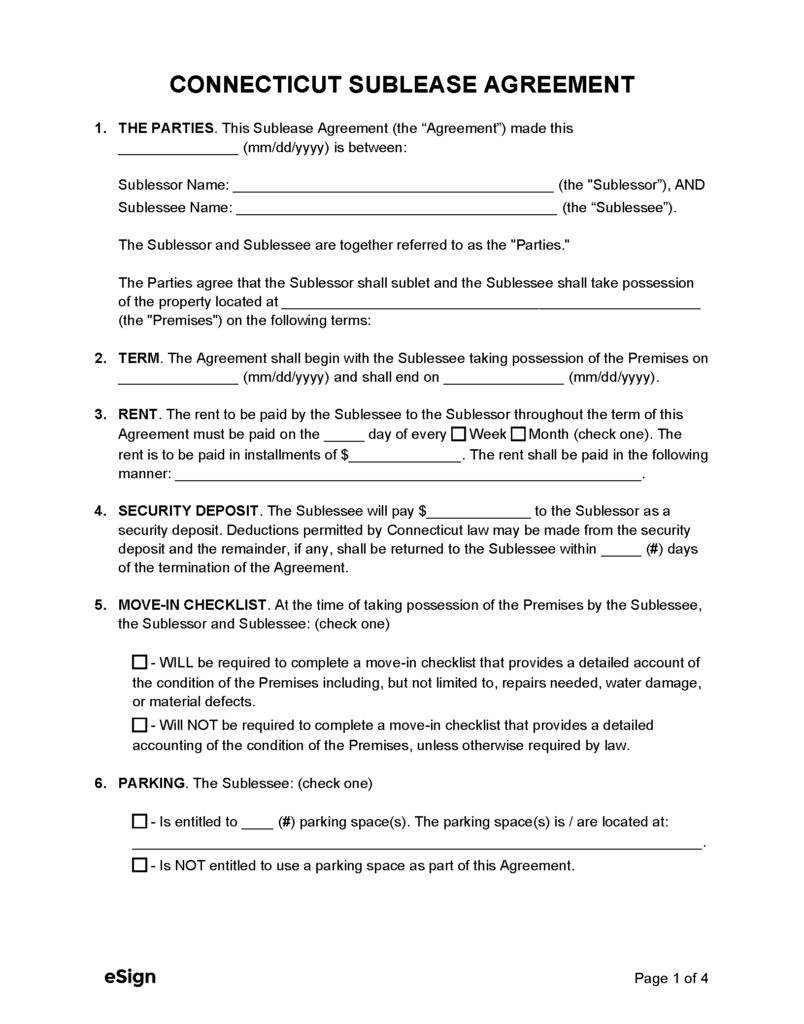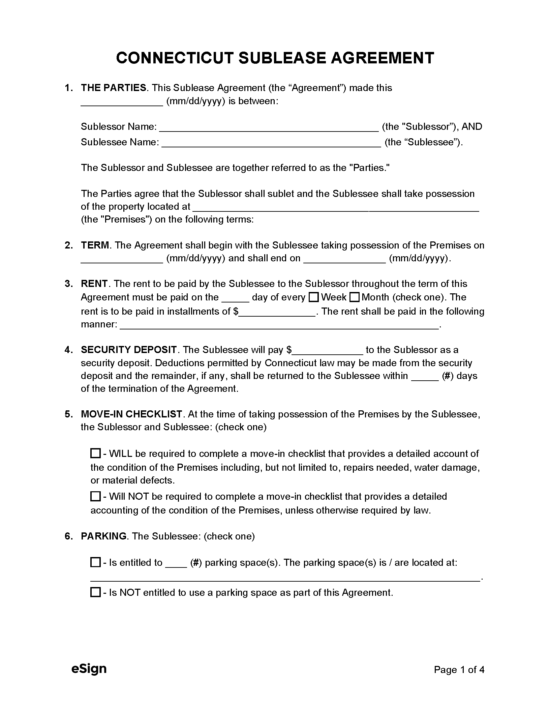 Sublease Agreement – Used when the original tenant wants to sublet their space or a part of it to another person.

Download: PDF, Word (.docx), OpenDocument
Security Deposits
Maximum Amount ($) – A landlord can charge two months' rent. However, if the tenant is 62 or older, the maximum allowable charge is one month's rent.[5]
Collecting Interest – Landlords must pay interest on security deposits at a rate set annually by the Banking Commissioner.[6]
Returning to Tenant – Security deposits must be returned within 30 days after the tenancy ends or 15 days after the landlord receives the tenant's forwarding address, whichever occurs later.[7]
Itemized List Required? Yes, when a landlord uses the security deposit to pay for damages, an itemized list of their deductions must be provided to the tenant alongside the remaining balance.[8]
Separate Bank Account? – Yes, a separate escrow bank account is required for storing security deposits.[9]
Landlord's Entry
General Access – The landlord must give reasonable notice before accessing the tenant's property.[10] While the notice can be provided verbally, delivering a written notice to the tenant is recommended.
Immediate Access – The landlord may enter the property for an emergency without informing the tenant.[11]
Rent Payments
Grace Period – Tenants are given nine days to pay rent after it's due or four days if the tenancy is week-to-week. If rent isn't paid within the grace period, the landlord can begin charging late fees (if allowed in the lease) or terminate the tenancy.[12]
Maximum Late Fee ($) – There is no specific limit, but the late fees must be fair and reflect the actual expenses caused by the delinquent rent.[13]
Bad Check (NSF) Fee – Connecticut law does not limit the fees a landlord can charge their tenant for a bounced check.
Withholding Rent – Tenants can deduct rent to cover the cost of essential utilities that the landlord fails to provide.[14] If the livability of a unit is significantly affected by fire, the tenant can withhold rent as long as the issue persists.[15]
Breaking a Lease
Non-Payment of Rent – Tenants must receive a 3-day notice when rent isn't paid on time.[16]
Non-Compliance – If the tenant commits a correctable lease violation, they will receive a 15-day notice.[17] Otherwise, the landlord must issue a 3-day notice.[18]
Lockouts – Landlords can only restrict a tenant's access to their rental unit with a court order.[19]
Leaving Before the End Date – If a tenant moves out early, the landlord must take reasonable steps to re-rent the unit. The tenant will be responsible for any rent owed throughout the rest of the lease term.[20]
Notice of Abandonment – A notice of abandonment must be delivered to the tenant before the landlord can repossess the property and rent it to someone else.[21]
Lease Termination
Month-to-Month Tenancy – Connecticut law doesn't mention the notice required to end a month-to-month lease. Unless the rental agreement specifies a different time frame, landlords should deliver a lease termination letter at least 30 days in advance.
Unclaimed Property – Any property left behind by a tenant must be inventoried by the landlord and stored for 30 days. If the tenant doesn't claim their property within 30 days, the landlord can remove it as they see fit.[22]