---
Updated on June 23rd, 2023

A Connecticut lease agreement is a legal contract entered into between a landlord and a tenant. There are numerous types of lease agreements that cover a range of renting situations for both residential and commercial properties. Although all the forms have different purposes, they all share common attributes including terms and conditions that allow the landlord and tenant to establish a relationship that will be fair, civil, and mutually beneficial.

Landlords almost always review applicants before accepting an individual for tenancy (see rental application form below). Once they have chosen a prospective tenant, both parties can sit down and examine the lease agreement before signing.

Rental Application – A useful tool for vetting prospective tenants before allowing them to rent a property.
Agreements: By Type (6)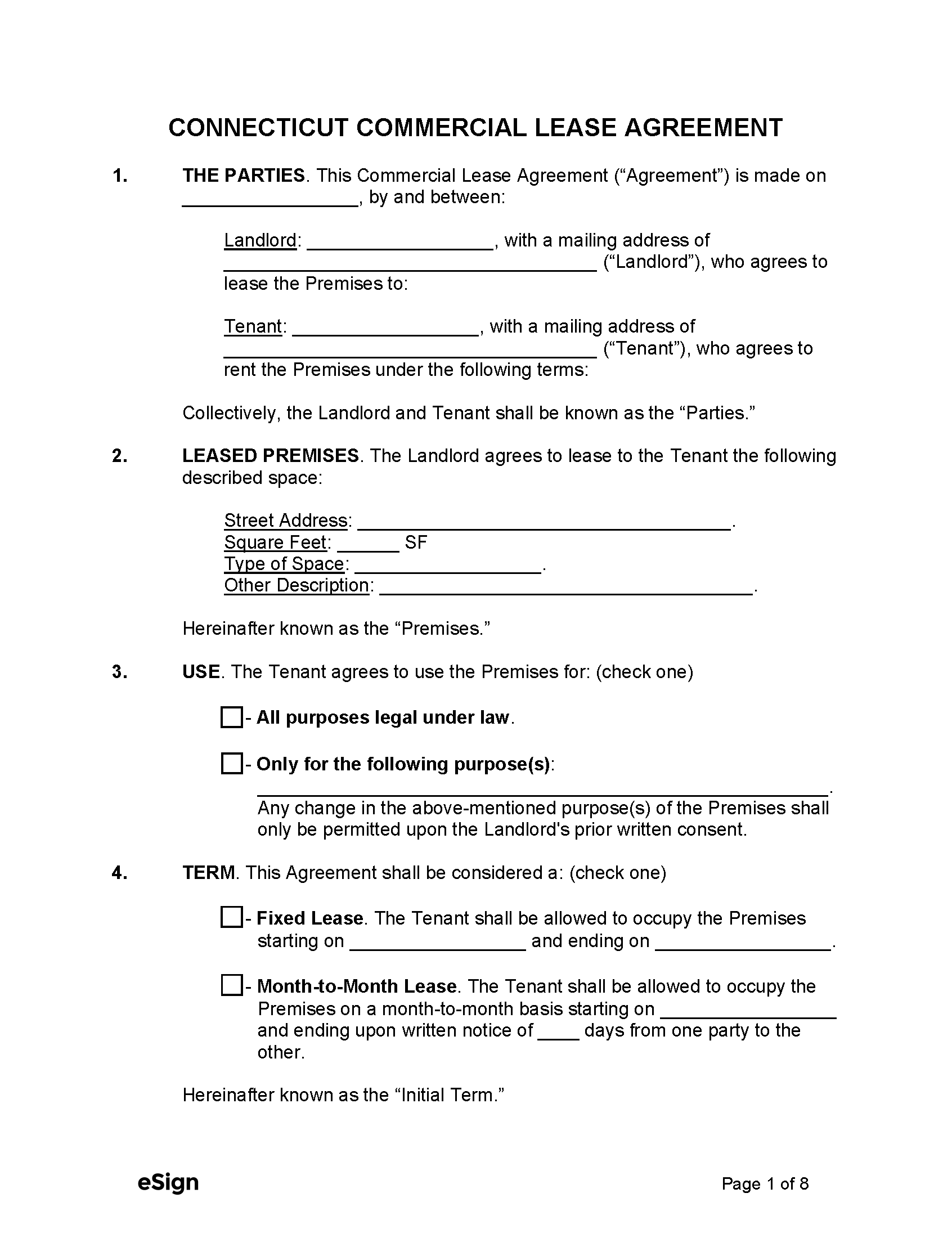 Commercial Lease Agreement – Applicable to rental properties that will be used for business purposes; for example, retail, office space, or industrial activities.
Download: PDF, Word (.docx), OpenDocument
---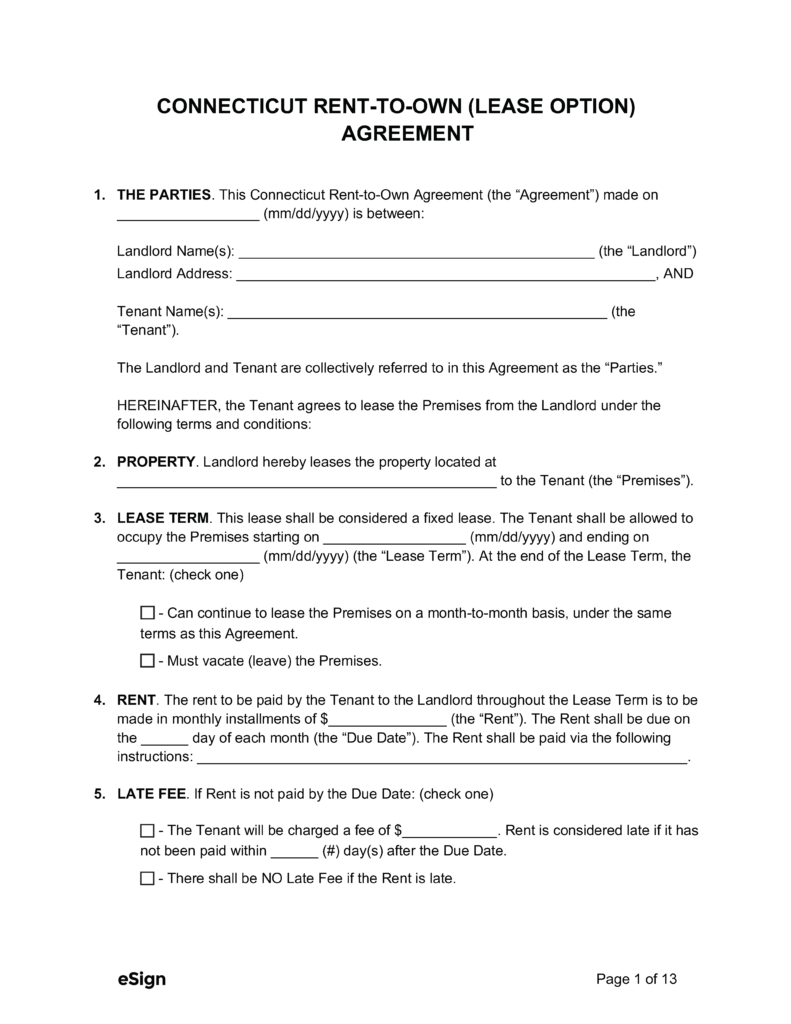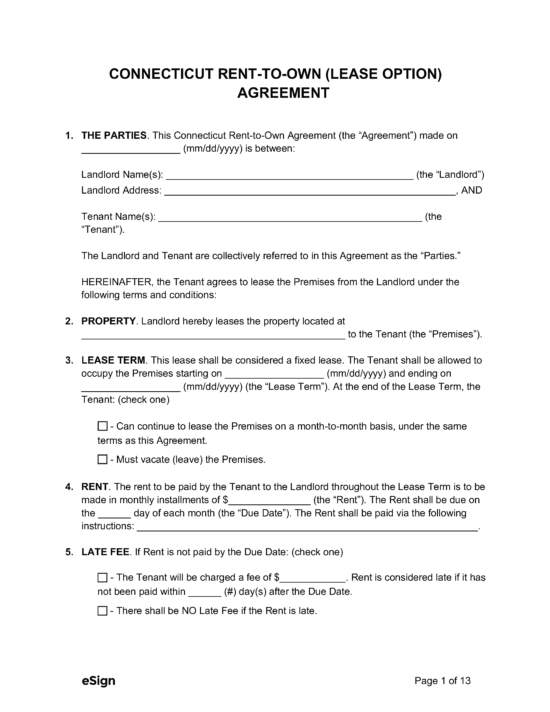 Rent-to-Own Agreement (Lease Option) – This document combines a regular lease agreement with the understanding that a potential future real estate transaction may take place if certain terms and conditions are met.
Download: PDF
---
Month-to-Month Lease Agreement – This contract allows a tenant to pay rent to a landlord on a monthly basis but with both parties having the option to terminate the arrangement with short, but also reasonable, notice.
Download: PDF
---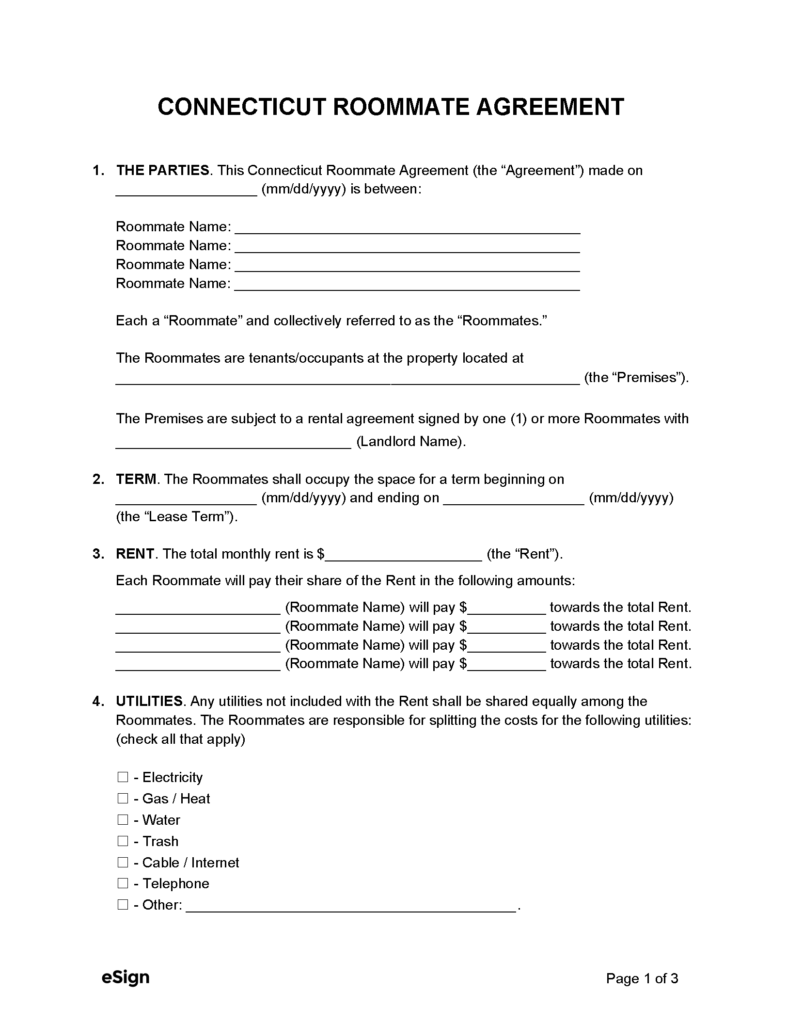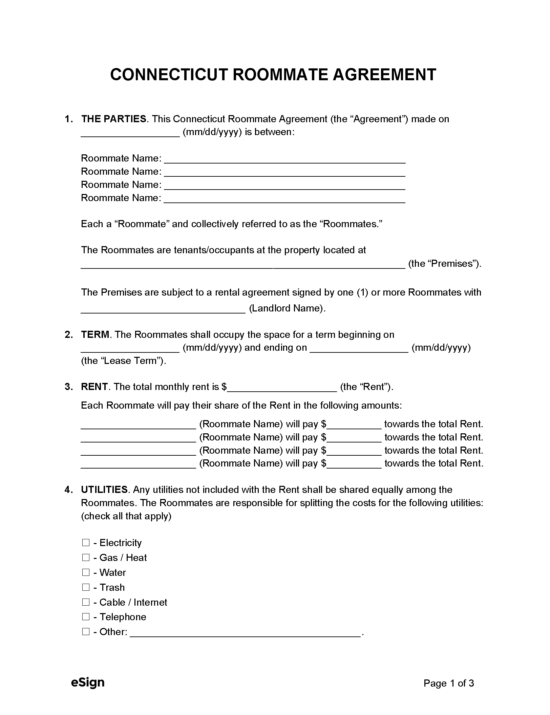 Roommate Agreement – An agreement entered into between individuals who wish to share a residential dwelling.
Download: PDF, Word (.docx), OpenDocument
---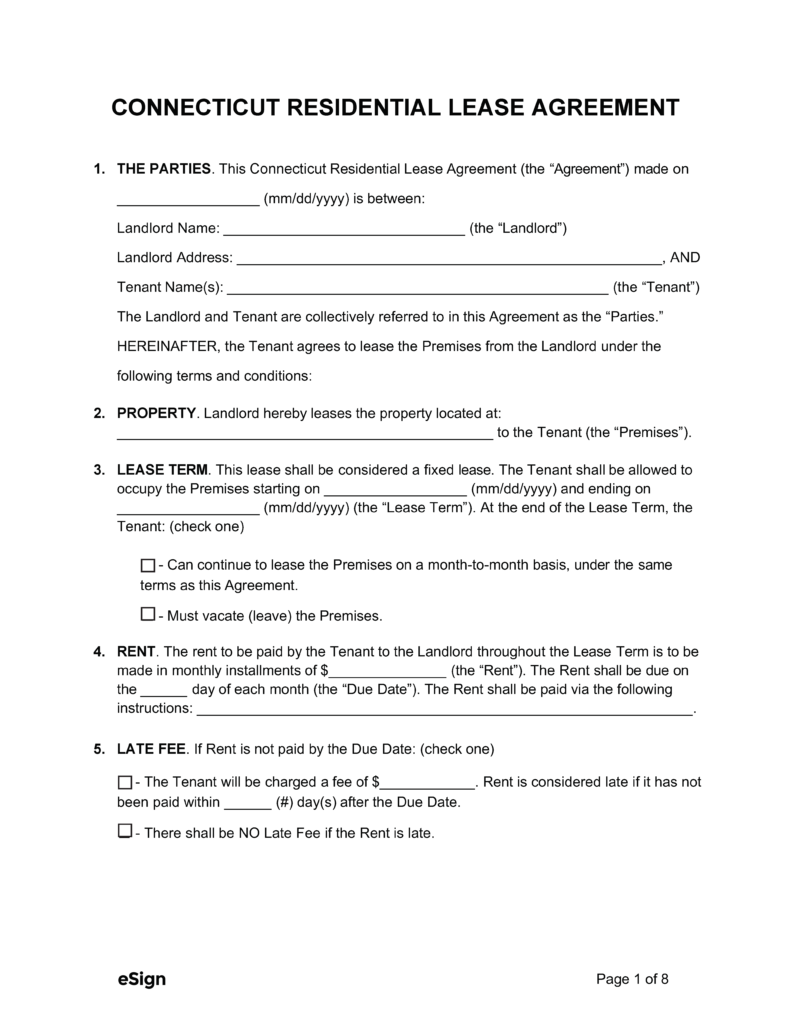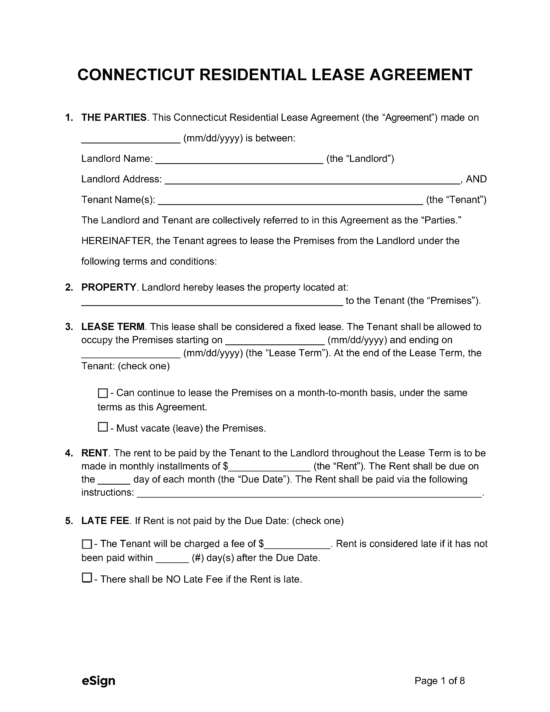 Standard (1-year) Lease Agreement – Most common residential lease that permits a tenant to rent property for a fixed term of one year; however, they almost always have the option to extend the lease at the end of the year.
Download: PDF
---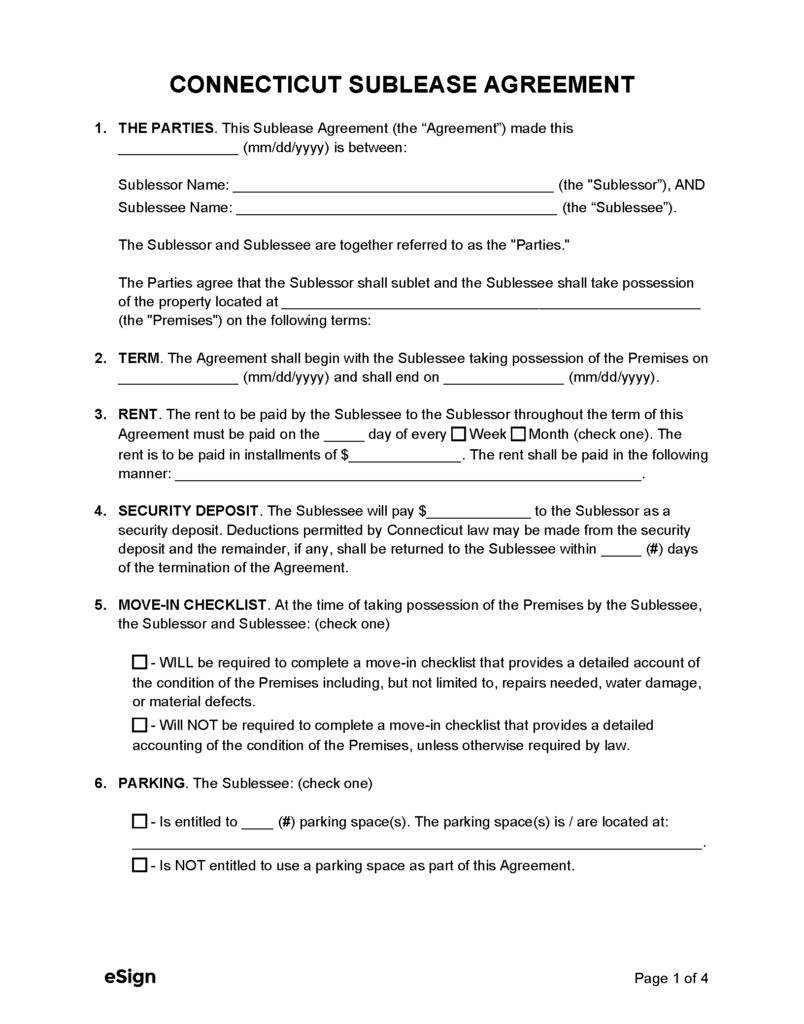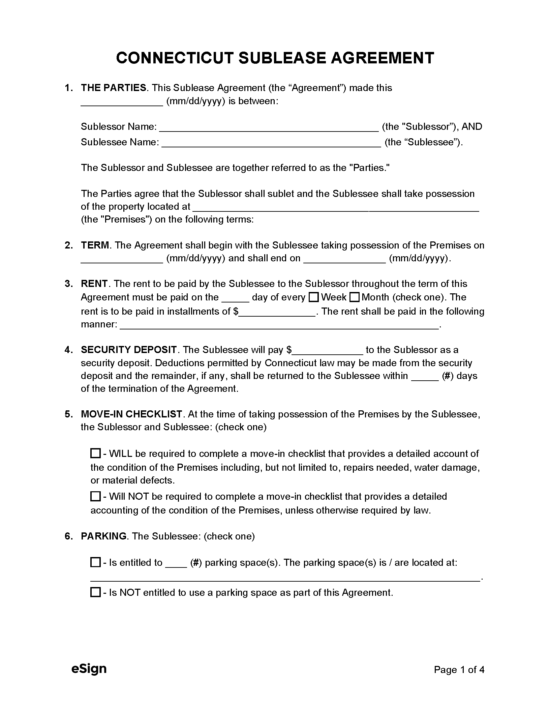 Sublease Agreement – Used by a tenant who wishes to rent out their space, or a portion thereof, to a subtenant.
Download: PDF, Word (.docx), OpenDocument
---
Disclosures (4)
The tenant must be notified in writing if a dwelling they intend on renting is located in a common interest community.
Tenants must be made aware of the existence or nonexistence of a fire sprinkler system before moving into a residential unit should the building require one. If there is a fire sprinkler system in the building, the landlord must state the last inspection date. Both of these requirements must be printed in uniform twelve-point boldface font.
The name and address of the person who is authorized to manage the premises, and those of the person who is authorized to receive service of process, demands, and notices must be disclosed to the tenant at the start of the tenancy.
4) Lead-Based Paint Disclosure
If the dwelling was built in the year 1978 or prior, new tenants must be given this disclosure regarding toxic paint on the premises.
---
Landlord-Tenant Laws
---
Landlord's Access
General Access (§ 47a-16(c)) – No specific notice period is stated in Connecticut statutes; however, the landlord shall give the tenant "reasonable notice" before gaining access to the property.
Emergency Access (§ 47a-16(b)) – The landlord may enter the property for an emergency without giving notice to the tenant.
---
Rent
Grace Period (§ 47a-15a) – Tenant is given a nine (9) day grace period after rent is due to pay in full (or four days for week-to-week tenancies) or the landlord may terminate the lease agreement.
Maximum Fees ($) (§§ 47a-15a and §§ 47a-4(8)) – Landlord may only charge a late fee for nonpayment of rent after nine (9) days have passed since the rent due date.
Rent Increase Notice – No statute.
---
Security Deposits
Maximum Amount ($) (§§ 47a-21(b)(1) and (2)) – Equivalent of two (2) months' rent is the maximum a landlord may charge a tenant (unless they're over 62 years of age, in which case it may not exceed one month's rent).
Returning to Tenant (§§ 47a-21(d)(2)) – Landlord must return security deposit to tenant within thirty (30) days.
Interest Required? (§§ 47a-21(i)) – Yes it is required, at a rate set annually by the Banking Commissioner.
Separate Bank Account? (§§ 47a-21(h)) – A separate security bank account is required.