The Georgia standard residential lease agreement is a document that landlords and property managers can use to establish conditions that permit a tenant to occupy residential real estate. For the duration of the agreement term, the tenant is obligated to pay rent on a monthly basis with the first payment made prior to or at the start of the lease term. Some landlords will demand a security deposit to cover the last month of rent or potential damage caused by the tenant or their pets.
Security Deposits
---
When is Rent Due?
There are no statutes that indicate a rental due date. Therefore, the tenant must pay rent in accordance with the terms set forth in the written or oral lease.
---
Realtor Version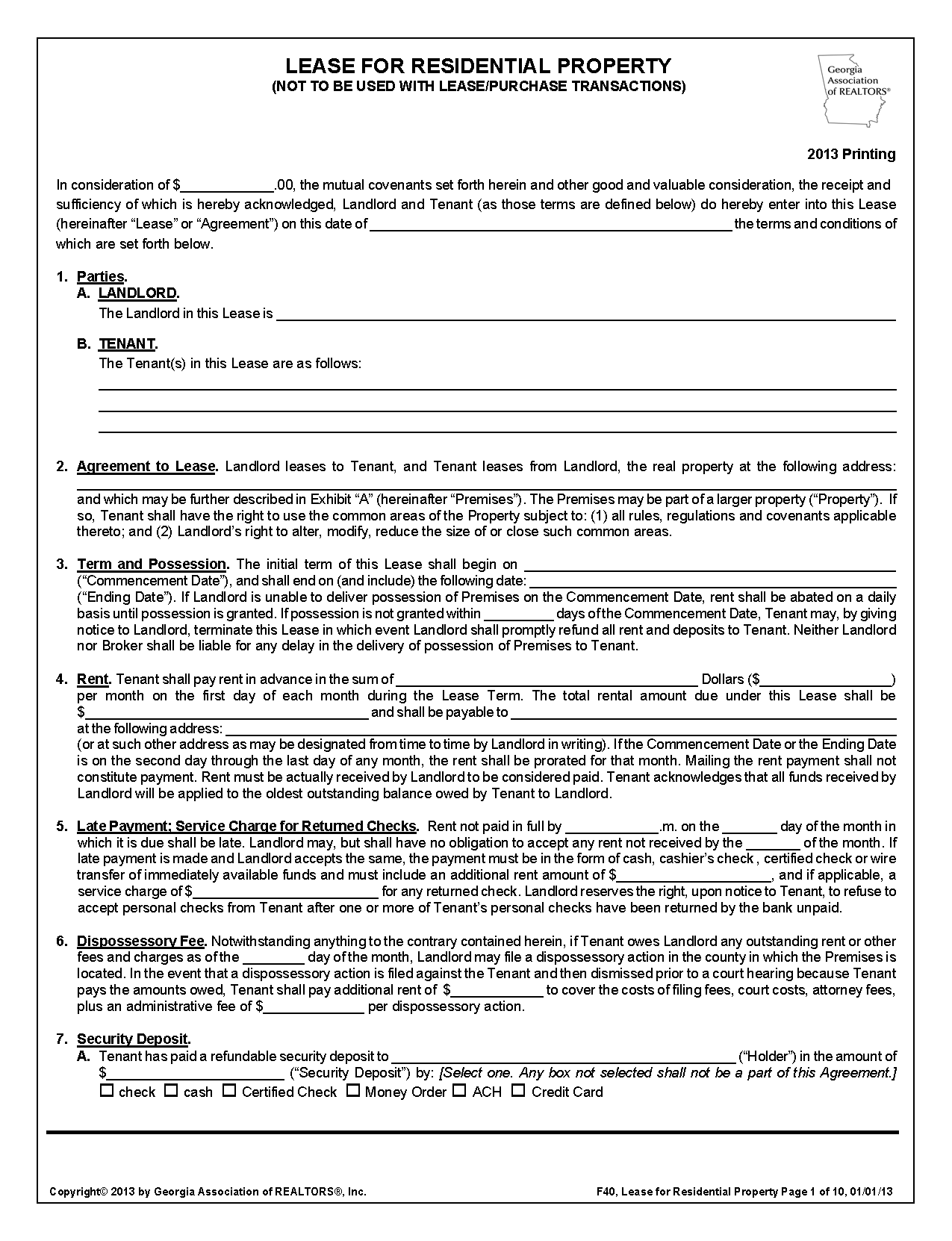 Lease for Residential Property (Form F40) – This 2021 version of the standard residential lease agreement is intended to be used by agents licensed with the Georgia Association of REALTORS®.
Download: PDF
---
Disclosures (5)
If the property has flooded at least three (3) times in a five (5) year period, then Landlords must notify tenants in writing of the propensity of flooding.
Contact information of any owners, agents thereof, or managers of the property who are authorized to act for the service of process and receipts of demands and notices must be given in writing to a tenant before the tenancy begins.
3) Lead-Based Paint Disclosure Form
To be provided to new tenants in order to identify toxic paint on the property. Only required if the property was built prior to 1978.
4) Move-in/Move-out Condition Checklist
New tenants must be provided with this list of pre-existing damages to the premises at the beginning of the tenancy. This will be referenced at the end of the lease agreement to assess any potential new damages.
5) Security Deposit Bank Account
If a security deposit is collected, the landlord must place it in an escrow account and must notify the tenant of the location of said account.