Rental Application
– Landlords can use a rental application to gather personal, employment, and previous rental information from lease applicants before accepting them for tenancy.
Lease Agreements: By Type (6)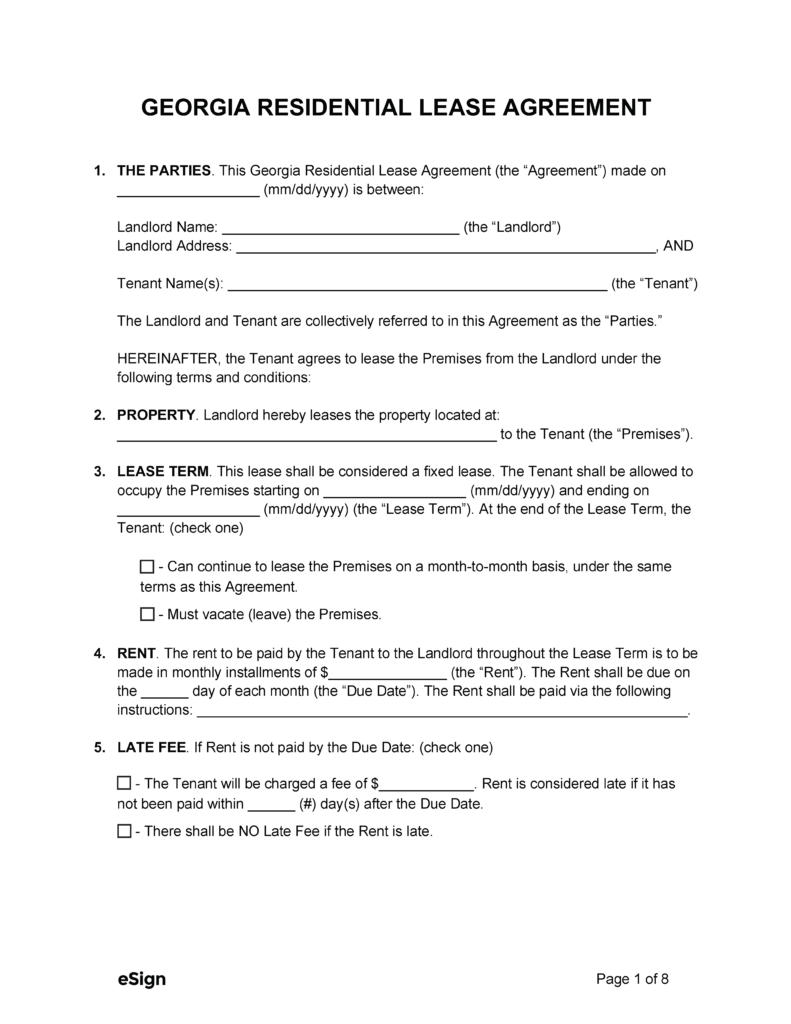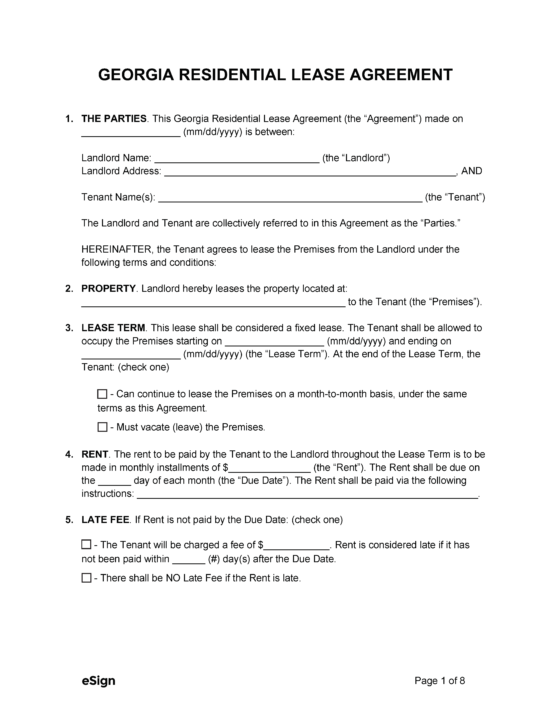 Standard (1-Year) Lease Agreement – This is the most common type of residential agreement and is used to set terms and conditions for a fixed-term tenancy.

Download: PDF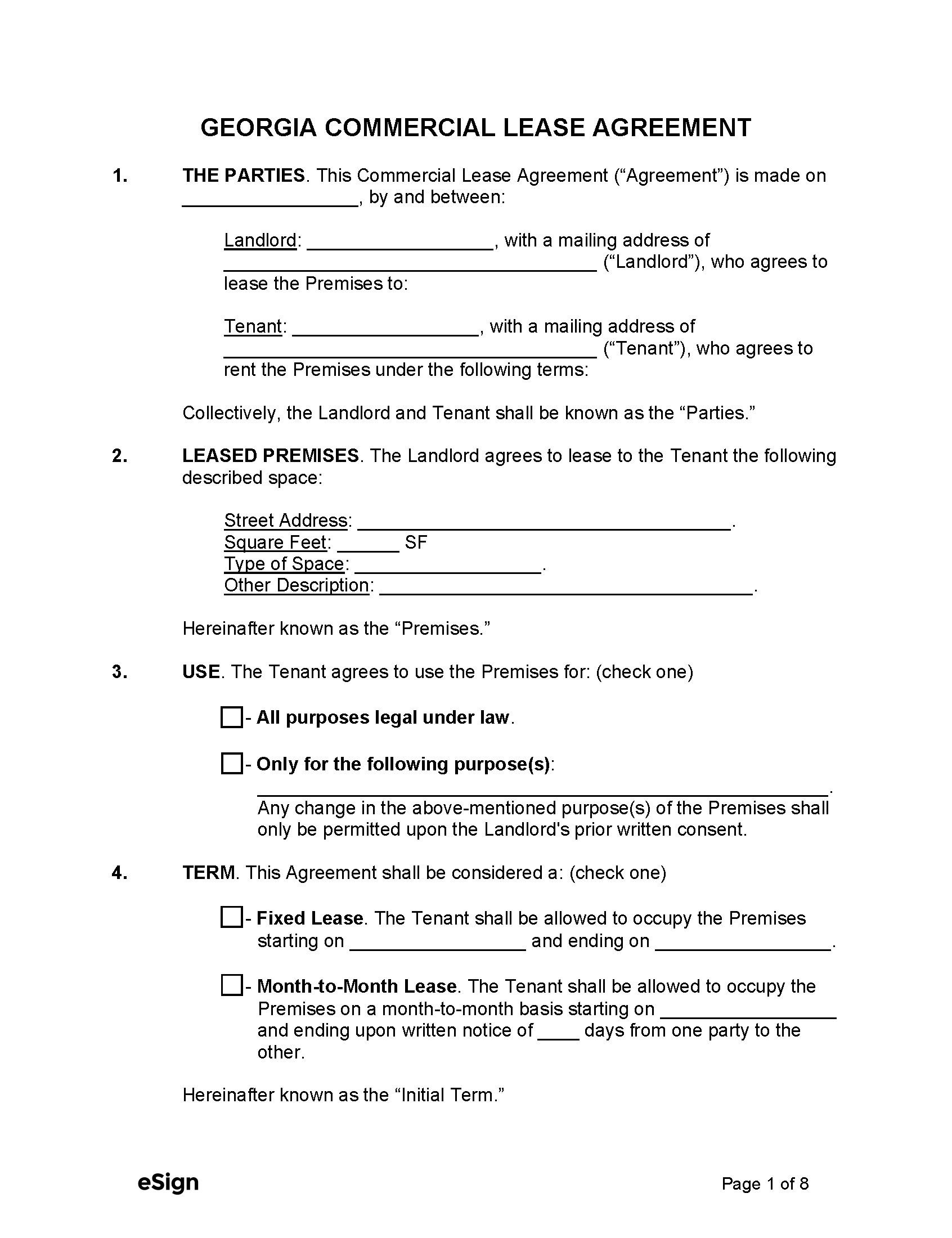 Commercial Lease Agreement – This agreement is used to lease office, industrial, or other commercial real estate to an individual or business entity.

Download: PDF, Word (.docx), OpenDocument
Month-to-Month Lease Agreement – Used to rent residential property to a tenant on a monthly basis. The landlord or tenant can terminate the lease at any time if proper notice is served.

Download: PDF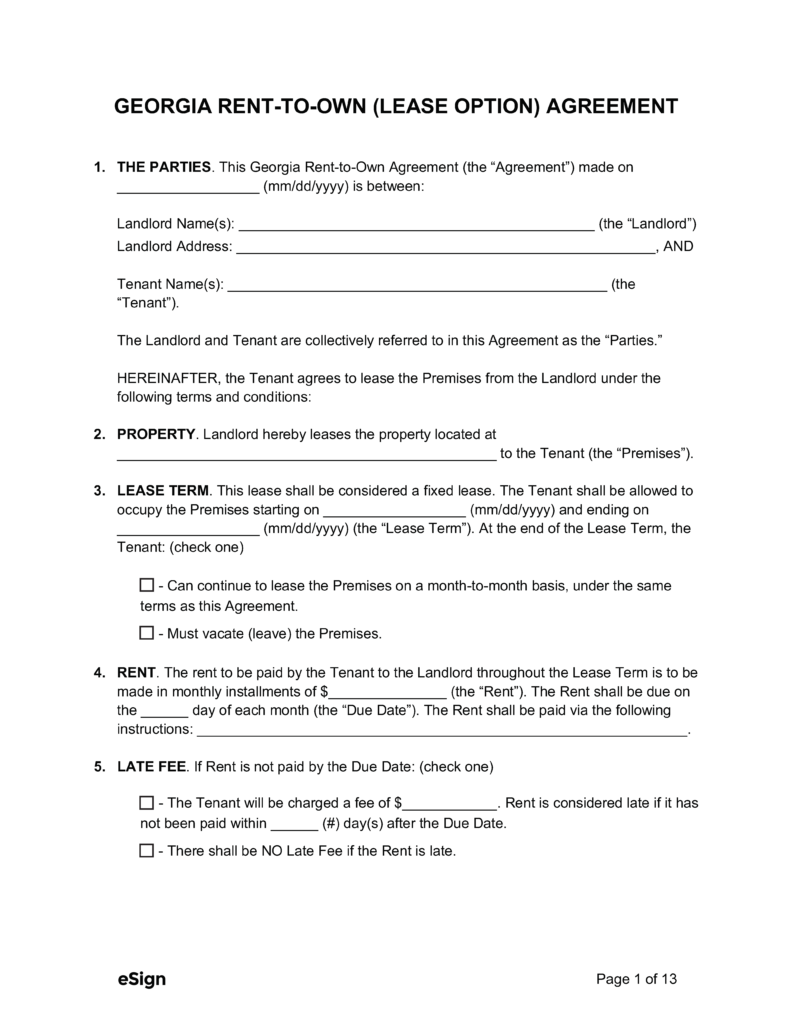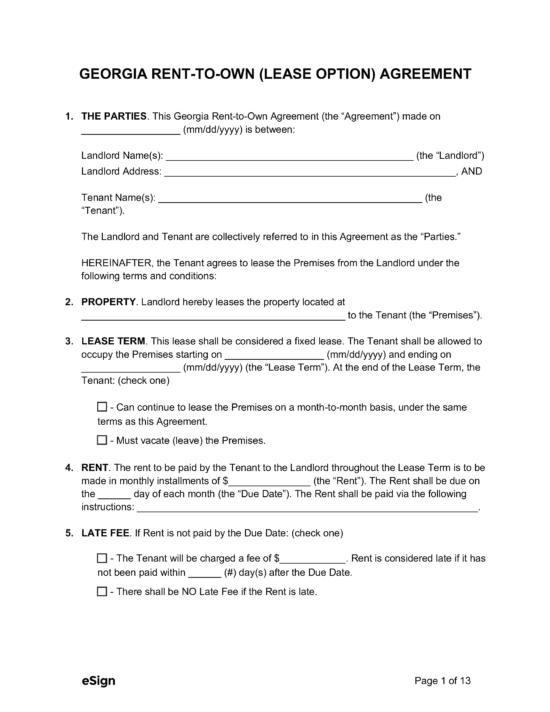 Rent-to-Own Agreement (Lease Option) – Establishes a regular residential lease between a landlord and tenant but allows the tenant to buy the property under specific conditions.

Download: PDF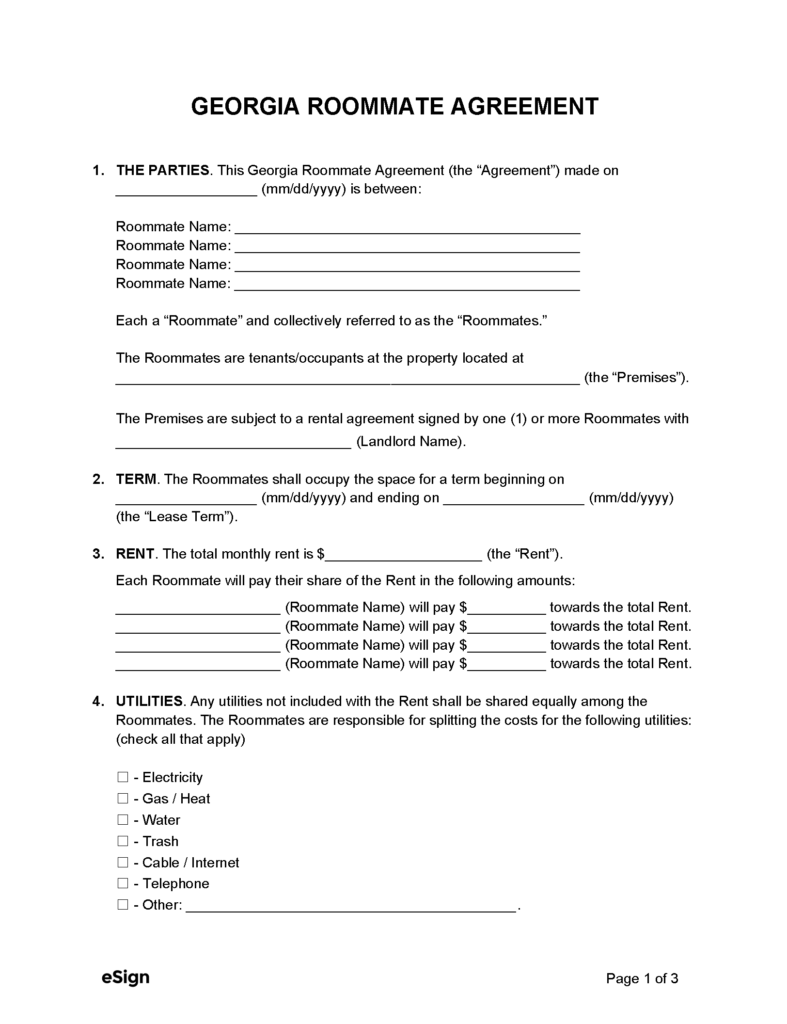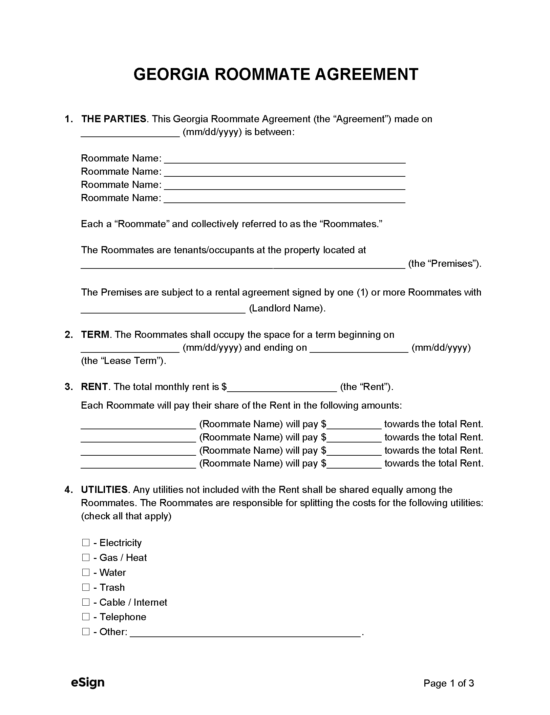 Roommate Agreement – Individuals living together can use this agreement to negotiate terms such as their rent amounts, rights and obligations, and subletting options.

Download: PDF, Word (.docx), OpenDocument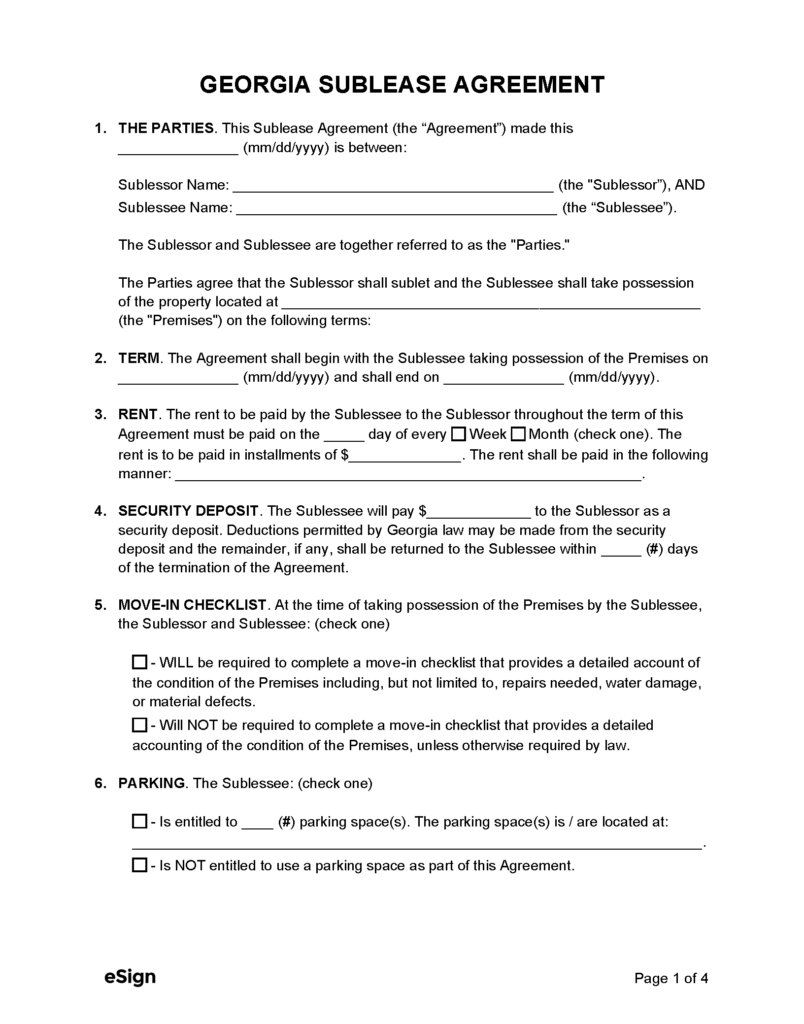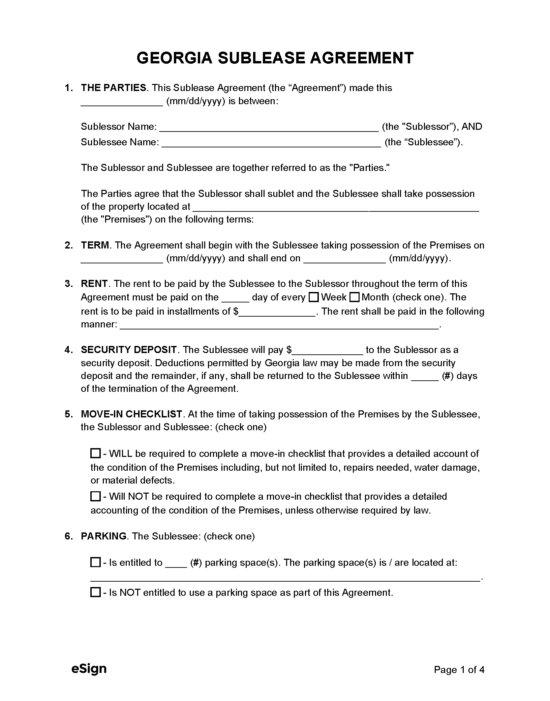 Sublease Agreement – Used by a tenant (with permission from the landlord) to sublet part or the entirety of their rented unit to another individual (subtenant).

Download: PDF, Word (.docx), OpenDocument
Security Deposits
Maximum Amount ($) – There is no legal limit to the security deposit amount that landlords can request from tenants.
Collecting Interest – Georgia law does not require landlords to pay interest on security deposits.
Returning to Tenant – Landlords must return security deposits to tenants within 30 days of the lease termination date.[6]
Itemized List Required? – Yes, if the landlord deducts any amount from the tenant's security deposit, an itemized list of damages and costs must be included when the deposit balance is refunded.[7]
Separate Bank Account? – Yes, the landlord must place security deposits in an escrow account and notify the tenant where the account is held.[8]
Landlord's Entry
General Access – Georgia law does not define a required notice period for entering a rental unit. In most cases, giving written notice at least 24 hours in advance is considered reasonable.
Immediate Access – While there are no state laws that mention emergency access, landlords can typically enter immediately if they believe it's an emergency.[9]
Rent Payments
Grace Period – Tenants are not provided a grace period under Georgia law. Rent must be paid to the landlord on the due date specified in the lease.
Maximum Late Fee ($) – There is no statutory limit on late rent fees.
Bad Check (NSF) Fee – Landlords can charge tenants a maximum of $30 or 5% of the bounced check (whichever is greater) plus bank fees.[10]
Withholding Rent – If the landlord doesn't repair an issue within a reasonable time after receiving notice, the tenant can hire a professional for the required repairs and subtract the expenses from the following rent payment.[11]
Breaking a Lease
Non-Payment of Rent – An immediate notice to quit can be used to break a lease if the tenant fails to pay rent.[12]
Non-Compliance – There isn't a required notice period for rental violations. Unless the lease says otherwise, the landlord can terminate the tenancy without notice immediately following a violation.
Lockouts – The only way to legally stop a tenant from accessing their rental unit is to go through the eviction process and obtain a court order.[13]
Leaving Before the End Date – There are no statutory penalties for vacating early. Unless otherwise agreed to in the lease, the landlord can keep the property vacant and require the tenant to pay rent until the lease expires.[14]
Lease Termination
Month-to-Month Tenancy – Landlords must provide a lease termination letter at least 60 days in advance, while tenants are only required to give 30 days' notice.[15]
Unclaimed Property – Outside of the eviction process, Georgia statutes don't outline any requirements for handling unclaimed personal property. Landlords should refer to the lease when dealing with a former tenant's belongings.
Evictions – After an eviction, unclaimed belongings must be removed from the unit and placed somewhere on the property. The landlord won't be responsible for any damage or loss to the tenant's possessions once moved.[16]