A Massachusetts standard residential lease agreement is a written document involving a landlord and a tenant that contains terms and conditions pertaining to the rental of residential property. Included in this agreement are the rights and obligations of both parties, the length of the lease, the rent amount the tenant must pay on a monthly basis, and the payment period. Other conditions for renting residential property, such as pets, vehicle parking, termination options, utilities, and subleasing options, can be negotiated by the parties before the lease agreement is signed. Once this document has been signed by the landlord and tenant, it becomes legally binding.
Rental Laws – Chapter 186: Estates for Years and At Will
Handbook (Guide) – Attorney General's Guide to Landlord / Tenant Rights
Security Deposits
Maximum (Ch.186 § 15B(1)(b)(iii)) – One (1) Month's Rent
Returning (Ch.186 § 15B(4)) – Thirty (30) Days
---
When is Rent Due?
There is no state statute that mentions when rent is due; the landlord will include this information in the lease. Landlords are allowed to charge a late fee but only after thirty (30) days have passed following the rent due date, as established in the lease agreement (Ch.186 § 15B(1)(c)).
---
Realtor Version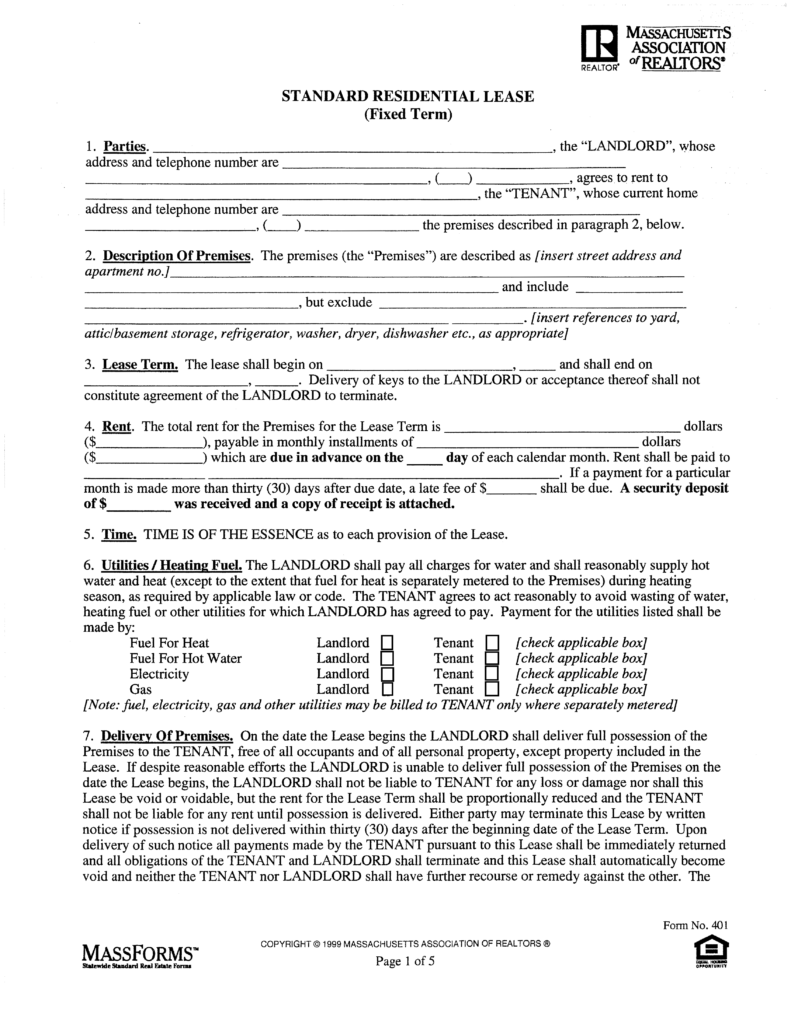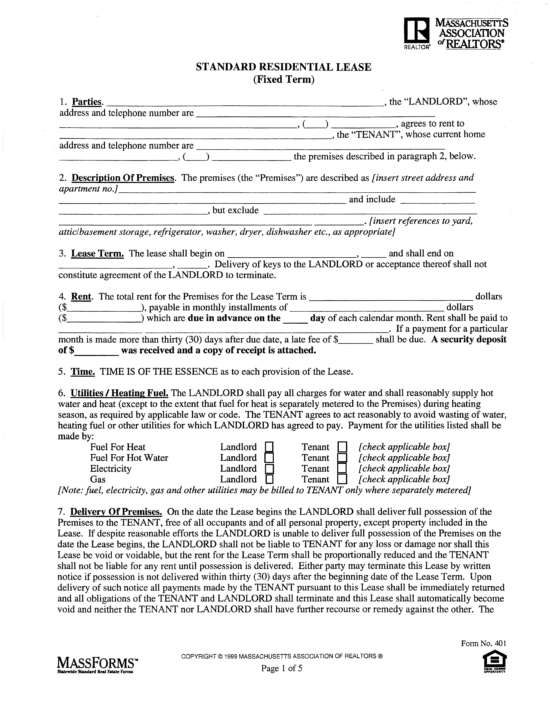 Massachusetts Association of Realtors Residential Lease Agreement (Form 401) – A standardized, fixed-term lease agreement used by landlords to rent residential property to tenants.
Download: PDF
---
Disclosures (4)
Within fifteen (15) days of the request, the landlord must provide the tenant with the name of the insurance company, the amount of insurance provided, and the name of the individual who would receive payment, among other fire insurance-related data.
2) Lead-Based Paint Disclosure
In accordance with federal law, this form must be provided to potential tenants of residential property built prior to 1978.
The tenant has the right to a receipt that contains information regarding the manner in which their security deposit will be used, the financial institution at which it will be deposited, and the individual who will be receiving the funds.
If a security deposit is delivered to the landlord, they are required to provide a statement of condition that details the state of the apartment prior to moving in. In these cases, the landlord is encouraged to draft a Move-in/Move-out Checklist to further document the condition of the dwelling.