---
Updated on September 28th, 2021

The South Carolina standard residential lease agreement is a rental contract between a landlord and tenant whereby the tenant is granted use of the landlord's residential property for a fixed period in exchange for monthly rent payments. The lease contains the terms and conditions of the rental as well as the rights and responsibilities of both parties. If the landlord has rules regarding the use of their property, these must be written into the lease to be considered legally binding. Any deposits, fees, and upfront rent that the tenant is obligated to pay will also need to be included. Before they are approved for tenancy, the tenant may be required to undergo a background and credit check.

Rental Laws – Title 27, Chapter 40 (Residential Landlord and Tenant Act)

Handbook (Guide) – Landlord and Tenant Law in SC
Security Deposits
Maximum – Not mentioned in state statutes.
Returning (§ 27-40-410(a)) – Thirty (30) Days
---
When is Rent Due?
No grace period; rent is due without demand or notice at the place and time designated in the rental agreement (§ 27-40-310(c)).
---
Realtor Version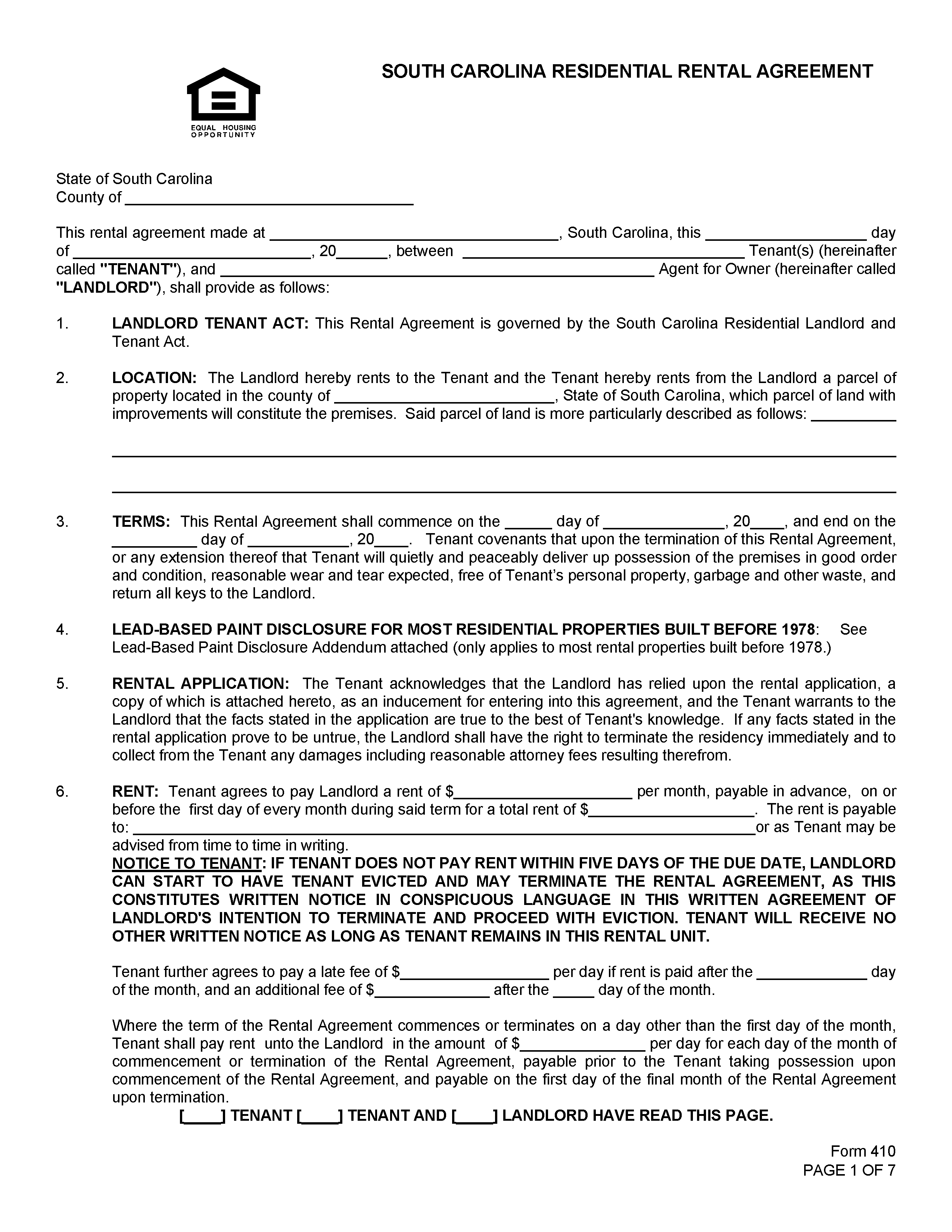 South Carolina Association of Realtors Residential Lease Agreement (Form 410) – This document is produced by the South Carolina Association of Realtors and should not be used without their permission.
Download: PDF
---
Disclosures (3)
1) Lead-Based Paint Disclosure
If a rental unit was constructed prior to 1978, the landlord must disclose to tenants whether lead-based paint exists on the premises.
The tenant must receive the name and address of the property owner or another person authorized to accept service of process and official notices and demands. This disclosure shall be made at or before the start of the tenancy agreement.
3) Security Deposit Calculation
If the landlord leases more than four (4) adjoining rental units and uses different standards for calculating the security deposits required of each tenant, the landlord must disclose the criteria by which the deposits are determined.