A South Carolina lease agreement is used by landlords to establish a formal tenancy whereby a renter is permitted to lease property for a specific length of time. The terms set forth by the landlord will address all aspects of tenancy, including the monthly payment, contract length, security deposit amount (if any), and property expenses. Prospective tenants should be certain that their income can sustain the rental arrangement; once signed, the occupant will be legally obligated to make payments on the due dates specified in the lease.
Rental Application – A document used by landlords to check a lease applicant's rental history, employment information, and criminal background.
Agreements: By Type (6)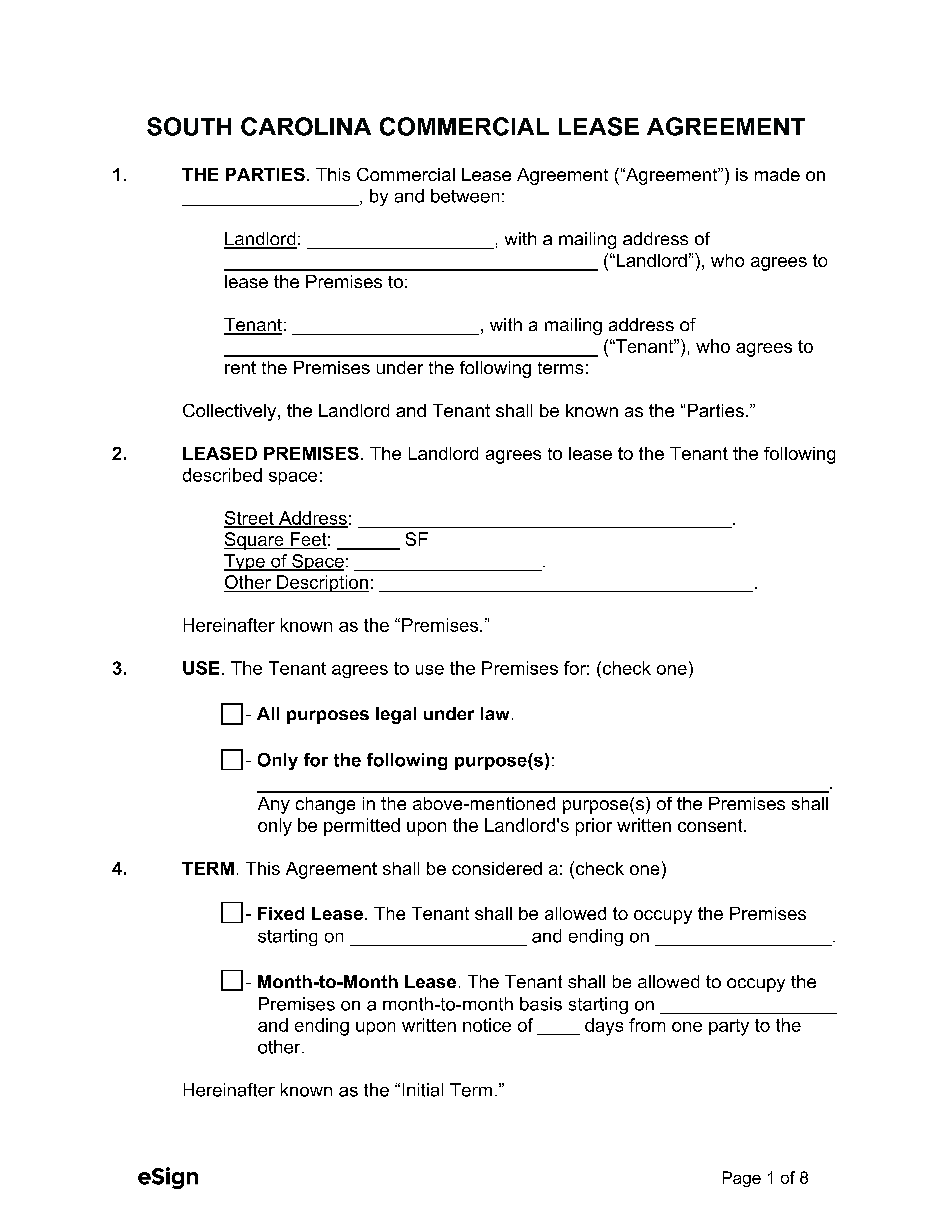 Commercial Lease Agreement – A rental contract specific to property that is leased for non-residential purposes, such as retail, industrial, and office space.
Download: PDF, Word (.docx), OpenDocument
---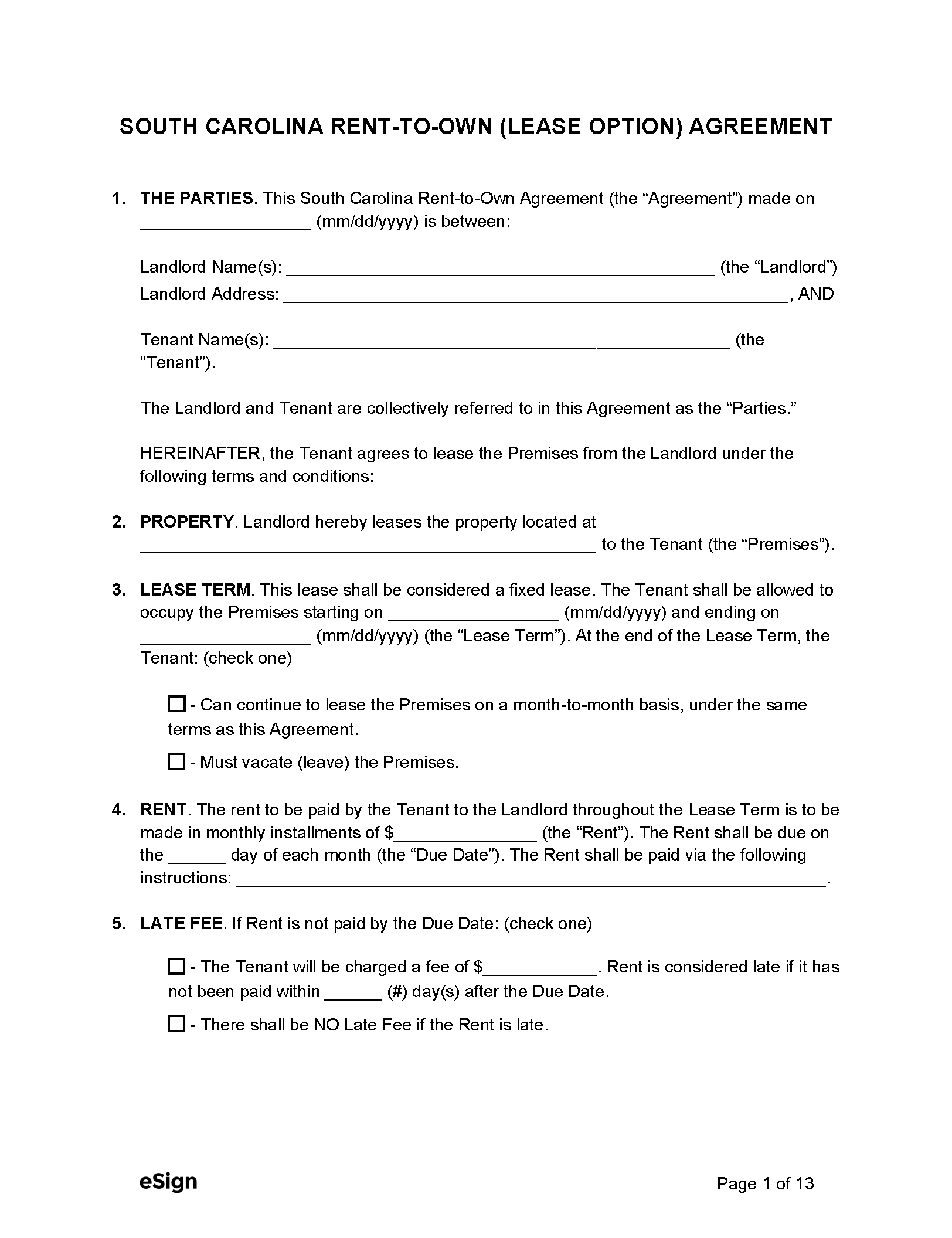 Rent-to-Own Agreement (Lease Option) – Serves the same function as a standard lease but provides tenants with the opportunity to purchase the property.
Download: PDF, Word (.docx), OpenDocument
---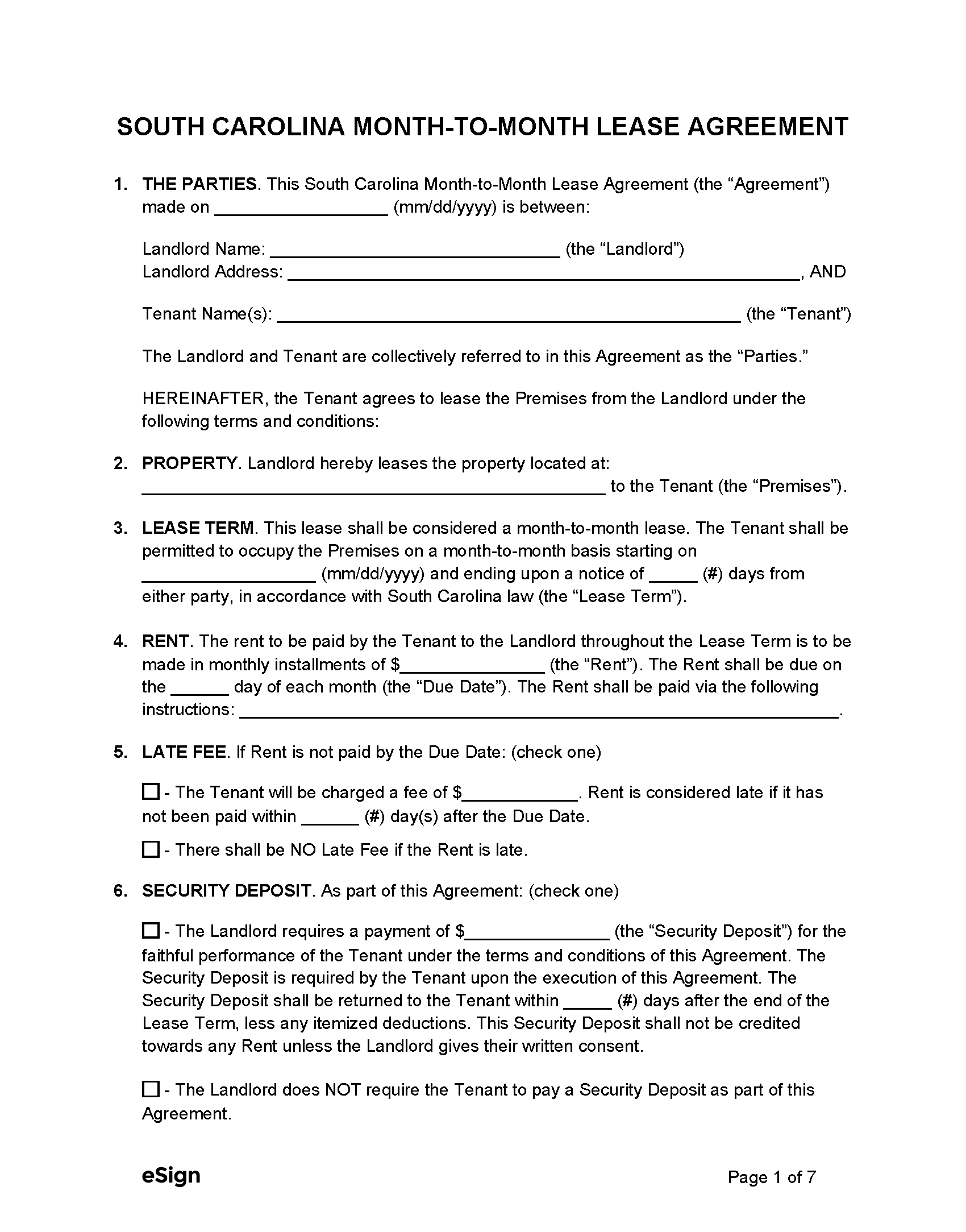 Month-to-Month Lease Agreement – A rental contract that lasts one (1) month and renews on a monthly basis until terminated by either party with thirty (30) days' notice.
Download: PDF, Word (.docx), OpenDocument
---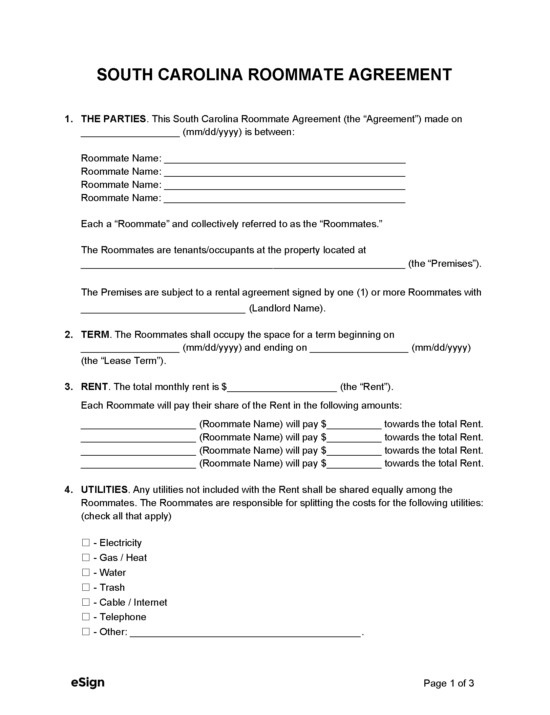 Roommate Agreement – An agreement between roommates that defines the occupants' financial obligations and household responsibilities.
Download: PDF, Word (.docx), OpenDocument
---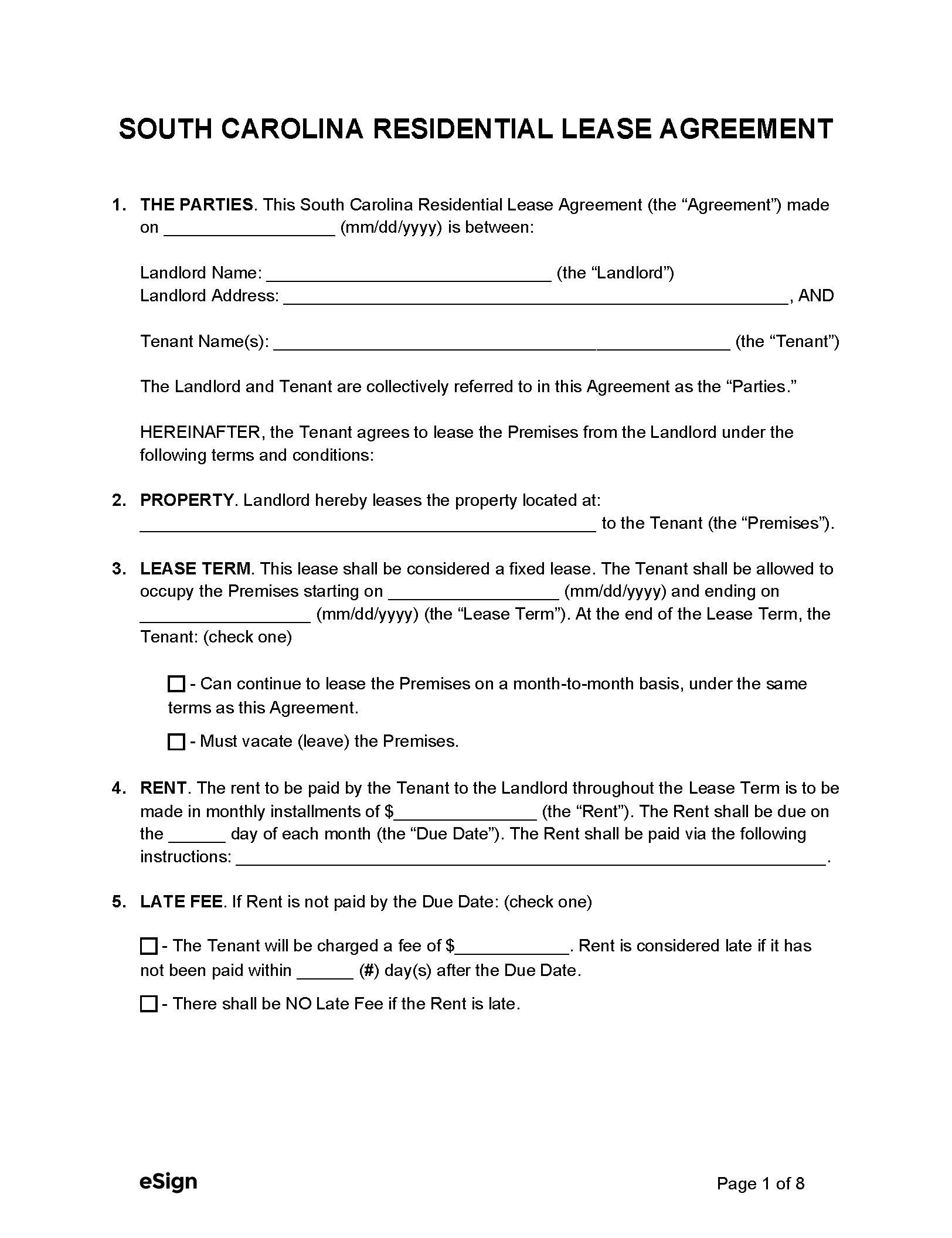 Standard (1-year) Lease Agreement – A fixed-term contract that permits a tenant to occupy a residential dwelling for one (1) year.
Download: PDF, Word (.docx), OpenDocument
---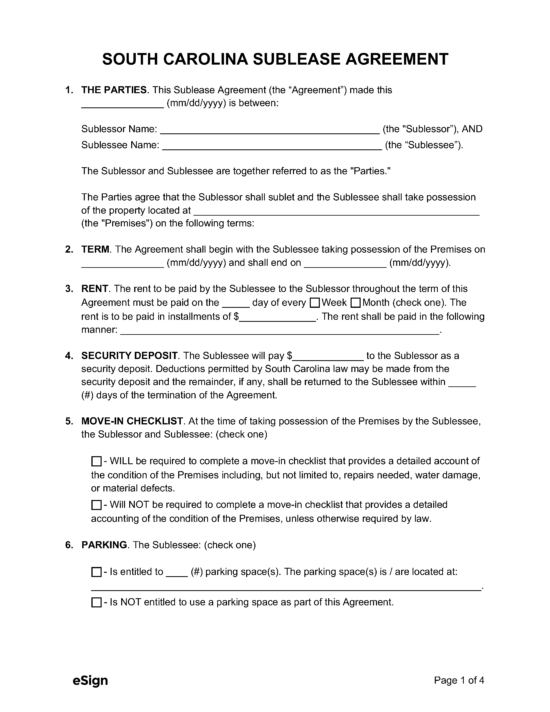 Sublease Agreement – Used by tenants to rent all or a portion of their residential dwelling to another lessee. Before drafting a sublease agreement, tenants should speak with their landlord to verify whether a sublease arrangement is allowed.
Download: PDF, Word (.docx), OpenDocument
---
Disclosures (3)
1) Lead-Based Paint Disclosure
This disclosure alerts tenants to the existence of hazardous paint on the premises of the rental unit (only required if the property was built before 1978).
Tenants must be provided with a written statement identifying the name and address of the property owner or anyone permitted to act on the owner's behalf for the purpose of service of process and for the receipt of notices and demands. The statement must be delivered at or before the start of the lease term.
3) Security Deposit Calculation
If the landlord rents more than four (4) adjoining residential units and imposes different methods to calculate each tenant's security deposit, the method of calculation must be disclosed to the tenant.
---
Landlord-Tenant Laws
---
Landlord's Access
General Access (§ 27-40-530(c)) – Twenty-four (24) hours' notice is required before entering the premises of a dwelling. The time of entry scheduled with the tenant must be a reasonable hour of the day.
Emergency Access (§ 27-40-530(b)(1))) – A landlord may enter the premises without notice during emergency situations such as severe weather conditions or fire.
---
Rent
Grace Period – No statute.
Maximum Fees ($) – No statute.
Rent Increase Notice – No statute.
---
Security Deposits
Maximum Amount ($) – No statute.
Returning to Tenant (§ 27-40-410(a)) – Security deposits must be returned within thirty (30) days after the tenant delivers the premises to the landlord and demands payment of the deposit, whichever is later.
Interest Required? – No statute.
Separate Bank Account? – No statute.