A Texas standard residential lease agreement is a legally binding document executed by a landlord and tenant that relays all the terms and conditions of a rental arrangement whereby the tenant is granted occupation of the landlord's property. The document states the term of the lease (the standard is one (1) year), a description of the property, the rental price, penalties for late rent, and the security deposit amount.
It is common practice for the landlord to have the tenant undergo an application process before approving them for tenancy. Due to the legally binding nature of a lease agreement, it is recommended that the tenant examine the property and review all the terms of their lease before signing.
Rental Laws – Title 8, Chapter 92 (Residential Tenancies)
Handbook (Guide) – Tenants' Rights Handbook
Security Deposits
Maximum – Not mentioned in state statutes.
Returning (§ 92.103) – Thirty (30) Days
---
When is Rent Due?
Rent is due as stated in the lease. The landlord must give the tenant a grace period of two (2) full days from the rent due date to pay before late fees can be charged (§ 92.019(a)(3)).
---
Realtor Version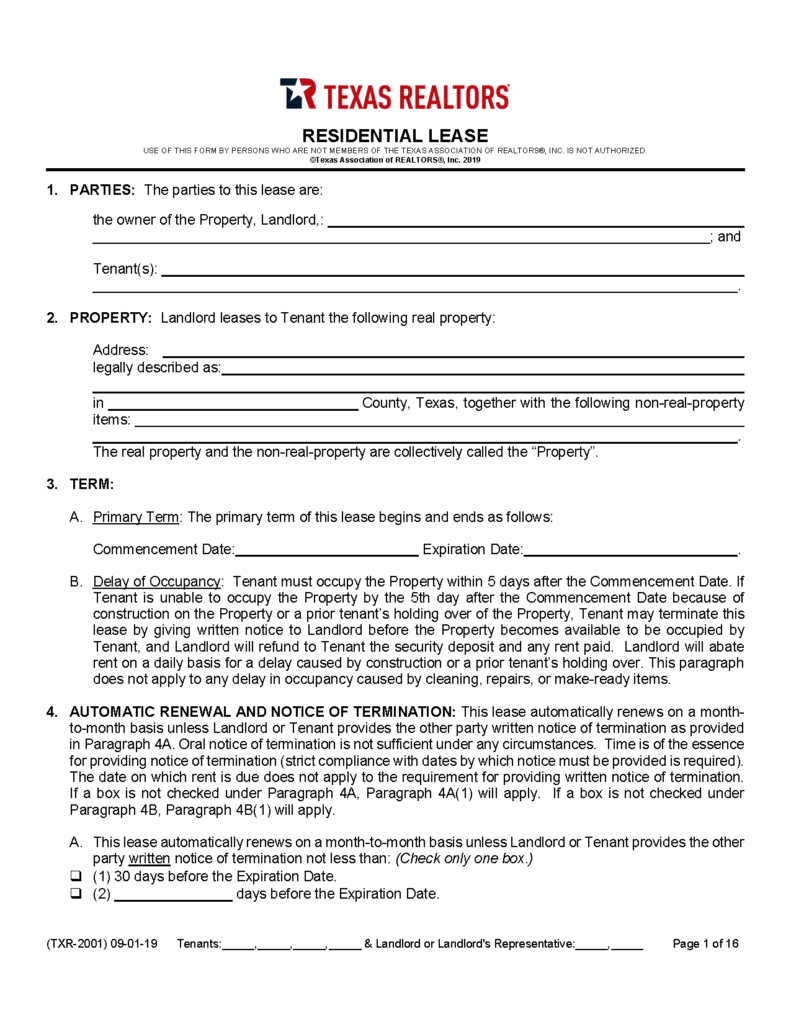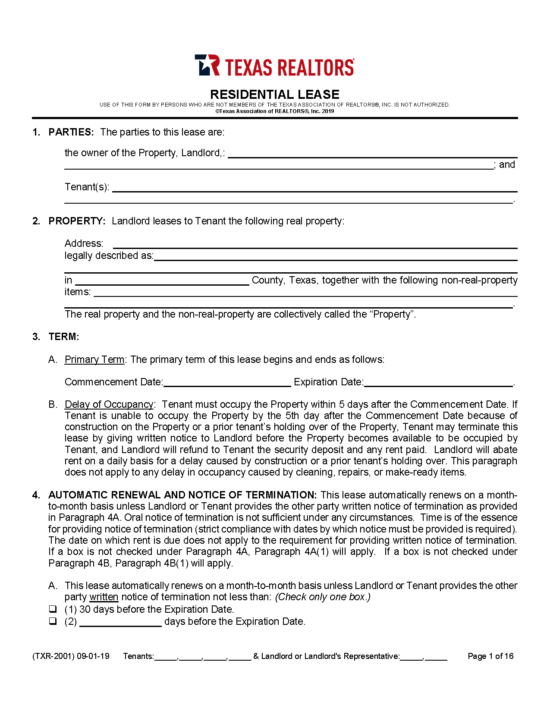 Texas Association of Realtors Residential Lease Agreement (TXR-2001) – This standard residential lease is produced by the Texas Association of Realtors for exclusive use by its members.
Download: PDF
---
Disclosures (5)
1) Lead-Based Paint Disclosure
Used to disclose the presence of toxic paint on the premises of a rental unit that was built prior to 1978.
The landlord is obligated to inform the tenant of the names and addresses of the dwelling titleholder and any entity responsible for managing the dwelling.
3) Right to Interrupt Utilities
If this provision is disclosed in the rental agreement, the landlord may interrupt a tenant's submetered or allocated or prorated non-submetered electricity service if a non-payment of their electricity bill occurs, and the landlord has given a written notice notifying the tenant their electricity service will be interrupted.
4) Special Conditions to Cancel Agreement
The lease agreement must include the following statement: "Tenants may have special statutory rights to terminate the lease early in certain situations involving family violence or a military deployment or transfer."
5) Texas Parking Rules Addendum
Used to disclose the vehicle parking and towing policies to a tenant leasing a multiunit complex.