---
Updated on September 28th, 2021

A Utah rent-to-own agreement establishes an arrangement in which a tenant leases property for a fixed term with the option of buying the property before the lease expires. It enables aspiring homeowners to move into their desired property immediately despite their inability to obtain a mortgage. A purchase price can be negotiable or fixed before the lease start date, depending on the conditions in the agreement. The landlord may charge an additional fee to secure the tenant's purchasing rights, which will be credited towards the purchase should the tenant decide to buy.

Rental Laws – Title 57 (Real Estate)

Purchase Agreement Laws – Title 57, Ch. 1 (Conveyances) & § 57-22-4(3)
---
Realtor Version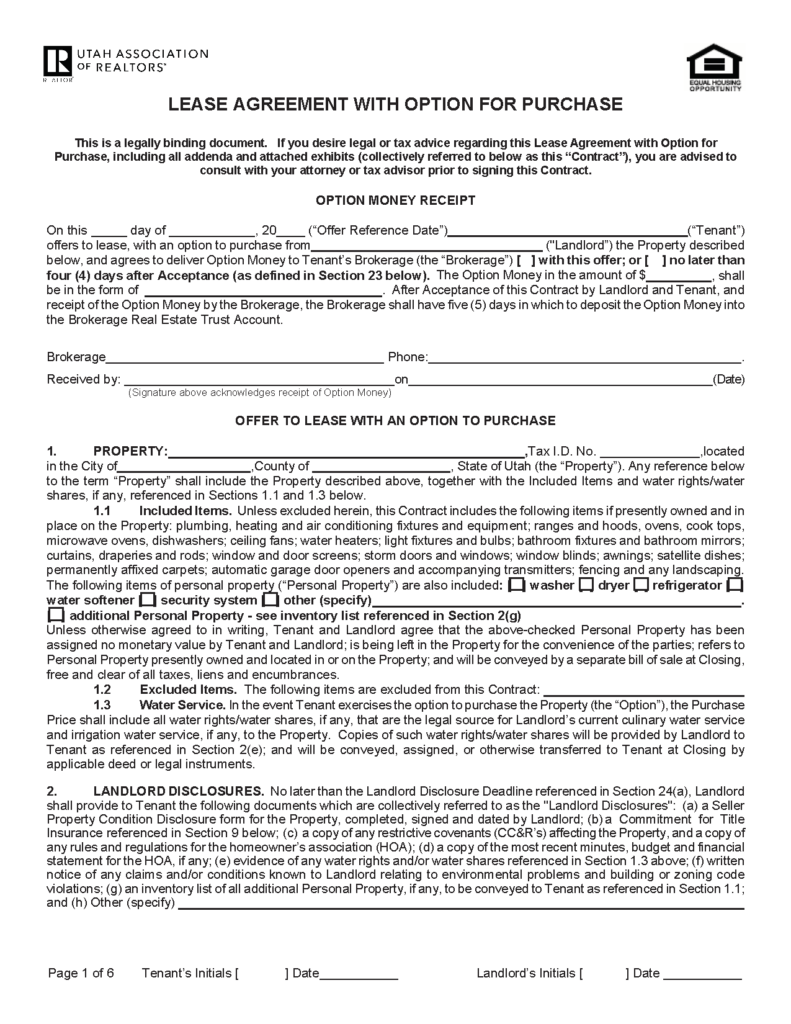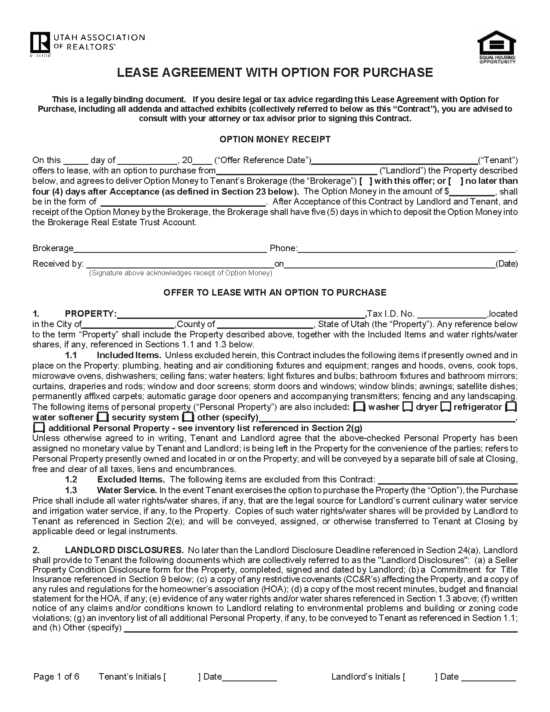 Utah Association of Realtors Rent-to-Own (Lease Option) Agreement (UAR Form 33) – This rent-to-own agreement is provided by the Utah Association of Realtors for exclusive use by its members.
Download: PDF
---
Disclosures (4)
1) Lead-Based Paint Disclosure
Property owners of buildings constructed before 1978 must disclose the potential risk of lead paint within the premises.
2) Methamphetamine Contamination
A landlord cannot lease a dwelling unit that has been contaminated from methamphetamine manufacturing or storage without reporting this information to the tenant.
3) Owner and Management Information
The name and address of the landlord and persons authorized to perform their proprietary duties and receive notices on their behalf must be delivered to the tenant before or at the start of their rental term.
An inspection of the premises' condition must be performed, documented, and disclosed to the tenant before their rental term begins.
---
Related Forms