---
Updated on June 23rd, 2023

A Utah lease agreement is a contract between a tenant and landlord that outlines the terms and conditions of tenancy. The provisions included in the lease will determine the monthly rent payment including the due date and applicable penalties for non-payment.

Each lease will also state the contract term in which the tenant is entitled to possession of the premises. Typically, residential leases will either be a fixed contract of one (1) year or a month-to-month agreement with no predetermined end date.

Rental Application – Used by landlords to collect personal information and background checks of lease applicants.
Agreements: By Type (6)
Commercial Lease Agreement – Contains the rental terms for a property to be used for business purposes.
Download: PDF, Word (.docx), OpenDocument
---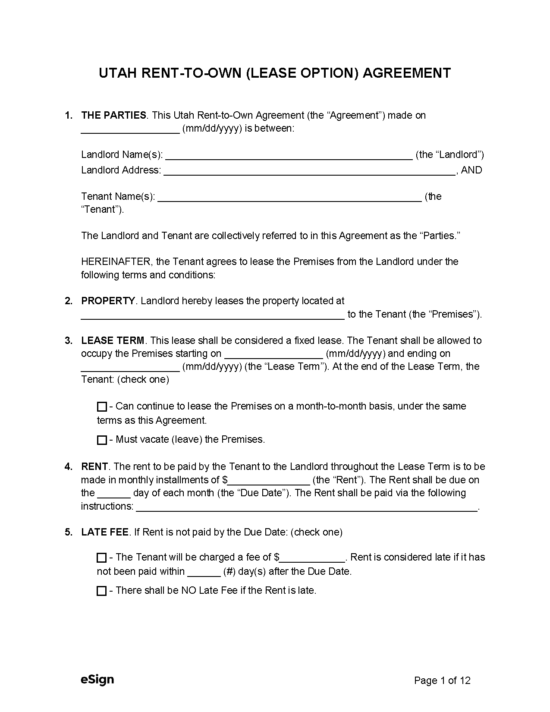 Rent-to-Own (Lease Option) – A lease that initially functions as a standard rental contract but also offers the tenant the ability to purchase the property if certain conditions are met.
Download: PDF, Word (.docx), OpenDocument
---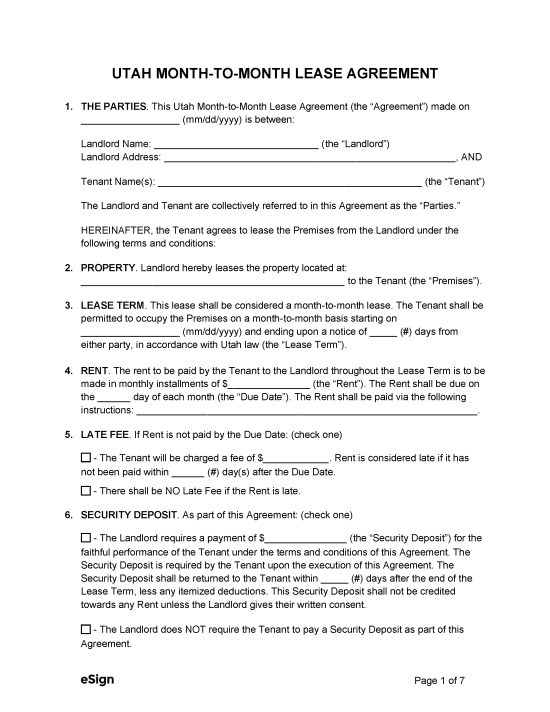 Month-to-Month Lease Agreement – Guarantees occupancy in a residential property for one (1) month at a time. The contract will renew on a monthly basis until terminated by either the landlord or tenant.
Download: PDF, Word (.docx), OpenDocument
---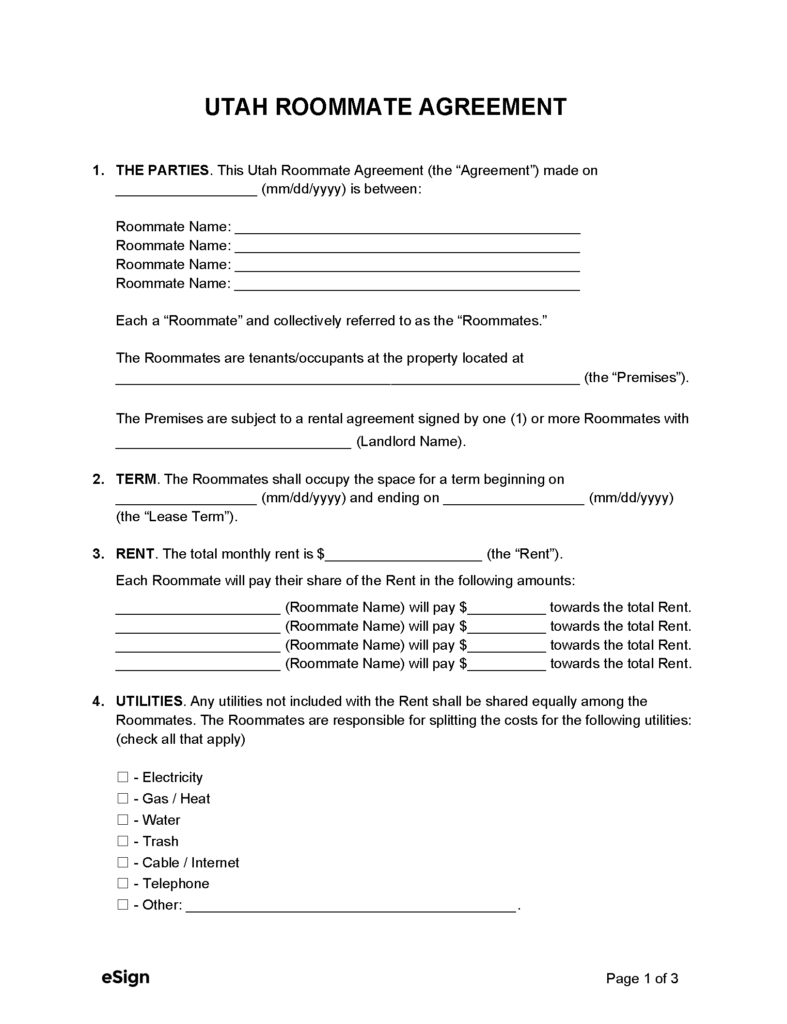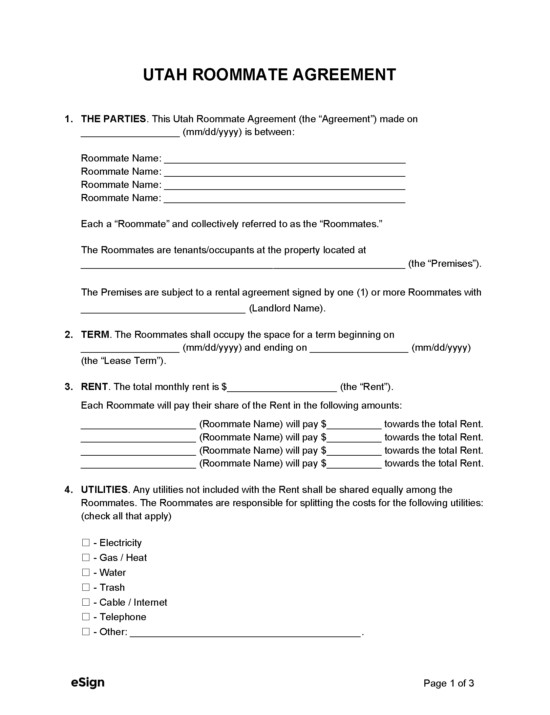 Roommate Agreement – States the rental costs and responsibilities of each tenant in a shared dwelling and the overall household policies and living conditions.
Download: PDF, Word (.docx), OpenDocument
---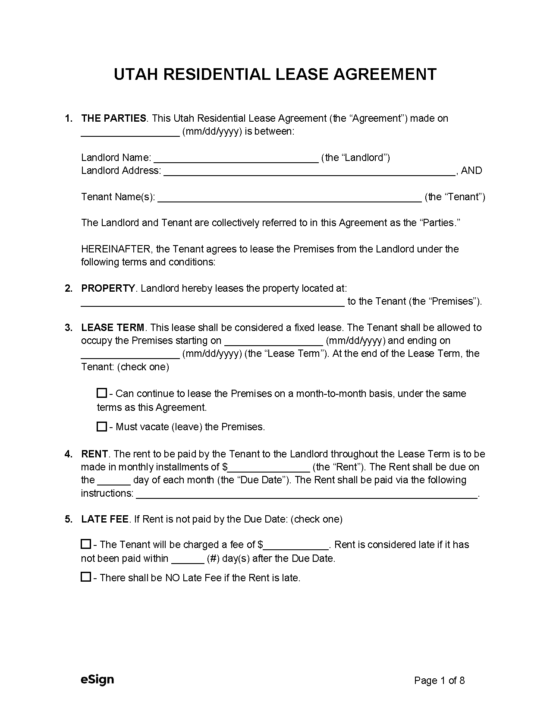 Standard (1-year) Lease Agreement – A residential contract that authorizes a tenant to occupy a dwelling for a fixed term of one (1) year.
Download: PDF, Word (.docx), OpenDocument
---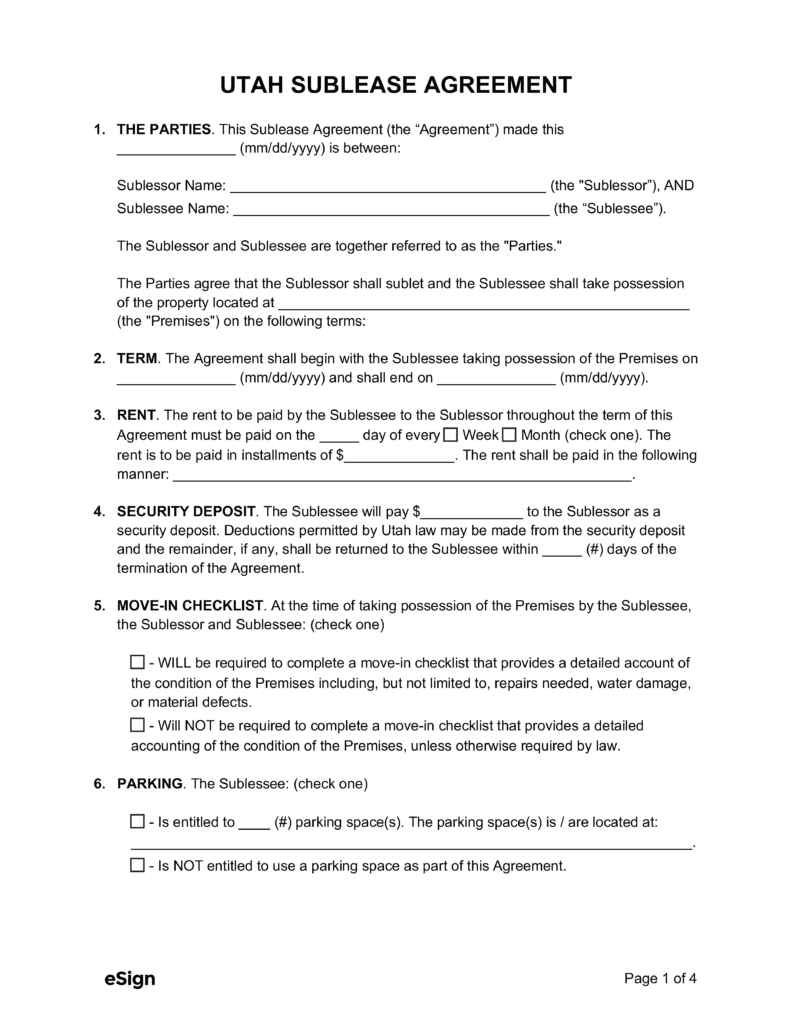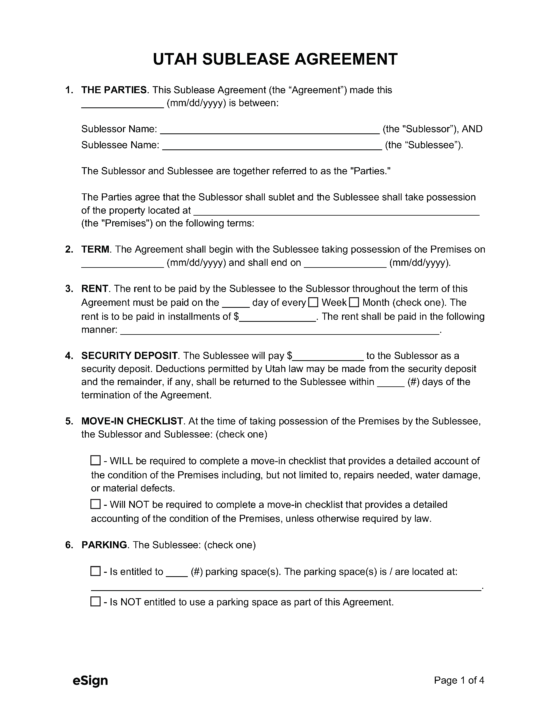 Sublease Agreement – Used by leaseholders to rent out all or part of the dwelling in which they currently reside. Tenants are encouraged to check their lease before subletting to ensure that the act is not prohibited.
Download: PDF, Word (.docx), OpenDocument
---
Disclosures (4)
1) Lead-Based Paint Disclosure
Landlords must disclose the existence of lead-based paint within their property (required for all property predating 1978).
2) Methamphetamine Contamination
If an owner or lessor has actual knowledge that their property has methamphetamine contamination, the information must be disclosed in the lease.
3) Owner and Management Information
Tenants must be given the name, address, and phone number of the owner, as well as that of anyone else with the ability to manage the property and/or act on the owner's behalf. This information must be provided at or before the start of the rental term.
Prior to a tenant's occupancy, the landlord must furnish the tenant with a written inventory of the condition of the rental unit. Accompanied by the condition report must be a form with which the tenant may itemize any damages they detect once their tenancy commences.
---
Landlord-Tenant Laws
---
Landlord's Access
General Access (§ 57-22-4(2)) – Unless otherwise stated in the lease, landlords must give twenty-four (24) hours' notice before entering the premises.
Emergency Access – No statute.
---
Rent
Grace Period – No statute.
Maximum Fees ($) – No statute.
Rent Increase Notice – No statute.
---
Security Deposits
Maximum Amount ($) – No statute.
Returning to Tenant (§ 57-17-3(2)) – No later than thirty (30) days after the tenant vacates.
Interest Required? – No statute.
Separate Bank Account? – No statute.