A photography contract is a document that details how a photographer and their client will do business together. The contract will establish that the photographer is an independent contractor, which means they may carry out the work as they see fit and are responsible for their own tax obligations. Project deadlines, deliverables, and the photographer's fees are all essential clauses that should be included in this contract to ensure a smooth working relationship.
By Type (2)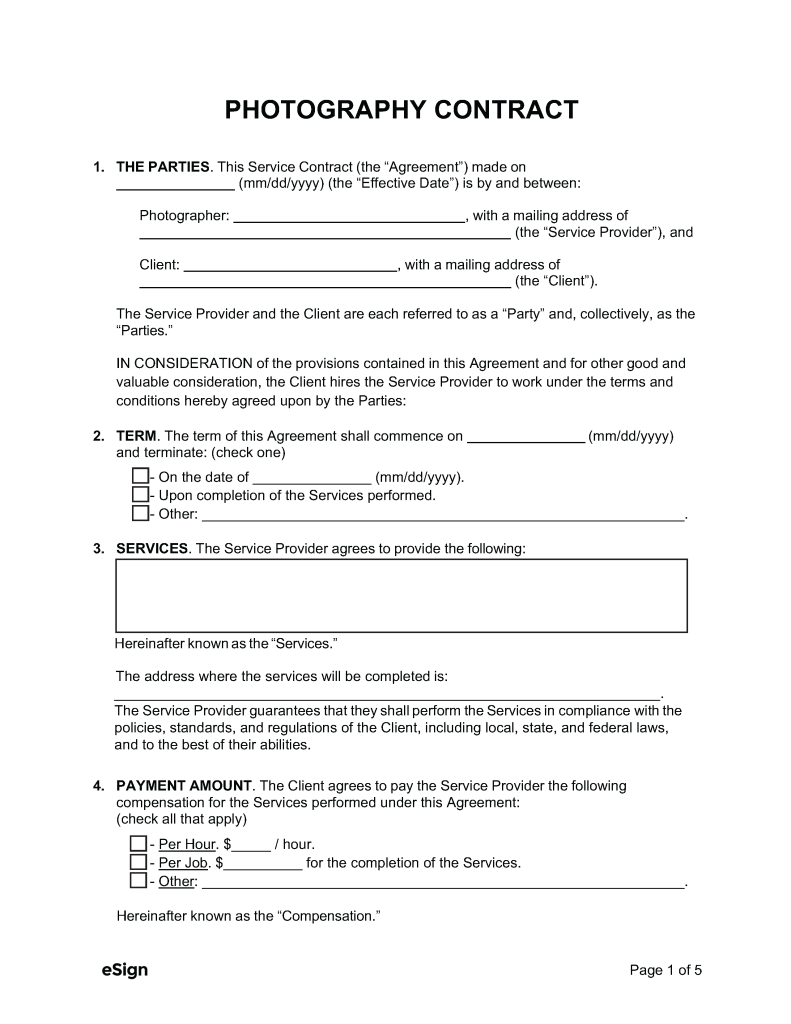 Photography Contract – A standard form used to set the working terms between a photographer and their client.
Download: PDF, Word (.docx), OpenDocument
---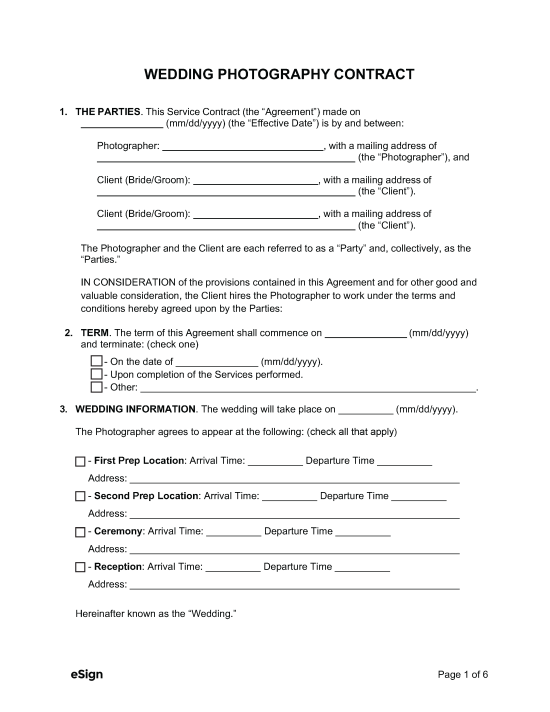 Wedding Photography Contract -Used by wedding photographers so set expectations and responsibilities between them and their clients who are to be married.
Download: PDF, Word (.docx), OpenDocument
---
What a Photography Contract Includes
The service contract should detail the responsibilities of each party so that both the photographer and their client understand their obligations to one another.
Party Information
The completed document should state the contact information of each party. The client and photographer must put either their name or the name of their business, as well as their mailing address.
Services and Deliverables
The agreement should state what services the photographer will be required to perform for their client, and what the client should expect for deliverables. Some common items that should be listed are:
How many photos the photographer will deliver.
If photo editing is included, and if so, how many edited photos.
When the photographer will be on-site, and for how many hours.
Where the services will take place.
If there is a deadline for photo delivery.
Location and Hours
The location of the shoot and how many hours the photographer will be expected to be on-site should be relayed in the document. Some photographers charge their time as either a half-day, usually five or less hours, or a full-day, usually eight to twelve hours.
Pay Rate
How much a photographer will be paid, and the manner in which they will be paid should be outlined in the agreement. Photographers will often charge per hour or a day rate. The contract should state when payment will be made, if the photographer will take a retainer fee for their services, and whether that fee is refundable.
Copyright
An essential clause that should be in each photography service contract is which party owns the rights to the photos. Generally, photographers will retain the rights to the photos, unless otherwise specified, and their client may use them for personal use only. Photographers often charge a fee for clients to use their photos commercially.
Model Release
Photographers will usually have a model release clause in their service agreements which states that they may use images of their clients for their promotional purposes.
Liability
Many photography service contracts will have a provision stating that the photographer is not responsible for any equipment failure that leads to lost photos.
Common Services
There are a number of specialties that a photographer may be hired for. Depending on their client's needs, the contractor may be asked to photograph:
Weddings
Sporting Events
Conferences
Cocktail Parties
Food and restaurants
Headshots
Behind-the-scenes images
Musicians
Schools and graduations
Education
No formal education is required to become a photographer; many learn by practicing as a second shooter under more experienced professionals. However, many schools offer courses in photography for individuals who want to study the craft. Some essential skills photographers must acquire include:
Composition
Exposure and lighting
Proficiency in Photoshop, Lightroom, or other similar software
Basic color science
Proficiency in the use of Canon, Sony, Nikon, Fujifilm, or other high-end cameras
Sample
Download: PDF, Word (.docx), OpenDocument
PHOTOGRAPHY SERVICE CONTRACT
This Photography Service Contract (the "Contract") is entered into by and between [PHOTOGRAPHER NAME], herein referred to as the "Photographer," and [CLIENT NAME], herein referred to as the "Client," on this [DAY] of [MONTH], [YEAR].
1. SERVICES. The Photographer shall provide the Client with photography services for [EVENT], including [DESCRIPTION OF SERVICES].
2. PAYMENT. The Client shall pay the Photographer the sum of [AMOUNT] for the services provided. Payment shall be made in [PAYMENT METHOD (e.g., Check)].
3. COPYRIGHT AND OWNERSHIP. All photographs taken by the Photographer shall remain the property of the Photographer and may not be used, reproduced, or distributed without the Photographer's written consent. The Client may use the photographs for personal, non-commercial purposes.
4. MODEL RELEASE. The Photographer shall have the right to use the photographs taken for advertising, marketing, and other promotional purposes.
5. TERMINATION. Either party may terminate this Contract at any time upon written notice.
IN WITNESS WHEREOF, the parties have executed this Contract on the date first above written.
Signature: _____________________
[PHOTOGRAPHER NAME]
Signature: _____________________
[CLIENT NAME]