A Utah mechanic's lien is used by individuals/entities involved in a construction project to secure payment if proper compensation hasn't been provided after the job is completed. In Utah, contractors, subcontractors, material suppliers, surveyors, consultants, landscapers, designers, and architects are entitled to claim a lien. The type of lien filed depends on the type of work being furnished; there is a Pre-Construction Lien and a Construction Lien (the former is used by consultants, architects, designers, and the like).
To get the process started, the claimant must file a preliminary notice within twenty (20) days of the commencement of work on the project (or delivery of materials). After the work has been completed, the mechanic's lien can be filed within one hundred and eighty (180) days of completion (90 days for pre-construction liens). However, this deadline is ninety (90) days if the owner/project manager filed a notice of completion. Once the lien has been recorded and served upon the owner, the claimant has one hundred and eighty (180) days to enforce the lien; i.e., if payment is not received, legal action will be taken.
---
Related Forms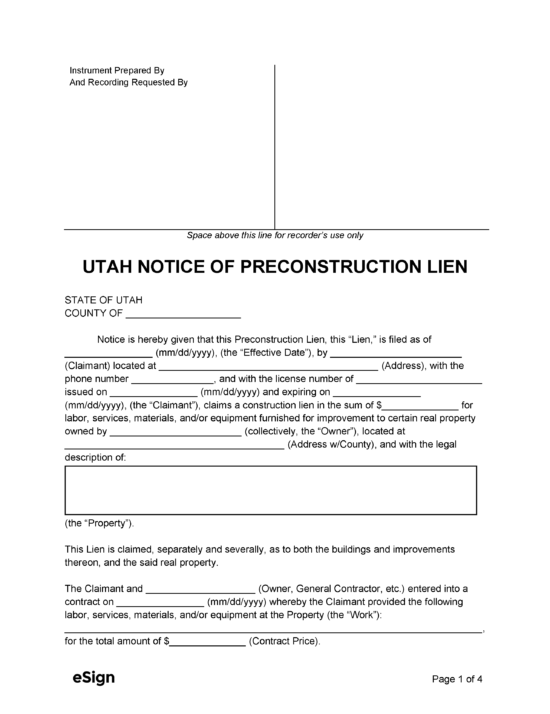 Utah Notice of Preconstruction Lien – This type of lien is used by claimants who have performed services prior to the actual construction of the project (architects, designers, consultants, design-build contractors, surveyors, etc.).
Download: PDF, MS Word, OpenDocument