An Alaska non-compete agreement is a legal document that limits an employee's ability to enter into competition with their employer, either alone or in cooperation with another business. To provide ample consideration (the benefit the employee receives in exchange for signing), the employer should require the form to be completed before the employee's hiring. If an entity is looking to restrict an existing employee, a sum of money should be offered in exchange for signing the form.
Enforceability in Alaska
Non-compete agreements are enforceable in the state of Alaska. There are no specific statutes in place governing non-competes, although one can look to the state's trade secrets statutes for reference (§§ 45.50.910 to 45.50.945) as well as several high-profile cases involving non-compete agreements.
Maximum Time Period
Not established by state statutes. The recommended time period for a non-compete agreement is two (2) years.
Geographical Area
Not required, although recommended. A customer list (for example) can be substituted for a geographic area in applicable situations (see Metcalfe Investments, Inc v. Garrison).
Is Blue Penciling Allowed?
Yes. Known as a "reasonable alteration" approach in Alaska, the courts can amend non-compete agreements containing overly broad provisions until it is deemed enforceable.
---
Related Forms (2)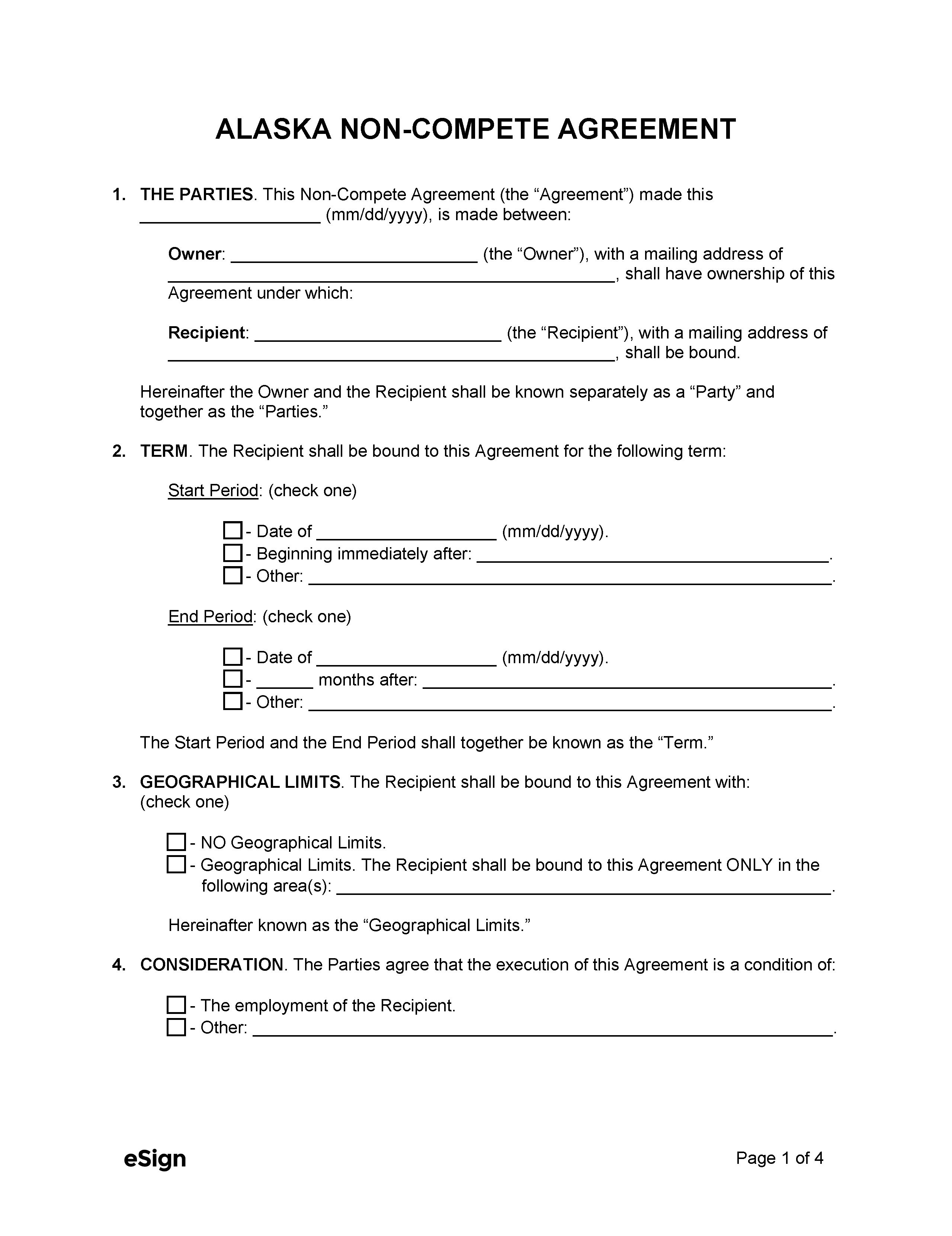 Non-disclosure agreement – A legal form that prevents a person from sharing sensitive data.
Download: PDF, Word (.docx), OpenDocument
---
Non-solicitation agreement – A binding contract used to prevent a departing employee from seeking out contacts originally formed with their past employer.
Download: PDF, Word (.docx), OpenDocument