An Alabama non-compete agreement is a legal form that protects an employer from the risk of their employees competing with them post-termination. Companies often require applicants to complete the form as a prerequisite to being hired, which also serves as the consideration for the contract. In addition to preventing competition from the employee themselves, the agreement contains non-disclosure provisions that secure a company's confidential information by barring the sharing of pivotal secrets and processes that could hamper the employer's competitive advantage.
Enforceability in Alabama
Per state law, non-compete agreements are enforceable.[1] However, not all non-competes will be upheld in a court of law.
When it

IS

Enforceable
To safeguard a "Protectable Interest." A protectable interest includes trade secrets, confidential information, business relationships and contacts, goodwill formed with customers, patients, vendors, and clients (applies to both ongoing businesses as well as a specific area of trade), and highly specialized training (does not include general job skills).[1]
Sale of a company. The members that are selling an entity can agree to refrain from competing with the buyer and taking any customers with them. A geographical area needs to be set, and the timeframe should be no longer than one (1) year.[1]
Dissolution of a company. Members that are dissolving an entity can unanimously agree not to engage in activity in the same geographical area where the business was originally operated.[1]
When it's

NOT

Enforceable
Restricts a professional. If the non-compete restricts a person that engages in a "lawful profession," it will not be enforced by a court of law.[1]

"Lawful Professions" include physicians, attorneys, accountants, veterinarians, and physical therapists.

Signed before employment. If the employee signed a non-compete prior to accepting employment (instead of at the time of hiring).[4]
Independent contractors. Non-compete agreements and clauses are not enforceable if entered into between an employer and an independent contractor or subcontractor.[5]
Maximum Time Period
Two (2) years. Non-competes that remain in effect for two (2) years or less are assumed to be reasonable.[1]
Geographical Area
If a geographical restriction is included in a non-compete, the area specified should be reasonable and only be included if the company operates a like business in the location(s) mentioned.
Consideration
For new and existing employees alike, the promise of employment (or the promise of continued employment) serves as adequate consideration for restrictive agreements.[6]
---
Sources
---
Related Forms (2)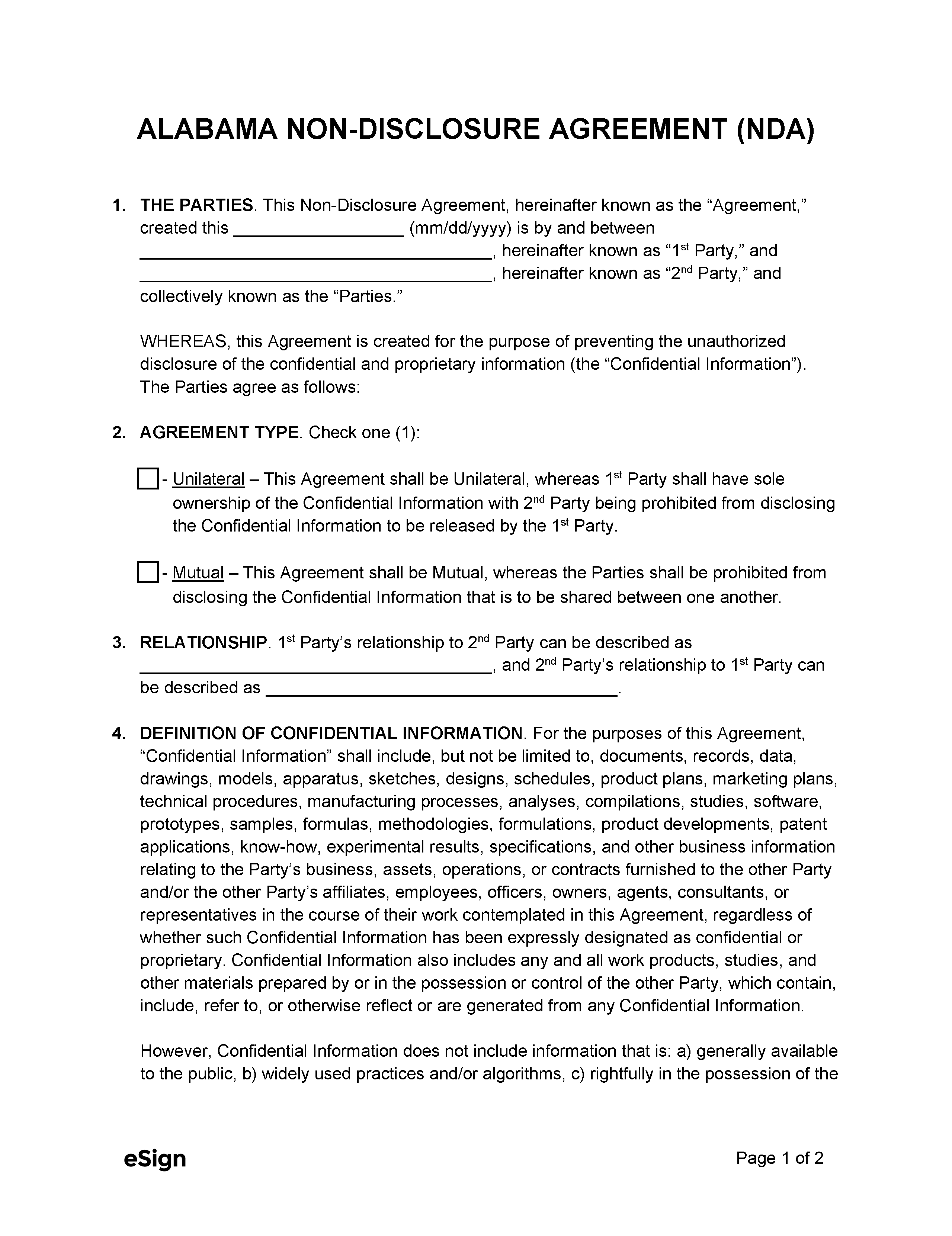 Alabama Non-Disclosure Agreement – A business form completed prior to engaging in the discussion of confidential information to prevent certain details from being shared with others.
Download: PDF, Word (.docx), OpenDocument
---
Alabama Non-Solicitation Agreement – Prevents an employee from conducting business with an employer's clients and customers post-termination.
Download: PDF, Word (.docx), OpenDocument