An Alabama non-compete agreement is a legal form that protects an employer from the risk of their employees competing with them post-termination. Companies often require applicants to complete the form as a prerequisite to being hired, and providing employment serves as a fair exchange between the parties (referred to as "consideration"). In addition to preventing competition from the employee, the agreement contains non-disclosure provisions that secure a company's confidential information by barring the sharing of trade secrets and other proprietary information that could harm the employer's competitive advantage.
Enforceability in Alabama
Non-compete agreements are enforceable in Alabama as long as they meet the requirements set forth in state law.[1]
When it IS Enforceable
When it's NOT Enforceable
Restricts a professional. A non-compete that aims to prevent competition based solely on an employee's profession is not enforceable.[4] NCAs with this objective have been voided by courts of law; the specific professions involved in these cases include accountants,[5] medical professionals,[6] veterinarians,[7] and securities brokers.[8]
Attorneys. In accordance with the Rules of Professional Conduct, non-competes that restrict an attorney from practicing law are prohibited, with the exception of agreements involving retirement benefits.[9]
Mediators. Non-compete contracts will not be enforced if they attempt to stop a mediator from working in their field.[10]
Maximum Time Period
The maximum time limit mentioned in state statutes on a non-compete between an employer and employee is two (2) years; however, this is a proposition, not a set rule. If the agreement specifically pertains to the non-solicitation of customers, a time period of eighteen (18) months or whenever post-separation compensation stops (whichever is longer) is considered reasonable. For business sales, a non-compete/non-solicitation maximum duration of one (1) year is presumed to be adequate.[1]
Geographical Area
When a geographical restriction is applied to a non-compete, the scope should be reasonable and can only cover areas where the entity actually conducts business.[1] State statutes do not specifically define "reasonable" but, prior to the updated 2016 statutes, courts of law factored in the type of business, the scope of their business dealings, the situation of both parties, and any other appropriate components of the relationship when determining a fair geographical area.[11]
Consideration
Current state statutes express that adequate consideration must be provided to the employee,[2] but they do not mention what constitutes adequate consideration, and no case law exists after the statutes were amended in 2016 that acknowledges this issue. For agreements entered into before that year, courts of law determined that present employment,[12] continued employment, or some form of compensation[13] were considered sufficient.
---
Sources
---
Related Forms (2)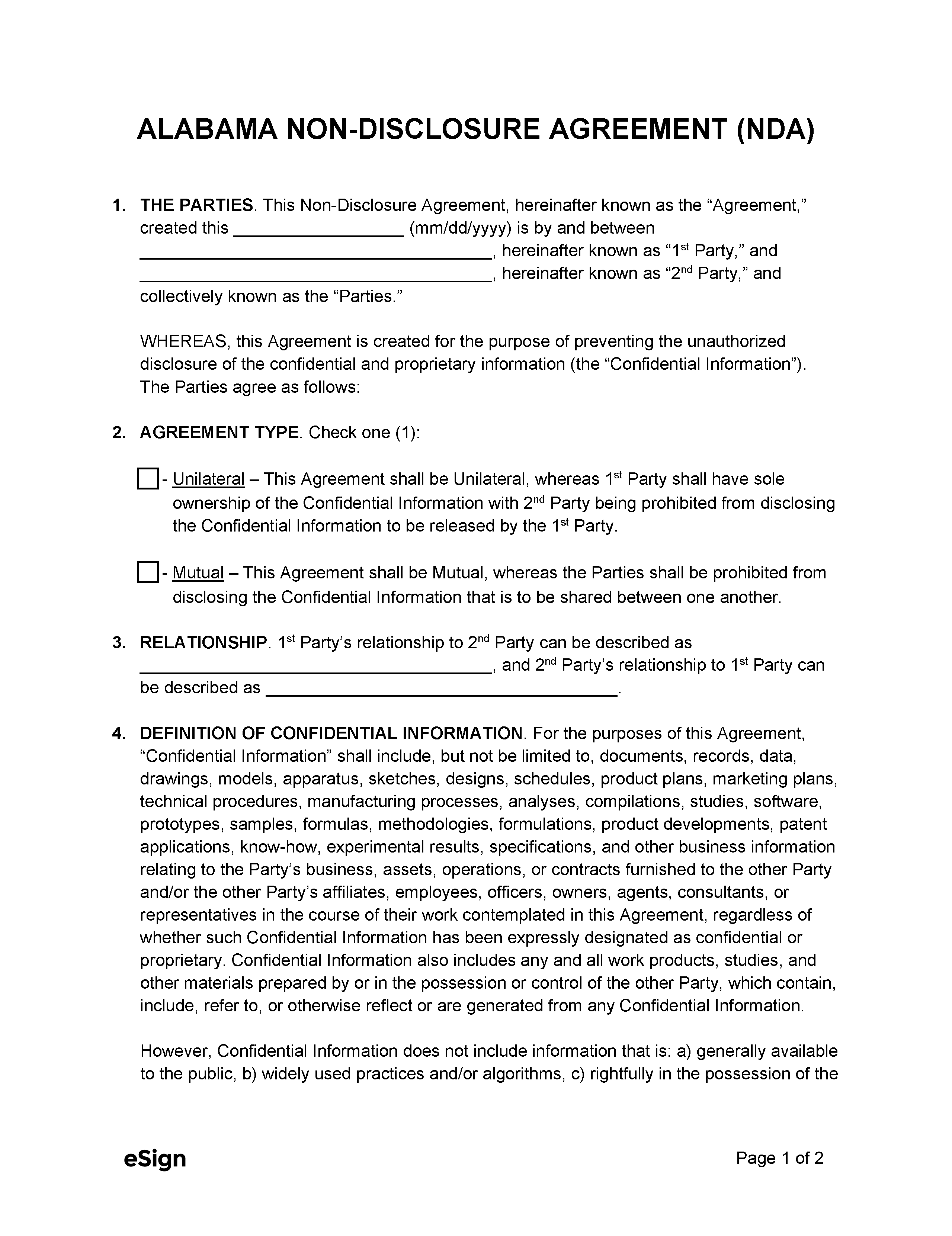 Alabama Non-Disclosure Agreement – A form completed prior to engaging in the discussion of confidential information to prevent trade secrets from being shared with others.
Download: PDF, Word (.docx), OpenDocument
---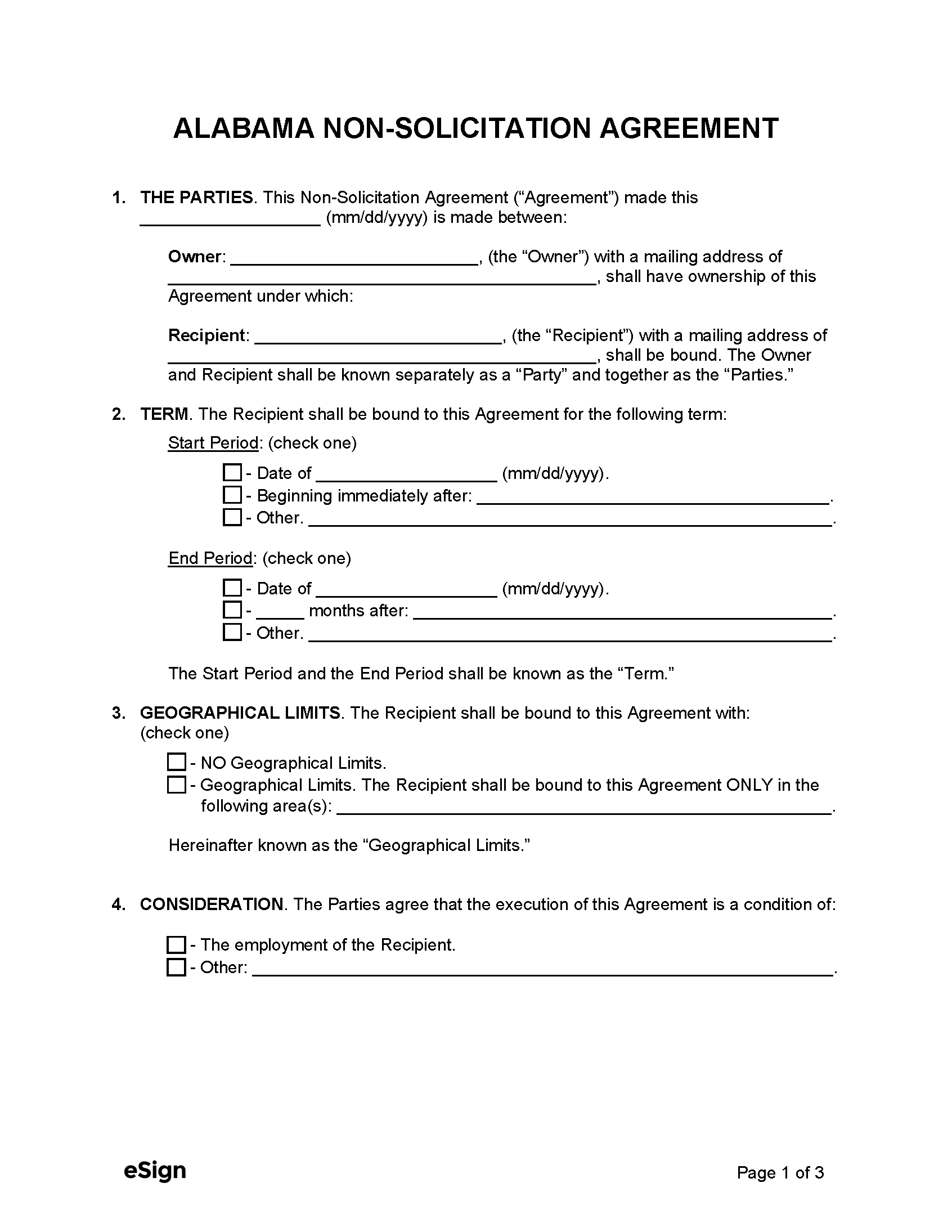 Alabama Non-Solicitation Agreement – Prevents an employee from engaging professionally with an employer's clients, customers, and employees post-termination.
Download: PDF, Word (.docx), OpenDocument