---
Updated on October 26th, 2022

An Illinois non-compete agreement limits the signing party's capacity to work for a competitor in the same industry as their employer. Non-competes are only enforced by the courts if the restrictive language is reasonable and the limitations necessary to prevent unfair competition against the employer. This contract is also frequently used in the sale of a company to ensure that the previous owner does not solicit their former clients, disclose trade secrets, or otherwise compete with the business.
Enforceability in Illinois
Non-compete agreements are enforceable contracts in Illinois. State statutes specify numerous requirements that must be satisfied for a non-compete to be valid, as well as situations where non-competes cannot be employed.[1][2]
When it

IS

Enforceable
The statutes regulating non-competes state that an agreement will be invalid unless the arrangement:
Involves sufficient consideration;

Is ancillary to a valid employment contract

.
Is limited to protecting a legitimate business interest only;
Does not cause undue hardship to the restricted party; and
Is not harmful to the public.[3]
A copy of the non-compete must be given from the employer to the employee fourteen (14) days before they begin work or before the agreement's execution. The employee must also receive a written notice stating that they have the right to consult with a lawyer before signing the agreement.[1]
When it's

NOT

Enforceable
Maximum Time Period
State statutes do not impose a specific maximum time period for non-competes, and courts will consider whether the restriction's duration is necessary for the employer's protection on a case-by-case basis.[9] In the past, Illinois courts have upheld non-competes with durations of two (2) and five (5) years.[10][11]
Geographical Area
As with the other restrictions in a non-compete agreement, the area covered by the agreement cannot go beyond what is required to protect the employer's business interests.[12] Courts will compare the agreement's geographic scope to the area where the employer operates their business when assessing whether a geographic restriction is enforceable.[13]
Consideration
Illinois state law indicates that adequate consideration is at least two (2) years of employment after a non-compete is signed or work-related/monetary benefits (which can be provided in addition to employment or on its own).[14] In one case, consideration was defined as:
"Any act or promise that benefits one party or disadvantages the other is sufficient consideration to support the formation of a contract."[15]
The Illinois Court of Appeals has stated that two (2) years of employment is the minimum for the contract to be enforceable.[16] By contrast, federal district court judges disagreed with this minimum requirement and have allowed shorter periods of employment as sufficient consideration.[17][18][19]
Sources
---
Related Forms (2)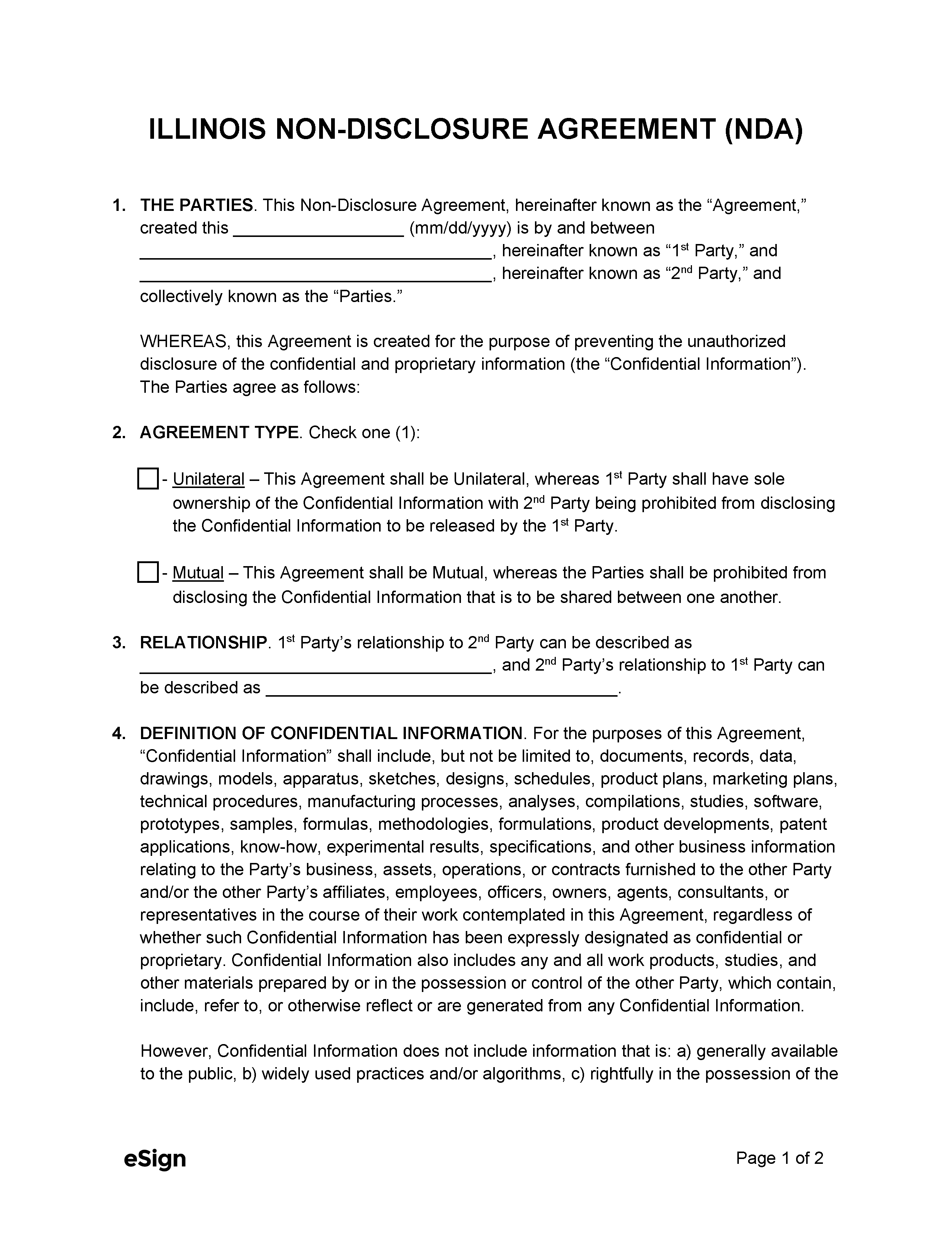 Illinois Non-Disclosure Agreement – A legal document that prohibits a recipient of confidential information from sharing it with unauthorized parties.
Download: PDF, Word (.docx), OpenDocument
---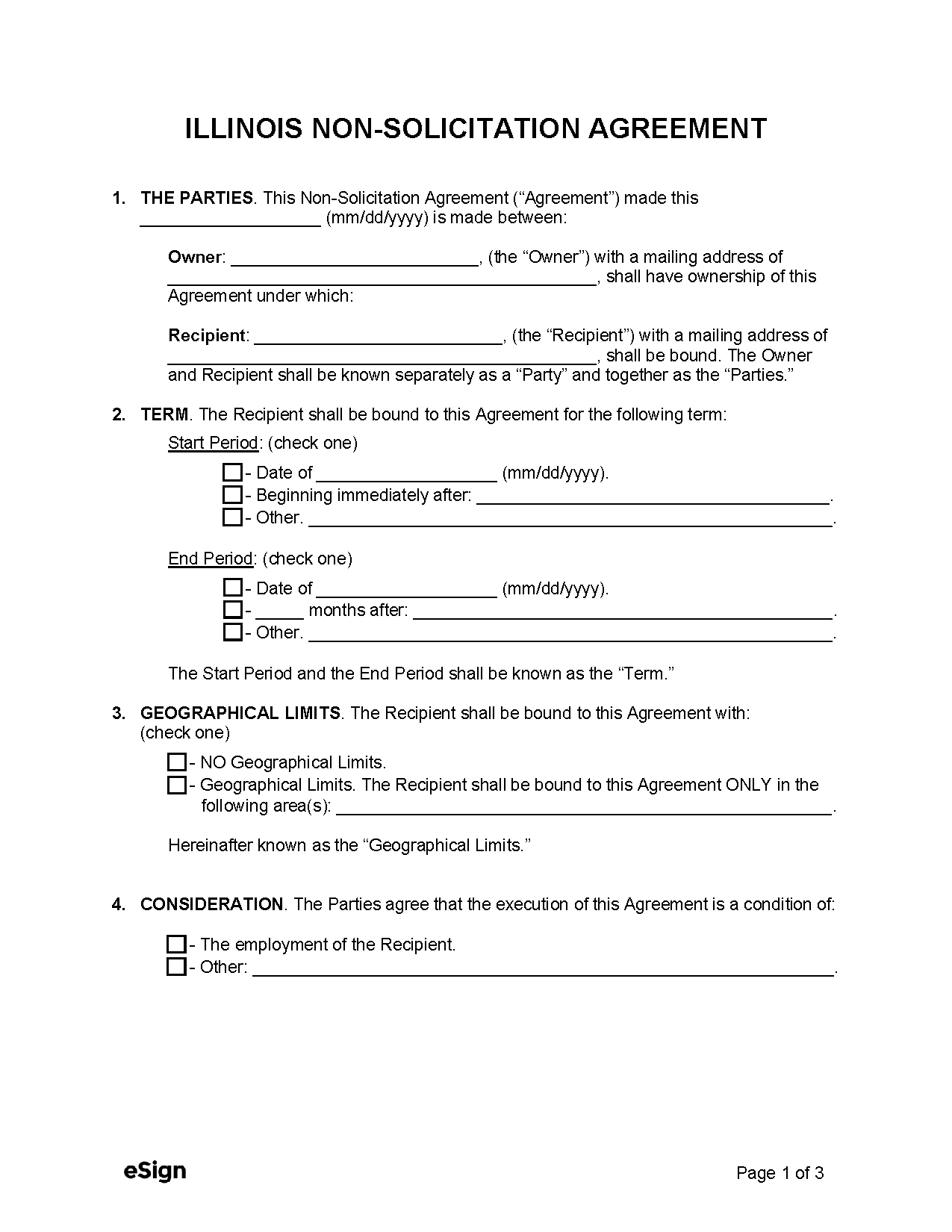 Illinois Non-Solicitation Agreement – Limits an employee from contacting certain parties (e.g., customers, clients, co-workers) after they've departed from the company.
Download: PDF, Word (.docx), OpenDocument