---
Updated on October 22nd, 2022

A Maine non-compete agreement is a document executed by two (2) parties wherein one of the parties wishes to protect their business interests from unfair competition. When an NCA is signed in an employment context, the employee is limited in their ability to work in the same industry as the employer and is prohibited from approaching their customers, clients, employees, or contractors after their position has been terminated. A non-compete contract cannot be overbearing, and the business owner must limit the restrictions to a reasonable area and time.

Breaching this type of agreement can cause harm to the employer and their business, so they have a right to seek injunctive relief, monetary damages, or other legal actions in a Maine court of law. When the case is presented to the court, the judges will assess the reasonableness of the contract before passing judgment.
Enforceability in Maine
With a few exceptions, non-compete agreements are enforceable in the state of Maine. If a non-compete is required as a condition of employment, the employer must disclose this before an offer is made, and a copy of the agreement must be provided to the employee at least three (3) business days before they sign. The provisions of an NCA do not go into effect until a year after employment has commenced or six (6) months after the document was signed, whichever is later (this does not apply to MDs and DOs).[1]
When it

IS

Enforceable
The courts determine what is and is not reasonable in an NCA on a case-by-case basis. They will look at the duration of the restriction, the geographic scope, and what business interest it is protecting. Non-competes should also only be used if other restrictive agreements would not be sufficient for this purpose, i.e., non-solicitation, non-disclosure, or confidentiality agreement.[1]
Reasonable. A non-compete agreement is only enforceable if it is reasonable and no broader than necessary to protect an employer's business interests, such as trade secrets, confidential information, or goodwill.[1]
Undue hardship and consideration. While not mentioned in state law, Maine courts will only enforce NCAs that do not pose an undue hardship on the employee and are supported by sufficient consideration.[2]
When it's

NOT

Enforceable
Low income. Non-competes are not enforceable if they restrict an employee who earns wages at or below 400% of the federal poverty level.[1]
Restrictive Employment Agreements. This type of restrictive agreement is defined as being between two (2) or more employers who have entered into a franchise agreement or contractor/subcontractor agreement. In accordance with § 599-B of the state statutes, restrictive employment agreements that prohibit one of the parties from hiring or soliciting the other's employees are not enforceable against other employers, franchisees, contractors, or subcontractors.[3]
Broadcasting industry. Agreements aimed at restricting an employee of the broadcasting industry are considered unreasonable. This only applies if the employee was terminated through no fault of their own.[4]
Lawyers. As in most states, Maine prohibits the use of non-compete agreements throughout the legal profession as it unjustly restricts an attorney's ability to seek work and encroaches on the right of citizens to seek suitable legal counsel.[5]
Maximum Time Period
As with any measure of reasonableness, Maine courts of law will determine the fairness of a non-compete's time limit by assessing all other aspects of the case. In general, a time limit of more than five (5) years will be looked upon unfavorably. As long as the other restrictions aren't too overbearing, courts have enforced agreements with 16-month,[6] 2-year,[7] 3-year,[8] and even 5-year[9] durational limits.
Geographical Area
There is no strict geographical limit set by state law. When courts look at the geographical restriction defined in an NCA, they will consider other conditions of the agreement. In one case, an optometrist was prohibited from working within a 2-mile radius of the employer's office.[6] On the other end of the spectrum, a district court enforced an NCA that restricted a salesman from working within a 100-mile radius of two (2) of their former employer's facilities.[8] In both these cases, there were reasonable durational limits related only to the industries in which the employers were based and sufficient consideration was provided.
Consideration
In exchange for their promise not to compete with their employer, an employee must be provided consideration, which may be in the form of an offer of employment[9] or, if they already have a position, continued employment.[6] In a certain case, a federal court using Maine law agreed that an NCA was enforceable because a one-time payment was made to the employee in exchange for the execution of the agreement.[7]
---
Sources
---
Related Forms (2)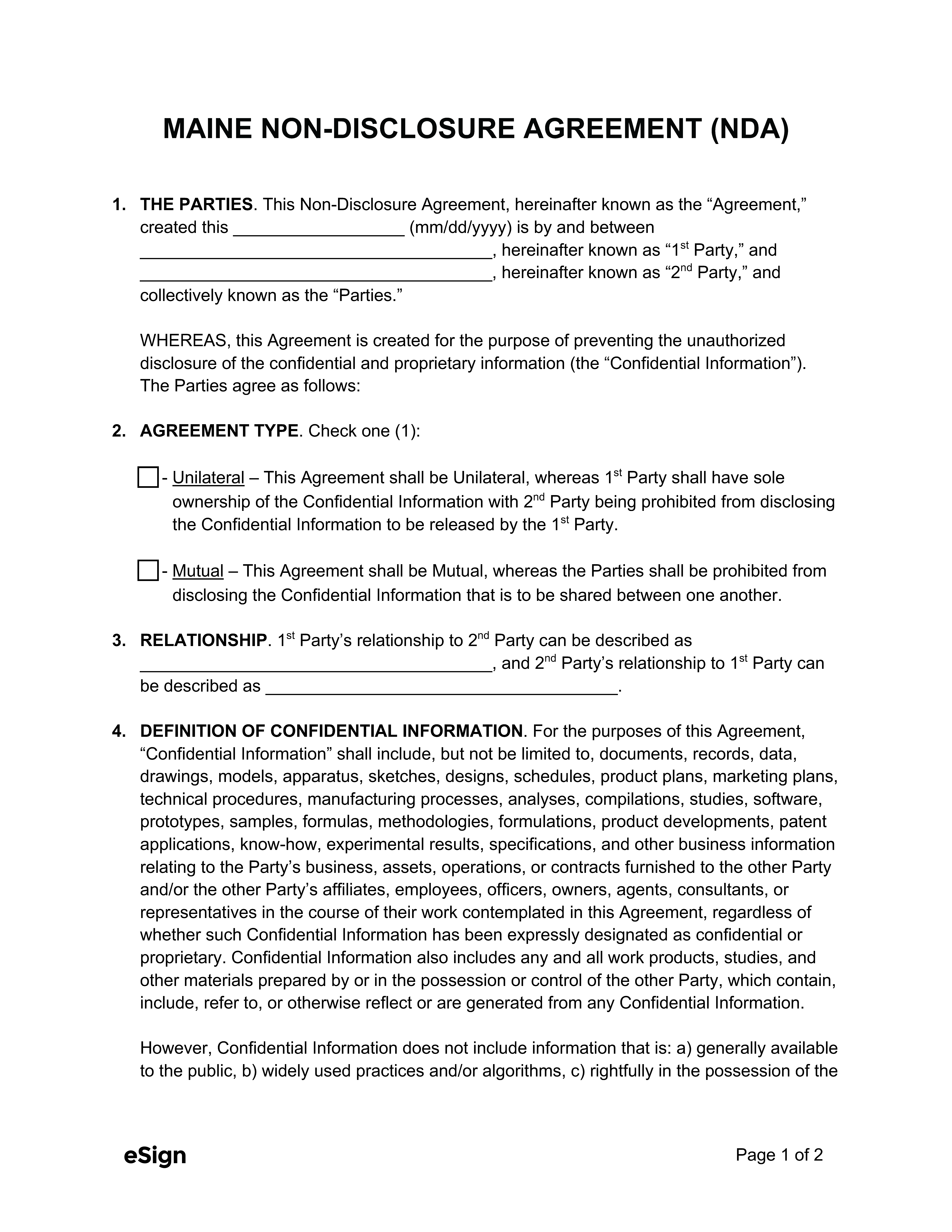 Maine Non-Disclosure Agreement – An NDA is signed to safeguard shared confidential information.
Download: PDF, Word (.docx), OpenDocument
---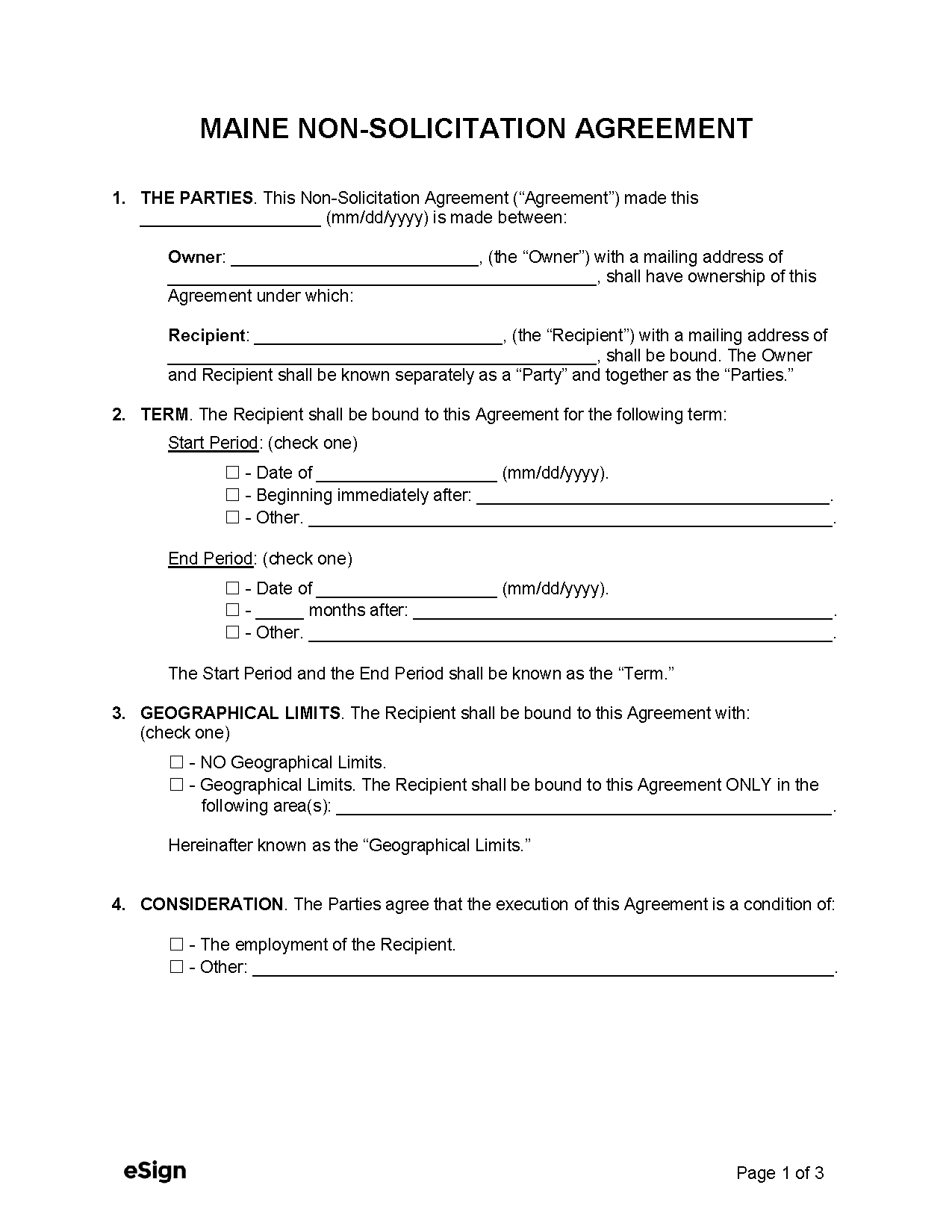 Maine Non-Solicitation Agreement – Used to prevent an employer's customers or employees from being solicited for the another party's commercial interests.
Download: PDF, Word (.docx), OpenDocument