---
Updated on October 15th, 2022

A Minnesota non-compete agreement protects an employer's business interests by prohibiting an employee from working in a similar industry after they are terminated. This written contract is signed by the employee in exchange for consideration which is a provision contained in the document that offers employment, continued employment, or another type of benefit.

To prevent employers from completely impeding the employee's ability to find decent work, non-competes must be reasonable and should have geographical and time constraints in place. In some cases, an NCA may still be enforceable if there are no time or geographical restrictions provided its purpose is to stop the employee from soliciting the employer's customers and clients, advertising to take away potential customers, or selling similar products to their clients.
Enforceability in Minnesota
As long as a non-compete agreement meets certain requirements, these contracts are enforceable in the state. When deciding whether or not to enforce a non-compete agreement, Minnesota courts tend to carefully analyze all aspects of the case. Courts will always look at the type of employment, the time limit of the agreement, and the geographical area it covers to ensure it is a reasonable restrictive contract.[1]
When it

IS

Enforceable
Business interests. When it comes to enforceability, the agreement must protect the employer's legitimate business interests, and the provisions therein should be only as far-reaching as is necessary to safeguard those interests. Business interests include trade secrets, goodwill, customer/client lists, etc.[2]
When it's

NOT

Enforceable
Employee livelihood. A non-compete cannot infringe on the employee's right to make a living. If they are required to make too great a sacrifice compared to the protection it would offer the employer against competition, the contract is not enforceable.[2]
Improperly terminated. If the employee is wrongfully fired by their employer, courts may decide that the non-compete agreement signed by the employee is no longer valid.[3]
Lawyers. Non-compete agreements and other restrictive contracts will not be enforced against attorneys as it unjustifiably prevents them from practicing law.[4]
Maximum Time Period
Time limits established in non-compete agreements will be judged by courts based on the facts of each case. The industry, the employee's job position, and their knowledge of confidential information will all play a role in determining the reasonableness of the contract's duration.[5] The courts may also consider how much time the employer needs to train a replacement and ensure their clients are comfortable with this replacement.[6] While they might look more favorably upon 2-year non-competes,[7] they have also upheld a contract with a 5-year term[8] and, in the case of a business sale, a 10-year term.[9]
Geographical Area
The acceptability of the geographical scope of an NCA relies heavily on a court's opinion of the employer's business interests; the range may vary from case to case, but it is greatly dependent on whether or not it's reasonable to protect those interests. A contract may be enforced even if it covers the entire country, but the court might limit the restriction to only the industry or profession in which the employee has worked.[10] When an employer's business covers a small area of the state, an appropriate geographical restriction should be a city, county, or radius surrounding that particular region where the employee actually performed their job.[11]
Consideration
As long as a non-compete was presented to an employee before employment starts or before an offer of employment, the job itself is considered adequate consideration for signing the NCA.[7] If the employee already has a position at the company, continued employment by itself is deemed to be insufficient consideration. The courts will enforce an agreement only if the employee is provided with substantial advantages besides maintaining their job,[12] which may include any of the following benefits:
Higher salary
One-time bonus
Promotion
Professional training
More responsibility
Access to confidential and proprietary information
Definitive extension of employment
Severance package
Sources
---
Related Forms (2)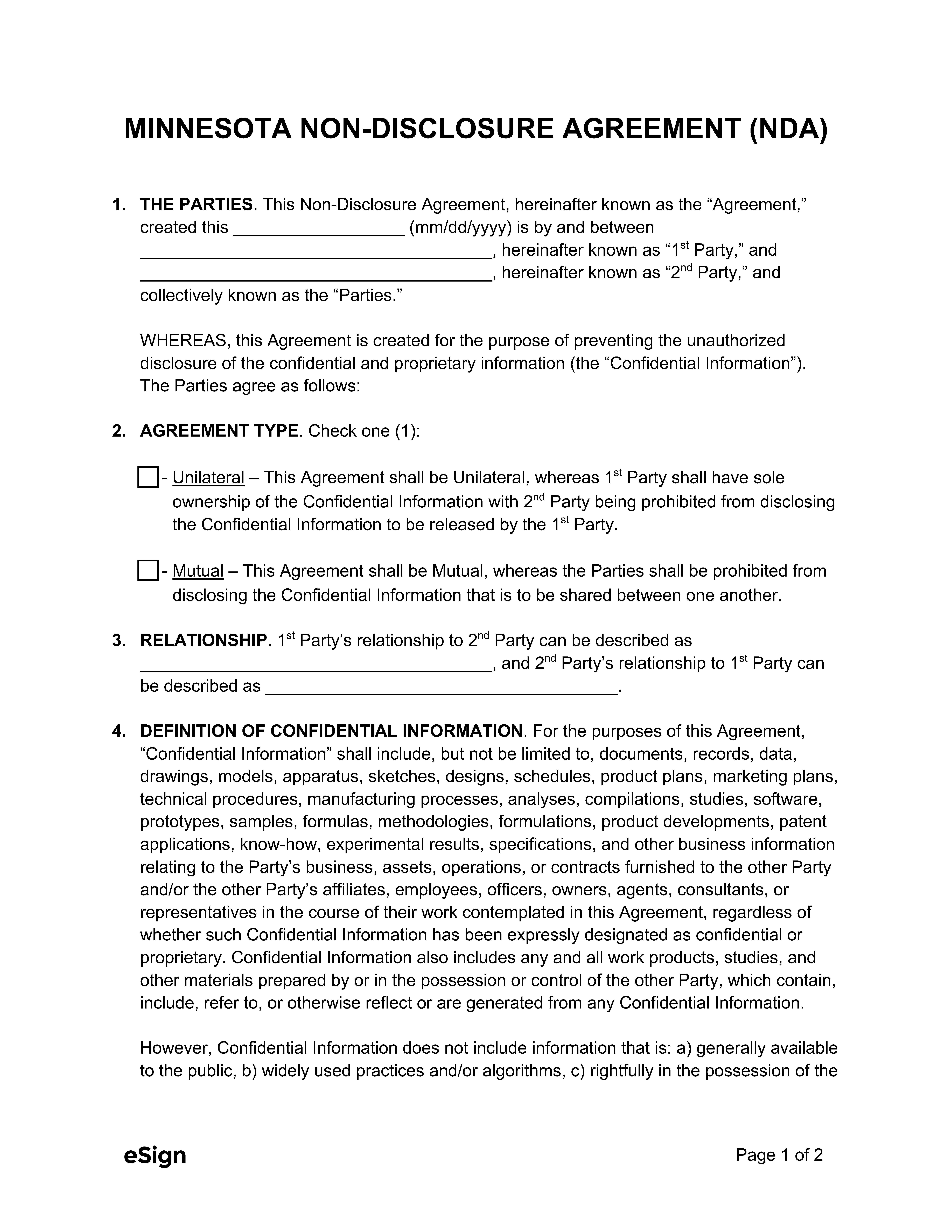 Minnesota Non-Disclosure Agreement – This contract helps prevent an employee from misusing or disseminating a company's trade secrets and other confidential information.
Download: PDF, Word (.docx), OpenDocument
---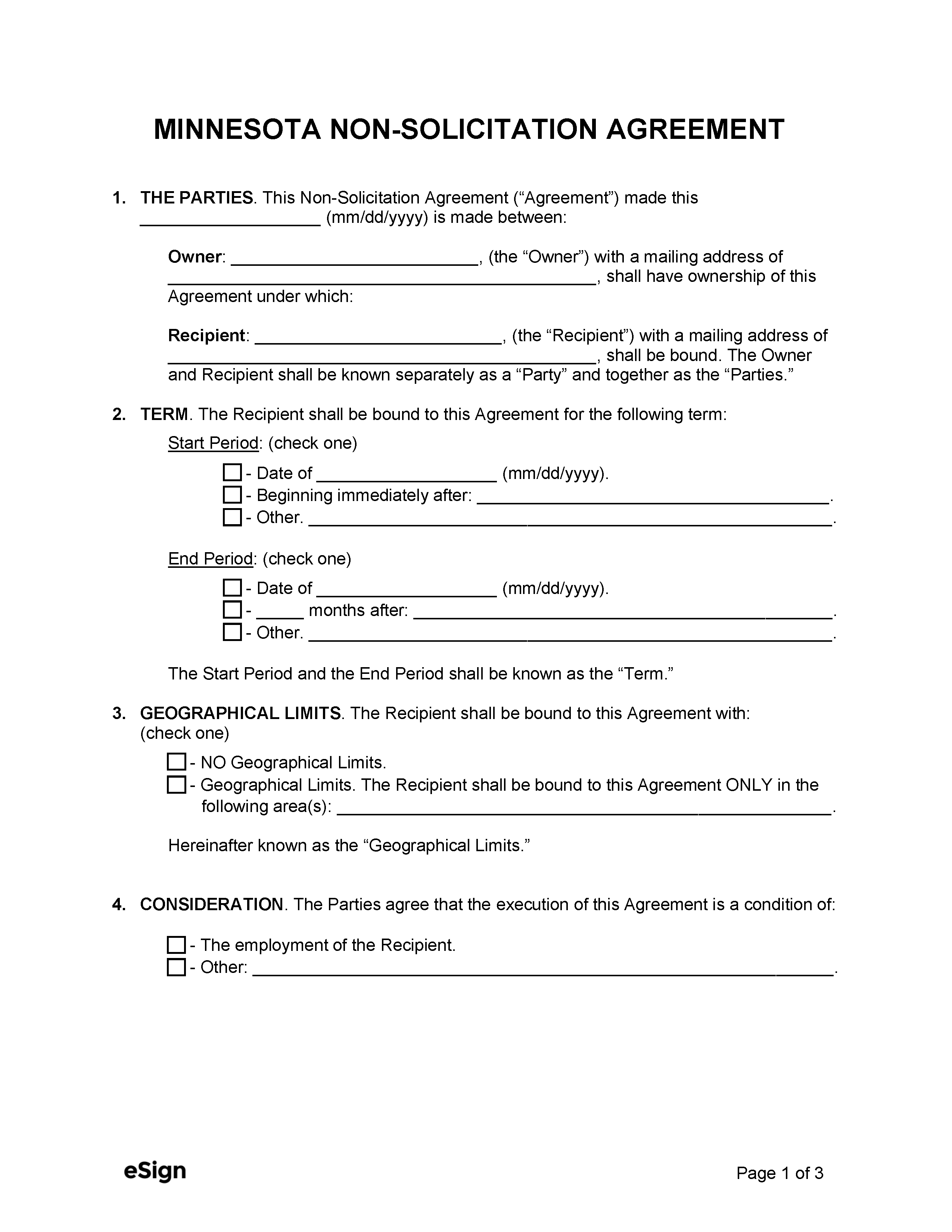 Minnesota Non-Solicitation Agreement – Used to prohibit employees from engaging with clients and other employees for their own interest.
Download: PDF, Word (.docx), OpenDocument