---
Updated on October 25th, 2022

A Mississippi non-compete agreement is a legal document designed to prevent someone from directly or indirectly competing with a business after their relationship ends. When terminated from a company, an employee who has signed a non-compete will not be able to work in the same field they were working in for a certain amount of time and within a specific region. This helps the employer stay competitive in their industry and safeguard their confidential information, customer lists, and other business interests.

To be considered equitable, NCAs cannot inflict undue hardship on the employee,e nor can they impede the general public's interest. A reasonable time restraint and geographical scope are major factors in determining the legitimacy of a non-compete.
Enforceability in Mississippi
Non-compete agreements are enforceable in Mississippi as long as they are reasonable.
When it

IS

Enforceable
Time and space. For an NCA to be enforceable, Mississippi courts will want to make sure the employer has established reasonable time and geographical limits.[1]
Balance. Courts will compare how much the contract helps the employer protect their business interests versus the effect it will have on the employee and the general public to determine enforceability.[2]
When it's

NOT

Enforceable
Unfair termination. While not a frequent occurrence, the non-compete may be deemed unenforceable if the courts determine the employer's termination of the employee was "arbitrary, capricious, or in bad faith."[3]
Attorneys. Restrictive agreements executed against a lawyer are considered unenforceable to preserve their right to practice law and the general public's right to seek legal counsel.[4]
Maximum Time Period
The durational limit established in an NCA must be only long enough so that the employer's interests are safeguarded but the employee does not suffer unnecessarily.[3] Each case is looked at differently due to varying components such as the nature of the industry, the employer's trade secrets and customer base, the employee's knowledge and training, and the area in which the employer conducts business. No exact time frame has been established by state or common law, but Mississippi courts have found one-year,[5] two-year,[6] and five-year non-competes to be reasonable.[7]
Geographical Area
Non-compete agreements can prohibit the employee from working within a geographical area only if it is justifiable. Like with time restrictions, other components of the agreement are taken into consideration when determining the reasonableness. Generally, the geographical area should be limited to locations where the employer has offices or where the employee provided goods/services. For example, courts have enforced a non-compete that restricted the employee from working within a 150-mile radius of any of the employer's offices or places where they do business.[8]
Consideration
In Mississippi, consideration in exchange for a signed NCA is considered acceptable if the employee is offered a job or offered to continue working with the employer.[6]
---
Sources
---
Related Forms (2)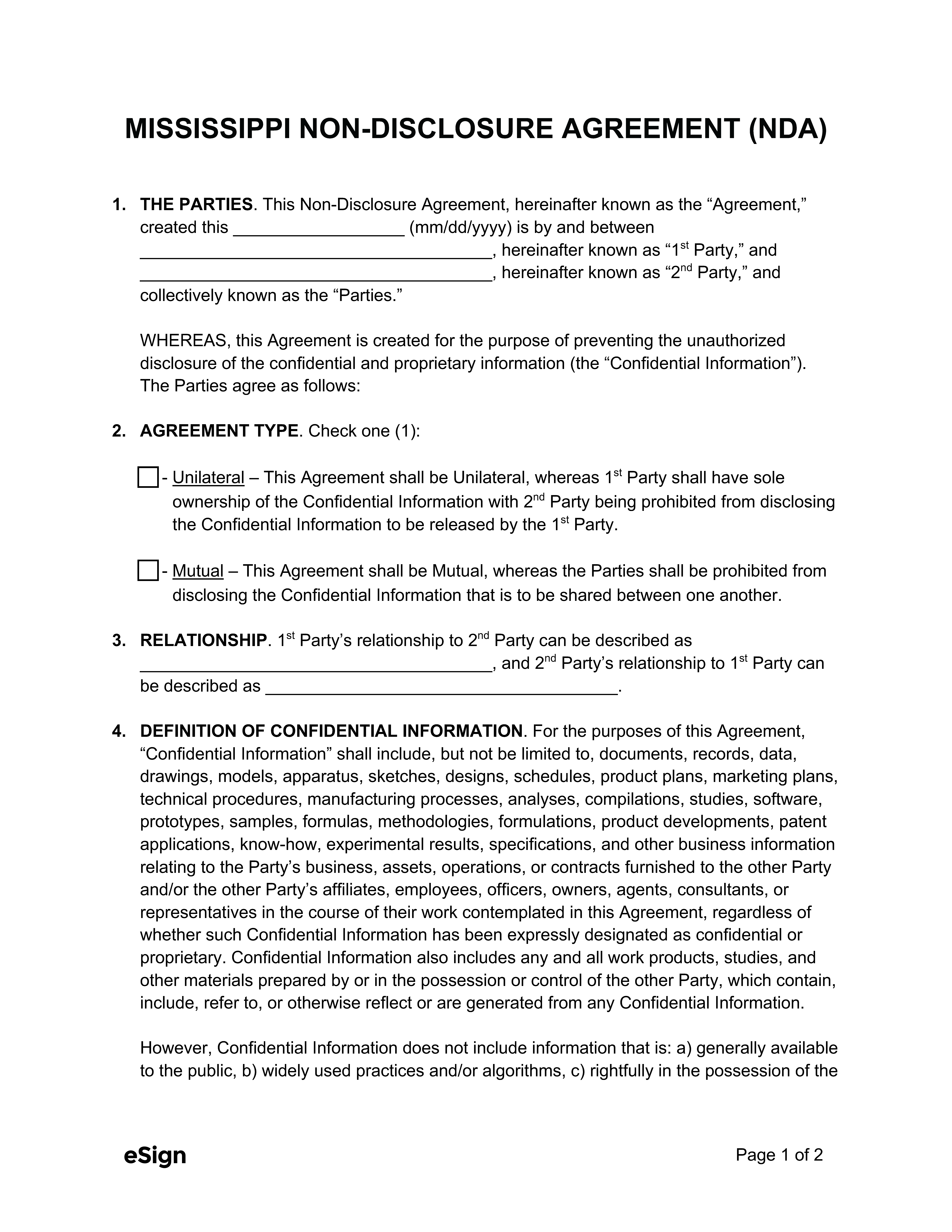 Mississippi Non-Disclosure Agreement – A document that protects trade secrets from being improperly used or shared with competitors or the general public.
Download: PDF, Word (.docx), OpenDocument
---
Mississippi Non-Solicitation Agreement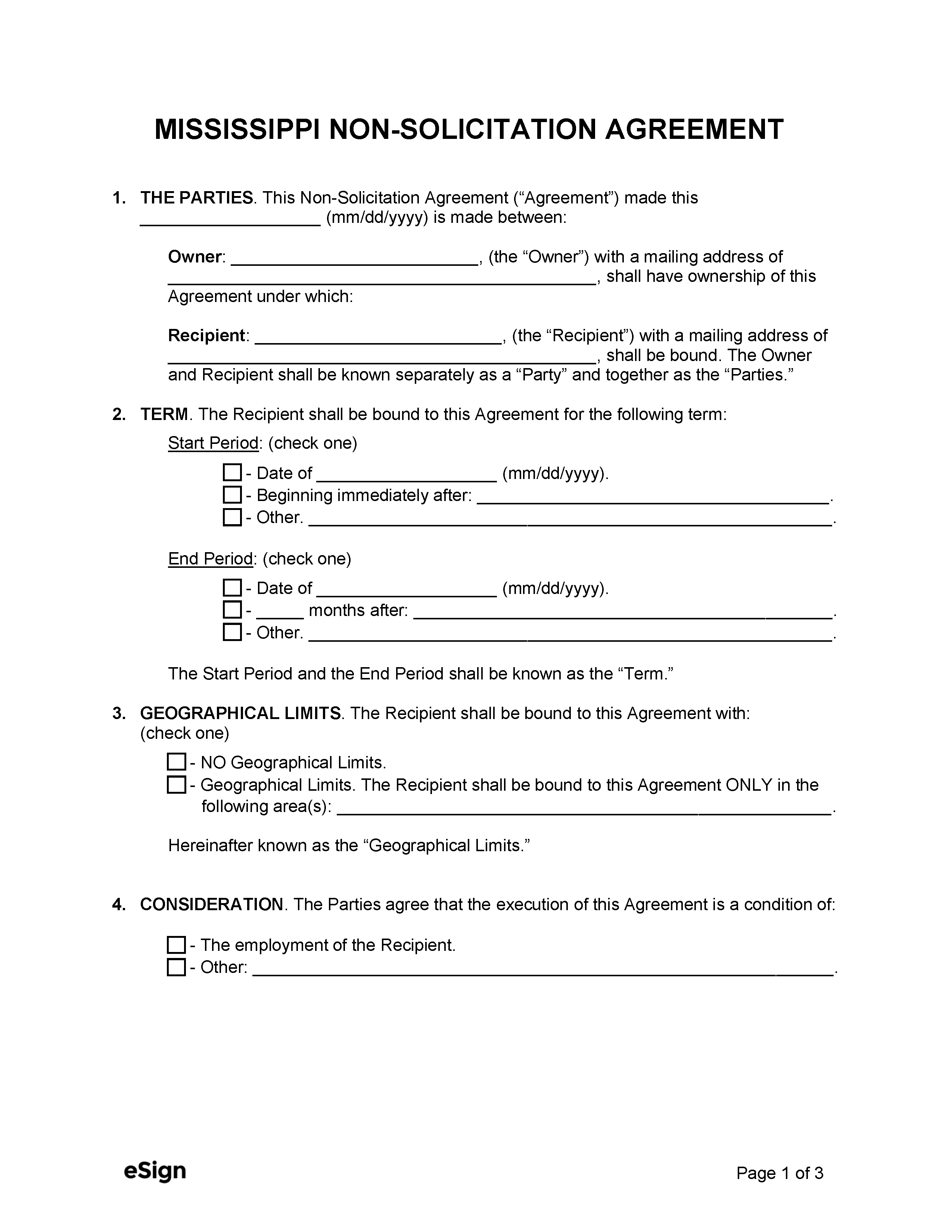 – Used to prevent employees from soliciting company clients and employees.
Download: PDF, Word (.docx), OpenDocument