A Tennessee non-compete agreement legally obligates an employee to abstain from working in the same business as their former employer. Most contracts will specify the restrictive time period in which the contract is effective, the duration of which will depend on the industry in question. Generally speaking, two (2) to three (3) years following the employee's termination is deemed reasonable. There may also be territorial limitations the ex-employee must adhere to (e.g., cannot work for competitors within 100 miles of employer's business). Aside from employment, non-competes are often used in business sales transactions to prohibit competition from the business seller.
Enforceability in Tennessee
While disfavored by Tennessee courts, an agreement not to compete can be enforced if it safeguards a legitimate business interest and is reasonable in terms of length and geographic boundaries. Courts have ruled that the reasonableness of a non-compete agreement is also dependent on the following:[1]
Whether the agreement is supported by consideration.
Whether the employer's business would be threatened in the absence of the agreement.
Whether the agreement has a negative financial impact on the employee.
Whether the agreement goes against the interests of the public.
When it IS Enforceable
Employees. Enforceable against an employee who misuses the skills or knowledge acquired during employment to gain a competitive advantage over an employer.[2]
Purchase and sale of a business. Enforceable if the seller of a business continues to engage in the same profession or industry as the buyer.[3]
Healthcare providers. A non-compete agreement that complies with specific time and territorial restrictions is enforceable against healthcare providers.[4]
When it's NOT Enforceable
Lawyers. An agreement that limits a lawyer's right to practice after leaving an organization or firm, or an agreement that limits a lawyer's right to practice as a means to resolve a client controversy, is deemed invalid. (Note: This does not apply to non-compete agreements made in connection with the sale of a practice).[5]
Maximum Time Period
Non-compete agreements cannot last longer than what's required to reasonably protect the employer's business. Although there is no maximum period set by Tennessee statute, individuals can look at previously-enforced agreements to see what durations were upheld in court.
A case involving the former sales manager of a media firm resulted in the enforcement of a two (2) year restriction.[6] The courts also enforced a three (3) year limitation against an ex-employee of an equestrian publication.[7]
Healthcare providers. The maximum duration of a non-compete agreement for healthcare providers is two (2) years after employment.[4] However, this amount may be greater if the agreement is part of the sale or purchase of a medical practice.
Geographical Area
Tennessee has no statutes limiting the geographical scope of non-compete agreements. Instead, the courts will approve territorial restraints if they are reasonable under the circumstances.
A 50-mile restriction was enforced to protect the owner an accounting company.[8] In another case involving a car parking business, a territorial ban of forty-six (46) cities was deemed excessive and reduced to only three (3) cities.[9]
Healthcare providers. The maximum geographical restriction allowed for healthcare providers is the greater of the following:[4]

Ten (10) miles from the healthcare provider's primary practice site;
The county where the primary practice is located; or
No geographical restriction, but the healthcare provider cannot practice at any facility where they provided services for the employer.

Note: The maximum allowable geographical restriction for healthcare providers may be larger if the non-compete agreement is a component of the purchase/sale of a practice. 
Consideration
Consideration is something of value the employee receives in exchange for signing a non-compete agreement. What constitutes consideration varies depending on several factors, including the length of employment and the reason for termination. In general, the employer's promise of continued employment is deemed sufficient consideration.[10]
Sources
---
Related Forms (2)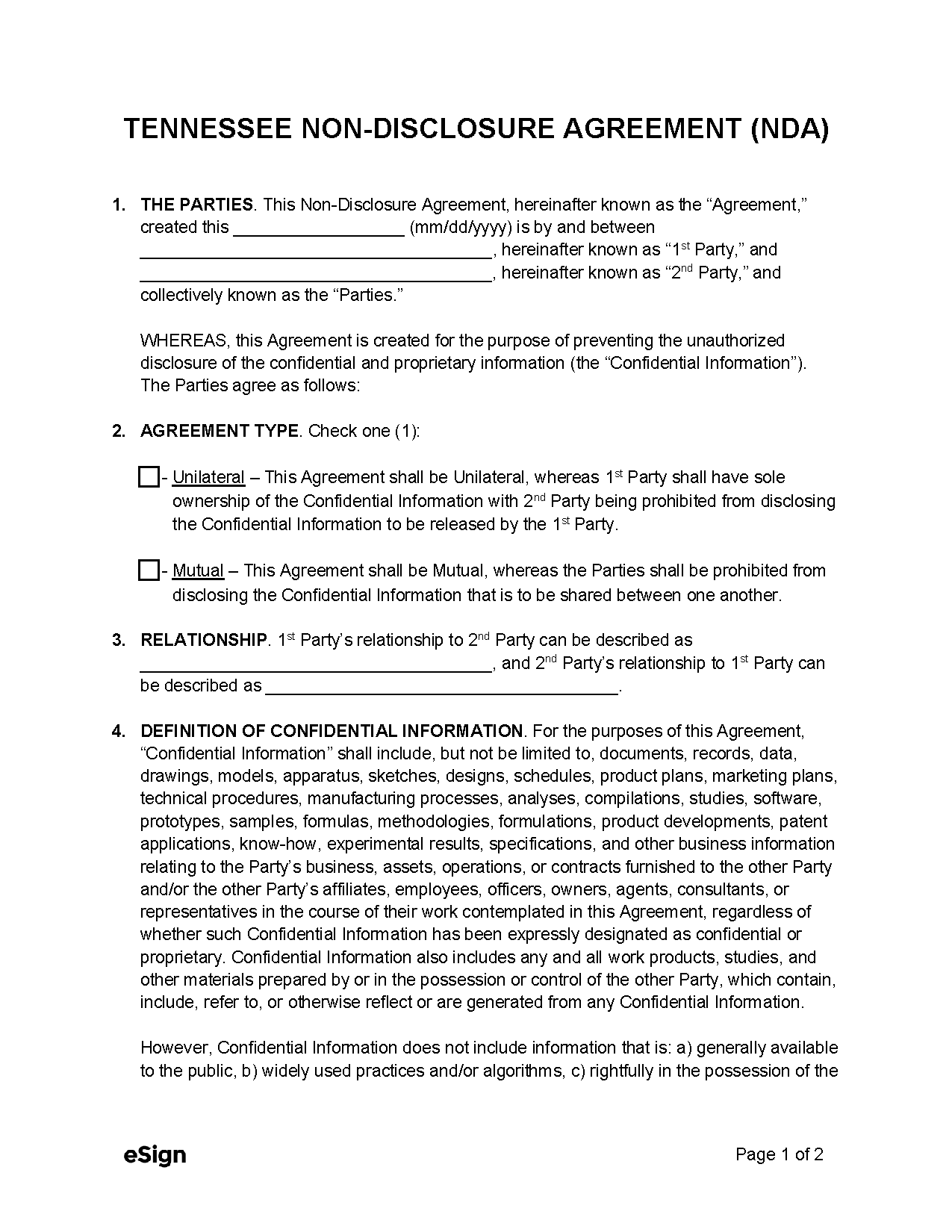 Tennessee Non-Disclosure Agreement – Establishes restrictions for sharing trade secrets and sensitive information.
Download: PDF, Word (.docx), OpenDocument
---
Tennessee Non-Solicitation Agreement – Restricts employees from recruiting or doing business with their fellow employees, as well as their employer's clients.
Download: PDF, Word (.docx), OpenDocument