---
Updated on November 2nd, 2022

A Vermont non-compete agreement (NCA) is a legal document with which an employer forbids an employee from competing in the same marketplace after the employment relationship terminates. Generally speaking, an NCA restricts the employee from accepting a position with a rival business or starting a company that provides similar services or products. The contract can also contain a non-solicitation clause to prevent the poaching of customers and any former or current employee. These restrictions are limited in both duration and geographical coverage, the extent of which varies from contract to contract.
Enforceability in Vermont
A Vermont non-compete agreement is enforceable if the restrictions imposed on the employee comply with certain conditions. There aren't any state statutes regulating non-compete agreements in general. As such, the courts must instead apply the criteria of enforceability established by case law.
When it

IS

Enforceable
Employer protection. Vermont courts enforce non-compete agreements that reasonably protect an employer's legitimate interest, such as consumer information, trade secrets, or the company's good will.[1]
Business purchases. Non-compete agreements connected with a business purchase are enforceable to prevent the seller from competing with the buyer.[2]
Commercial leases. A non-compete clause in a commercial lease is enforceable. In a former case, a landlord breached a non-compete provision by leasing a portion of commercial property to a business that competed with the existing tenant.[3]
When it's

NOT

Enforceable
Non-compete agreements will not be enforced when the restrictive provisions go against public policy, provide unnecessary protection for the employer, or impose unnecessary limitations on the employee's rights. In determining whether the agreement complies with these conditions, the courts must consider the contract's subject matter and the circumstances surrounding the case.[4]
Industry-Specific
Barbering and cosmetology. A barbering or cosmetology school cannot require a student to sign a non-compete agreement as a prerequisite for training.[5]
Lawyers. A lawyer cannot make or enter into an agreement if it inhibits their ability to:[6]

Practice law after termination of employment or contract, except if the restrictions are related to retirement benefits; or
Agree not to represent someone else in connection with the settlement of a controversy between private parties.
Maximum Time Period
The maximum duration of a non-compete agreement is not set by state statute. As a result, Vermont courts will analyze the length of restrictive time periods on a case-by-case basis. In all instances, the period must not go beyond what the employer requires to reasonably safeguard their business and good will.[7] A five (5) year restriction was upheld in a relevant case, as the duration was deemed equitable for the employer's protection.[4]
Geographical Area
The geographical non-compete area set by the employer can extend as is necessary to protect their business interests and no further. The courts will not enforce the agreement if the geographical restriction is excessive. Former cases have resulted in the enforcement of a county-wide restriction for a pest control service person,[8] a 25-mile prohibition against competing in the restaurant industry,[2] and a statewide restriction against selling road machinery.[7]
Consideration
Consideration is something the employer promises or provides the employee in exchange for signing a non-compete. Without sufficient consideration, the agreement cannot be enforced. Vermont case law provides that acceptable forms of consideration include new at-will employment (non-compete must be signed at the time of hire),[8] continued at-will employment,[9] or an upgraded employment position.[4]
Sources
---
Related Forms (2)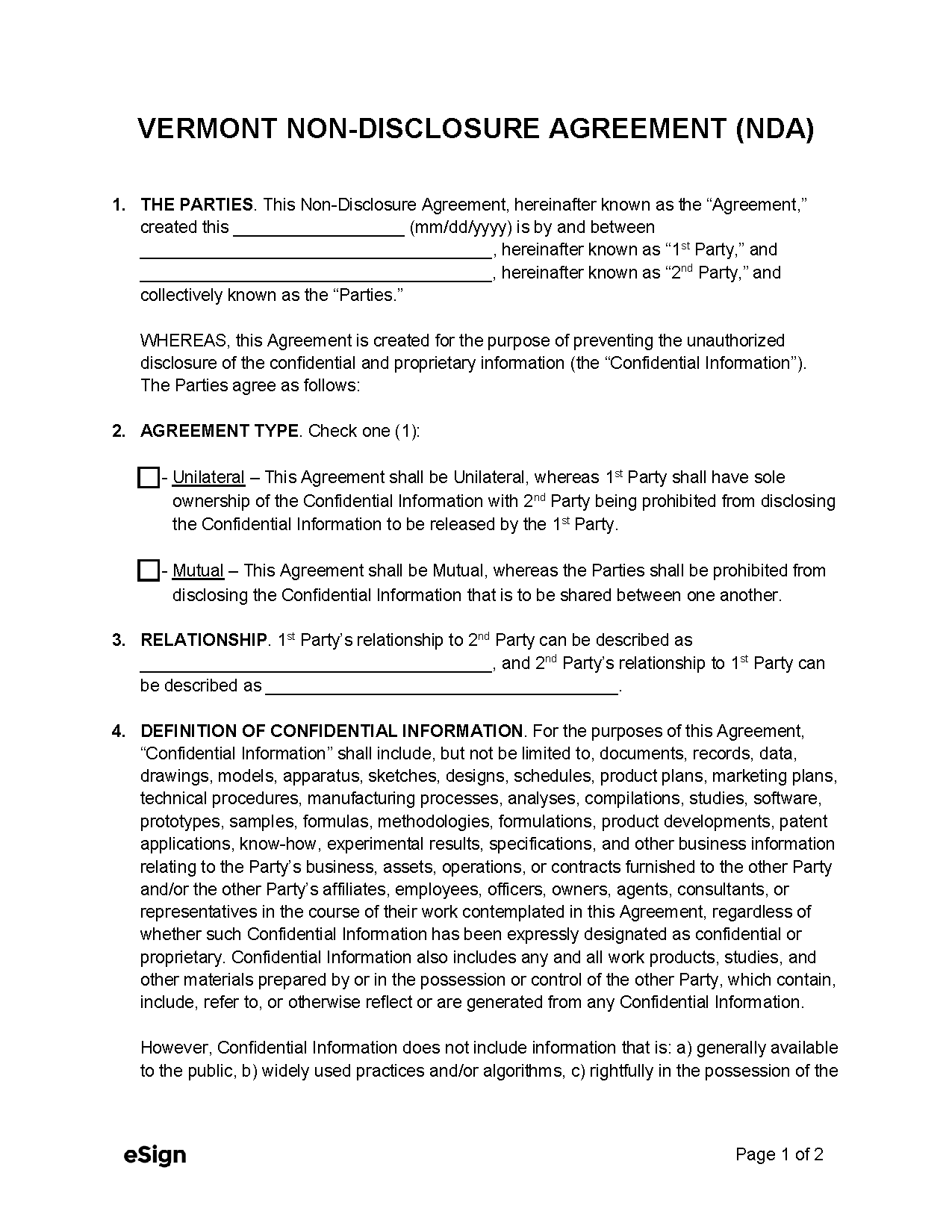 Vermont Non-Disclosure Agreement – Establishes a relationship between two (2) parties whereby confidential information cannot be shared.
Download: PDF, Word (.docx), OpenDocument
---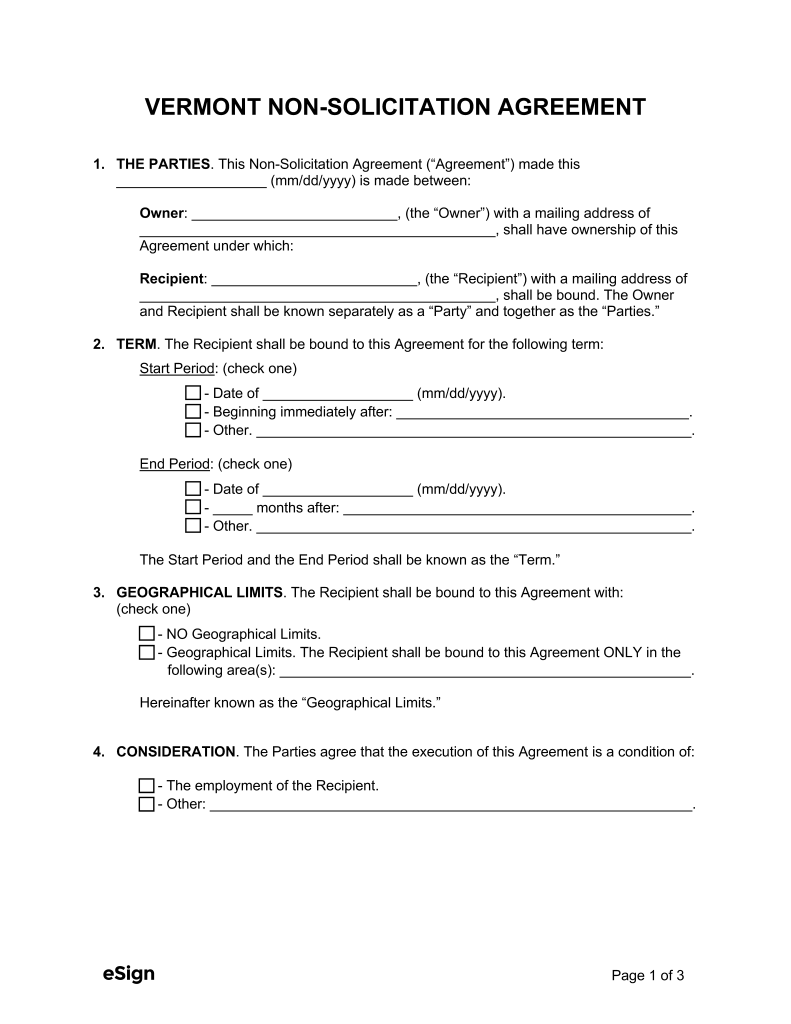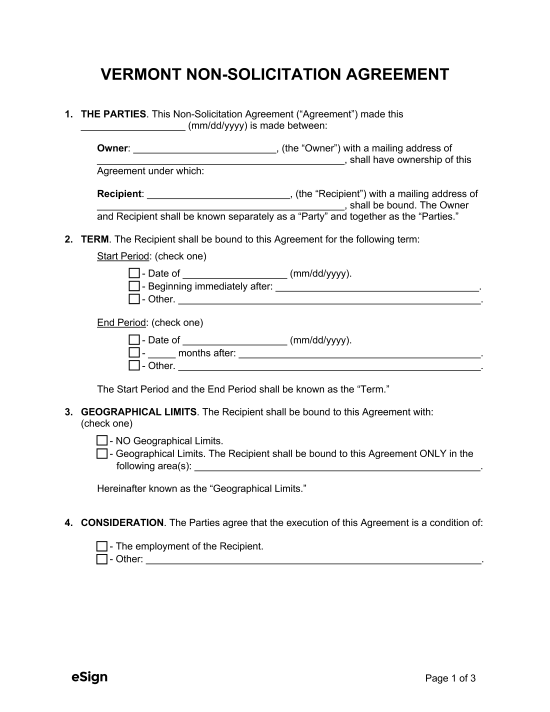 Vermont Non-Solicitation Agreement – Prevents a former employee from poaching their former employer's clients, vendors, or workers.
Download: PDF, Word (.docx), OpenDocument