---
Updated on November 4th, 2022

A Washington non-compete agreement contractually obligates an employee to refrain from competing against their employer after leaving their job. In Washington, a non-compete can last no longer than eighteen (18) months following termination, except when a longer term is proven to be necessary. The document specifies that during the non-compete period, the restricted party cannot join or start a rival business within a specific territory, nor can they disclose the employer's proprietary or confidential business information. If the agreement is violated, the employee may be forced to pay a statutory fine or damages plus expenses relating to the contract's enforcement.
Enforceability in Washington
Non-compete agreements are legally enforceable contracts in Washington. Enforceability is governed by a set of statutes enacted on January 1, 2020. Agreements that fail to comply with these new laws are unenforceable. The new regulations are retroactive, meaning they also apply to agreements executed before 2020.[1]
The statutes governing non-competes do not apply to non-solicitation agreements, non-disclosure agreements, non-competes between the buyer and seller of a business, and non-competes connected with the sale of a franchise under § 19.100.020(1).[2] These contracts are only enforceable if the restrictions are reasonable; Washington courts evaluate reasonableness by considering whether:[3]
The employer's restrictions are necessary to protect their business or goodwill.
The employer's restrictions restrain the employee further than reasonably necessary to protect their business or goodwill.
The loss of the employee's skills and services would be harmful to the public.
When it

IS

Enforceable
A non-compete agreement can only be enforced against an employee or independent contractor if:[4]
The employer discloses the agreement terms in writing before or upon the acceptance of employment and, if the employee was already hired, the employer provides new consideration. (Note: If the covenant not to compete become enforceable upon a future adjustment to the employee's pay, the employer must explicitly disclose this fact).
The employee earns over $100,000 per year, or $250,000 if an independent contractor.[5] These amounts are adjusted annually for inflation (see current earning thresholds).
The employer pays laid-off employees their base wage for the period that the agreement is effective, minus any pay the employee earns during that period through subsequent employment. 
The duration of the agreement does not exceed eighteen (18) months, unless the employer can demonstrate the necessity for a longer period.
When it's

NOT

Enforceable
Non-compete covenants are void and unenforceable if:
The agreement applies out-of-state law that denies an employee or independent contractor the benefits or protections provided under Washington law.[6]
The agreement requires an employee or independent contractor to litigate in another state.[6]
The agreement prevents an employee who earns less than twice the minimum hourly wage from entering into a working relationship with other parties while employed, unless the additional work causes safety issues or unreasonably disrupts the employer's scheduling requirements.[7]
Washington law further regulates the enforcement of non-compete agreements in the following circumstances:
Broadcasting.

A non-compete cannot be enforced against a broadcasting employee who was terminated without cause or laid off.

[8]

Law. A non-compete is unenforceable when it restricts the ability of a lawyer to:[9]

Practice law after the employment relationship expires (not applicable to non-competes tied to retirement benefits); or
Practice law as a stipulation of a client settlement.

Franchising. A franchisor cannot enforce a non-compete agreement if it limits the ability of a franchisee to hire or solicit the franchisor's employees or the employees of another franchisee under the same franchisor.[10]
Maximum Time Period
Eighteen (18) months after termination of employment.[4] However, a longer duration may be enforced if the employer can prove that an extended period is necessary for the protection of their business or good will.
Performance venues. A non-compete agreement between a performer and a performance venue, or a third party booking the performer for a performance venue, cannot last more than three (3) calendar days.[5]
Geographical Area
Washington statutes don't limit the area in which an employer can prohibit competition. Therefore, the courts must assess the reasonableness of the restriction according to the merits of each case. The area where the employee served clients is generally considered a reasonable geographical restraint.[3] In one particular case, a Washington court upheld a 30-mile restriction against a competing tire company.[11]
Consideration
An employee's acceptance of an employment offer suffices as consideration for a non-compete agreement, provided the agreement is made at the time of hire.[12] Non-competes entered into with existing employees must be reinforced with independent consideration (continued employment is not sufficient).[13] According to Washington case law, the following forms of independent consideration are adequate:[12]
Fixed-term employment
Increased pay
Bonuses
Promotions
Access to confidential information
Sources
---
Related Forms (2)
Washington Non-Disclosure Agreement – Regulates how confidential information can and cannot be shared by its recipient.
Download: PDF, Word (.docx), OpenDocument
---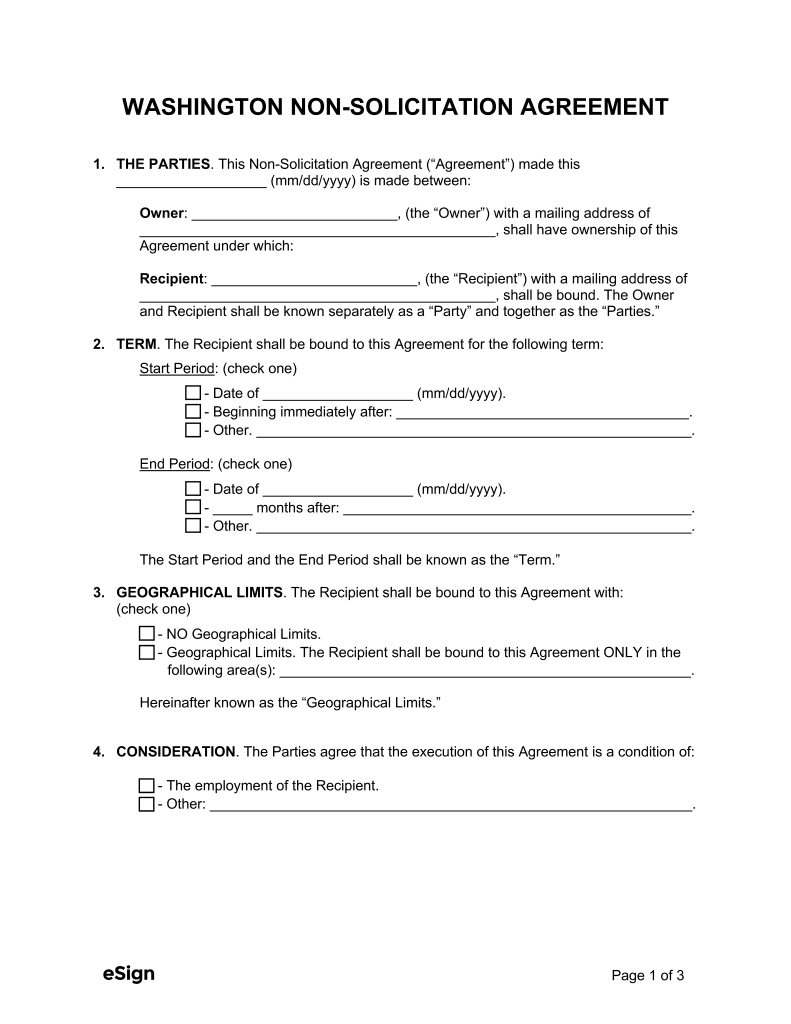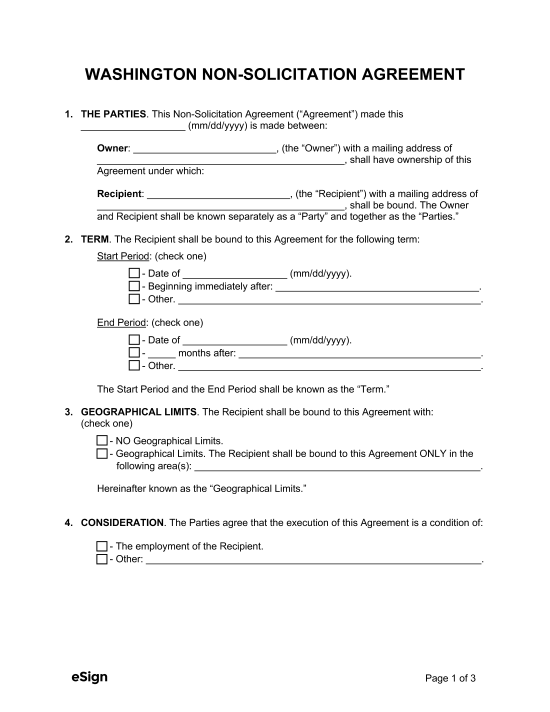 Washington Non-Solicitation Agreement – Prevents a former employee from recruiting their prior employer's workers, clients, suppliers, or vendors.
Download: PDF, Word (.docx), OpenDocument