A West Virginia non-compete agreement is a contract that temporarily prohibits an employee from engaging in activity that competes with their employer's business. Companies often draft these contracts during the hiring process as a security measure, assuring that the new employee won't start or join a competing enterprise after leaving their job. Outside of employer-employee relationships, non-competes can be used to prevent the seller of a business from re-engaging in similar activity following the transfer of company ownership.
Among other requirements, the non-compete restrictions (a.k.a., "covenants not to compete") are only valid and enforceable if they are reasonable and necessary to protect the employer's business.
Enforceability in West Virginia
West Virginia law recognizes non-compete agreements as legally enforceable contracts. When determining whether to uphold non-compete provisions, the courts will weigh a number of considerations. Generally speaking, the employer's restrictions would be deemed enforceable in a legal proceeding if all of the following apply:[1]
Consideration was offered to the employee.
The agreement is supplementary to another legitimate contract (e.g., employment contract, business purchase agreement).
The restrictive covenants are in line with the interests of the general public.
The restrictive covenants do not subject the employee to undue hardship.
The duration and geographical restrictions are fair and designed only to protect the employer's legitimate business interests.
When it IS Enforceable
Employer protection. Courts in West Virginia enforce non-compete agreements that protect an employer's legitimate business interests. An employer's trade secrets are deemed a legitimate and protectable interest. However, courts are less likely to uphold a non-compete that protects specialized training or ordinary skills obtained during the employee's term of service, or those that defend customer contact information.[1]
When it's NOT Enforceable
Physicians. If the employer terminates a physician's employment, a non-compete agreement between the parties cannot be enforced.[4]
Lawyers. A contract that restricts a lawyer from practicing after termination will be unenforceable, unless the restriction is a component of an agreement for retirement benefits. Additionally, an agreement is void if it limits a lawyer's right to practice as a requirement for a client settlement.[5]
Maximum Time Period
The restrictive time period cannot be unreasonable or restrain the employee further than what is required to fairly protect the business interests of the employer. When evaluating the contract's reasonableness, the courts often analyze the duration and geographical restrictions together. In one particular lawsuit, a three (3) year restriction was imposed on an employee who started a business similar to that of their former employer.[6] In another case, an unlimited duration was enforced upon a business seller to prevent competition against the purchaser.[3]
Physicians. Non-compete agreements between a physician and an employer cannot last longer than one (1) year.[4] Unless stated otherwise in the non-compete agreement, this time limitation does not apply to non-solicitation provisions, non-disclosure provisions, non-competes pertaining to the sale of a practice, or non-competes for a physician who is a member, director, shareholder, or owner of a medical practice.[7][8]
Geographical Area
As with all other restrictive provisions, the geographical non-compete area must be reasonably limited to protect the employer's business interests only. The reasonableness of a geographical limitation is often evaluated simultaneously with the contract's duration. A 10-mile radius around a motel was deemed reasonable to prevent competition from the company's former owner.[2] In another lawsuit, the courts found a geographical restriction of 250 miles excessive, as there was no evidence demonstrating that the restriction protected a legitimate business interest.[9]
Physicians. The maximum geographical restriction for a physician's non-compete agreement is thirty (30) road miles from their primary place of practice.[4] However, this restriction is not applicable to non-solicitation agreements, non-disclosure agreements, non-compete agreements made in connection with the sale of a health care practice, or non-compete restrictions imposed on a physician who is an owner, director, member, or shareholder of a health care practice.[7][8]
Consideration
The recipient of a non-compete must receive consideration (compensation) for signing in order for the agreement to be enforceable. West Virginia case law indicates that continued at-will employment does not suffice as consideration for a non-compete; the contract must be supported by new consideration.[10] However, the offer of employment is deemed sufficient consideration. Also, an NCA presented at the beginning of an employment term is enforceable if it is accompanied by other contract promises.
Sources
---
Related Forms (2)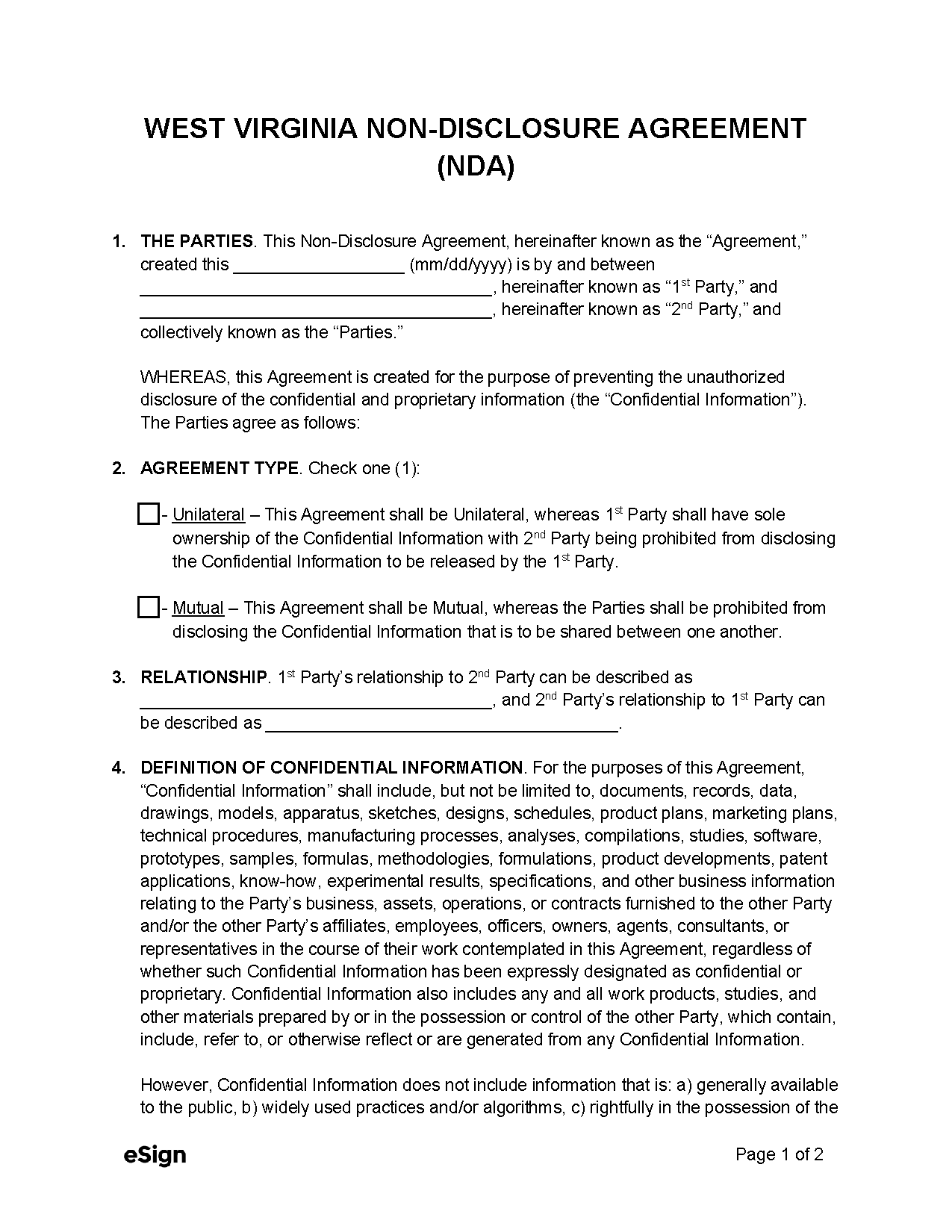 West Virginia Non-Disclosure Agreement – Ensures that an employer's confidential business information and trade secrets won't be disclosed by employees without consent.
Download: PDF, Word (.docx), OpenDocument
---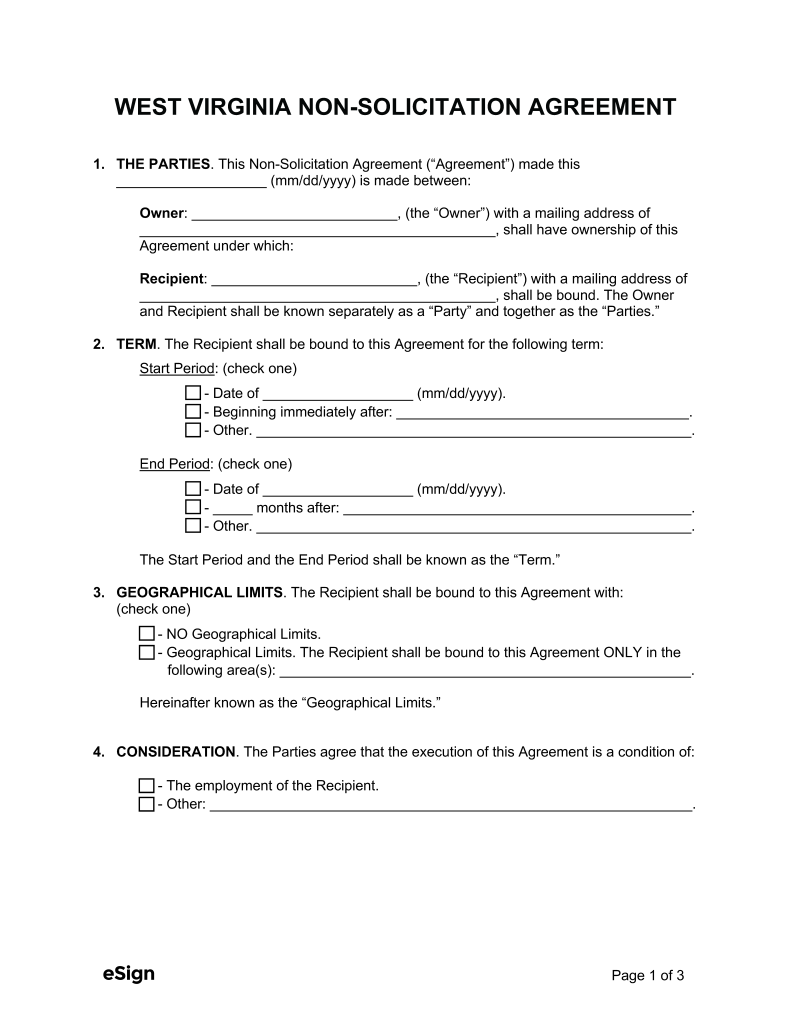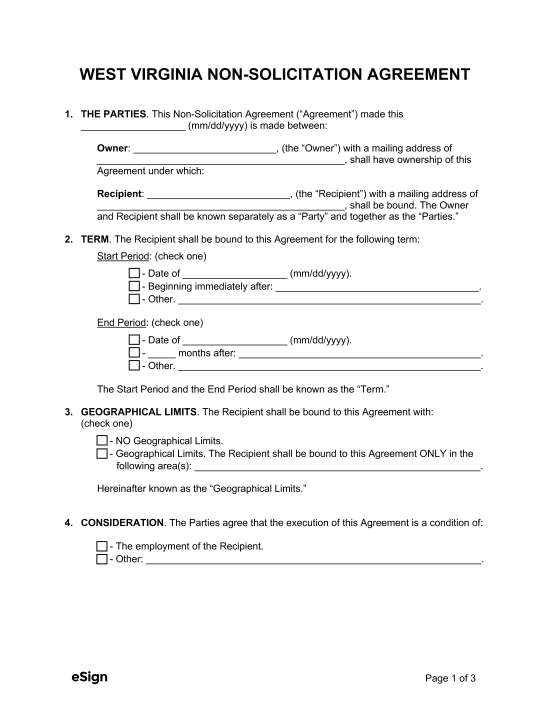 West Virginia Non-Solicitation Agreement – Employees who sign this document agree not to attempt to recruit their employer's clients or fellow employees.
Download: PDF, Word (.docx), OpenDocument