An Indiana notary acknowledgment form is used by a notary public to attest to an individual's identity and the validity of their signature on a legal document. The form contains the notary's name, signature, commission expiry date, and acknowledgment date. The acknowledgment form, once signed and sealed, certifies that the signer understands the contents and purpose of the document they are signing.
A notary public's commission expires every eight years (§ 33-42-12-1(f)).
Is Online Notarization Legal in Indiana?
Yes, remote notarization was introduced under SB372, allowing documents to be notarized online, starting July 1st, 2018.
Statute: § 32-42-17-10
Online Notarizations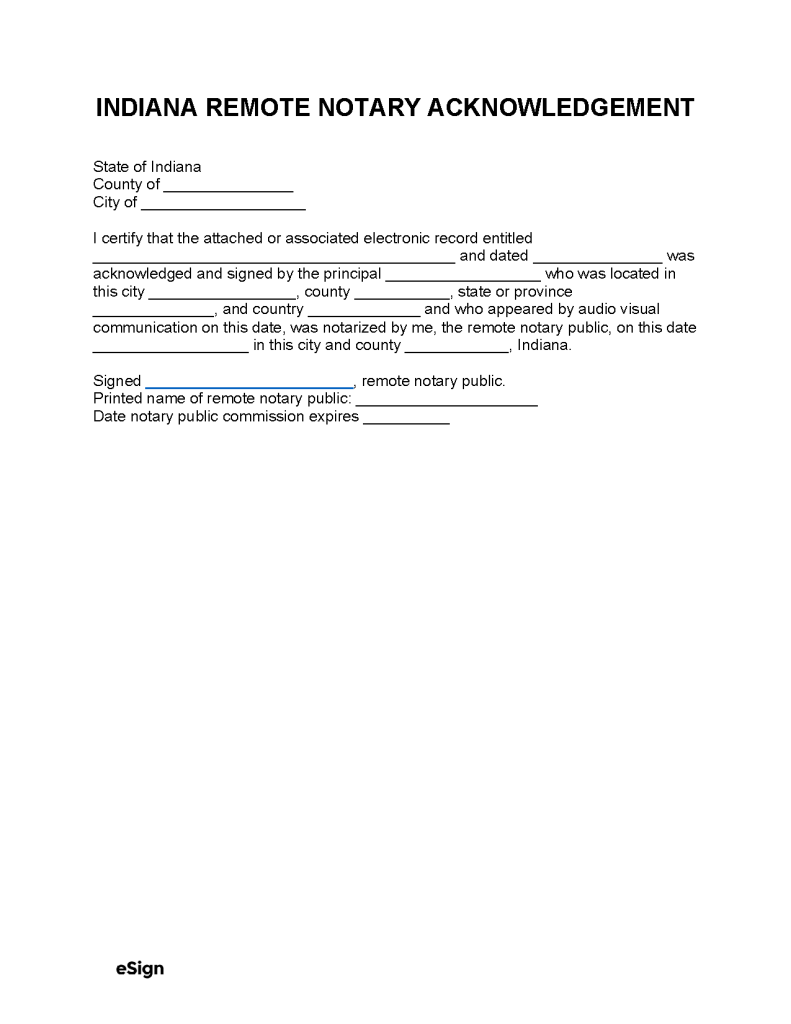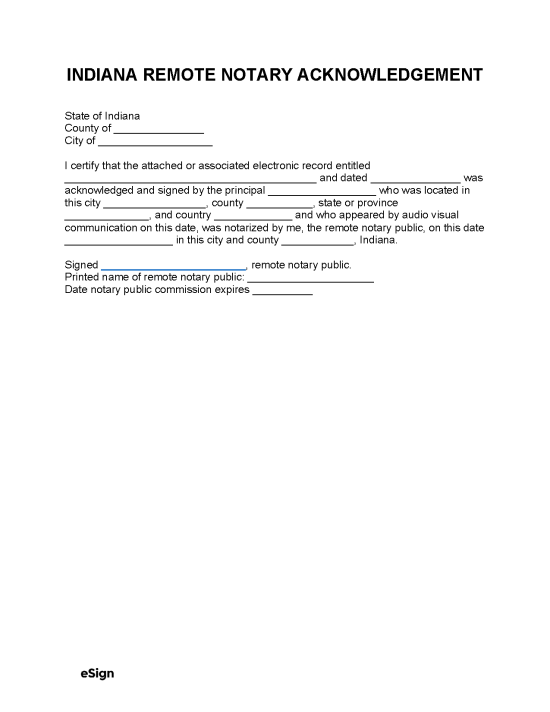 Indiana Remote Notary Acknowledgement Form – Used for the remote notarization of a legal document.
Download: PDF, Word (.docx), OpenDocument
---
Sample (Individual)
Download: PDF, Word (.docx), OpenDocument

INDIANA NOTARY ACKNOWLEDGMENT
State of Indiana
County of [COUNTY]
I, a Notary Public, hereby certify that [SIGNATORY NAME] whose name is signed to the foregoing instrument or conveyance, and who is known to me, acknowledged before me on this day that, being informed of the contents of the conveyance, he/she/they executed the same voluntarily on the day the same bears date.
Given under my hand this the [DAY] day of [MONTH], 20[YEAR].
(Seal, if any)
________________________
(Signature of notarial officer)
[TITLE AND RANK]
Title (and Rank)
My commission expires: [MM/DD/YYYY]
---
Resources