The Arizona standard residential lease agreement authorizes a tenant to lease residential property for a fixed period and defines the rights and responsibilities of the parties involved. Before signing a binding agreement, the tenant should ensure they are capable of affording the monthly rent, utilities, security deposit(s), and any fees the landlord requires for lease approval (e.g., pet fee, application fee). Tenants who fail to pay rent or comply with the agreement may be forced to pay late fees or face an eviction lawsuit.
Rental Laws – Title 33, Ch. 10 (Arizona Residential Landlord and Tenant Act)
Handbook (Guide) – Arizona Tenants' Rights and Responsibilities Handbook
Security Deposits
Maximum (§ 33-1321(A)) – One and a half (1.5) months' rent
Returning (§ 33-1321(D)) – Fourteen (14) days
When is Rent Due?
Unless the parties agree otherwise, the tenant must pay rent at the beginning of the month (§ 33-1314(C)).
Realtor Version
Residential Lease Agreement (Sample) – The Arizona Association of REALTORS® has provided this agreement to serve as an example of the official residential lease used by licensed realtors.
Download: Adobe PDF
Disclosures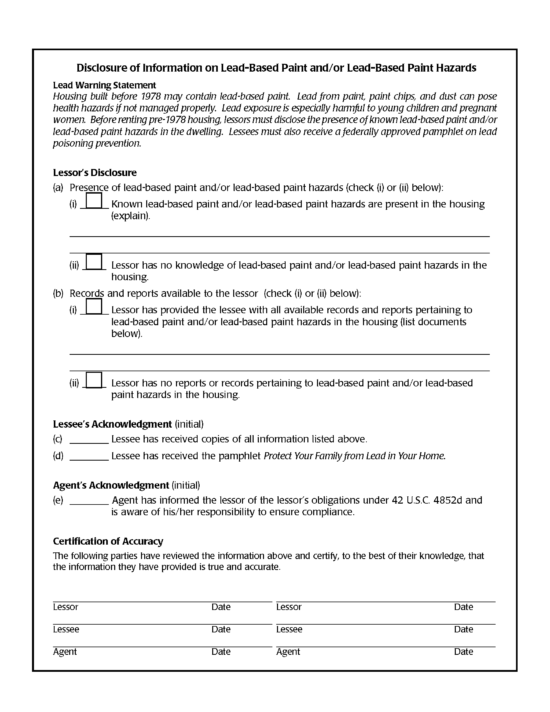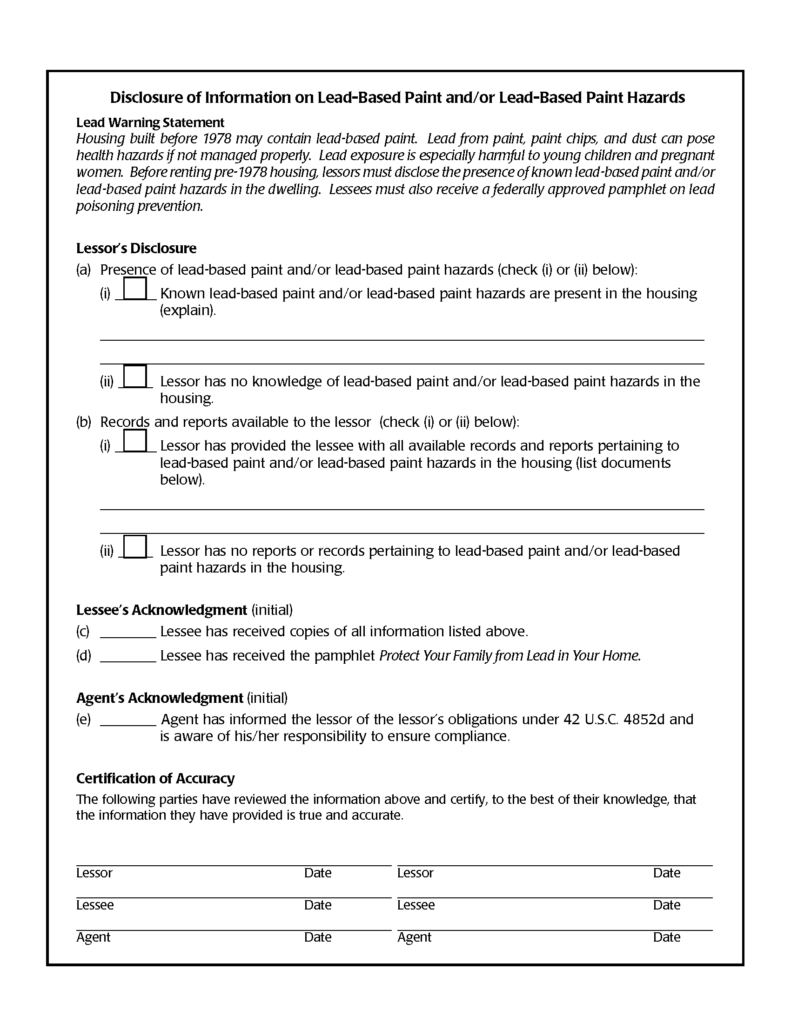 Lead-Based Paint Disclosure – If the dwelling was built prior to 1978, this form must be provided informing tenants that the property may have lead-based paint.
Download: Adobe PDF
---
Move-in/Move-out Condition Checklist (§ 33-1321(C)) – The landlord must provide the tenant with this form to relay the condition of the property when moving in so it can be compared to the property's condition at the end of their tenancy.
Download: Adobe PDF
---
Pool Safety Notice (§ 36-1681(E)) – The landlord must provide this to a lessee or renter explaining pool safety and responsibility if the dwelling has a swimming pool.
Download: Adobe PDF
---
Bed Bugs (§ 33-1319) – Landlords are required to provide educational materials to tenants about bed bugs and how they spread. Additionally, landlords are prohibited from knowingly renting out a place they know to be infested.
---
Landlord-Tenant Act (§ 33-1322) – When tenancy commences, the landlord must inform new tenants in writing that the Arizona Residential Landlord and Tenant Act is available on the Department Of Housing website.
---
Fees (§ 33-1321(B)) – The landlord must state the purpose of all non-refundable fees or deposits in writing. Any fee or deposit that is not previously stated shall be deemed refundable.
---
Utility Charges (§ 33-1314.01(B)) – If the landlord charges separately for utility services, the rental agreement must include a list specifying those utilities as well as disclosing any administration fees.
---
Taxes (§ 33-1314(E)) – If there is a transaction privilege tax levied on residential rent and the municipality changes the percentage of that tax, the landlord may reflect that increase in the rent with at least thirty (30) days' notice to the tenant. In order for the landlord to enact this option, it must first be stated in the rental agreement.
---