Rental Application
– A form used by residential landlords to collect information and perform background checks on lease applicants.
Lease Agreements: By Type (6)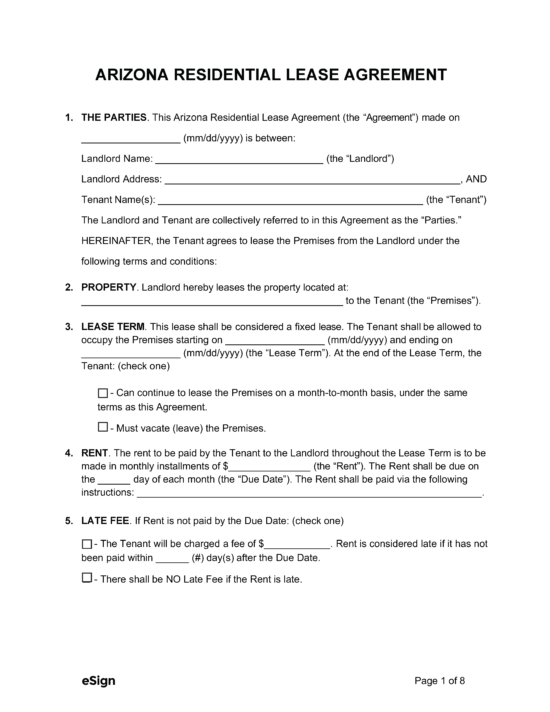 Standard (1-Year) Lease Agreement – This fixed-term residential lease is used to rent property to a tenant in exchange for monthly rent and can only be terminated with valid cause.

Download: PDF, Word (.docx), OpenDocument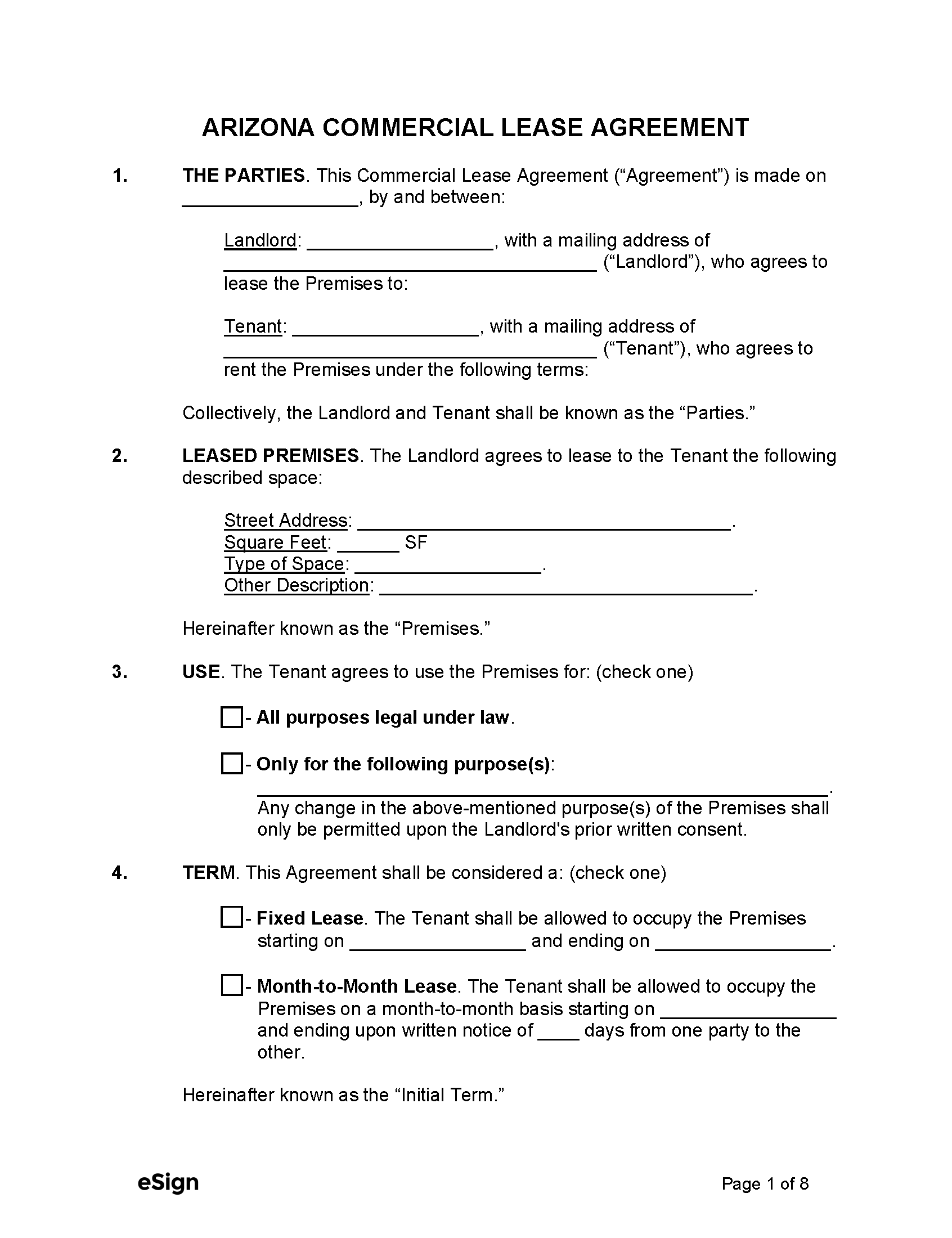 Commercial Lease Agreement – Used to lease a commercial space to a tenant for business purposes, such as operating a hotel, restaurant, retail outlet, or industrial shop.

Download: PDF, Word (.docx), OpenDocument
Month-to-Month Lease Agreement – Used to rent residential property to a tenant who agrees to pay rent every month with the option to terminate the lease at any time with 30 days' notice.

Download: PDF, Word (.docx), OpenDocument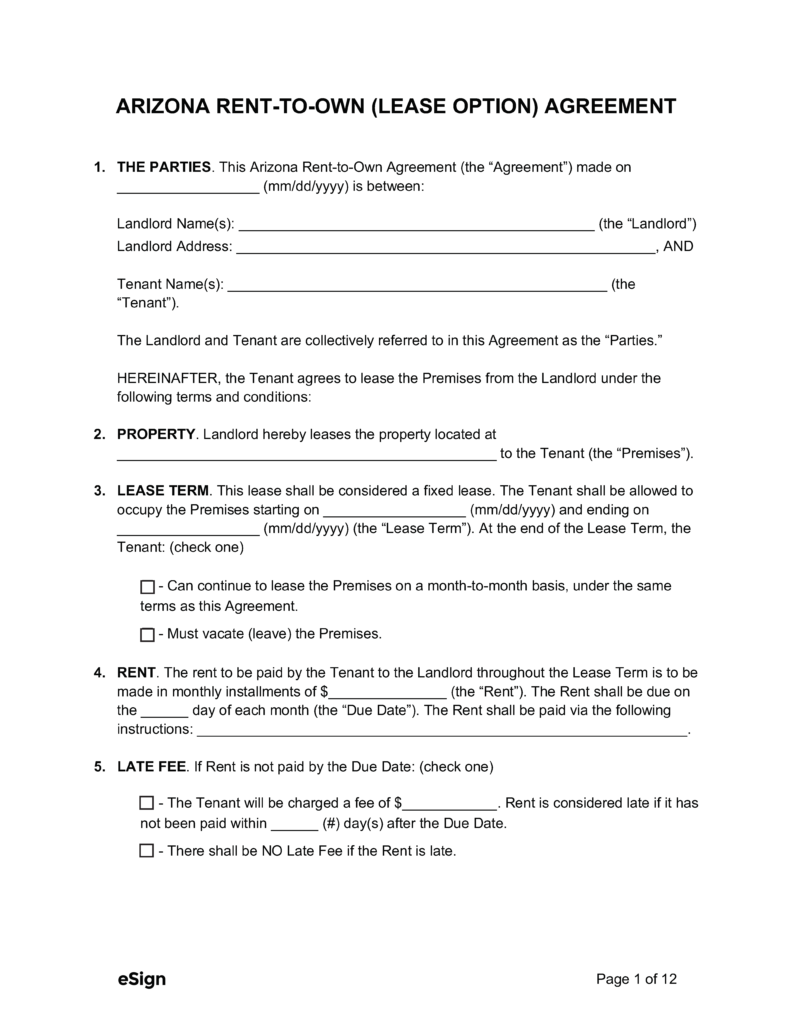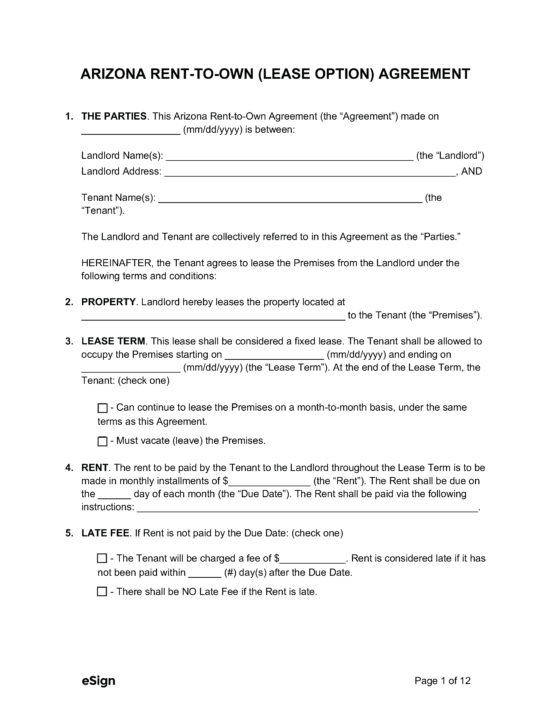 Rent-to-Own Agreement (Lease Option) – This document is for a fixed-term tenancy where the tenant able to buy the property once specific terms and conditions are met.

Download: PDF, Word (.docx), OpenDocument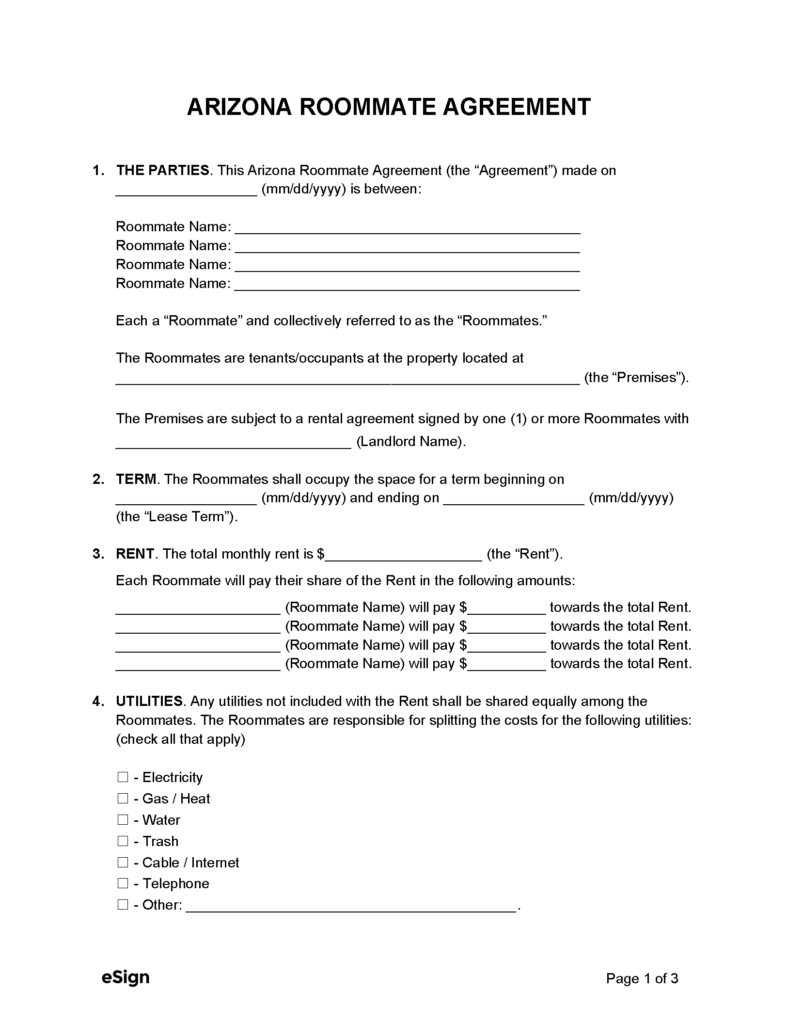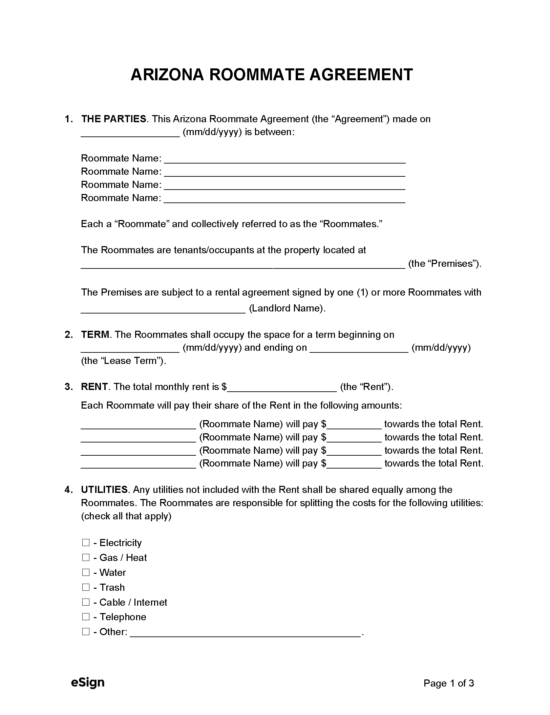 Roommate Agreement – A document that two or more roommates use to establish rent division, household duties, and other rules for living in the same rental unit.

Download: PDF, Word (.docx), OpenDocument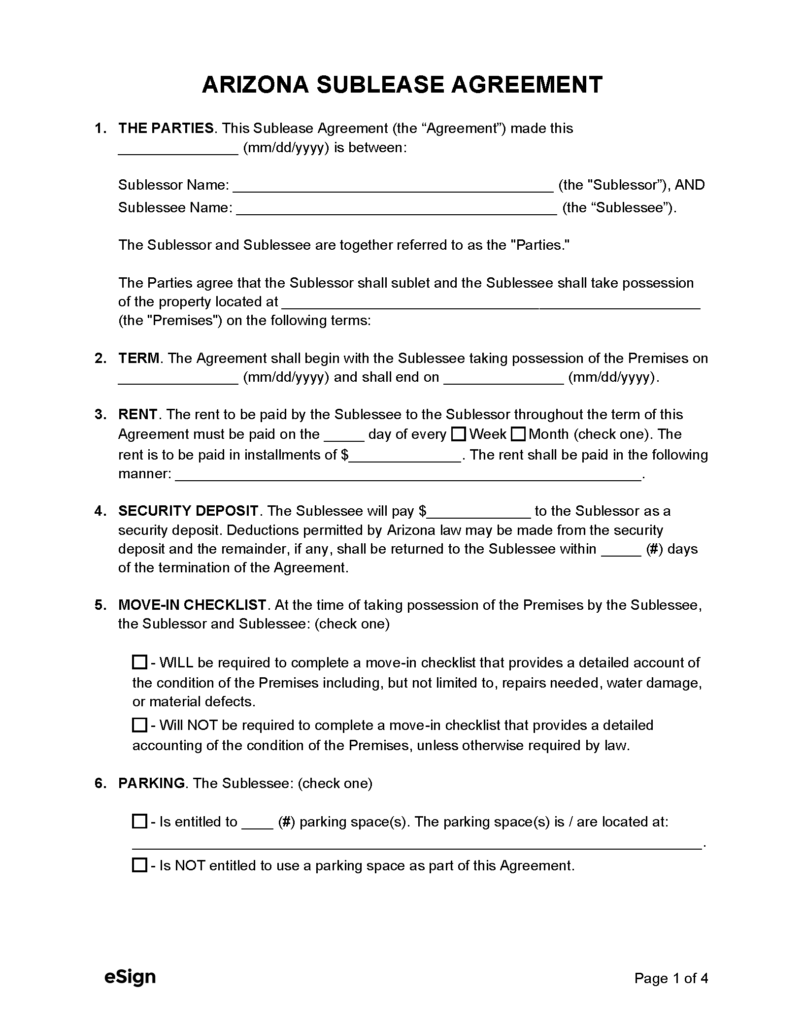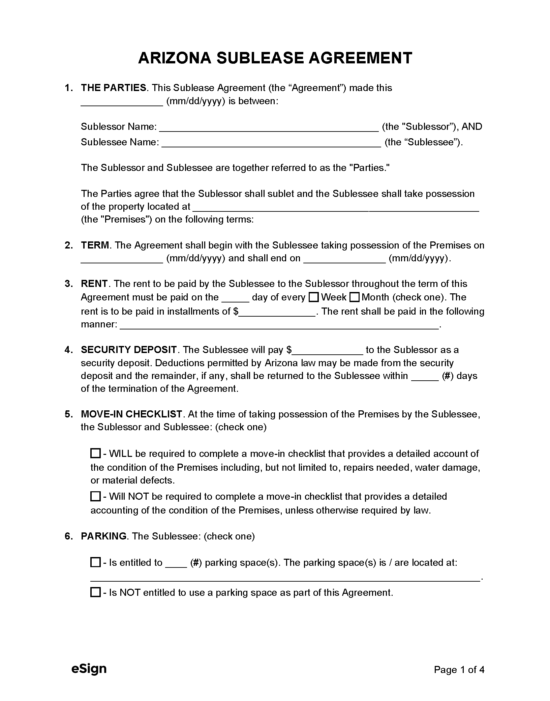 Sublease Agreement – With the landlord's permission, tenants can use this agreement to sublet their residential living space to a subtenant.

Download: PDF, Word (.docx), OpenDocument
Security Deposits
Maximum Amount ($) – The maximum security deposit amount that can be demanded by a landlord is the equivalent of one and a half month's rent.[10]
Exception – Landlords can charge a maximum of two months' rent if the property is a mobile home.[11]
Collecting Interest – Landlords are not required to pay interest on a security deposit.
Exception – Mobile home tenants are entitled to a minimum of 5% interest per year on the deposit amount.[12]
Returning to Tenant – After the tenant moves out and requests the return of their security deposit, the landlord has 14 business days to complete the refund process.[13]
Itemized List Required? – Yes, an itemized list of deductions must provided along with the return of the tenant's security deposit.[14]
Separate Bank Account? – No, landlords have no legal requirements to maintain a security deposit in a separate bank account.
Landlord's Entry
General Access – Landlords must give tenants two days' notice before entering the premises for any non-emergency reason.[15]
Immediate Access – A landlord may enter the premises without notice in an emergency.[16]
Rent Payments
Grace Period – There is no grace period in Arizona. Therefore, rent must be paid on the date agreed to in the lease.[17]
Exception – Tenants living in a mobile home have five days to pay rent after the due date.[18]
Maximum Late Fee ($) – There is no statutory limit. The landlord can charge the maximum amount stated in the lease agreement.
Exception – If renting a mobile home, the landlord can charge a maximum late fee of $5 per day.[19]
Bad Check (NSF) Fee – Landlords can charge $25 plus any bank fees they incur due to the bounced check.[20]
Withholding Rent – If the landlord doesn't correct an issue after receiving 10 days' written notice, the tenant can withhold the greater of $300 or one-half of the monthly rent to cover the repairs.[21] Tenants can also withhold a "reasonable amount" if essential services like gas or electricity are not provided.[22]
Breaking a Lease
Non-Payment of Rent – A 5-day notice to pay rent can be delivered to the tenant after their rent is late.[23]
Non-Compliance – Landlords must give a 10-day notice for correctable lease violations, a 5-day notice for health and safety violations, a 10-day notice for repeated health and safety violations, and an immediate notice to quit for non-correctable lease violations.[24]
Tenant Maintenance – If there is a health and safety issue on the property that isn't corrected by the tenant immediately (if an emergency) or within 14 days after being notified, the landlord can repair the issue and bill the tenant for the service costs.[25]
Lockouts – If a tenant is unlawfully locked out, they can file a court complaint to terminate their lease or recover possession of the property. In either circumstance, the tenant is entitled to the greater of either two months' rent or double their actual damages.[26]
Leaving Before the End Date – Landlords must issue a 5-day notice of abandonment if a tenant moves out early. After five days, the landlord can take back the property and use the tenant's security deposit to cover any unpaid rent or related expenses.[27]
Duty to Re-Rent – Landlords must make reasonable efforts to re-rent the property after discovering that the property has been abandoned.[28]
Lease Termination
Month-to-Month – Monthly rental agreements can be terminated with a 30-day notice.[29]
Unclaimed Property – If a tenant abandons the rental unit, the landlord must take inventory of any belongings left behind. Valuable items must be held for 14 days after the landlord reclaims the rental unit, after which they can sell or donate the tenant's belongings.[30]