Realtor Version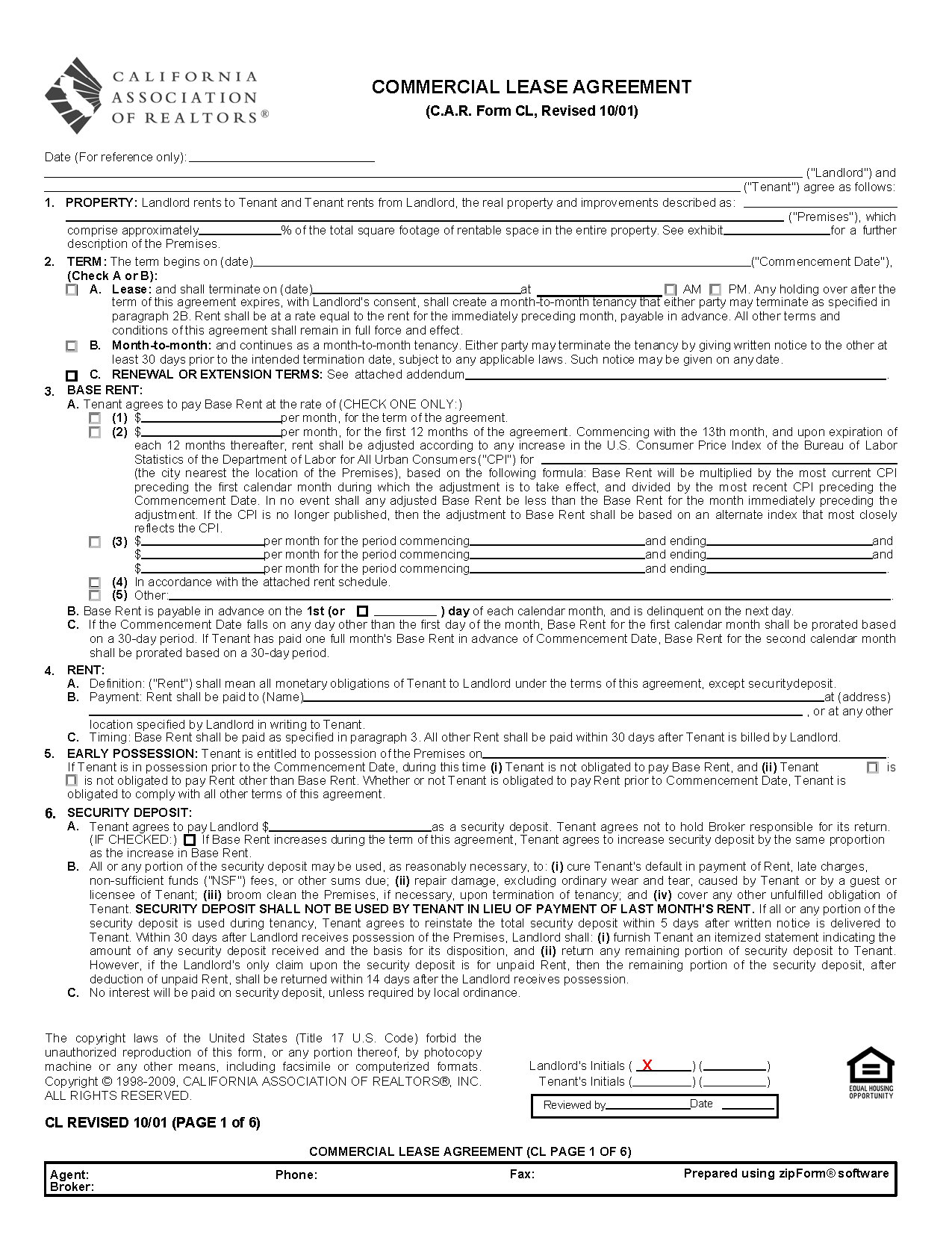 California Realtor Commercial Lease Agreement

Download: PDF



Disclosures
Asbestos – The landlord must make all existing asbestos surveys and monitoring data available for review, including any asbestos management plan that has been made.[1]
Certified Access Specialist (CASp) – The lease must mention if the property has undergone an inspection by a Certified Access Specialist (CASp).[2] If it has, the report on whether it was determined to meet all applicable accessibility standards related to accessibility standards and compliance.[3]
Landlord's Responsibility – Furthermore, if an inspection by a Certified Access Specialist reveals necessary modifications to remedy any accessibility issues, the landlord is responsible for such repairs (unless otherwise agreed).
Right to Cancel – If the landlord gives a CASp report within 48 hours of lease execution, the tenant has additional rights to cancel the lease within 72 hours of execution.[4]
No CASp Inspection – If the property has not been issued a disability access inspection certificate, the following must be mentioned in the lease:[5]
"A Certified Access Specialist (CASp) can inspect the subject premises and determine whether the subject premises comply with all of the applicable construction-related accessibility standards under state law. Although state law does not require a CASp inspection of the subject premises, the commercial property owner or lessor may not prohibit the lessee or tenant from obtaining a CASp inspection of the subject premises for the occupancy or potential occupancy of the lessee or tenant, if requested by the lessee or tenant. The parties shall mutually agree on the arrangements for the time and manner of the CASp inspection, the payment of the fee for the CASp inspection, and the cost of making any repairs necessary to correct violations of construction-related accessibility standards within the premises."
Energy Use Disclosure – For properties of more than 50,000 square feet and multi-family properties with 17 or more tenants directly billed for energy, the landlord must make the annual energy consumption report available.[6] Owners of these buildings must report their annual energy performance by June 1 of each year and make it available to tenants.
Death on the Property – A death must be disclosed to the tenant if it occurred in the last 3 years. There is an exception to this if the death was due to the human immunodeficiency virus (HIV) or died from AIDS-related complications.[7]
Pesticide Disclosure – The types, frequency, and duration of pesticide use must be disclosed if used on the property.[8]
California Commercial Lease Agreement (Preview)